Tip 2: Consider the location of your rental car pickup (and dropoff)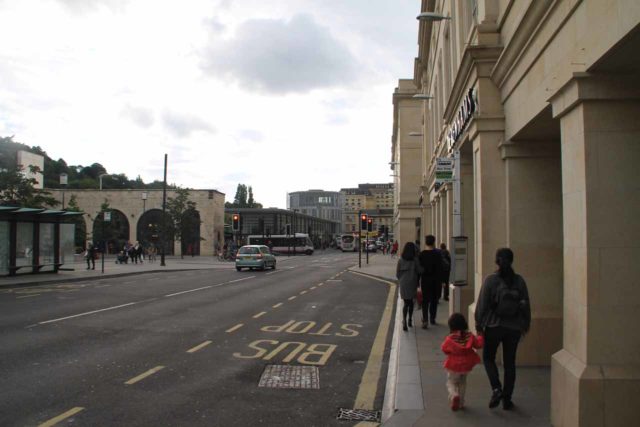 While our first instinct would be to hire a car from the airport as soon as we arrive, this is usually our last resort. We've found that we can save hundreds of US dollars by trying to hire and dropoff the car away from the airport, but there are some tradeoffs to consider. If the destination has public transportation, then we try to pick up the rental car at a rail station to save ourselves the markup in airport fees as well as the first few (or last few) days when we're staying in the city and not driving anyways.
For example, on our month-long UK trip back in 2014, we hired a car (and ended the hire) in Bath, England instead of the obvious choice at London Heathrow Airport. We pre-arranged with the rental car company (which was Europcar) to pick us up at the train station on the morning that we planned to leave the city, and an employee picked us up and took us to their rental office on the outskirts of town to wrap up the rental formalities. When we returned the rental car in Bath, it was about 4 days before we flew home since we knew that we could tour Bath on foot for a full day plus we'd have two more full days to enjoy London without a car. So not only did we save money from not picking up the rental car at the airport, but we saved about 5 days worth of car hire plus incidental fees from parking and gas from potentially having to drive on those extra days as well!
While we prefer to rent from rail stations away from the airport, it's also possible to save even more money renting from a downtown location (not by the rail station), but we learned the hard way that sometimes this is not a good option because they tend to have even more limited hours than at rail stations (let alone airports). While airports are typically open 24/7, the rail stations tend to have more typical 9 to 5 hours (or 9-8 with the odd siesta closure if the country observes it like in Spain).
However, after an unpleasant incident in Algeciras, Spain where their rental car location was not connected by rail, we learned firsthand the big drawback of these limited hours. In that incident, we had a tardy ferry from Morocco that caused us to show up at the car rental office about 15 minutes after they had closed for the weekend (starting from 2pm Saturday and didn't open again until Monday morning). So we were potentially without a car for the first couple of days thereby causing major chaos and losses on our carefully planned trip. Fortunately, we had booked with a consolidator like Auto Europe
so we ultimately had a workaround for this problem (which we'll get to later in this article), but this experience dramatically underscores the pitfalls of trying to pick up a rental car away from locations with longer opening hours.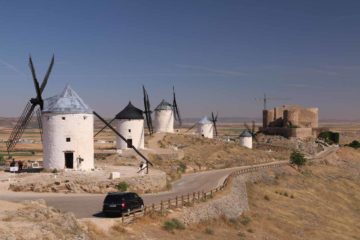 By the way, it can be tempting to go to the other extreme and try to save car rental days in the middle of the trip. For example, we were tempted to rely on the train system around Madrid, Segovia, and Toledo in the middle of our four weeks in Spain to save about 3-4 days of rental. However, we've learned that it's often less headache and might even work out to be cheaper (or competitively-priced) to do a continuous long term rental than to try to split up the trip into multiple rentals. Obviously, this would have to be priced out to see how it would work financially, but the headaches of having to collect our belongings and deal with car rental queues can be a waste of precious vacation time. I'd argue that the threshold for splitting up the car rental in the middle of the trip would have to be at least 5 or more days without the car before I'd consider doing something like that.
Another consideration to make concerning rental car pickup and dropoff is whether or not to dropoff in a different location than where we picked up the car. We've had rentals where we had to pay a drop-off fee of around $500 USD, but we've also had rentals where there wasn't this explicit cost. It depends on the rental company, but it also depends on whether the rental car office in the proposed locations of your trip can accommodate this. In our Spain trip, we started in Algeciras and ended in Barcelona. Obviously, it wouldn't make much sense to drive all the way back down to Algeciras just to return the car to the original location.
Finally, there are times where we would prefer to hire from a rental car agency with a pick-up location at the airport. Typically this would be where public transportation infrastructure is either poor or non-existent. We learned a pretty hard lesson pertaining to this point on a trip to Patagonia back in 2007. On that trip, we had pre-arranged for a booking with Budget at El Calafate, Argentina. But when we showed up, there was no kiosk for Budget at the small airport there (though there was a kiosk for Hertz
), and when we tried to call Budget, nobody picked up.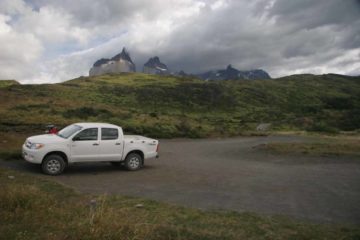 Eventually, we just hired a taxi to take us to the Budget office, and when we were dropped off (the taxi wouldn't wait around), the office was closed. After a few tense moments of being unable to call (again, no one picked up and we got answering machines in Spanish) then figuring out what to do next, we finally walked in the general direction of the main drag of El Calafate. That was when we were very fortunate to find the Hertz
rental car office on the main drag was still open, and that they had a car (actually a monster 4wd Toyota Hiilux truck) available. Sure, they're not the cheapest, but that rental office saved our Patagonia trip.
So do your research and see if it makes sense to pickup at the airport or at the rail station, and evaluate whether to do a one-way hire or to return to the origin of the hire.