Day 1: "HARAKA HARAKA HAINA BARAKA"
After having breakfast, Julie and I carried our luggage to the lobby of the European-style Norforlk Hotel at 7:30am as stated in our printed itinerary handed to us just the night before.
There was our guide and driver Siraj waiting for us. But before we could get the day started, he said, "Did I not tell you we were supposed to meet at 7am?"
As we entered his safari van, he also told us that we shouldn't be carrying our own luggage to the safari van by ourselves. At the same time, he was also driving home the point that we were late because we're now stuck in rush hour traffic in Nairobi.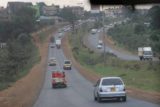 "See?" he said pointing to the traffic in front of us. "This was what I was trying to avoid."
It was a pretty tense start to the Kenya safari, and both of us felt like we were being lectured about how we're supposed to be good clients or something like that.
The drive out to our first reserve was long. We left the city of Nairobi, then weaved through the equatorial town of Nanyuki before dropping down to the dry side downslope of Mt Kenya by Isiolo – a hot, dry, Somali town that even features a few camels.
Througout the drive, I couldn't help but noticing the many police-monitored road spikes. Clearly, you were going to slow down for these unless you were willing to get a flat tire.
I wanted to take a photo of them, but I was told taking photos of authorities was forbidden. I guess I could see why because they could be used for purposes of sabotage, espionage, or whatever.
Like I did for other drivers, I kept Siraj company in the front seat. We discussed numerous things, though I was spending a good deal of time with him trying to enhance my Swahili.
As he was hastily making his way along the dusty, unsealed road into Samburu National Park, Siraj gave me a Swahili saying which goes, "Haraka haraka haina baraka."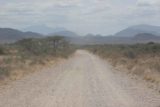 It means something to the effect of "haste haste has no blessing" or "haste makes waste." I thought of the irony of this saying considering we were attacking the unsealed and dusty road at maybe 80km/h and he did what he could to go around slower trucks kicking dust back at our suddenly hot car (there was no AC).
There was also a nice reticulated giraffe (something we hadn't seen before) grazing against a scenic backdrop. But in Siraj's haste to keep moving, he didn't stop and we didn't get to capture this moment.
At 1:35pm, we made it to the Samburu Serena Lodge where we checked in and then had our buffet lunch.
The park itself seemed rather dry and dusty, and it contrasted sharply with other game parks we have seen in Tanzania. I asked Siraj if this desert-like weather was usual, and he said it was unusual; especially considering very little rain fell in the previous rainy season.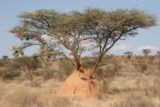 After the lunch, we had ourselves a little siesta before rejoining Siraj for the 4pm game drive.
During this game drive, we saw some animals unique to Samburu National Park such as the gerenuk (impalas that get on their hind legs to browse on bushes) and the oryx (a larger antelope with straight horns). We did manage to see a female lion waiting for thirsty prey to drink at the river. Plus, we saw some elephants.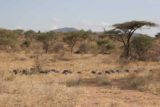 Siraj noted that "you guys are particular" because we weren't enthusiastically photographing the commonly-seen animals unless they were doing something unusual. He also noted that we didn't like birds because he would point them out to us, and both Julie and I were sort of ho hum about them.
Still, the wildlife sightings were rather disappointing, especially considering what we had seen in Tanzania. The big cats seemed harder to come by. Personally, I wondered why Siraj didn't spend more time around the watering holes considering how hot and dry Samburu was, but what do I know?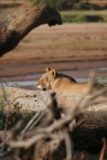 I started to speculate whether the intense cultivation on the slopes of Mt Kenya and other ecosystems around the central highlands area might have exacerbated the climate change of the area brought about by Global Warming. I know matters regarding climate are very complex, but I wondered whether Kenya's fast track to economic success through intense agriculture and tourism might have somehow had a negative effect on the health of its ecosystems.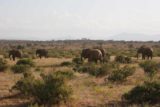 Anyways, the disappointing (relative to Tanzania) sightings was perhaps best epitomized when a group of safari vehicles were watching elephants instead of cats. Slim pickings indeed.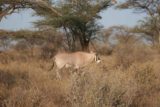 At 6:15pm, we were back at the lodge. Siraj seemed to be pretty much on a schedule, and this too contrasted greatly with Salim's (Tanzanian guide) laid back approach. Perhaps today's fairly dry run at the wildlife was just an anomaly. We still had two more nights at this lodge, and Siraj said this was his favorite park.