Day 2: THE SAMBURU 5
We passed the evening rather uneventfully, which was good because we were told by Siraj that we were going on an early morning game drive today so we had to get up early. We embarked on our game drive at 6:30am.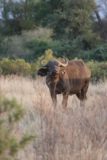 This was the first time we did a game drive this early. Considering wildlife tends to be more active at night, I guess it makes sense to do an early morning game drive in the hopes that you might get lucky catching some predators in the act of hunting or eating.
Still, after two hours, wildlife sightings were once again lackluster. We probably spent more time looking at the mountainous surroundings than we did the wildlife.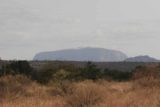 There was a particularly interesting mountain the distance that had a flat top, but Siraj didn't know what it was.
It probably wasn't until around 9:30am when Siraj finally went over to where there was a group of vehicles. Clearly there was something special.
It turned out that there was a cheetah. Just as we were getting closer to the vehicles, they started to disperse. That was a bad sign…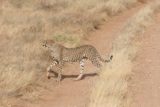 Well, we managed to see one cheetah cross the road before disappearing into the tall grass. It seemed that we were late to the party. I wondered if this was one of those things where Siraj did his own thing trying to find something on his own before finally giving in and joining the rest of the safari vehicles who have already found something interesting at the start.
There seemed to be less cooperation and collaboration here than we witnessed in Tanzania. Or perhaps, Salim was more responsive and flexible with his game drives than Siraj was.
In any case, it was obvious that Salim's safari was more efective than Siraj's and I wasn't so sure Siraj will come anywhere close to his counterpart's success.
At 8:45am, we were back at the lodge for breakfast.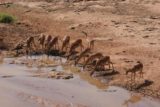 We continued with another game drive at 10am. At this point, I seriously wished we added more waterfalls to our Kenya itinerary instead of going for more wildlife; thanks in part to Siraj's lack of success and also because we were getting wildlifed out.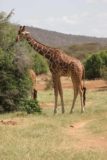 On this game drive, Siraj finally went to a different part of the park. It was across the Ewaso River into the Buffalo Springs Reserve. During our time of fruitlessly finding wildlife, Siraj told us about a time when a female lion actually nursed a calf of one of the herd species. When we arrived at the Buffalo Springs gate, there was a painting on its gate that showed a lion and a calf together under the words "Buffalo Springs – where nature defies itself."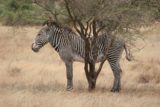 Inside the reserve, we started to see something we hadn't seen at all until this point – a Grevy's zebra. These thinly striped zebras were unique to Samburu. We also started to see more of those reticulated giraffes, which had more interesting patterns compared to the other giraffes.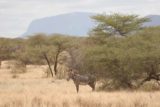 There were still no cats.
Some time at about 12pm, we spotted the rare blue-necked Somali ostrich way in the distance with a pair of binoculars. We couldn't photograph it.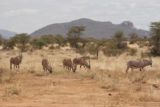 Somehow during the last hour or so of this game drive, the topic of conversation shifted to politics. I guess with the arid and dry conditions out here and the lack of solar panels at the Samburu Serena Lodge, the discussion shifted from why solar panels aren't getting widely implemented to corruption by the Bush Administration and supporting Republicans as well as Siraj condemning corruption in the Kenyan government.
One thing was for certain. Decentralized renewal energy by solar power wasn't going to fly because no one can monopolize the energy for economic gains under the solar regime.
Siraj also sensed that we had a better experience with wildlife sightings in Tanzania (which was true). But then he started talking about Tanzanians as being jealous of Kenyans because they're more economically successful, they have more popular safaris, and they just do things better and more successfully than their cousins.
We didn't agree with Siraj on most of these points but I did begin to suspect that Kenyans were more successful because they're more aggressive about economic development. Their fast track to success probably also meant making progress at the expense of their own natural resources (i.e. their environment). I wondered if Samburu suffered in some way from this.
Moreover, the Tanzanian government seems to get it in terms of conservation and protecting their resources. They probably took the slower but steadier approach to tourism, and that's what I suspect is why Tanzanian tourism is lagging behind Kenyans, but the quality and authenticity of the safaris were far superior to that of Kenya from what we could tell in our limited experience.
With the depressing talk of politics and how meaningful change to the world isn't happening (and doesn't seem likely to happen in our lifetime), we returned for lunch at our lodge at 12:15pm in a rather somber mood.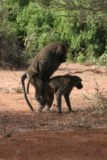 With another afternoon of siesta, we embarked on our third game drive of the day at 4pm.
We barely left the Serena Samburu Lodge when we noticed two baboons mating. Julie and I laughed and enjoyed the moment probably because the way they do it looks so close to the way humans can do it.
"I didn't see anything," said Siraj innocently.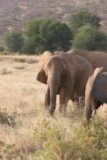 This game drive was just as lackluster as the previous two game drives; perhaps more so. There were still no cats, and you know it's slim pickings when a crowd of safari cars sees an elephant herd.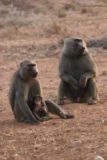 At 6:15pm, we were mercifully back at the lodge. I personally thought one night and one early morning game drive was enough for Samburu. I wished we had Amboseli National Park on our itinerary for that other day.
At 7pm, we saw a slide show, which ended up being very informative. In it, we learned more about the Samburu Five (gerenuk, reticulated giraffe, Grevy's zebra, Somali ostrich, and oryx). We also learned about the Big Five, but the rhinocerous was last seen in 1985 when Samburu was much greener and before poachers wiped them out. We also learned about that flat-topped mountain, which was called the God Mountain (and which Siraj couldn't tell us what it was) and held some sort of significance as villagers would orient their homes to face. Moreover, we learned that Mt Kenya was the only place in the country where there's still snow, but Global Warming is putting an end to that!
With regard to rhinos, the slide show also taught us that the white rhinocerous (a Dutch bastardization of wide-mouthed rhinocerous) was stocked from South Africa. I guess that made our black rhino (narrow-mouthed rhino) sighting in the natural habitat of Ngorongoro Crater that much more special.
Julie and I both agreed that we learned more in this slide show than we had in our time with Siraj.