Day 3: TOTALLY CONTRIVED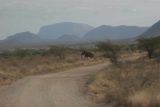 We finally left Samburu and the Serena Lodge there at 8am. We headed directly for the slopes of Mt Kenya, where our next accommodation would be. I didn't know what to expect with this place, but both Julie and I hoped we'd have a better experience that in Samburu.
By 11am, we crossed back over the equator at Nanyuki and headed upslope to the Serena Mountain Lodge.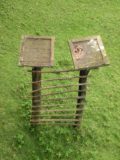 At 1pm, we were having lunch at the lodge. Apparently the main attraction here was the waterhole right outside the backside of the lodge. Near the watering hole was a man-made well as well as an elevated wooden platform with meat on top of it.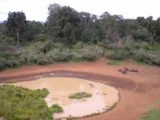 Julie and I couldn't believe our eyes. It looked like this lodge artificially attracted animals!
Salim warned us about Kenyans feeding animals, and it looked like he was right. It was another tactic at putting Kenyan tourism on the fast track to success at the expense of the natural order of things, I reckoned.
Now I really felt that this lodge was a waste of time and money, and that it should've been replaced with Amboseli National Park (which we weren't going to do).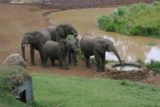 Around the waterhole were cape buffaloes, bush bucks, and a territorial herd of elephants. The elephants were drinking out of the manmade well.
This is wrong, I thought.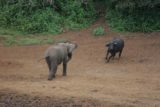 With the whole afternoon to contemplate the rather shameful scene before us, it got me thinking. Where do you draw the line between too much interference with nature to put on a show?
Was the manmade well crossing the line?
Is placing the lodge right next to the waterhole crossing the line?
I started to wonder if that water hole itself was natural now. I mean that meat placement was definitely crossing the line!
But even as I try to play Devil's Advocate, I guess you could question the impact of game drives, especially at night time with the spotlights. Could the game drives be causing soil erosion or interrupting predators' hunts. I guess some concessions have to be made in order to earn a living by showcasing nature as well as protecting it.
Anyways with all the though exercises I was going through, I had to admit that it was interesting to watch the wildlife for an extended period of time. I wondered if tourists even cared about seeing animals in the wild or seeing them get manipulated.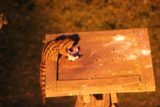 "This is wrong," I said to myself.
Julie and I had dinner afterwards. She had fish, but she didn't eat it because she feared it might have bacteria.
Seeing how I don't like food being wasted, I ended up eating her fish.
We slept at 10pm. We couldn't wait to leave tomorrow into more natural settings. As much as we complained about Samburu, it was far better than this place…