Day 4: MGONJWA
At 6am I got out of bed, but I had a restless night as I was feeling nauseated and my stomach felt strange. Even in the middle of the night, something didn't feel right, and I had feared that I was suffering from something I had suffered from just two months ago while abroad in Peru – food poisoning!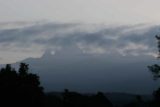 Indeed, I tried to fight it off by going up to the top of the lodge and taking what photos I could of the peak of Mt Kenya against the rising sun, but even the few scattered clouds weren't cooperating with me after getting a glimpse of the mountain's peak.
As I waited for the clouds to move, I was caught between wanting to throw up and trying to handle the camera.
At 7am, I went up with Julie for breakfast, but I wasn't hungry. Actually, all the food on display looked disgusting to me. I guess it was my body's way of telling me not to put any more food inside an ailing stomach. Still, I managed to eat a couple pieces of bread and drink tea.
By 7:40am, I tried to hurl in the bathroom of our room, but I wasn't successful.
Still, the nausea continued, and ten minutes later, I finally managed to induce vomiting. I hoped that this might make me feel better.
It seemed that news was getting around about my ailment. Julie was quick to point out that it was probably the fish from last night's dinner that did me in. So as we were leaving the lodge and joining Siraj in the car park, I was bombarded with "I'm sorry. I hope you feel better" expressions of sympathy from many of the lodge staff.
"Pole!" said a concerned Siraj at the safari van.
"Nimeshapoa," said I weakly.
As Siraj drove us out of the property, he asked how our stay was.
That was when we vented to him that we didn't like the lodge and they should really stop feeding the animals.
I think our feedback kind of froze Siraj thinking we would like it.
Anyways, we got involved in an interesting conversation where Julie let him have it saying the Mountain Lodge was a waste of time and money.
"If we wanted to see animals fed, we wouldn't be spending so much money to go to Africa. We'd go to a circus or a zoo back at home," she said.
We weren't sure if he was defending the lodges actions or condemning them. In any case, Salim warned us about this act, and he was right. And we think Siraj was a little out of line criticizing Salim for telling us. After all, the truth is the truth…
The next two hours or so of driving was torture for me. I didn't pay too much attention to the fact that the unsealed shortcut Siraj took through the Aberdare Mountains was a bit muddy and slippery from the drizzling rain. That was because my nausea returned and I knew that I was going to throw up again the next place he was going to stop the vehicle.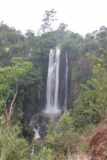 Mercifully by 10:10am, we were finally at Thomson's Falls. This was the only waterfall on this safari (perhaps the only one easily doable as part of a common wildlife safari), and one I really looked forward to visiting. However before that could be accomplished, I had to rush to the nearest restroom amongst the little shops and peddlers there and throw up once again.
I felt that I had let out much of what was in my stomach on this go-around. But when I was done, I felt weak and Julie noted there were spots on my forehead and cheeks.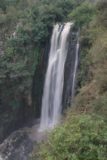 Clearly I didn't look well.
Even the Kenyan shopkeepers were concerned, but when Julie and I started to head over to the overlooks of the falls, that didn't stop them from urging us to go to their boutiques when we were done.
Indeed Thomson's Falls (also known as Nyahururu) was an impressive 82m waterfall. The views from the various overlooks were quite nice, but it was hard to enjoy the falls in peace when there were peddlers all around you trying to sell you stuff or get you to pay to take their photographs.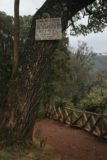 I really wanted to hike to the bottom of the falls, but a sign posted on a tree there warned of potential pickpockets and muggers, and that guided walks for a fee were recommended.
This got Julie to try to discourage me from going down. Plus, in my weakened state with the food poisoning, I didn't put up much of a fight.
At 10:40am, we were back in the car. It was a shame that I didn't get to fully experience the only waterfall on our Kenyan safari due to my health. But at least we got to see it and bag this one as yet another impressive waterfall seen on this trip.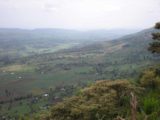 Nyahururu was very close to the equator, yet it didn't feel hot and humid as we would've expected. That's due to the high elevation. And it was for that reason that Siraj pointed us out to some runners in red jackets training for long distance running in the Olympics or for marathons. The high elevation training was to help them strengthen their lungs.
At 12:50pm, we made it to the Sarova Lion Lodge in Lake Nakuru National Park. The drive to get there seemed really long because I was starting to feel nauseated again. It was too bad because there were great views of the great Rift Valley as we descended towards Kenya's answer to Lake Manyara in Tanzania.
At the lodge, I was still feeling nauseated, but we still had to check in and walk all the way to our room.
Some of the lodge staff could tell I wasn't feeling well.
"Mgonjwa?" asked one Kenyan lady to Siraj.
"Ndiyo," said Siraj confirming that I was sick.
Siraj told us we'd go on another game drive at 4pm today. But given my current health, I really wasn't sure if that was going to happen.
As we walked up to our room, there were numerous stairs to get there. Indeed the walk seemed like it took forever.
By the time I crashed in our mosquito-net-sheltered bed, I was curled up like a shrimp with chills and high fever.
It was around 1:15pm by now and it really didn't seem like I was going to leave the room. Julie had lunch by herself.
During the next couple of hours, I was in between sleeping, tossing and turning, and getting up to diarrhea or on one occassion vomit.
But miraculously at 4pm, I felt like I was ready to tough it out and join Julie and Siraj on the only game drive in Lake Nakuru that we were scheduled for.
Siraj seemed proud of me as we went on the game drive because I was toughing it out.
"You have to show you're strong like a man," he said. I don't think Julie liked that comment very much.
Anyways, the weather was deeply overcast and it was also starting to rain a little.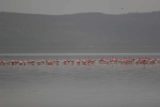 We spent this game drive along the shores of Lake Nakuru seeing many Marabou Storks and Pink Flamingoes. There were tree climbing lions in the park, but again we didn't see any cats.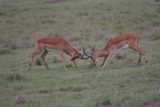 The highlight of the game drive happened when we left the lake shores and Siraj spotted a white rhino wallowing in the mud. We spent lots of time getting a close look at the impressive animal. I guess that one was one member of the Big Five that we can't say we saw in Tanzania; even though white rhinos aren't native to this area.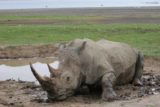 We also spent a short bit of time looking at the panorama from the Baboon Cliffs. I saw signs for Makalia Falls along the way, but we didn't do it, and I saw on the map that it was a bit out of the way.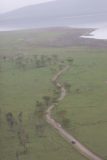 Besides, the rain really intensified and it was time to get back to the lodge.
I spent the next hour laying down in the back seat as my nausea came back again.
By the time we got back to the lodge at around 6:30am, I went back to bed to lay down and try to sleep it all off.
Unfortunately, in the middle of the night, my stomach was in great pain and it wasn't until I was sleeping while sitting upright against the headboard that I was finally able to get some rest until the following morning. I swore that all that throwing up and not being able to eat might have caused an ulcer or something because my stomach was in pain whenever I was laying down…