Day 6: JEALOUSY
With my stomach still on the mend, we had ourselves a light breakfast before going on a 7:30am game drive. The drive started off on a somber note when Siraj announced to us that Morgan Tsvangirai withdrew from the scham Zimbabwe election due to Mugabe's cronies using their police and military force (even killing and torturing some MDC supporters) to get their residents to vote for Mugabe. That was too bad.
Anyways, this time on our game drive, Siraj tried something different by letting us have breakfast first instead of having the early morning game drive, and stringing this game drive together with the mid-morning one.
Well his strategy seemed to pay some dividends because he spotted a cheetah sitting on top of a hill in the distance.
With no obvious way to get a closer look, Siraj proceeded to drive right into the grass and create his own track in an effort to get closer to the cat. But Siraj was faced with rocks at the base of the hill and couldn't go any further.
Julie and I were a bit disturbed by this move as we knew that this practice disturbs the soil of the fertile Maasai Mara. We wondered if other drivers here do the same thing.
Julie actually talked to Siraj saying she didn't agree with this practice. But Siraj defended his actions saying there's no way the tourist would get close to the animals if confined to just the roads. Now I actually see Siraj's point because the Mara plains were quite big, but the Serengeti plains were also extensive and we didn't see Salim do such a thing (though some of the tracks off the main road could've been started by someone and then followed and made deeper by others).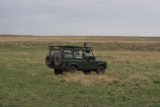 I guess this debate was sort of one of those gray areas of wilderness ethics. Plus, we saw other drivers do the same thing, and this was yet another knock on why I thought Tanzanians did a better job at taking care of their environment than the Kenyans.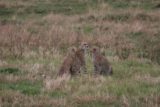 Anyhow, half an hour later, Siraj saw another vehicle off the road stopped. There were two cheetah cubs and a mother there. We stopped near the cheetahs to watch the cubs play while the mother looked in the distance for some potential food in the herd of gazelles.
She even tried to hunt them, but the gazelles saw them from too far away and the mother aborted her hunt.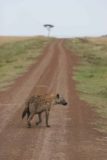 The next couple of hours were spent driving around seeing other wildlife like hippos in the Mara River as well as a few jackals and hyenas.
I did notice that we passed by a road junction where the Tanzanian border was only 3km away. However, the sign said it was closed. I asked Siraj why it was closed and he was quick to point out that Tanzanians were worried about Kenyans capitalizing at their expense somehow.
Truth be told, I actually thought it might have something to do with Kenyans being a little too liberal with their off-roading practices and the Tanzanian authorities didn't want such liberties destroying their parks and reserves…
At 10:35am, we saw a safari vehicle with some heavy duty camera equipment (Siraj said they're filming a documentary) parked in front of a tree. The passenger pointed somewhere in the direction of the tree (we weren't sure if it was on it or on the ground) and said, "Chui."
That was the magic word ("chui" is Swahili for leopard).
Siraj tried to spot the leopard from a different position than the other vehicle but wasn't successful. When the other vehicle drove off, Siraj took its spot, but none of us were able to see the leopard.
Both Julie and Siraj looked up at the tree. I could've sworn the previous guy pointed somewhere closer to the ground. But in any case, Siraj seemed ready to leave and did so when he thought it wasn't in the tree. Julie and I thought he gave up on this way too soon.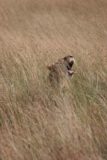 At 11:15am, we spotted a pride of lions sleeping in tall grass not too far from the road just down the hill from the Mara Serena Lodge. We didn't see the male of the pride. Also, the lions weren't all that photogenic amongst the tall grass.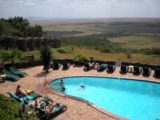 At 11:45am, we were back at the lodge to have a lunch and another afternoon siesta.
At 4pm, we went on another game drive. With the successes of this morning, perhaps we might get lucky with more interesting animal sightings and possibly a rare kill.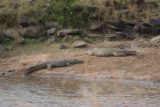 Siraj first took us to the banks of the Mara River near the lodge where there were some huge Nile Crocodiles trying to cool off. These crocs looked big enough to rival the saltwater crocodiles in Northern Australia!
But after another two more hours of game driving, it turned out that we weren't successful finding any more cats. As a matter of fact, there wasn't that much wildlife period (even amongst the herd species except for a few odd gazelles, topis, wildebeest, zebras, and giraffes).
Siraj acted on some fellow safari vehicles' advice on two male lions, but we came up empty.
We were back at the lodge at 6:15pm. At this time, Julie and I were feeling a little homesick (though the lackluster game drives didn't help) and we couldn't wait for our Kenya portion of the trip to end.