Day 7: THE LAST GAME DRIVE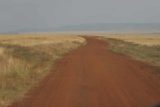 With the relative lack of success (especially compared to our Serengeti experience) on our game drives here at the Maasai Mara, our 7:45am game drive on the way out of the park felt like it was to be endured rather than anticipated.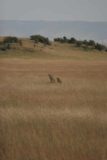 At 9am, we saw a pair of brother cheetahs around a termite mound surveying the scene and possibly about to attempt to make a kill. Siraj said when two male cheetahs are hunting together like that, their chances of being successful are greatly improved.
Unfortunately, Siraj didn't stick around to see this hunt develop.
"Haraka haraka haina baraka," thought I.
By 10:10am, we were at the gates of the Maasai Mara Reserve and were about the leave the park.
On the way out, we saw a pair of ostriches pretty close to us. The male had a very pink neck and the female was flapping both wings. Could they be about to mate?
We stopped the van for a brief moment to see what would unfold. The female ostrich was flapping both wings and doing her dance still. Apparently, she looked ready. But the male kept grazing and seemed oblivious to her hints.
"He's a very stupid ostrich," said Siraj jokingly, suggesting the male ostrich was turning down a golden opportunity to spread his seeds.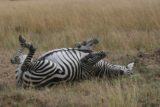 Anyways, as we were just on the outskirts of the reserve, we noticed a group of zebras. What made this moment interesting was that one of the zebras kept rolling on its back. Apparently, it was real itchy and needed to relieve its itch.
By 1:30pm, we had a lunch break at a curio shop. This was the first boxed lunch we had in Kenya, and it brought back memories of having boxed lunches each day with Salim in Tanzania.
Ah those were pleasant memories. For this lunch, it was just Julie and I eating together. Siraj was eating with some locals at a different table.
We continued onwards to Nairobi at 2:05pm and by 3:30pm, we were back in our hotel in downtown Nairobi.
It marked the end of our safari in Kenya, and it felt like it was a merciful end. Perhaps it wasn't fair that Kenya had to follow Tanzania, especially since it was a very hard act to follow.
Nonetheless, we spent the remainder of the day relaxing and looking forward to the final leg of our trip of a lifetime, which starts tomorrow as we leave Nairobi for Cairo, Egypt.