Day 1: THE WATERFALL SAFARI BEGINS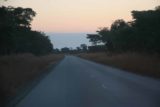 Today began with an early departure of about 5:30am. Considering we had a rather long day of flying from Livingstone to Lusaka then driving to Forest Inn, which was about 3.5 hours away from Lusaka, there was no rest for the weary.
Still, we were used to Australian time so waking up early wasn't a big deal to us. And so our driver, Chester, drove off in the 1988 Pajero (completely cracked windshield and smell of diesel from the 120L stored above the car and all) in the dark and continued east.
Quite a bit was on our minds from yesterday apart from our waterfalling safari. We were worried about forgetting our Yellow-Fever Certificate at home and wondering whether we'd have to get pricked again when we get to Tanzania when HIV/AIDS is still a big problem. Another worry was our itinerary having us stay farther away from Forest Inn (at Mutinondo Lodge) on the morning we depart from Lusaka to Nairobi to Kilimanjaro at 11am! Julie and I aren't sure why Nickson (the boss or bwana at Zambia Safari Company) did this, but his insistence that it's only 50km east of Forest Inn somehow doesn't add up.
Anyways, back to the trip…
The waterfall safari we had booked with Zambian Safari Company (we'll use ZamSaf from now on) was supposed to include Kundalila Falls, Mumbuluma Falls, Musonda Falls, Mambilima Falls, Ntumbachushi Falls, Lumangwe Falls, Kabwelume Falls, Kundabwika Falls, Chishimba Falls, Kalambo Falls, and Chusa Falls. The itinerary was called 10 waterfalls in 10 days, but that itinerary stated 11. I guess the more the merrier, right?
Anyways knowing how long distance driving can induce sleep on drivers, I sat with Chester in the front seat trying to keep him awake and to learn a bit more about Zambia as well as the native languages here. I learned a few words in Nyanja at Victoria Falls, but now Chester was telling me Bemba is more commonly used up in the north where we're going.
Unfortunately, his english was quite limited and I spent months learning Swahili (not Bemba nor Nyanja) so it was a little difficult to try to learn all that we wanted to learn about Zambia and its peoples in the time we're spending in the car.
So our knowledge of Zambia pretty much came down to what we have already read in Lonely Planet and Chester pretty much confirmed or refuted yes/no type questions we've asked.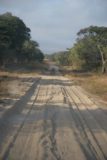 After nearly two hours on the Great North Road, we drove a short 14km high-clearance-type unsealed road, which was pretty straight shot for most of the way. The road was flanked by low-lying trees and some classic African shrubs.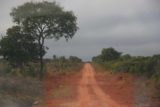 The was a little sandy in places, and it made me wonder whether a 2wd passenger car might get stuck in some of those spots. But the road itself seemed to be pretty packed even where there was sand so perhaps it would've been a non-issue (not that I would know since I wouldn't consider driving here).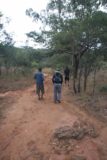 In any case, we ended up at the car park for Kundalila Falls by 8am. We used a little toilet facility there that seemed to be a lot more gross than just peeing in the bush. It was like a room after a confined spiral passage where you just peed freely onto the room itself, which I recalled also had a hole on the ground. But there was no movement of air there, and so flies were everywhere and the stence of urine and poop was oh so strong.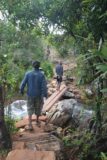 According to Chester, this is a Bemba area so I tried to get into the spirit by greeting people with "Muli shani."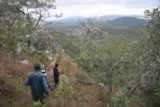 We met the local guide who took Chester, Julie, and I on a rather unsigned but fairly easy-to-follow trail. We first were led towards a view of the top of the falls, which was a little on the precarious side given the presence of dropoffs. Plus, the route we took to get here didn't appear to be official.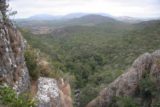 The view from the top already gave us a tantalizing look at how much more we might be able to see from the bottom. The lacy, rivuleted 20-30m cascade twists and tumbles to a forested area below. We could feel the spray from up here, but that didn't stop us from taking photos here before backtracking to the main trail then continuing to the bottom.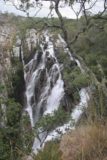 Along the way to the bottom, we could get scenic views of a surprisingly rocky land dotted with shrubs. We couldn't celebrate the views for too long because that was when the trail steeply descended around a hill and towards the slippery base of the falls.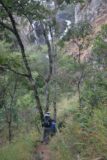 During the descent, the local guide with Chester translating told us that the falls got its name from "kunda" meaning "dove" in Bemba and "lila" meaning "crying". So we have "crying dove" falls, which was based on now-extinct doves that used to live here, but white prospectors killed them off thinking there's gold in their gizzards. The doves were thought to have eaten anything including gold dust. It turned out the prospectors weren't successful anyways and the extinction of the doves were all they had to show for it.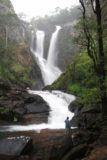 Down here, it was tricky to try to get all the way to the bottom as Chester and the local guide had. So Julie and I were content to take what photos we could from our vantage point.
By 9:15am, we made it back to the car park after huffing and puffing on the ascent. 15 minutes later, we left the National Monument site and continued on to our accommodation for the day.
So the next several hours were spent going back on the Great North Road, then heading north from the village of Serenje. From that point, the road degenerated into a series of potholes and overgrown shoulders. There was Kasanka National Park along the way, but we weren't after wildlife on this safari and passed on that.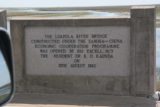 We did pass through a scenic swampland area bisected by a bridge that apparently the Chinese helped to build. This Chinese-Zambian cooperation wasn't the first instance we've seen so far. Yesterday, we saw some Chinese mining operations on the way to Kapiri-Mposhi on the outskirts of the Copperbelt Province just before we veered east to Forest Inn.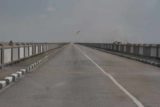 Chester seems proud and grateful for the Chinese for their building up the Zambian infrastructure. Though Julie and I suspect the Chinese are probably trying to mine for copper while providing some much needed infrastructure to the country in return. I understand the Chinese are trying to do the same in DR Congo.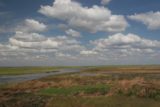 Anyways, we continued dodging pothole after pothole on the way to Lake Bangweulu. A few potholes were actually big enough to seemingly swallow the bumper of 2wd vehicles. I'm not sure we had seen sealed roads this bad in all of our travels, and we started to wonder if this is typical of the rest of the country.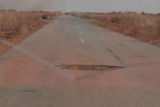 Chester seemed to have attacked these potholes at almost full speed in his attempt at dodging them. However, he missed some of the potholes and that jolted the Pajero tremendously. At one point, the rack holding the 6 20L containers of diesel above the car came loose as one clamps came off.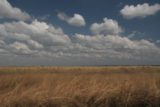 Both Julie and I looked at each other and thought, "Great. We're in day 2 of our Zambian Waterfall Safari and there are already problems."
Anyways, by 2pm, after Chester asked for some directions near Lake Bangweulu (which struck us as rather strange when your guide is asking for directions), we ended up at the Samfya Sun & Beach Hotel.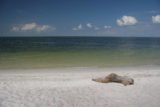 Situated right on the shores of Lake Bangweulu, we expected a swampy lake. But instead, we got a sandy beach with traditional African huts. Although the waters looked very inviting and a break from the rather heat and humidity of the day, we had read there were crocodiles in the water and decided to pass on a dip.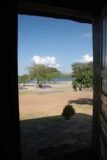 Nonetheless, it was a rather pleasant surprise, and our relatively early arrival allowed us to spend the rest of the afternoon peacefully. We even had time to watch the movie "The Insider" by Michael Mann.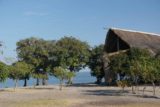 Of course, we immediately knew we were in Africa when the generator power suddenly went out and we ended up having fresh fish and chicken over rice lit by only candlelight. Flashlights were necessary to get around in our spacious room.