Day 2: SPY HUNTER
It was 6am when we awoke. The electricity went out again. During that time, I tried to photograph a sunrise over the lake, but with clouds, there was no such sunrise. There were early morning fishers out on the lake already though.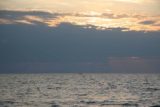 By about 7:55am, we left Samfya. During breakfast, we met a guy trying to prevent child labor through education. He was a Global Vision guy who arrived in one of the new SUVs that made our safari vehicle look like a dinosaur.
It seemed like the Global Vision cause was quite inspiring and noble. After all, it seemed that Zambians in rural areas put their children to work instead of bettering themselves through education. Global Vision sought to keep the children in schools to get better educated and not fall into a cycle of child labor and lack of education. A better future perhaps?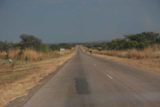 And so we headed over to the town of Mansa. And once again, we were swerving around potholes at full speed.
I was immediately reminded of the old video game "Spy Hunter." But instead of dodging oil slicks and bombs, we were dodging potholes as well as pedestrians and bicyclists.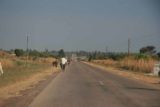 By 9am, we arrived at the town of Mansa. I wasn't sure what kind of business needed to be done, but the Zambian Safari Company had an office here and we seemed to have spent quite a deal of time here.
It was here that we learned that ZamSaf was extensively involved in bus services throughout Northern Zambia. That kind of made us wonder whether ZamSaf Safaris were their core business or not given the relatively unpolished product we've seen so far.
Julie took this opportunity to use the scarcely-available internet (albeit a rather slow connection) to try to secure our forgotten Yellow Fever Certificate for the East Africa leg of our long trip after this Zambian Safari. We also paid some bills as well.
Meanwhile, Chester and a few Zambian Safari (ZamSaf) guys were fixing something regarding the steering of the car. I wonder if that was induced by Chester hitting a few of the potholes at full speed.
As that was being cared for, I spent time with Bennet (the apparent "head" of the area as far as ZamSaf was concerned), who took me for a walk around town trying to help Chester find a particular nut. Julie stayed behind.
Bennet seemed to have some kind of speech impediment, but I later learned that he had suffered a stroke not that long ago. The guy seemed very young, and it seemed very unusual that such a young guy could have such an affliction.
Anyways, as I walked with Bennet, I got a lot of stares from the locals. Apparently, I was the only non-black (let alone Asian) in town. It felt rather awkward being the center of attention from strangers. I just tried to put on a smile and say "Muli shani" whenever I could.
Bennet told me that Mansa appeared to be built up by some Lusaka businessman who owns some 80 buses. I guess that explains why buses stop here. Why Mansa, though? Who knows?
Finally at 10:50am, we left Mansa and finally continued our waterfall hunt. We were supposed to see four waterfalls today. But with our late start, I'm not sure how many of them we'll see.
Delays seemed to be the order of the day as Chester had to spend more time securing that troublesome loose rack holding the petrol above the car. Then, Chester got briefly lost before asking for directions and finally getting us on our way.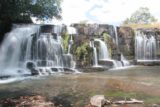 Finally at around 12:15pm, we arrived at Mumbuluma Falls. There was an 8.4km detour to get to these falls.
Experiencing this falls was a rather awkward experience as we were joined by a local guide and a whole group of kids. No one spoke english so we spent the next several minutes seeing both the upper and lower falls while all the locals were staring at us the whole time. In other words, hardly any dialog.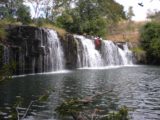 Mumbuluma Falls were probably no more than 5m each, but they were wide. Not exactly show-stopping waterfalls, but they were charming in their own right.
By 12:50pm, we were back in the car. The next waterfall was supposed to be Musonda Falls.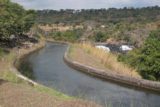 Well we got there at around 1:30pm, but the sign "Musonda Falls Power Station" didn't look appealing to us.
Sure enough, after trying to deny the whole village from selling us stuff through the car window (if you didn't learn how to say "no" at this point, you will after this), we were joined by an armed guard who was going to take us on a brief tour of the falls.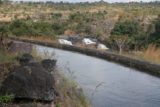 As expected, the hydro plant robbed the falls of much water, but there's still a decent amount of water going over the falls itself. However, the view was disappointing because the gate for the bridge across the canal was closed. The canal itself was some 5m deep.
Despite the crappy views of the falls, the silver lining was that this hydro plant supplies power all the way back to Mansa as well as the local communities.
Next waterfall was supposed to be Mambilima Falls. It was funny watching Chester asking the locals where the falls is. Isn't he supposed to be the driver and guide?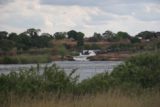 Anyways at 2:15pm, after a rather brutal detour to what looked like someone's property, we guided ourselves and walked in amongst the heat and humidity and went to what looked like a bunch of rapids. This wasn't a waterfall in our book. I didn't even bother taking many photos of it.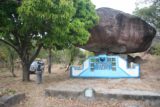 At 2:40pm, we headed out. Chester intended for us to visit some local chief, but as the skies were getting darker, it seemed like we weren't going to see that (not that we were that interested in it) nor were we going to see Ntumbachushi Falls, which was supposed to be the fourth of the day.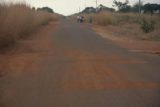 Especially with all the potholes, it's rather slow going. The potholes also seemed to get progressively worse the further we went. Even some of the potholes spanned the width of the road!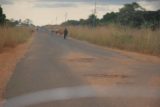 Julie and I were beginning to wonder whether this 10 Waterfalls in 10 Days Safari by the Zambian Safari Company was a scam. After all, the last two waterfalls we saw were duds and Mumbuluma Falls wasn't exactly a barnburner.
By 3:55pm, we decided to bypass all remaining excursions and head straight for the next accommodation. Perhaps Ntumbachushi Falls could be done tomorrow. In any case, we didn't want to be on the road in the dark with all those potholes lying around.
By 5pm, we finally arrived at the Lusenga Trust in the humble town of Kawambwa.
The first order of business was to try to correct the end of our itinerary. It had us leaving from Mutinondo Wilderness Lodge and trying to catch an international flight that very morning!
After seeing all the potholes on the roads and how long it took just to go to even get to the Forest Inn from Lusaka, we weren't going to take any chances leaving the itinerary as is despite what Nickson booked for us initially. Besides, Chester even knew a Mutinondo departure on the day we leave was now a pipe dream.
So after consulting the Zambia road map and using Chester's cell phone to call Nickson at the Lusaka office, we finally got the accommodations squared away. We agreed to sacrifice Chusa Falls (I guess waterfall 10) in the itinerary to make this happen. That also meant bypassing the Kapishya Hot Springs. So we'd be staying at Mutinondo Wilderness Lodge the night of Day 8 and in downtown Lusaka on the night of Day 9 so we wouldn't be in a hurry to catch our flight to Tanzania at 11am on Day 10.
After seeing the 2 duds today, we weren't going to waste time on anything small so when Chester said Chusa Falls were small, that was all we needed to hear to axe it from the itinerary.
Finally at 6pm, we got settled. Unfortunately, electricity was sparse here. When electricity did come back on (it was generator powered), there was no hot water. There was also no trash and no refrigerator as well as a rather poorly positioned mosquito net over the bed. On top of that, the next door guest had a baby crying nonstop, and a dog was barking somewhere not far away in town. And, there was blaring reggae music (both Zambian and Bob Marley as well as others) from some shop across the street.
At this point in the trip, the disappointment of yesterday's falls and the actual prices of the food and accommodations on the trip so far made me wonder whether we were getting ripped off.
Needless to say, our morale was low at this point. Yet the silver lining was that things could only get better from here, right? Besides, I reckon you can't experience the highs until you understand what the lows are.
So I guess this is the REAL Africa! And according to our itinerary, we'll have to spend tomorrow night here as well!