Day 3: THE REAL AFRICA
It's 7am. The hits kept coming.
As we were having breakfast, Chester showed up early and told us that he had a flat tire. I guess running over all those potholes at full speed not only blew the steering and the rack, but also the tire as well!
Julie was now expressing (as opposed to venting to me) her reservations and frustrations at using an old vehicle for a safari such as this. But there wasn't a whole lot we could do now.
At least we noticed that Chester took the petrol off the roof of the Pajero. So the car won't smell like petrol as we're sitting in it, at least. Who knows how much petrol sniffing we subjected ourselves to the last two days..
So right off the bat, we had to wait for Chester to get the problem fixed. He was accompanied by another guy who was well-dressed and was going to be our guide for today. His name was Joseph. They both set off and Julie and I were left at the Lusenga Trust trying to pass the time reading.
I had a feeling this would take a while.
Finally at 9:45am, Chester and Joseph showed up and we were finally on our way to continue waterfalling.
So the story was that the rear left tire was essentially slashed from both old age and potholes. It took them a while to find a replacement. That's because Kawambwa was remote and there aren't a whole lot of spare parts dealers and mechanics there. It turned out that they were offered fake tires by one of the mechanics before a wary Joseph got Chester to find someone (it turned out to be the owner of the Musonda Lodge across the street) who sold his spare tire.
Anyways, during the drive to our waterfalls for today, Joseph told us he was the local guide and conservationist for Ntumbachushi Falls – the one we missed yesterday. He's hoping we can do that one tomorrow morning. He was quick to mention that the falls we're doing today have crocodiles so we can't swim. But you can swim Ntumbachushi.
The conversation with Joseph was rather interesting. He seemed to know quite a bit about the state of tourism in Northern Zambia. In fact, this is one part of the country where they (the government) verbally said they really want to promote tourism. I got the feeling that we were one of the brave people to actually give it a shot before some serious infrastructure was going to be invested.
He said there are dignitaries coming later in the year to visit the area to try to get more money spent here on infrastructure.
We also learned that the Lusenga National Park nearby is trying to repopulate and stock big game animals with excess stocks from more successful reserves like the Luangwa National Parks and Lower Zambezi. Of course, poaching is a big problem and somehow they need to employ the poor villagers in order to stop them from finding less agreeable means of earning a living (or even surviving, apparently).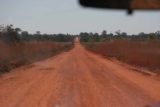 The tarmac road quickly gave way to a rather dusty dirt road. Chester and Joseph kept the windows down so dust got all inside the car – including ours packs and even my big camera. That's just great…
By 10:55am, we finally got to a point where we crossed the Kalungwishi River. Joseph said there are five waterfalls on this river. Kalungwishi Falls is what all waterfalls are collectively called, but each major tier has a name. But like he mentioned earlier, there are crocodiles and hippos in the river.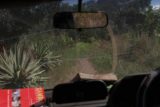 After crossing the bridge, apparently the signposts for the falls went missing. Joseph suspected locals destroyed the sign to make things they need like pottery or whatever. This was giving both Joseph and Chester trouble as they both asked for directions on where to get to Chipempe Falls.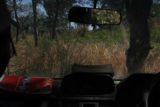 Eventually, Chester and Joseph took a road that quickly became more like a footpath. It looks nothing like a road suitable for any vehicle. Eventually, this degenerated into just driving through tall grass! My thoughts were whether we'd get out of this with all tires intact!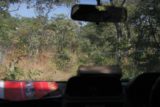 By 11:30am, we finally stopped the car at some spot Joseph told Chester to stop at. We scrambled around all the while hearing some loud rushing water sounds. It wasn't long before we caught partial and unsatisfactory views of the top of Chipempe Falls.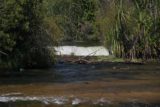 It seemed like a lot of trouble for a waterfall that wasn't worth it!
Joseph said the falls was named after the Chipempe Church because of missionaries that came here and set up camp by the falls.
As we left Chipempe Falls, Chester and Joseph tried to continue on some "shortcut" that links up with the road to Lumangwe Falls, which itself has a signpost and legitimate road. Unfortunately, it seemed like we were still driving through footpaths or non-existent paths. I could just hear Chester's Pajero suffering from all this off-roading.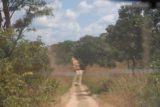 Anyways, we eventually rejoined the road after several minutes of consulting locals who happened to be walking around the area tending to some local crops.
After all the offroading, the road to Lumangwe Falls was a good sign.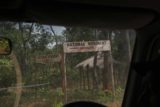 What's more, we eventually got to a gate with signs for the falls. Yet another good sign that this one might be legit.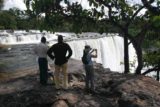 The local guide for this area was a guy named Chanda. He squeezed into the car and we all continued on the relatively tame high clearance road towards the campsite and car park for Lumangwe Falls.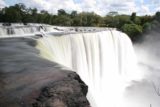 At 12:30pm, we finally got to see the falls from the top, and for once, this one was worth it!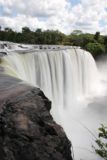 It's like a mini Niagara Falls except it's maybe 15-20m tall and 30-50m wide. It had nice flow, and it was very impressive from the top.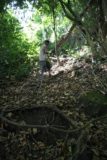 Very misty on the bottom as well as the other main overlook that's more frontal. The path to the bottom of the falls was very steep and even involved a scramble holding on to a natural vine.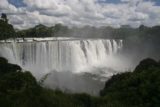 By 1:05pm, we returned to the car and headed to the other main waterfall in this park called Kabwelume Falls. The signpost at the start of the spur road belied the terrible shape the road is in.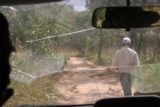 During the rather dramatic drive where the road was riddled with ruts and water channels deep enough to turn the Pajero over, Joseph got out of his car and walked in front of the car to try to guide Chester. I got to hand it to Joseph for getting out in the heat in his trenchcoat and dress shoes and getting down and dirty to see our safari through.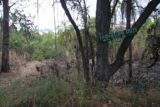 Chanda was trying to tell Joseph it's still quite a ways to the falls and that he should stay in the car. But that was futile.
Mercifully by 1:35pm, we were at the car park for Kabwelume Falls.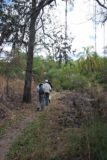 Chanda mentioned that Kabwelume Falls and Lumangwe Falls were related to some kind of spiritual snake in which both falls were opposite ends of that snake. The locals believed that Kabwelume Falls was forbidden and that photos of the falls taken wouldn't come out or some other calamity that kept from the falls being known to the outside world.
Chanda also said that the falls were recently released for hydroelectric plans further downstream. It's still in proposal now, but he assured that the falls would stay intact after the proposal was seen through…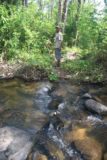 It was only a 300m walk to the falls, but it involved a rather deep stream crossing that was tough to do without getting your feet wet. Nonetheless, Julie managed. I had on Gore-tex boots so I didn't mind getting wet as much.
As we continued onwards towards the falls past the stream crossing, Chester startled all of us when he mentioned he couldn't find his keys!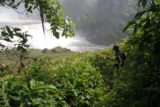 So immediately, Chester turned back alone while Chanda, Joseph, Julie, and I continued onwards to the falls. With the thought of being stranded out here on our minds, it was hard to be in the moment even as the falls was roaring and it became apparent to us that this was more than just another one of the dud waterfalls we had seen up to this point (with the exception of Lumangwe).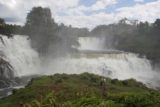 And soon thereafter, Chanda led us right to a slippery muddy descent towards a misty grassy outcrop right before the very wide and rather uniquely-shaped Kabwelume Falls.
Like Lumangwe Falls, it wasn't very tall (maybe 15m or so), but it was very wide and segmented in such a way that it had multiple steps on the right-hand side and direct drops on the left-hand side with a couple of other falls with different characteristics in between. Perhaps it was 4-5 different waterfalls all coming down at once. It's hard to describe in words, but Julie and I hadn't seen a waterfall quite like this one.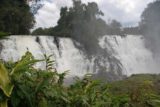 Now I could see why Chanda thought this one was even better than Lumangwe Falls.
In fact, this waterfall changed our opinion that staying in Kawambwa was a waste of time.
Even with the wide angle on my camera, I couldn't get the whole scene here. It needs to be stitched. Joseph and Chanda went all the way to the grassy area which was drenched in mist. I stayed behind trying to photograph the scene and avoid the mist.
Not long afterwards, Chester rejoined us with news that he found his keys! What's more, he found his keys in that stream we had crossed!
Whew!
I was worried that maybe Chanda's story about bad spirits keeping the falls from being seen by the outside world might be coming to fruition.
And so we spent a few minutes more trying to capture the intensely picturesque scene before returning back to the car.
By 2:15pm, we were back at the dusty car.
Chanda said Kundabwika Falls was another 60km on very bad road from here so we couldn't do it today and probably not on this trip at all. Scratch that from the itinerary! Joseph was saying you need a full day just to do that one. Perhaps 30km/s top speed to even get there, but it was only 5km one-way as the crow flies.
As we were headed out back to the main road, the mood in the car changed from that of concern to that of how to make this attraction more accessible.
After all, if you have crappy infrastructure, no one will come here.
And so we were involved in a rather interesting and enlightening discussion on how to involve local villagers in conservation in such a way that it's not necessary to poach for bushmeat or for quick money. It's not easy, but it's clear the locals have to have a reason to conserve and the government has to get with the program.
Unfortunately, Northern Zambia seems to get the short end of the stick as evidenced by the crummy roads and the neglect of the parks and lack of marketing here.
It seems locals here don't quite buy the government's insistence that this part of the country will get more money to prop up tourism. They say they've been hearing this for a while but haven't seen the goods.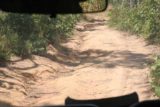 Even Joseph criticized Chanda when we got to some of those ridiculous ruts and gullies telling him, "This is not that hard of a problem to solve."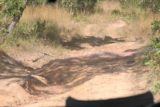 Anyways, all this talk about parks and tourism as a viable industry for locals here was very educational for us. It got us to think about tourism in ways we never would have thought of as merely visitors soaking up the experience. Obviously, lots of thought, resources, and planning must go into an operational and successful tourist attraction. And we're right here at the forefront of it in the forgotten corners of Zambia.
After dropping Chanda off at the park gate, we were all merrily continuing on our way back to Kawambwa thinking that maybe all this trouble to be here was all worth it and we've got more good waterfalls to go on this trip…
That was when our fortunes changed…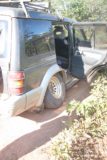 Suddenly, Chester's car made a loud bang and the entire backside of the car sank to the ground.
At first, we thought Chester blew another tire.
But when we all left the car, the severity of the situation became immediately known…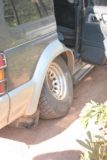 The rear axle of the car snapped! Transmission oil was also leaking from the car.
Now, we're stuck.
Just when I thought we managed to escape that snake spirit Chanda warned about, it got us!
Chester was convinced this wasn't that big of a deal and left his stuff in the car. Joseph, Julie, and I weren't so sure as there was no cell phone coverage, no readily-available transport, and no bush mechanic in sight. So we got all of our stuff sitting in the Pajero and started walking. At least the rest of our stuff was back at Kawambwa so we didn't have to carry ALL of our bags!
We were still on the Lumangwe Falls road, but we weren't exactly sure how far away from the "main road" (the Kawambwa-Mporokoso Road) we were. In any case, we had to walk to at least the nearest village, which we weren't exactly sure where that was either!
We managed to pass by some locals with a little shack and crops. That person loaned Chester his bike so he could quickly go back to the main road and find some help.
Meanwhile, Joseph, Julie, and I continued walking on foot carrying our gear.
The local said we were only 2km from the main road, but after an hour or so, it was clear we had walked farther than that!
Well at least we were back on the dusty main road back at around 4:15pm. I could see there was a signpost for Lumangwe Falls. I only wished that we took this road into the falls instead of that crazy shortcut to Chipempe Falls.
Anyways, it was around 5:05pm when we made it to Kalungwishi Bridge and the local village nearby.
There was some major commotion going on over there as seemingly hundreds of people were walking our way. At first I thought it was because school was out.
But after Joseph talked with some of the villagers, he explained to us that the villagers caught someone who kidnaps people and steals peoples hearts.
At first Julie and I thought it was an organ thief, but then we realized that maybe they do have witchdoctors or shamans out in these parts. Pretty scary stuff.
Anyways, Chester wasn't here and all we could do at this point was to sit and wait at this village (which I think is called Mukuma Village).
We ended up staying at Chanda's home where his wife and kids were keeping us entertained. Eventually, Chester showed up and then Chanda showed up when it got dark. Still, we were in a bind as there was no network coverage here and no one had a car.
It was a good thing Chanda showed up because he got a local to watch Chester's stuff in his broken down car against poachers. He also got someone to give Chester a ride on his little motorbike to Kawambwa to get in touch with someone with an SUV in town to pick us up. There is cell phone coverage in Kawambwa so that was the immediate goal.
So with all this stuff going on, all we could now do was sit and anxiously wait. We weren't sure if we had to spend the night in the village…
As the sun went down, Chanda's wife was very gracious in letting us in her house while providing us with tea and bread. She even used their precious petrol to power up the generator to turn on the television, DVD player, and satellite TV.
It was a bit too much considering how few possessions they had. Yet they were very generous and concerned for our well-being.
I had heard that Zambians by and large were friendly people, but it's times like this when you see the true color of people, and perhaps in this case such a generalization was in fact true.
Julie was concerned the whole way through and I had to admit it was tough to get in the moment and into the Congolese music or watching K'millian videos with all the uncertainty surrounding us.
Joseph tried to console Julie's fears by telling her that we're the only Mzungu's (non-blacks) in the area so everyone knows we're here and we will be found. Things will work themselves out. He continued that ZamSaf (our tour company) invested a lot in transportation in the otherwise forgotten Northern Zambia. So he's sure someone will help because of what ZamSaf means to the area.
Finally at 10:15pm, Chester returned with the Musonda Lodge owner (the lodge across the street from Lusenga Trust in Kawambwa) and his SUV.
We all entered the already crowded vehicle with blaring Zambian reggae music. It was music to my ears!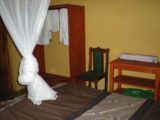 By 11:11pm, we were back at Kawambwa. I never thought we'd be glad to return to our basic room at Lusenga Trust. Even that blaring music across the street that kept me up (among other things) last night was music to my ears!
We had our late night dinner of (what else?) chicken and rice, and we tried to sleep at 1am.
At least we're back with our belongings. Now, we'll have to wait and see tomorrow what the state of the rest of our safari will be considering we no longer have a vehicle…