Day 4: THE GREAT DUSTY ESCAPE
With our late night sleep last night, we got up a little late for another breakfast and this time a hot bucket shower (they still don't have hot running water here and they probably never really had it). We weren't sure what's going to happen today nor how the rest of our ZamSaf itinerary would turn out. With so much uncertainty, peace of mind was something that seemed ever so elusive.
By 8:55am, Chester and Joseph showed up again. Clearly refreshed from much needed rest last night, they came up with news that Chester himself will hitch a ride further into town trying to find us transport to get to Kasama, which was quite a ways away from Kawambwa.
Chester's initial plan was to have us wait in Kawambwa until he got his Pajero fixed. But Julie and I insisted that we get to Kasama by tonight someway somehow (maybe by taxi, maybe by a favor by a local villager) and have a new vehicle meet us there whether by Nickson hiring a car in Lusaka and having another driver meet us or by having another available driver with his car meet us there in Kasama.
So with Nickson (by cell phone) and Chester clearly aware of our demands (it was a good thing we were proactive about this), Chester set about trying to figure out what he can do in town. Meanwhile, Joseph joined Julie and I and we managed to flag down a taxi that would take us to Ntumbachushi Falls while Chester was doing his thing.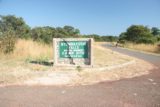 There was still the issue of how we'd get back to Kawambwa, but at least Joseph would finally get to show us the waterfall that he's responsible for.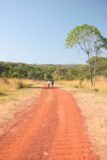 By 9:15am, we were dropped off at the Ntumbachushi junction. From there, Joseph, Julie, and I walked the 1.4km to the falls itself.
Compared to Kabwelume Falls yesterday, the road here was infinitely better, and we could tell Joseph was real proud of it.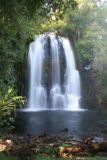 Anyways, the first waterfall we saw was quite nice and next to the car park. It was in the morning shadow so it was rather easy to photograph it in long exposure.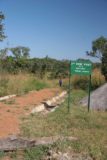 After taking our photos, Joseph led us to the other waterfall, which involved a bridge crossing then a short scramble on some rocks made slippery by mist.
The second waterfall offered us direct views, but was looking against the sun. Nonetheless, it was a nice waterfall and it seemed like it was a completely different waterfall from the first.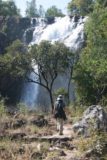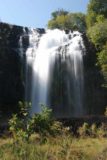 Joseph said that in the wet season, both the first and second waterfalls are joined together in a very wide wall of water!
After seeing the second falls, Joseph wanted us to go to the top of the falls and see some ancient rock art. Unfortunately, with our thoughts on returning to Kawambwa somehow, we passed on that offer knowing it would take us at least a couple of hours.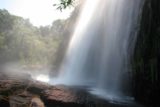 So we paid Joseph the park fee (at our expense even though we had previously paid for it as part of our safari with ZamSaf) and then we walked back to the Ntumbachushi junction at the main road. Joseph stayed behind to return to work. So Julie and I were on our own again.
Joseph seemed very confident that we'd find a ride back to Kawambwa as there are usually a fair number of cars going that way.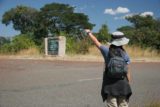 At 10:40am, we were back at the junction waiting for a taxi. It was getting rather hot so we tried to juggle waiting in the shade just off the road while making ourselves visible to passing vehicles. Still, we were wondering whether Chester got the transport situation worked out when we return to town.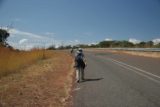 About 15 minutes later, it seemed that most the cars were going the other way (away from Kawambwa). Clearly we couldn't be picky about finding blue taxis and it looked like we'll have to just take our chances hitchhiking with whatever car was heading the way we're going. So without further adieu, we started walking.
This pissed Julie off big time as he we were doing what backpackers do except we paid ZamSaf non-backpacking money for this safari. She was even taking some of that anger out on me for going along with Joseph's idea to go to Ntumbachushi Falls in the first place. Still, I knew they were irrational concerns since we'd be spending time in Kawambwa doing nothing in the mean time had we stayed so I just let her stew.
Not long after we climbed to the top of the hill at 11:40am, a white SUV finally managed to stop for us and pick us up. They had no problems picking us up because we offered to pay equivalent taxi money to get back to town.
And 15 minutes later, we were back in Kawambwa. Unfortunately for the locals' car, it seemed something went out after going over a speed bump too fast in town.
Calamity seemed to follow us everywhere we go!
Anyways, we walked just next door to our goal – the trusty old Lusenga Trust. There, we conversed with the employees for a bit, did some more reading, then had ourselves another chicken with rice lunch.
At 1pm, Chester finally showed up with a taxi driver. They came in a real beat-up blue car. When Chester said we're catching this car to Kasama, Julie and I wondered whether we'd make it there! The taxi driver was confident in his little hooptie, however.
Meanwhile, Chester was going to stay behind and try to continue to rescue his Pajero from the bush.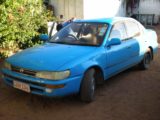 The taxi car seemed fragile as its trunk didn't seem to be able to close very well with all our bags in there. So we had to let some of the bags into the back seat. Eventually, the cab driver managed to keep the trunk closed, but whether it'd pop back open again in transit remained a worry.
At 1:45pm, we finally left the Lusenga Trust for Kasama.
"Kwenda bwino," said an employee to us, which I guessed (from my studying Swahili and recognizing that -kwenda was the root word for "go") meant to "go well."
"Tuatotela," I told him, which meant something like "we are thankful" in Bemba as we left.
And so we were on our Great Dusty Escape to Kasama. It's supposed to be some 300km from here to Kasama, but we knew it would take a while as the road was unsealed and dusty initially, and who knew what shape the road would be in thereafter?
Julie and I feared that all our bags would get dusted after yesterday's experience in Chester's car. Plus, they don't believe in closing their windows on unsealed roads, and I reckon the AC doesn't work.
But the greater concern was whether we'd make it and the taxi car itself won't break down.
And so we were off, and it fittingly seemed like we were leaving one phase of the waterfall safari behind and was entering another one. It truly did seem like an escape from the clutches of Kawambwa and the calamities that befell us here.
So for the next several hours, we anxiously rode in the old little 2wd blue 2wd Toyota Corolla or something like that vehicle. As expected, the road was dusty, bumpy, and riddled with ruts, potholes, washboards, you name it.
Still, the obstacles didn't deter Titan (at least that's what I thought I heard when I ask him his name). He proceeded almost at full speed despite the road conditions. He hardly rolled up the window so dust was getting everywhere inside the car. I wondered whether it'd get dusty in the trunk too.
I had hoped the tarmac would begin again after the town of Mporokoso (recalling something Joseph might have said to us), but that wasn't meant to be.
I had hoped that we'd be in Kasama and not be on this road in the dark. But as the sun had set after 6:30pm and we still had a ways to go, I gave up on that notion.
Indeed, the escape seemed so close yet so far away.
Mercifully at 8pm, we finally found the Thorn Tree Lodge in Kasama. It ended up being a 6-hour roller coaster in that beat up taxi. The tarmac didn't show up until the last 30 minutes. We got lost a bit in Kasama because Titan didn't know where Thorn Tree Lodge was, but eventually we got there.
So here we were at Thorn Tree Lodge. We met the innkeeper named Claire, who was actually Caucasian. She saw both Julie and I in our dusty state and told us, "Looks like you two have been on a bit of an adventure."
Apparently, Nickson had also gotten a hold of her and she was aware of our predicament regarding where we had to be for the remainder of our trip.
She had her workers give us wet rags to wipe off all the dust on ourselves and our ruined belongings.
She also insisted that Titan stay at Thorn Tree in the "driver's room" as there's no way he's going for 6- or more hours in the dark back to Kawambwa.
We had also learned from Claire that Nickson didn't bring us an alternate driver from Lusaka as we thought we had agreed earlier. We could read between the lines and we sensed that Nickson was still holding out hope that Chester will rendezvous with us at Mpulungu on the shores of Lake Tanganyika when we're done with Kalambo Falls the day after tomorrow.
This was unacceptable as this wasn't what we understood what was going to happen when we left Kawambwa, and we were really beginning to question the integrity of Nickson and ZamSaf.
Our state of affairs even got Julie venting to James (a Thorn Tree employee) about our predicament over dinner.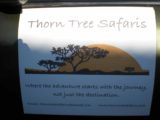 Anyways, Claire did mention to Julie that she'd arrange to take us up to Mpulungu and Isanga Bay. At first we thought Claire was merely an innkeeper, but little did we know that she was also the driver and guide for her own touring company called Thorn Tree Safaris.
So with the cloud of uncertainty still over us on the rest of the itinerary, which is now turned upside down, we tried to fight off the mosquitoes and rest off this night at Thorn Tree Lodge.
At least there was a hot shower! It was the first time that we could remember that we got one!
By 11pm, we were in bed, wondering what's to come tomorrow…