Day 5: PARADISE ALMOST LOST
Julie and I awoke at 7am. Another day and perhaps the hope of better tidings…
After having breakfast, we packed our stuff and learned from Claire that she's going to drive us to Mpulungu (on the southern shore of Lake Tanganyika) this morning. From there, someone on a motorboat would pick us up and take us to a place on the lakeshore called Isanga Bay.
By 8:50am, we left Kasama with Claire in a well-built 4wd vehicle. It was a far cry from Chester's dumpy Pajero. Speaking of Chester, we learned he was still in Kawambwa.
The next three or so hours on the road with Claire turned out to be the most educational of the entire Zambia leg of our trip. In this time, we probably learned more from her than from the few days with Chester combined.
Claire is a Zambian-born Mzungu (white person), who along with her brother (also born here), learned Bemba as the first language before learning English. It was quite a unique background.
She seemed to have a rather challenging upbringing being different from everyone else. Even when she went to more traditional schools in the UK later in life, she didn't really fit in with that mold of the prissie girl that had her clique and tried to be popular. In fact, she said she was more of a rough-and-tumble type who wasn't afraid to get in fights and settle the matter then and there and not hold grudges.
Anyways, her proficiency in both languages and her intimate knowledge of Northern Zambia (let alone Zambia itself) allowed us to discuss various things about the state of the country, the politics, environmentalism, education, her active involvement in the local communities here, and even her knowing of the guides we've come to know like Chanda, Joseph, even Chester, and Nickson.
She shakes her head and wonders how Nickson runs the company the way he does and gets away with it, and why they don't partner up letting Claire take over the north. Come to think of it, it was kind of strange that Nickson asked his competitor to bail him our of this latest situation with our safari.
She also commented on how Africans (especially the women) have the ability to balance things on their heads to free up their hands to do other things while holding the baby strapped on the back or front. All this was really more of a practical solution, and came down to nothing more than good posture (and not a flat head as many foreigners are quick to assume).
Even squatting to go potty was a more natural position than say sitting on a toilet, she contended.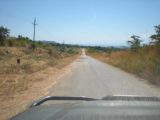 Anyways, our conversation with Claire was both inspirational and fun. It was a far cry from all the drama and misunderstandings up until this point with Chester. And this was quite refreshing.
So with all this going on, we didn't mind so much the crappy state of the roads (which not surprisingly was littered with potholes).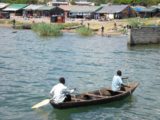 When it was about 12:40pm, we arrived at Mpulungu, which was a surprisingly bustling port town on the shores of Lake Tanganyika. Since the lake was bordered by several countries (Tanzania, Zambia, DR Congo, and Burundi), it had an interesting mix of Swahili-speakers, French-speakers, and Bemba-speakers.
Of course, she openly vents about the lake being overfished as it seems everyone here is out to go fishing for both food and money. Indeed they're getting too good at catching the fish with fine mosquito nets (so they're getting the young fish before they can spawn).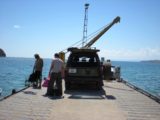 Anyways, Claire left us in the hands of Sean, whom she calls "Tarzan." He was another Zambian-born Mzungu, but he's far more soft-spoken than Claire.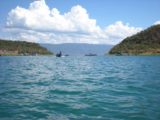 So with our belongings precariously put onto the rather small and rocky motorboat, Sean set us off onto the choppy lake to the shores of Isanga Bay.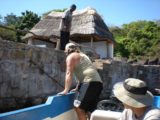 At 1:30pm, we got to the seemingly island-like resort.
This was not what we expected in the middle of Africa!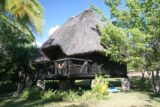 This place felt like a little bit of a tropical island paradise (like Tahiti), but we're still connected to the main land. All huts had the traditional straw-roofs, including the cool and spacious reception area. Our little chalet was also an elevated hut complete with multiple beds with mosquito nets around them. Our front porch had a nice view of the sandy beach and the lake itself.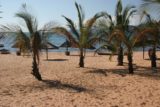 Plus, we met the personable manager of the property Rene, who openly encouraged us to snorkel on the lake.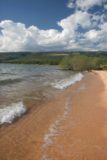 Indeed it was hot out here so chilling out on the sand was simply too tempting to resist. Plus, Rene's pasta and salad lunch really hit the spot.
So here we were in the middle of Africa and this little little-known paradise. It's crazy to think that this was paradise almost lost with all the calamities that befell us in Kawambwa.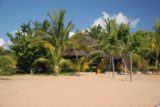 Nonetheless, we're here and we're sure glad Claire seemed to have rescued our waterfall safari from the clutches of failure. We knew we'd be in good hands with her and as long as she and Nickson were in contact with Rene being in on the loop, this safari seemed like it might work out after all.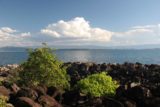 So with that, we spent the rest of the day relaxing and doing nothing. Much of the afternoon was spent just chilling out at the beach and just overall living it up at this place.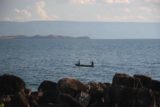 As the weather started to cool down, we decided to explore the property a little and see if we could find a spot where we could catch the sunset. There was a short trail that took us out to some kind of peninsula where we were pretty much able to look across the lake in the direction of the setting sun without obstructions before us.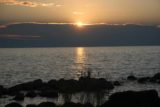 However, as we watched the "sunset" and the fishers still out and about at 5:30pm, the sun was hiding behind the thunderclouds in the distance well before it would touch down on the horizon.
Rene and Sean's dog named "Buffy" seemed attached to us so she was out there chillin with us both on our hut and on the beach; wherever we went.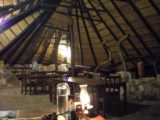 Oh, and that fresh fish for dinner was excellent.
Indeed, this place was just what the doctor ordered.
The only drawback was that there were no electrical outlets so we didn't do much with the computer. That's ok though because the property is completely solar powered except for the kitchen. So we still had lighting and more importantly – hot shower!