Day 6: ZAMBIA'S OTHER BORDER WATERFALL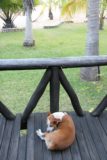 At 6:15am, Julie and I awoke to a tranquil morning. Buffy slept the entire night outside our door on the elevated front veranda. And as became now the familiar drill, I gave her a much-appreciated belly-rub as she would continue to follow us everywhere we go. In fact, Julie now calls Buffy my buddy.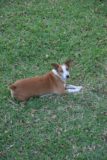 Indeed, I was starting to treat Buffy as if she was a dog I knew well. I guess I have a soft spot for dogs, and perhaps that was due to the fact that I had dogs as pets sporadically during my youth and my parents even had a pair at their place.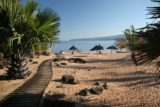 After another delicious breakfast thanks to Rene and staff, we were joining a couple of local workers on the boat at 7:45am and headed off to the village at the start of the hike to Kalambo Falls.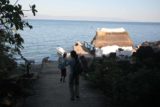 Just before we boarded the boat, we were joined by a young-looking guy who turned out to be our local guide. The guide wasn't exactly the talkative type but he did reveal his name was Arisha.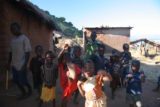 At around 7:55am, we arrived at the village. What happened thereafter was a blur as crowds of kids and adolescent locals surrounded both Julie and I. We had trouble trying to keep up with our guide Arisha because these kids kept holding our hands and I'm guessing hoping we give out handouts.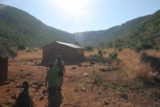 The village itself looked like a typical rural African village with humble mudbrick homes and straw roofs. It looked like there was no running water nor electricity here. The adults even looked on us as apparently we're one of the few Mzungus who actually come out to these parts.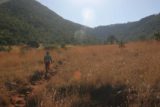 Eventually, we made our way to the back of the village where we then followed a well-used trail amongst tall grass and started climbing in earnest. We were still followed by the kids from the village, but I think when we got maybe a kilometer or so, they retreated back to the lakeshore.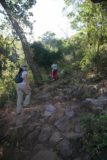 It wasn't long before the gradual climb became much steeper. Many of the steps were over large rocks and required large strides or being on all fours. To make matters worse, the sun was very hot and intense already this morning. Shaded relief from the sun's rays was limited and all of us were sweating profusely.
This was one of those things where you have to get comfortable with your own discomfort and filth. And I'm sure it wasn't long before we were already in that state of mind.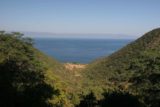 Finally at about 2/3rds the way up, we started to be sheltered by some shade from the cliffs before us. We kept crossing dry washes and there wasn't a sound of water in sight so we wondered whether Kalambo Falls would be flowing or not.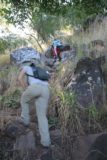 By 9am, the trail finally started flattening out a bit. At that point, we re-entered the relentless sun, but at least we could feel welcoming breezes from time to time.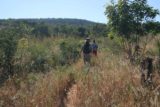 The plateau was also a welcome sight in another sense. The drainage we had just ascended was not the Kalambo River and I'd bet the falls was on a separate drainage. So there was still hope the falls would be flowing and our efforts wouldn't be in vain.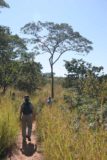 Unfortunately, the plateau was mostly exposed to the sun so this was where the heat of the day was really taking its toll on us. By now our water bottles were warm, we were sweating bullets, but at least we were starting to get comfortable in our filth.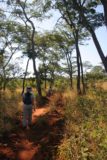 When the plateau did offer what limited shade it had beneath sparse trees, we really appreciated how good it felt to be out of the sun for a few minutes. But those stretches were way too few and far between.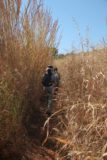 We passed another handful of huts and fields before entering more tall grass. Some villagers were already out and about tending these fields with their children.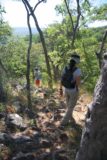 At about 9:40am, Arisha led us into a rather obscure detour into some very tall grass that was taller than us. It eventually led to a trail of use which quickly gave way to another steep descent towards a rocky ledge. It was then that we finally started to hear the loud distant thunder of Kalambo Falls, and we didn't see the falls until we were finally right on the edge of the ledge.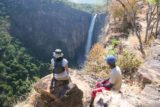 Nothing was holding us back from the seemingly endless drop below us, but the view of the impressive 200m or so freefalling waterfall was a sight to behold.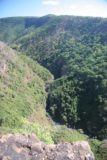 Kalambo Falls is Zambia's other border waterfall (with Victoria Falls being the more famous one as it borders the troubled Mugabe-dictated Zimbabwe). Except in this case, it's Tanzania on the other side of the Kalambo River. Claire and Sean both said earlier that in the dry season, the falls are less impressive, but you can actually put one foot on Tanzania and one foot on Zambia at the top of the falls!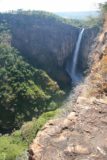 We'd prefer the fully blown falls thank you…
It was too bad we were looking against the 10am sun, but that didn't stop us from snapping what photos we could all the while mindful of the precipitous drop at the edge of ledge.
We had ourselves a quick snack break and drink break. The falls were still in shadow at this time of day, but the sun was directly above and it probably wasn't but another hour or two before the entire falls and cliff would be lit up by the unrelenting sun.
I'm guessing early afternoon is the best time to arrive at the falls, but with the hot heat and the grueling climb to get here, it's an exercise in punishment at best to not leave first thing in the morning.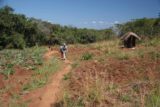 Even now, Julie was getting impatient as she couldn't wait to descend back to the village and our waiting boat as the day got even hotter. I personally wanted to spend some hours here, but I had a feeling Arisha wasn't up for that. Julie kept insisting that I not dilly dally longer.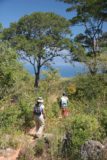 And so by 10:30am, I managed to pry myself away from our view of Kalambo Falls and started heading back with Julie and Arisha to the village.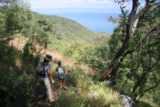 We hastily made our way downhill all the while trying to be careful not to take a nasty tumble on the steep sections. Even with our hiking boots and outdoor clothing, we were still passed by villages (most of them older women) wearing flip-flops while balancing stuff on their heads and keeping their hands free. Clearly, they're more adept at walking this trail than we ever could be.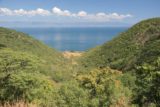 Anyways by 12:15pm, we finally returned to the village. My arthritic knees were quite sore as they always are on long steep hikes like this. Julie gave out what few spare pens she had on her as she clearly saw they could use it here. I didn't have much to give except what's left of my water and plastic bottle.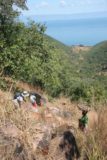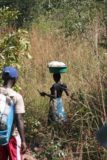 Shortly thereafter, we rejoined the boat and departed while waving to the kids who watched us from the lakeshore. And by 12:30pm, we were back at Isanga Bay.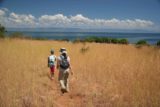 For the rest of the steamy hot afternoon, we had a refreshing lunch courtesy of Rene and company and then we chilled out on the sandy beach with Buffy laying with us.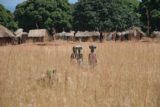 In the late afternoon, after the arrival of a South African couple on the property, we chatted with Rene and Sean about Nickson and some of the stunts they've pulled in the past regarding delayed payments and other shenanigans.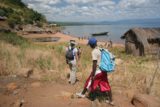 Julie and I were starting to detect a pattern here.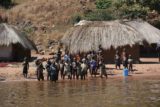 Anyways, with this bit of news, we started to have a little bit of worry about tomorrow since Nickson hasn't contacted Claire nor Rene about what the plans are.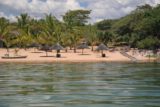 Nonetheless, we still basked in the African Paradise and Sean even showed me a self-published book on Zambia's waterfalls, which kept us entertained on the beach.
At dinner, we chatted with the South African couple. The husband apparently did some mining work in the Copperbelt Province, but took some time off with his wife to enjoy Isanga Bay.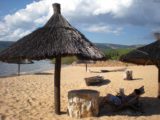 We learned much about South Africa from them, especially the bit about the rather high rate of crime in Johannesburg and the xenophobia that is now scouring the country. We also got a taste of the Africaans language, which seemed to have in interesting mix of various European languages and possibly some local African languages as well. It was definitely something we've never heard before and even Rene was conversing with them in Africaans since she had lived in South Africa at one time as well.
Anyways, although we left out Tugela Falls on our trip due to reasons of last year's drought and logistical nightmares to make it happen on this trip, I guess we were further glad not to be part of the xenophobic violence that was going on there right now. South Africa will have to be for another time…
Though the couples' description of both Tugela Falls in the Drakensberg and Augrabies Falls as well as Cape Town definitely put SA on our list of to-dos if we return to Africa in the future…
We told the couple about our rather adventurous path to Isanga Bay what with the bucket showers, vehicle breakdowns, etc. That prompted the South African husband to say, "Yaw, Africa is not for sissies, is it?"