Day 7: THE RACE FOR A MUTINONDO SUNSET
When Claire dropped us off two days ago, she intended for us to be leaving Mpulungu by 8am so we could catch a spectacular African sunset at the Mutinondo Wilderness Lodge.
After some text messages and what not, Rene told us that her driver would be here at 9am instead of 8am as he took off late. I guess we wouldn't get more of Claire's wisdom on this day.
Anyways, it was 6am when Julie and I awoke and got ready for the day. All last night, there were lights out on the lake and some talking in the distance. It was a rather eerie sight and kind of reminded me of some of those movies where savages from the unknown would come out, kidnap unwary travelers, then cannibalize them or do some other macabre ceremony.
Well, all that was put to rest when Rene brought us up to speed that those were the wretched night fishers who were overfishing the lake with their mosquito nets. It's easy to see this lake eventually losing all of its fish…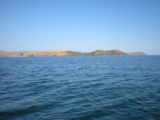 With some time to spare, we had yet another superb breakfast and time to give Nickson a call on Rene's cell to work out the rest of the itinerary after Mutinondo.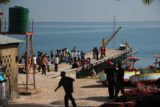 With all that squared away, we bid Rene a fond farewell and joined Sean on the motorboat. And with that, we left Isanga Bay at 8:15am and arrived at the busy Mpulungu dock at 8:55am.
From there, Vincent (Claire's driver) showed up with the rugged 4wd vehicle shortly thereafter. And without further adieu, he took our stuff and we hopped in and were on our way back to Kasama. Unlike our experience with Claire, this leg of the journey was less conversational. This led us to believe that had we booked with Thorn Tree instead of ZamSaf, you'd still want to be guided by Claire. But we knew she had a newborn and that she needed more help to keep her business running while she's busy being a mom.
At 11:35am, we arrived at the Thorn Tree Lodge in Kasama. We waited around here for Claire, but that was when Vincent realized that she wouldn't be taking us to Mutinondo as she was at home tending to her newborn. So we'd get Vincent for the rest of today including the side trip to Chishimba Falls.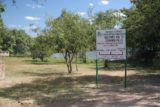 At 11:55am, we left for the falls and arrived half an hour later.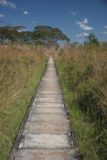 We were allowed to walk the grounds on our own without a guide. So we immediately headed towards the main falls as fast as we could knowing that there wouldn't be much time to catch the sunset later in the day.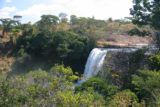 When we got to the main falls, Julie and I snapped photos. But at some point, we got separated. I took photos from the top of the falls, but when I tried to find Julie, she was nowhere to be found.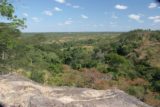 Hmm, perhaps she already headed back the car in haste of catching the sunset, I thought.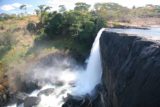 So I rushed back towards the other parts of Chishimba Falls including the rapids and the uppermost tier of the falls. When I got back to the awaiting Vincent at 1pm, I realized Julie wasn't there.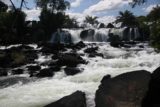 Uh oh. That was when I ran back towards the lower falls hoping Julie wasn't kidnapped or anything…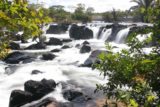 When I heard Julie's frantic cries for my name, I ran even faster. Eventually, I met up with the worried Julie who was very upset at me for not being with her. She was worried I might have been swept away by the falls.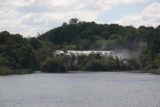 Anyways, after a long embrace, we were back at the car park at 1:35pm and proceeded to head back to Kasama in haste. We were there at 2pm where Vincent pulled up to Claire's home. It was there that we met Claire once again and her baby named Storm.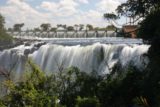 At her urging, she had us just get to Mutinondo right away.
"You're going to miss the sunset," she said.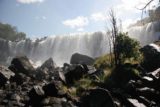 So with that, Vincent headed off in haste. The next 3.5 hours was a blur of fast driving, falling asleep in the car, and racing to the lodge as the skies got ever more orange.
On the 25km unsealed detour to the lodge from the Great North Road, there was even an impala that raced in front of the car across the road.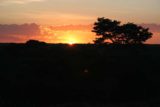 By 5:30pm, Vincent managed to get us to Mutinondo Wilderness Lodge. Without hesitation, Julie and I wasted no time getting out of the car and snapping the few moments of sunset we could capture before the sun disappeared from the horizon.
Julie was actually shown to the bar area while I went out into a lower open area. I sure wish we had some extra time to explore the best viewing spots, but alas, it wasn't meant to be on this day. We had to make do with the African sunset we were given.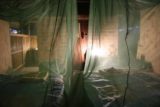 And with that, we thanked Vincent for taking us here and playing a part in rescuing our waterfall safari. Then, we were oriented by the lodge owner Mike, who surprisingly didn't speak any Bemba but did know Swahili from his time in Kenya.
Mutinondo Wilderness Lodge was another one of those eco-lodges that was completely solar power except for cooking. Each chalet had its own personality and all but one of them had an open side (i.e. no windows or walls). It was a rather unique concept, and it certainly gave you a sense that you were one with the bush.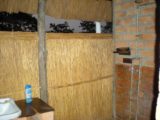 This made Julie a bit uneasy because she was fearful of any animals that might come up to us and do something bad, but we were in the middle of nowhere.
Anyways, we had a pleasant dinner with Mike himself. We learned more about his run-ins with ZamSaf and Nickson, and he confessed that he very reluctantly took our booking. Clearly, Nickson and ZamSaf's reputation was legendary in Zambia's hospitality business.
We arranged with Nickson to have a driver pick us up tomorrow at 8am. Mike wasn't so sure someone would come by that time. We'll have to keep our fingers crossed.
Anyways, we spent a rather cool (Julie thought it was chilly) evening under the starry skies.
Oh by the way, the hot solar-heated shower never felt better to contrast the cold night!