Day 8: THE HOOPTIE BACK TO LUSAKA
At 6:15am, I awoke and wasted no time getting dressed and braving the already frigid cold morning to try to catch the sunrise.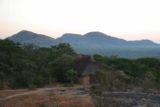 I had to keep my hands in my pockets when not handling the camera because they got numb when left out for too long.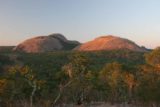 The sunrise lacked the drama and color of the sunset from yesterday, but the Olgas-like domes of Mutinondo were very reminiscent of our time in Uluru in the heart of Australia a couple of years ago.
Anyways at 7am, we had breakfast. Mike said it was unusually cold this morning, but that made the porridge, oatmeal, and tea go down that much easier.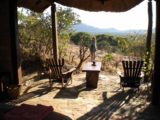 At 7:30am, we had a chance to see other other chalets. One of them actually was enclosed and in hindsight, Julie wished we stayed there.
At around 8am, a surprised Mike came up to me and said, "Well, I never… Your driver actually showed up on time."
Indeed, Chester showed up as well as fellow ZamSaf driver Alfred.
"Chester!" I shouted.
Even though we've associated Chester with ZamSaf and all the calamities that went with it, it did feel like we were rejoining an old friend again.
Chester in his broken enlish told Julie and I that he managed to get a bush mechanic to take out the drive train, weld it in his shop, then return to the car to put the drive train back in. From there, he drove back to Lusaka where he joined Alfred and they met us here.
Chester also handed Julie the Yellow Fever Certificate we had fretted about ever since Victoria Falls.
Indeed, it seemed like it was all coming together.
Regardless of Nickson's past, we had to hand it to him that he did deliver in the end.
Anyways, after making sure Mike got paid, we headed back to Lusaka at 8:20am. This time, time was on our side…
And so we got into Alfred's Pajero. It was newer than Chester's, but it still had a cracked windshield. The speedometer also wasn't working (needle stuck on 0 km/h) so the driver couldn't tell how fast he was going.
What's more, the trunk smelled like petrol. In fact, some of it seemed to have gotten on Julie's luggage so it too smelled of the toxic stuff. After some thinking, we put the petrol cans on top of the car – ala Chester.
Ah yes, back to the old ZamSaf hoopties.
Alfred tried to convince Julie the car was only 2 years old after Julie asked him about the car. She didn't buy it.
"Maybe you bought it used two years ago, but it's not two years old!" she said.
And so the drive back was mostly uneventful except for a moment when Chester pulled off to the side of the road wondering if the car was overheating.
Great, now what?
After Alfred assured Chester and Julie it wasn't a problem because the temperature gauge also wasn't working, we nervously continued on the road for the rest of the day. The temperature gauge would indicate a heating up car whenever we went downhill, and that it was cooling down whenever we went uphill. Go figure…
And so with all the waterfall part of our safari over with, our 10 waterfalls in 10 days ended up being more like 7 waterfalls in 10 days… (Kundalila, Mumbuluma, Ntumbachushi, Lumangwe, Kabwelume, Kalambo, and Chishimba). The other ones were either missed or didn't count as legitimate waterfalls worth bragging about. I think that ZamSaf itinerary seriously needs some retooling…
Anyways, we mercifully made it back to Lusaka at 4:15pm. And I had to admit that as much as we love the bush, it was actually a relief to be returning to the noise and chaos of the city!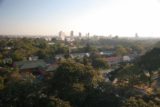 Indeed, we were very glad we were proactive earlier in the trip in insisting on staying in Lusaka this night and not in Mutinondo as Nickson had.
Leaving Mutinondo on the morning we had an 11am international flight? Yeah right!