Day 1: BLAND BANANAS
Today was a very long day of traveling.
We spent the morning leaving Tanzania and waiting at the Nairobi Airport for our flight to Uganda. Julie was worried about this leg of the trip because (like Zambia) it's a little off the beaten path. It was clearly going to lack that manicured feel that Salim's Tanzanian tour was. She was especially freaked about being in an older and less sturdier car than the Land Cruiser Salim was driving.
At 2pm, our plane landed at Entebbe, which was right on the equator on the north shore of Lake Victoria. Sure enough it felt a bit warm and humid here, but not nearly as steamy as we had braced for.
Our driver and guide was named Mike. He was a part Japanese part Norwegian Ugandan. Quite a unique background. I was anxious to try my knowledge of Swahili here, but there are sections of the country who'd rather not speak Swahili thanks to the antics of Idi Amin in a previous regime that plunged the country into a very dark period.
At least Mike knew Swahili so my efforts at learning it back at home and in Tanzania didn't go to waste here.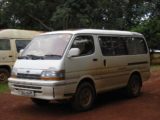 Scarred by our experience in Northern Zambia with Chester's second-hand safari vehicle that ultimately broke down in the bush, Julie was afraid that our vehicle might not be adequate to handle the terrain we might be encountering in the bush in Uganda.
And once we saw Mike's vehicle, Julie's fears about our vehicle being a second-hand vehicle that was probably unsuitable for safariing weren't allayed. Although the van was pretty comfortable and had 4wd, it was definitely older and more fragile than the well-built safari vehicle Salim used in Tanzania.
Moreover, Mike set the tone of the trip by saying our trip was pretty random and hectic. "I've never done this type of tour before. It's going to be interesting," he said.
He went on to tell us that he normally sends people to Uganda's southwest to see gorillas. We fancied doing such a trip, but the super pricey $500pp permits not including lodging and other admission fees along with the chance of having spent all that money and coming up empty just wasn't something that sounded appealing to us.
He further told us that traveling the roads in Uganda isn't as straight forward as we're used to at home. Actually after going through the Zambian experience, we already had an idea of what we're in for.
"Just don't expect to be moving as fast as you expect," he warned.
And with that, we agreed to make for an early departure tomorrow morning and not leave unforseen delays and other developments to chance. "Things have a tendency of happening unexpectedly here," he said.
At 3pm, we checked into the Grand Imperial Hotel in downtown Kampala. Trying to get readjusted from the manicured tour of Tanzania to something more understated like this, we really didn't venture from our hotel room on this day.
Anxious to try local food, we tried matoke at the hotel's restaurant for dinner. Matoke is sort of a staple food made of a type of bananas (actually plantains). The dish itself is rather bland, and I wondered how something as sweet as a banana or plantain could taste so bland. I stopped eating it after I wasn't able to dip it in the chicken curry sauce that came with my chicken curry with rice dish.
Another unusual thing about this place was that there were no mosquito nets around the bed. With our worries about malaria (even with our anti-malaria drugs), this wasn't good…
Visitor Comments:
Got something you'd like to share or say to keep the conversation going? Feel free to leave a comment below...
No users have replied to the content on this page