Day 2: THE PUSH FOR THE FERRY
With Mike's warning yesterday about how hectic our itinerary was, we agreed on a 6am departure from Kampala both to beat traffic and to ensure we'd be at Murchison Falls without missing out on our boat safari scheduled for this afternoon.
Of course without our mosquito nets, both Julie and I suffered from numerous mosquito bites on both our necks and faces. With the presence of malaria in this country, this was worrisome.
Oh well, there wasn't much we could do about that. It was time to get moving, and we certainly managed to get out of Kampala before most of the city woke up.
The next 4.5 hours was pretty much spent with me accompanying Mike at the front seats of the van. I tried to learn a little more about Uganda as well as trying to keep him awake.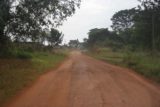 As Mike warned, the road was riddled with potholes though it wasn't quite as bad as it was in Zambia. However, the unsealed washboardy road between Hoima and Masindi was a bit rough. Mike didn't want to go the more direct northern route to Masindi stating that it was a terrible road and he hadn't gone in two years thanks to roadblocks, extreme washboards, and too many potholes. So we ended up going a slightly longer route from Kampala to Hoima and then to Masindi and to Paraa on the north side of the Nile River by ferry.
I don't know what it is, but somehow the topic of conversation gravitated towards politics. Whether it was talking about converting to solar power or about past atrocities in Uganda and Rwanda, it was pretty deep and hard-hitting stuff. Not the usual type of conversations you'd normally be having on an African safari, I reckon.
Anyways, at least it kept Mike alert for the most part. However, there did come a point where he confessed to me that he needed to pull over in one of the rural villages in the hopes of getting some Red Bull.
Well the small villages where we stopped didn't have them, and it was a bit awkward getting stared at by villagers the way we were stared at in Zambia.
It wasn't until Mike was topping off at a petrol station in Masindi did he finally get his Red Bull fix.
It was about 10:30am by the time we left Masindi. This was when Mike told us that there was a 12pm ferry that he tried to catch to cross the River Nile and have lunch at our lodge. There was still nearly 90km to go and I wasn't sure we could make that ferry. If we missed it, we'd have to wait until 2pm to cross, and well, that was when our Murchison Falls Boat Safari was supposed to take place…
And so in a sudden shift from our laid back and deliberate pace from this morning, Mike shifted into haste mode.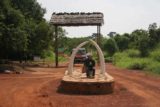 By 10:45am, we were at the Murchison Falls National Park gate and its awaiting statue of a chimpanzee. Mike kind of took his time securing the permits here and even offered us to browse for curios at the shop over there.
I thought if he's not worried about time at this point, then maybe we must be making good time and have time to spare…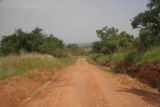 Little did I know I was wrong…
Immediately after entering the park, the unsealed road was attacked aggressively by Mike who tried to maintain a 60-70km/h speed to the best of his ability. It was clear he was pushing the limits of his van and we even hit a few small ruts and potholes at almost full speed.
"Time is not on my side," he kept telling himself.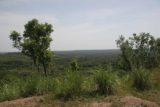 And with this state of mind in all of our minds, the race to catch the noon ferry was tense.
It was too bad because we managed to see some baboons as well as a little geology lesson as we descended the Rift Valley Escarpment into the humid jungles fed by the Nile Drainage.
Finally we got to a gate near the ferry at 11:55am. As Mike communicated the haste to the guards, they let him pass as quickly as possible. With less than a minute to spare before 12pm, Mike gave a fist pump and pounded his steering wheel.
"Yes!" he exclaimed.
Apparently, we were just in time for the ferry as it was crossing the river from the other side and was about to pick us up along with another vehicle.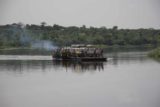 And with that, we boarded the ferry just in time, and we also learned that our Nile Safari was now at 1pm instead of 2pm.
"Remember what I said? Sometimes they do things without announcing here," said Mike to me.
Boy was it a good thing that we caught this noon ferry!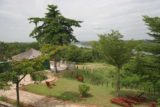 At 12:20pm, we arrived at the Paraa Safari Lodge. We hastily were ushered to have lunch, but unfortunately, it was very rushed. We had to be back downstairs after only having our food for less than 15 minutes. Forget the dessert or anything else that was on the plate except the Nile Perch.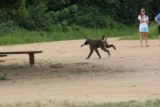 We were at the shores of the Nile River at 1pm, but we were apparently a little early for our tour. It actually didn't take off until 1:30pm. In the mean time, we had a ball watching baboons steal food from someone's truck as well as from an open-lidded trash can.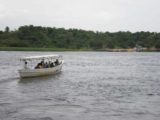 We also noticed that one of Mike's tires was going flat. "Yeah, I know we pushed the vehicle today," he said. This brought Julie flashbacks of getting stranded in Zambia so it didn't exactly help her piece of mind.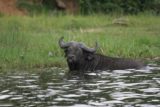 The boat ride actually surprised us because there was far more wildlife here than we had seen on the Zambezi Sunset Cruise near Victoria Falls. Even though the animals were mostly hippos, crocodiles, elephants, cape buffaloes, impalas, waterbucks, warthogs, and various birds (all animals we had mostly seen before), it was nice to see that our waterfalling in Uganda was accompanied with a little wildlife. That fact alone made this waterfall unique in many ways.
I had learned that the years of war and poaching for elephants had actually helped the ecosystem of the Murchison Falls area somewhat. We're right now in the middle of the ecosystem recovering, and from what we could tell, it was recovering nicely.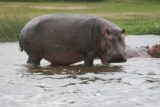 Still, with each hippo and croc sighting, it did seem that they didn't like us watching them. The hippos especially seem displeased by our presence and many of them gave angry snarls and huffs through their noses.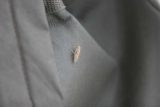 There was a guide on board sitting towards the back of the boat describing the wildlife in his broken english, but it was hard to hear him over the motor as we sat near the front. The biting tsetse flies also kept us alert – especially since they aren't deterred by DEET.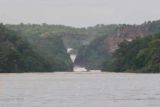 By about 3pm, we finally saw the powerful Murchison Falls. The boat driver skillfully wedged the boat against a rock and an island so we could take a bunch of photos of the falls from the bottom.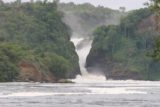 It was a good thing we invested in a telephoto lens for this trip (mostly for the wildlife) because it was necessary to get a good photo of the waterfall from the boat.
After the boat stopped by the shores of the river, a small group got off the boat accompanied by a local guide. When I saw the guide open up a little compartment at the front of the boat, I thought he was going to grab some refreshments or something. But instead, he pulled out a semi-automatic AK45!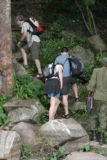 That got me chuckling, but once again I was reminded that you're part of the food chain in these parts!
On the way back to the Paraa Lodge, the boat was considerably quieter except for the smelly motor. The driver actually stopped the motor whenever he saw a crocodile at this point thinking this is what we're most interested in at this point. And we managed to get some interesting croc shots in the process, but it seemed that the crocs were disturbed and often went into the water whenever we approached.
There was one instance where an angry hippo actually lunged towards our boat when the boat moved away. By the time the hippo resurfaced, it was right where the boat used to be!
Whoa! Good thing we moved out of there and not get capsized by it! These guys are not to be messed with!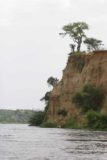 By 4pm, we were back at the jetty, where we walked the short distance uphill back to the Paraa Safari Lodge, where we arrived 20 minutes later. There, I was having fun practicing Swahili with one of the employees who just happened to have come from Kenya!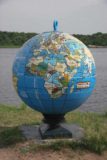 Mike did tell me earlier that people in these parts are more Nilotic rather than Lugandan so they had to speak Swahili to communicate with others in the country.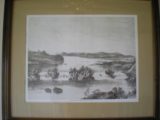 Back at our room, we had a little bit of a rest. I took this time to look at our surroundings and some of the portraits hung up on the wall of our room. Something that caught my eye was a drawing of Rippon Falls. It turned out that this waterfall was once the marker of the Source of the Nile, but the Owen Falls Dam flooded it out. That's too bad because I'm sure Rippon Falls would've been an excellent landmark for the Source of the Nile, which we'd be seeing at the end of our Uganda leg of the trip.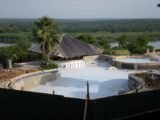 The rest of the rather humid afternoon was spent having afternoon tea and admiring the incomplete and closed swim-up bar.
Boy, we sure could've used a little bit of cooling off…
Visitor Comments:
Got something you'd like to share or say to keep the conversation going? Feel free to leave a comment below...
No users have replied to the content on this page