Day 3: "GOD LIKES PATIENCE"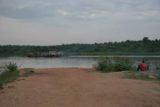 Keeping in the spirit with our hectic schedule, we left the Paraa Safari Lodge at 6:50am so we could catch the 7am ferry back across the Nile. Being on the ferry schedule was quite annoying, and we didn't feel like waiting until the 8am ferry. So our 6:30am breakfast was eaten in haste.
As we awaited the ferry at the jetty, we saw a hippo as well as a grazing waterbuck.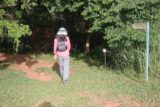 After crossing the ferry and returning to the south bank of the Nile, Mike drove more deliberately towards the top of Murchison Falls. We were all hoping the spare tire and the rest of the tires would hold up until we return to Kampala later this afternoon.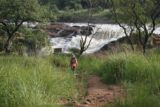 Anyways, we were at the top of Murchison Falls picnic site at 8:25am.
There, Mike left us alone and both Julie and I walked the short trail down to the top of the falls.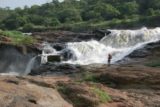 The thundering falls was certainly much better experienced up close than from the boat. The morning sun also produced nice rainbows in the mist wafting up from the falls. But our enjoyment was tempered by those annoying tsetse flies who wouldn't leave us alone!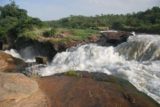 It looked like there used to be a bridge over the top of this part of the waterfall because we saw a protruding concrete block sticking up next to the raging torrent. I guessed that if there was a bridge across the falls, it must've been washed away and never rebuilt again.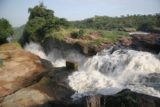 Despite what Mike and other literature on Murchison Falls had said, not all of the falls went into the more visible upper tier of the drop. We could clearly see a good chunk of the river bypassed the falls, but we weren't sure where the other half of the river disappeared to.
Could this be another case of false advertisement calling this falls the "most powerful on earth?"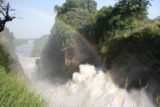 Still, the experience of feeling the power of the falls from the overlooks as well as getting nervously close to the rush of water without railings sure made us debate whether this waterfall made our top 10 list of the world's best.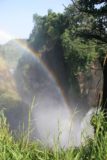 "Gocta should go," said Julie. I wasn't so sure about that.
Nonetheless, the falls did offer the unique ability to combine a waterfall excursion with a wildlife safari. That had to count for something…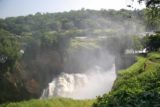 When we got back to the car at 9:20am, Julie nearly stepped on a snake in her Keens! I had always wanted to see a snake to round out our wildlife sightings, but this was a bit too close for comfort.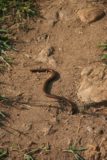 It had a big brown shape that reminded me more of a giant earthworm than a snake, but it had that brown unassuming shape like a black mambo (though it clearly wasn't a black mambo). We weren't sure if it was poisonous or not, but after asking Mike back at the car, he said that it was possible it was poisonous…
Yikes!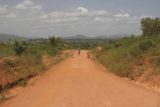 Anyways, during the drive back to Masindi, I challenged Mike about how the falls didn't seem to funnel all of the Nile River through its drop. But he was quick to point out that the falls did indeed accept all of the Nile River.
He went on to tell me that the square pillar by the falls used to support a bridge onto the island on the other side of the falls. He continued that the bridge was washed out in a flood back in the 60s. However, if we were able to get onto that island, we could see the rest of the Nile River funneled back towards the lower tier of Murchison Falls. Thus, the falls does indeed accept all of the Nile River's flow (just not on that upper tier).
He said it's possibly churning water at about 10kL/s!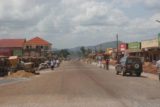 At 11am, we had an early lunch at the town of Masindi. There, we had ourselves some stews and curries with rice. It was something more typical of authentic local food than the Westernized Serena foods we were used to in Tanzania.
At 12pm, Mike learned from another driver that the road he had avoided for over two years actually isn't that bad anymore.
"Now we'll have to find out," said Mike.
"That road was a real pain in the ass," he continued. "No one even thinks about taking this road."
In any case, we're on it now…
But as we were leaving the south end of Masindi, Mike was in disbelief.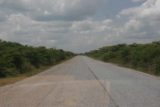 "I don't believe it!" he said as he was driving the smooth, newly paved road. "I'm impressed!"
Indeed, this road was completely new. Apparently the Ugandan government wasn't kidding about putting transportation at the top of its spending list in its new budget for the year (we noted that tourism was allocated hardly anything though).
He then said, "See, look how few cars take this road. No one knows about it!" And well, we only saw one or two vehicles going the other way.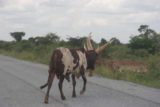 "They even have drainage channels," said Mike pointing to the sides of the road.
But before we got complacent and settling into a comfort zone, Mike then said, "I'm still keeping an open mind. Lets wait and see by Kampala."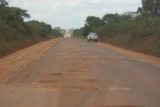 Well about an hour later, we rejoined the main road south towards Kampala. The road was no longer new down here, and sure enough, there were potholes all over the place.
"Now this kind of road reminds me of something we have seen in Zambia," I told Mike.
Indeed, all vehicles were swerving around the potholes and even driving off road just to avoid the big potholes littering the middle of the road.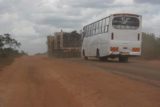 In one comical moment, a big bus carrying passengers passed us as it ran right through the potholes. On the window, there was a sticker saying "God Likes Patience."
Mike and I were laughing at the irony considering that bus was going like a maniac right through the potholes and tailgating other drivers.
What was even funnier to me was that the bus was driving forward, but its body was diagonal. Apparently its alignment was seriously out-of-whack. I guess that was normal in Uganda because Mike didn't even flinch about it saying he's seen that before.
Anyways, Mike sighed when he said, "Spoke too soon." This was the road that he feared, and even though the new road seemed to have shaved off 50km and lots of time, we were getting it back on this Ugandan Obstacle Course.
At 2pm, we went through a rather lengthy detour (nearly 50km) through some poor, rural village called Nakasongola. Mike commented how interesting this was because he normally would never visit this village.
But when we finally returned to the main road and passed by a dozen of giant speed bumps, the road was all smooth and new again.
"You never know what's next," said Mike.
About 90 uneventful minutes later, there was about 20km left before reaching Kampala, but the road was back to being potholes and unsealed in sections. So on top of the obstacle course, there was also the usual Kampala traffic.
When Julie and I wondered aloud why the road is so bad near Kampala, Mike said matter-of-factly, "It's really simple. Who voted for the current president?"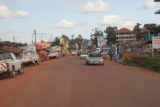 Mercifully by 4pm, we were back at Kampala. According to Mike, the jury is still out on whether he'll take that road again or just go back to the older longer route we took on the way to Murchison Falls. It's a hard call, but at least the shorter route is being worked on…
The rest of the afternoon was spent browsing the web on the Sheraton's free internet (yep, you heard that right, free internet) while emailing my worried mom who hadn't heard from us in nearly a month – just in time to wish my dad a Happy Father's Day as well).
We were supposed to sleep early so we could wake up early tomorrow and leave for Sipi Falls on the slopes of Mt Elgon near the Kenya border out east. Unfortunately, Julie started to feel fever and chills. It made her night sleepless, and the fear that she might be stricken with malaria also kept me awake all night…
Visitor Comments:
Got something you'd like to share or say to keep the conversation going? Feel free to leave a comment below...
No users have replied to the content on this page