Day 4: MALARIA SCARE
It was 3:45am when both Julie and I decided it was time to just get out of bed as we couldn't sleep. Julie was still feeling chills and fever, and it was really hitting home to me that she could very well have contracted malaria.
So we decided to act on this fear of malaria and immediately went downstairs to the lobby to exchange some money into Ugandan Schillings as well as to try to have the hotel call us a cab so we could go to the local clinic before Mike was to pick us up at 6am.
We weren't sure how to reconcile this (especially if it took longer than the less-than-two-hours to get all the testing and taxiing done), so after some more thought on the matter, we decided to just wait until Mike showed up at 6am.
Sure enough by 6am, Mike showed up and he took us immediately to the CARE clinic, where we arrived just ten minutes later.
By 6:50am, after a little small talk with the doctor and his english that was a bit difficult to understand for us, he cracked a few jokes that got us to chuckle and smile while he administered the blood test on Julie, the doctor finally ended the conversation by smiling and saying, "OK, you don't have malaria."
Julie was surprised that he said it so confidently (there have been false alarms in these tests especially if you're taking malaria pills as we are), and then proceeded to ask him, "How are you so sure it's not malaria?"
The doctor smiled again and told us, "You can not have malaria and smile. If you have malaria, you would not be smiling."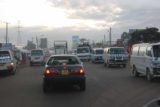 And with that we rejoined Mike, paid our fees, and faced the Kampala traffic as we headed east to Sipi Falls.
The next six hours was like a blur for both of us because we were obviously tired from not sleeping last night. When we arrived at the Lacam Lodge next to Sipi Falls at noon, Mike confessed to us that he also had trouble staying awake.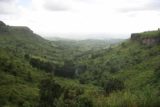 The Lacam Lodge was quite a rustic lodge and there were numerous steps leading down to our banda as well as the restaurant area. This was one place where we welcomed the porters' help in carrying our bigger luggage.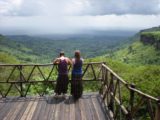 There were no mosquito nets in our banda, but the porters were staying there were no mozzies here due to the cold nights and the fact that water runs off into the valley below and does not stay on Mt Elgon.
So after our lunch, we relaxed a bit in our banda. Julie still was feeling the effects of the bacteria in her system (probably from food poisoning) so I decided to do the Sipi Falls hike alone with the local guide Joel.
It wasn't going to be an easy hike (trying to see all 3 of the Sipi Falls) being some 7km long with lots of steep sections. To make matters worse, thundershowers were passing by on and off so the steep muddy trails were slippery.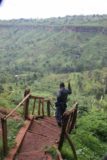 Anyhow, we started the hike at 2:20pm and sure enough the threatening thunderstorm delivered. It drenched my raincoat while Joel was busy sheltering himself with one of the large leaves he took from one of the farms we walked through.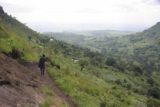 By the time we made it to the bottom of the descent, we got to a spot where we could see the main Sipi Falls (plunging some 100m), but the rain made it difficult to photograph the falls without stress (and without getting water on the lens).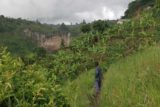 At the same time, a pair of women accompanied by a group of local guides were making their way up the steep slope from the absolute base of the main falls. They were totally drenched as they didn't have a poncho nor any other protective gear.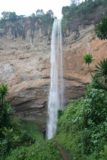 Joel decided that we shouldn't go down to where they were. Just too steep and too slippery given the rains.
So we headed back further downstream from the falls where the trail then crossed the river and climbed steeply up another steep and slippery trail complete with a wooden (slippery) ladder where we had to take one step at a time. I definitely didn't want to fall here so I didn't bother looking down with each step.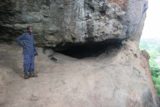 At the top of the ascent, the thunderstorm started to ease and we ended up in front of a tiny cave. From that cave, there was a nice angled view back at the main falls with Lacam Lodge dwarfed to its right.
After drinking some water and catching a short breather from the long ascent, we continued ascending a short distance more until the trail leveled out through someone's farm. There, we were able to see the second Sipi Falls and some cascades above it.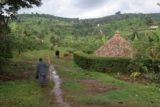 Before long, we were back on the paved main road where we continued to walk down the road, past a bridge, and onto another property.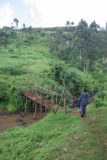 From that other property, we crossed a bridge then steeply ascended another slippery and muddy path where some flimsy walkway was supporting us precariously on a cliff.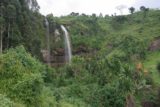 Joel led me to a rocky outcrop where there was a nice view of the 2nd waterfall (probably about 75m according to Joel). Along the way there, we saw another couple (Dutch) who were also staying at the Lacam Lodge. Joel told me that they drove to the other property. "Cheaters!" I thought to myself.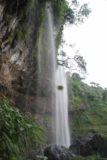 From the viewpoint, we followed a narrow trail with some precariously flimsy railings to the back of the 2nd falls. And like earlier on in the hike, there was a cave. But this cave was right behind the falls, and it looked like it did get some use as a shelter.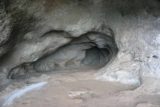 After the second falls, we continued climbing some more along slippery and muddy paths through some peoples' farms. This detour seemed like it went on forever, especially since we had hiked and ascended so far at this point.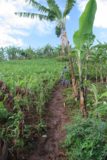 With my knees starting to feel pain and my thighs getting sore, we mercifully got to the base of the third (uppermost) falls, which was probably about 85m tall. It was misty at the base, but there was a faint rainbow despite the weak sun piercing through the thunderclouds.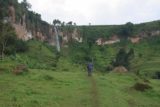 Finally after this falls, we made another long, muddy descent back towards the main road, where the trail ended near the Lacam Lodge.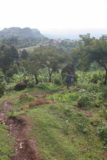 With muddy boots and pants and all, I wasn't sure when I'd get a chance to wash off all this gunk. But in any case, I was sure glad we returned to the lodge when we did at 5:35pm. My body was probably unwilling to endure more punishment.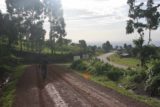 Throughout the three hours or so of hiking, Joel and I managed to pass the time trying to speak small snippets of Swahili. Being someone who desires to get into tourism, Joel knew the local languages here as well as Swahili. I guess it's only in Kampala and the immediate surroundings that resist speaking Swahili (like the doctor at the CARE clinic).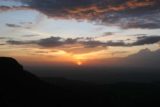 Anyhow, the rest of the evening was spent watching the sunset, having a relaxing dinner, and just letting the body rest. Without electricity, we had to rely on kerosene gas lamps to get around our banda. If not for the smell of the fuel, it was actually a rather charming experience. Also, the hot shower at the lodge was another welcome feature!
Visitor Comments:
Got something you'd like to share or say to keep the conversation going? Feel free to leave a comment below...
No users have replied to the content on this page