Day 5: THE SOURCE OF THE NILE
We awoke at 6am to a cool morning. I could've sworn from last night that it was raining even though it seemed the weather was clearing up. Regardless of what I thought I heard through my subconscious or semi-conscious state asleep, the weather was a little humid though still a little cool.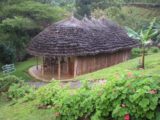 After getting freshened up for the day, Julie and I didn't wait for the porters to come to our door. We had arranged with Mike yesterday for an early start to the day. Preferably 7:30am, but realistically it would be probably a half hour later at least because breakfast depended on the speed of the Lacam Lodge crew.
Thus, I actually lugged our heavy packs all the way to the top. Joel saw what I was doing and actually grabbed one of the heavy luggages when I was already 3/4th of the way up. So I was sweaty already this morning.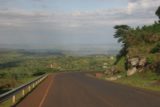 When Mike was settling the bill or something, there was some kind of an argument between Mike and Joel. I wasn't quite sure what it was about, but Mike didn't seem at all pleased with Joel about something, and I'd imagine it might have something to do with being overcharged with something. I didn't ask Mike about it, but was quite hot under the collar.
Anyways, we finally left the Lacam Lodge at 8:25am.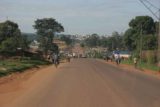 The worry for today revolved around getting back to Entebbe to catch our 8pm flight to Nairobi even though Mike wanted to take us to the Source of the Nile and Bujagali Falls for a visit.
So without further adieu, we were at the Source of the Nile in Jinja by around 11:30am. But that wasn't before Mike started to doze off about a half hour before getting there. Apparently all the long driving (at least 5 hours each day) seemed to have taken a toll on his endurance.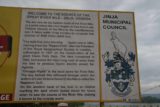 Good thing I was sitting on the front seat with him.
When he was about to go off the road, I told him, "Looks like you need another Red Bull!"
To his credit, instead of pushing onwards, he stopped the car and stretched for a few minutes. As he pressed onwards, I knew he was fighting fatigue, so I tried to keep him on his toes.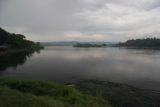 Anyways, at the Source of the Nile, it was basically where the Nile River starts as it officially stops being Lake Victoria and starts becoming the famous river that passes through Egypt. The thing is that Rippon Falls used to be right at the so-called source of the Nile, but the Owen Falls Dam flooded that out and now all you see is a series of islands.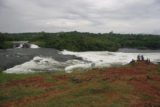 If it wasn't for a drawing of Rippon Falls that we saw at the Paraa Safari Lodge, we wouldn't have made the connection as to why the Source of the Nile was such a special landmark (imagine a waterfall marking the start of the Nile River! How special would that have been?).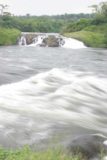 Anyways, in keeping with the spirit of trying to solve Uganda's energy needs in a quick fix, they did away with the falls. Even Mike was a little disappointed at its history. What's even worse, Mike pointed out that Owen Falls Dam is no longer efficient enough to put out the energy yields needed anymore so they're going to destroy the Bujagali Falls (popular with kayakers and thrill-seekers) rapids with another dam.
Sheesh, you'd think solar and wind energy might do them a world of good…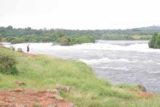 So after spending a few minutes snapping the obligatory photos of what's left of Rippon Falls, we headed straight to Bujagali Falls.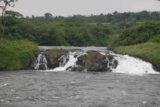 Now technically speaking, the Source of the Nile is not really Lake Victoria but all springs, rivers, creeks, and rainfall that drains into the basin of Lake Victoria. So technically, you could say some springs fed by snowmelt and glaciers in the volcanic peaks of Burrundi are the real source of the Nile.
Well whatever makes the academics feel better about it, the bottom line is the geographical source (as of the actual start of the river itself by nomenclature) is where Rippon Falls so we'll roll with what the Ugandan Tourism Board wants everyone to believe…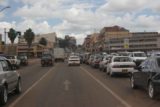 At noon, we were at Bujagali Falls. It really wasn't anything real special from a waterfall lovers standpoint. We really wanted to see some brave kayakers and whitewater rafters going down these falls in front of us (which Mike called the "trial rapids"). He said the more interesting Class 5 stuff is further downstream.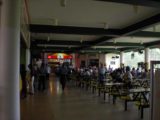 After a couple more hours of continuing west from Jinja back to the traffic jam of Kampala, we had ourselves our last lunch at a food court in downtown. After 40 minutes of having Indian food, we left for Entebbe around 3pm.
Mike noticed lots of police cars and special cars with flags on them heading in both directions.
"It looks like the president is coming to town," he said.
I guess that meant we'll have more security at the airport. In any case, it was just something to note but in the end nothing really came of it.
By 3:55pm, we were at the Entebbe Airport. We bid Mike a quick farewell and proceeded to wait patiently for our next safari in Kenya.
It ended up being a long night (and the hour-long delay in the flight didn't help) and we didn't sleep until around 2am in Nairobi with a 7am departure the following morning…
Visitor Comments:
Got something you'd like to share or say to keep the conversation going? Feel free to leave a comment below...
No users have replied to the content on this page