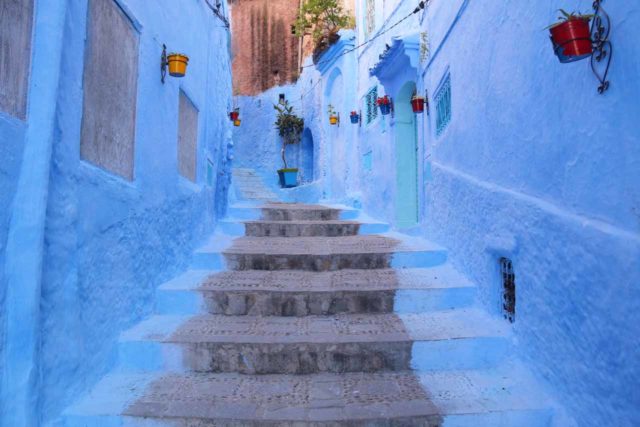 13-May 2015 to 23-May 2015:
…At 5:35pm, we got back to the cafe by the car park after crossing over the bridge fronting the dam. This included a small break where Mohammed went to the reservoir to put water on his shoes to cool off his feet. When I saw Julie waving at us as we approached the cafe, I knew we had finally made it.
By this time, I was relieved to see them. I guess they were just as surprised to see us because they said that they had just gotten here. Indeed, it took us 2 hours to get from the small waterfall then all the way up to the big waterfall before returning to the cafe near the car park. Indeed, we made good time. Now, Mohammed joked that he needed to have a sleep.
Anyways, I was now suffering from a little headache and a minor bout of nausea. I supposed that probably had something to do with having a little dehydration from only bringing one bottle for this last express excursion. Meanwhile, my calves were cramping (sure sign of dehydration) and me knees were stiff. My achilles were also sore. Yet in the end, I still thought it was all worth it…
Days 0-1: THE BEVERLY HILLS OF THE AIRPORT
It wasn't until about 3:15pm when we headed out to the LAX airport. For an international flight, this one seemed a bit earlier than most of our other ones given that we had to go to the airport when it was rush hour traffic. Fortunately, we were going in the opposite direction of most of the traffic. In any case, we made it to the airport at around 4:15pm and we eventually checked in and passed security before getting to a food court area in the Tom Bradley Terminal.
Julie and I were quite struck by how much renovation had been completed here. And it prompted Julie to say, "Now this is up to international standards." This was clearly an obvious change from the run-down backwards airport we came to know over the years (at least as far as the international terminal was concerned), but this airport was still lacking in useful public transport options (mostly because there's still not a direct route to the airport terminals as the metro Green line actually veers AWAY from the airport) and that there wasn't an inter-terminal tram if foreign travellers had to go from one gate to another on a connecting flight.
At 4:35pm, we were in the midst of exploring a renovated part of the international terminal when we noticed a children's play area right across from a small atrium. Along the way, we saw one American complain to a fancy burger joint called Urami Burgers complaining that this part of the airport no longer had a Burger King. Julie and I chuckled when the same employee said something to the effect that ,"This is the Beverly Hill part of the airport."
Anyways, this play area put Tahia on cloud 9 as she was interacting with the handful of other kids that were there. Even the other parents were commenting at how cute Tahia was given her verbalizings as well as manners. That said though, Julie also came out with a $40 fast food meal (thanks to truffle burgers and sweet potato fries, among others… So that cut Tahia's play time short as she was very reluctant to leave.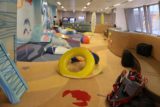 By the time we were done eating, it was roughly 5:10pm and that was when a glance towards the roof where they announced gate locations for various flights had indicated to us that we had to go all the way to Gate 159. And when we got there just before 5:30pm, we heard an announcement that Iberia was going to be delayed another 25-30 minutes due to a late start to cleaning up the airplane. Obviously, this had to be done before letting people start boarding.
By about 5:40pm, they let people needing assistance as well as families with minors through to the next holding area, which was right in front of the bridge to get onto the plane. Fortunately, Tahia counted as a minor so we got to join this initial group of folks, but then we had to wait a bit longer on the bridge (maybe another 30 minutes or so) before they finally started letting people on.
It wasn't a comfortable wait since the bridge was exhibiting the greenhouse effect thanks to the many windows flanking the walkway. There was weak AC air trickling down from the ceiling, which I took advantage of by standing beneath the vents at the expense of risking sunburn by standing right next to the windows to get that air.
Eventually at about 6:40pm, the plane departed after they had finally let us onto the plane. The takeoff was delayed a little over an hour, and because of this, Julie reminded me that it was probably a wise decision to not have a connection to Marrakech Morocco on Royal Air Maroc right after this flight.
Anyways, we went forth with a pretty smooth flight though Julie and I had a bit of difficulty trying to fall asleep. We needed to get a healthy enough sleep for tomorrow's activities in Madrid.
After watching the Hobbit, Ex-Machina, and American Sniper in between a not-so-restful overnight sleep, we finally landed in Madrid at 2:25pm (over an hour delayed). Five minutes later, we were queueing to get off the plane, and eventually by 3:45pm, we got picked up by our hotel shuttle at the Terminal 4 Hotel Bus Stops. Once we finally got checked in and somewhat settled at 4:10pm, the rest of the time would be spent scouting out the city center of Madrid.
The original plan was for us not to overnight in Madrid before continuing on to Marrakech, Morocco, but after Julie had looked at the reviews for Royal Air Maroc (the only carrier that would've accommodated the schedule where we'd connect around this time for Marrakech), she decided to stick with Iberia and overnight. And so with the layover, we figured that we mind as well make the most of this one night we're here knowing that we'd be coming back to Madrid some three weeks later.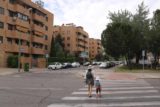 It took us some time to get settled at the Hotel Maydrit near the airport in Madrid. Julie selected this accommodation since it was close to a metro stop, where we could then take it straight down to the city center. That said, it was still about a 15- to 20-minute drive between this hotel and the airport so from a public transport standpoint, there was no real convenient and timely way to get between el centro and el aeropuerto. And it was still roughly 45 minutes to an hour to get from El Capricho station to el centro given there were some 15 stops on our line plus some walking.
Anyways, it wasn't until 5pm when we finally headed back down and make the walk to the metro. And it wasn't until about 5:45pm when we ultimately made it to the Opera Station. At that point, we went up the stairs and found ourselves in the middle of Plaza de Isabel II.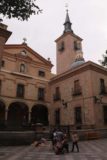 The feeling was almost like the feeling that Julie and I had scouting out the Spanish Steps in Roma, Italy. Except this time as we were getting oriented, there were lots of people just chilling out in the square and here we were trying to take it all in. Eventually, we found Calle de Arenal and followed this pedestrianized street towards Puerta del Sol, knowing that place was at the heart of Madrid.
Along the way, we noticed quite a few eating places (there was certainly no shortage of this), and by the time we made it to the busy Puerta del Sol, Tahia was noticing the street performers acting like statues while the plaza itself was surrounded by buildings. There was definitely an energy to this place, and we could see why Rick Steves called this place the heart of the city.
From here, we then walked towards the Plaza Mayor. When we eventually got there at 6:40pm, we noticed that this square was quite a bit quieter than Puerta del Sol, and perhaps that was hindered by all the scaffoldings we were seeing on one quarter of the square as well as a huge stage that was being set up covering up most of the square itself.
Perhaps if not for these things, the square was quite an interesting place given it was surrounded by attractive yet classic red buildings with a couple of towers. We were looking for a place to eat since Tahia was getting cranky. To pacify her, we let her ride the carrier where she was practically out when Julie and I entered the Mercade de San Miguel looking for a tapas bite (it was recommended by Steves as a cheap eat near this plaza).
When we got into the mercado at 7pm, sure enough it was a happening spot with lots of locals and tourists butting in at each kiosk to make their tapas or drinks order. It was pretty much a one-stop tapas crawl with multiple kiosks each having some kind of specialty. Seats to eat at were hard to come by but it was just a matter of timing as the turnover was pretty quick. We just had to be quick to claim a spot when it became available before it would be claimed by someone else.
Tahia had no interest in any of the tapas we were getting. Plus, the sangria that Julie bought were quite good. Most of the tapas were between 2 to 4 euros each. And when all was said and done, we probably spent less than 25 euros total, which we knew was not bad considering what we were getting. Most of the tapas were like bruschettas with interesting toppings (e.g. octopus in olive oil, or herring with mustard, etc.) as well as empanadas. And between Julie and I, it was plenty of food.
Meanwhile, Tahia was pretty much out and no matter where Julie and I were, it seemed like me carrying a sleeping toddler attracted quite a bit of attention as it even got a few camera clicks of just people seeing this (probably something not commonly seen around here).
Anyways, Julie and I thought this Mercado de San Miguel was like a farmers market except for tapas and fruits. And when we had our fill of this spot, we then stumbled onto some kind of parade or march as we were making our way to a nearby Carrefour for some fruits and water. The parade was a strange thing where there were giant puppet-like things that people were parading in with some music and lots of people surrounding both sides of the street they were parading through.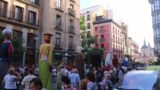 At some point while Julie was busy grocery-shopping, Tahia had awoken while probably wondering (as I was) what on earth we were seeing. In addition to the big puppet-like things being paraded, there were also a couple of smaller puppeted guys bonking people on the heat with some kind of cloth ball or something. I had read that Spain was known for these interesting marches and festivals, and I guess we had to chalk this up to one of them.
Next at 8:05pm, we all walked towards some chocolateria called Chololateria San Gines for some churros con chocolate. This was another Steves recommendation. And like the other ones, this one was also on. The churros we got weren't quite like the Mexican ones we were used to. Instead, they were plan and crispy (similar but less rigid shape) and we were supposed to dip it in this cup of warm chocolate fudge. And that really hit the spot for everyone, especially Tahia who was going hungry.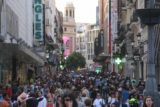 Then, after leaving the chocolateria, we went back to Puerta del Sol (buying a selfie stick along the way) before noticing this other real busy pedestrianized street, which we then promptly walked in.
And at 8:30pm, that was when we went into some department store (turned out to be El Corte Ingles) since Julie wanted to look for some more clothing for Tahia that would cover her up without stifling her knowing that tomorrow, we'd be in 100-degree heat in Marrakech in some unprecedented heat wave in May (which was supposed to be in the 80s this time of year).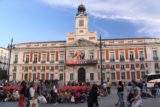 After getting this errand done at 9:20pm, we then ambled our way back towards the Puerta del Sol soaking in the bustling atmosphere here. Then, we ambled along Calle del Carmen back towards Plaza de Isabel II, but not before making a stop at the Pizza Emporio to satisfy Tahia's pizza craving since she wouldn't eat anything else for a dinner. And once that was finally done, it was then dark out in the street though a bit windy and cool. But that didn't stop the locals from being out and about and still retaining the energy there was earlier in the afternoon when we first got here. And this was now 10:10pm!
The metro was a bit more crowded than it was back at 5pm-ish when we used it to go to el centro. But it was thinning out the more towards El Capricho station that we went. Julie and I were conking out on the train given the jetlag and all the stuff we were doing without adequate sleep. But eventually, we'd be back at the Hotel Maydrit at 11pm, where we'd call it a day (or night).
Day 2: "FATIMA"
It was about 8:20am when I awoke. Julie and Tahia had gotten up much earlier at around 7am. Apparently I thought I had slept through my 8am alarm when I picked up my watch and noticed that it was showing 12:20am and the date was January 1st! Thus, I concluded that the alarm must've drained my batteries, and so I had reset the time on my watch and didn't bother setting up the alarm anymore.
So we had spent some time this morning getting all packed once again. Tahia and Julie went downstairs for an all-you-can-eat brekkie costing us about 13 euros (Tahia was only 3 euros and Julie was the full 10 euros). I stayed up at the room to finish composing yesterday's blog entry as well as getting ready for the day. We had until 10am before the airport shuttle would take us back to the airport.
It wasn't until about 10:15am when the shuttle driver finally showed up. So we were worried a little about being late since our tickets showed that we weren't sitting together. Plus, we had to get all checked in for our flight to Marrakech, Morocco.
It wouldn't be until about 10:55am when we finally got our boarding passes (we ended up sitting across the aisle from each other) and our checked luggages checked in. Meanwhile, we still had to get through security. And once we got through that, we then had to get through another passport control line (for departure?), and then we still had to take an airport terminal train before rushing our way to our gate at U61, which was a long walk from the train. The signs said it was 22 minutes to make it from security all the way here, and sure enough, we would make it to our gate just before 11:30am, but we could see that they were already boarding the bus to our plane.
At least we made the first wave of people getting on the bus, but then it took a while to get everyone on board. And then, the flight was delayed an hour before it finally took off at 12:55pm. I guess that would mean it would take one hour less for us to tour the medina of Marrakech, which was on our list of things to do on this day.
All of us were quite tired, and then there was a little bit of confusion when I was trying to gate check our child carrier. It turned out that I had to fight through traffic on the narrow aisle going the other way (they were boarding both from the front and back), and they eventually would have to leave my carrier with the crew's belongings. That meant it would be non-trivial for me to pick up that carrier when we disembark.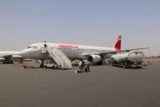 When we finally did land in Marrakech, I had to disembark through the back, then wait for people to disembark through the front before I could go back up the front entrance to pick up the carrier. The crew was actually worried that I wouldn't come to pick it up, but I didn't want to fight through traffic like I did on the way here.
Anyways, as Tahia was trying to adjust to the desert heat, I think her nap was interrupted when we had to disembark so she was in a bad mood. She cried while we were on the tarmac, but the security and the porters went out of their way to console her. Little did we realize that this generous treatment of Tahia would persist for the rest of our time in Morocco (and even Spain).
In any case, we then had to wait through a pretty long passport control that was operating quite slow. Unlike the airport in Madrid, we didn't get to hop the queue with Tahia. However, a family with a stroller behind us did manage to get that treatment. So it wasn't until about 2:30pm when we were finally through passport control, then we picked up our luggage (the conveyor belt stopped moving at this time), then we exchanged for some dirhams in anticipation of baksheeshing a lot on this part of the trip.
We then met our driver Abdul, who then took us into the medina of Marrakech. Abdul was quite fond of Tahia, and he insisted that we rename her to "Fatima" because he said it was the most popular name for women and girls in Morocco. So from that point on, he would address Tahia by "Fatima".
As Abdul continued driving along the thick walls surrounding the city center, I couldn't help but notice how well preserved they were. And I was wondering if it would be possible to walk on the ramparts. But I guess we might not have time to do it.
When Abdul made it to one of the internal archways, that was where he dropped us off, and some employees from our ryad showed up with a cart and wheeled our heavier stuff along one of the narrow pedestrianized zones in the labyrinth of the Marrakech medina.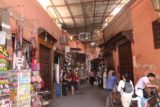 As we were busy following these guys we noticed that the pedestrianized traffic was also shared with mule-pulled carts as well as motorized scooters and bicycles so it wasn't exactly a relaxing walk.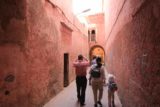 Meanwhile, the walk seemed to have taken some 15-20 minutes as we were passing through a handful of souks (small markets) as well as some archways and underpasses. It seemed pretty intimidating to think that we would've had to figure out where our ryad was had we showed up without a guide or without contacting the ryad personnel to guide us. Because there really weren't signs that would've showed us the way.
I guess that was all part of the experience though – to get lost in the labyrinth of alleyways in the medina. And I was pretty sure that we were gonna have our turn to get lost once we would be on our own on this day.
It wouldn't be until about 3:10pm when we finally made it to the Ryad Lorsya. At that point, we cooled off a little bit in the atrium of the ryad, which was very attractive as there was a small lobby area as well as a dinner table, and there was even a decorative pool off to one side.
The atrium itself was outdoors surrounded by balconies and little archways leading to stairways, kitchens, and sitting areas, which was where we were treated to a tasty Moroccan green tea with mint (now THIS was the real deal and not the bland wannabe that we thought we were getting at the Open Sesame restaurant back at home in LA) as well as a small bowl of tiny biscuits.
After getting oriented by the manager, who was also named Abdul, we then got to the room at 3:50pm. Abdul also showed us an inviting rooftop terrace to chill out under the heat. Speaking of the heat, we had anticipated over 100F temperatures, but it probably felt more like mid 90s or so. Thus, the desert heat wasn't as stifling as we had anticipated.
Anyways, it wouldn't be until about 4:30pm when we finally headed back down outside the ryad and proceeded to check out the medina. At first, we were a bit confused about finding our way out of here, because we were headed to some fountain (Fontaine Mouassine) that turned out to be nothing more than a former complex with a dirty pool of water on one of the stalls. I think Julie had gotten this fountain confused with a more decorative fountain in the heart of Fes, which we would be going to later on in this trip.
There were signs for the Ben Youssef Medersa, but we ultimately decided that maybe that be better off left for tomorrow when we'd be guided. So instead, we headed back in the other direction through the souks and towards the Djemaa el-Fna, which was the famous square at the heart of Marrakech.
The souks (many of which were sheltered) were quite atmospheric and busy. I'm sure these souks were probably more touristy than what they once were, but they were still atmospheric nonetheless, and I was busy taking pictures of the scene just trying to somehow capture and convey this atmosphere through pictures.
Once we got through the maze of souks, we then entered the Djemaa el-Fna, which at around 5pm didn't seem to have the ambience quite yet that made this place a UNESCO World Heritage site. But we could clearly see the tent stalls being set up and we could already start to hear some of the snake charmers playing notes with cobras sitting patiently.
So to kill more time, we then walked towards the Koutoubia Mosque, which was the main mosque in the medina of Marrakech. Its tall minaret was quite visible and was kind of the landmark that helped to orient us. And as we walked past a long parade of horse-drawn carriages parked and waiting for people wanting to pay for a ride with them, we then got to a busy street where we would have to cross the car traffic in order to get up to the Koutoubia Mosque.
Once we got to the mosque, we knew that we wouldn't be able to go inside it because it was only open to muslims who would go inside to pray. So we had to be content with going around the perimeter of the mosque to take photos of the impressive minaret. As we were busy taking photos, we heard through the loud speaker some kind of chanting which we had recalled hearing at other mosques back in India and in Egypt. It all added to the overall atmosphere of the place.
Meanwhile, other locals who were loitering around the mosque took notice of Tahia (who was now on my back in the child carrier as she was complaining about being tired), and they were impressed with her name as they let us know that it was a Berber name as well as an Arabic name (the latter was something we were aware of).
As we swung around to the other side of the perimeter of the mosque, we took a peek through one of the open doors and noticed how ornate and beautiful the multi-arched interior of the mosque was. It was too bad we couldn't take photos (as some locals around the mosque would say "No photos" whenever someone would point their phone or camera towards a doorway). And so we took a few more shots from the other side of the permiter of the mosque (which was greener with more trees and bush interspersed along the way), and after having our fill of this quiet spot, we then decided to head back towards the Djemaa el-Fna as it was now about 5:45pm.
At about 6pm, we settled in on a place called Cafe Glacier, which was well known for its view of the square from a balcony. So we bought a water (15dh for that) as well as another Moroccan tea (30dh, which was like a little over $3USD given the slightly over 9:1 exchange rate with USD). We knew the price a little on the steep side, but at least we got to enjoy the view.
And so we chilled out up here waiting for dinner, which wouldn't start until 7pm. I had wanted to check out the food in the street stalls down in the square, but Julie was in no mood to risk food poisoning (however true or not those fears were). And so we took our time just enjoying the scene from our lofty vantage point, noticing that the Cafe du France also had a balcony view though from a less scenic part of the square.
Nonetheless, we had ourselves a tagine de viande (beef) for one main and a couscous de poulet (chicken) for the other. All the while we were watching the square gradually getting busier and busier and more atmospheric as the sun was setting and the lights were coming on.
We finally left the cafe at 8:30pm, and now it was time to descend into the square and experience the ambience that we could clearly see had enveloped it. All we were doing was just meandering towards one corner of the square, then going between the tents of food stalls as we were backtracking. All the while, we were being touted by one stall after another as well as elderly ladies insisting we buy kleenex from them or just asking for money when they saw we weren't interested in the kleenex. While the touting was a bit annoying (we knew it was pretty typical of developing countries), we also couldn't help but feel for these folks who had to resort to these measures to get attention and increase the odds of earning enough income to be fed.
In any case, taking the good with the bad, it did feel like a special experience to be a part of this atmosphere. And since we were already sated, we had a ready-made response to decline the food stall touts. However, Julie did buy some freshly squeezed orange juice, which at 5dh a cup for takeaway, it was quite reasonable so we got one for each of us (and they were all refreshingly cold).
We also got Tahia a Hello Kitty balloon though it didn't take long for her to break it. So much for the 20dh that we spent for that!
Then, we meandered about some more in a more open part of the square (away from the tents) where there were street performers as well as some game where people were trying to wrap a donut on a string around glass bottles for a prize. I had to be careful about how I was taking photos because it was easy for some people to insist on paying them money if they happened to be photographed.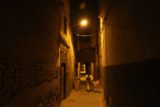 Finally, after 9pm, we were heading back to the riad and we backtracked through the souks hoping to find the way back. As we were going back and forth in the souks area near the mosque, it took one of the local vendors to tell us that the path we were looking for was an easy-to-miss archway with a blind turn that ultimately cut across towards the dead-end that our riad was located.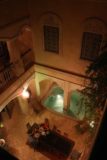 And eventually by 9:30pm, we made it back to the Riad Lorsya. There was one couple eating in the atrium under the romatic setting, and I'm sure Tahia was disruptive to the otherwise quiet ambience. And that was going to be us tomorrow as we asked for the dinner when we should be returning from the Setti Fatma Waterfalls in Ourika Valley.
The rest of the evening was spent just recovering from another full day's activities despite the heat, the airport delays, the passport delays, and of course the very atmosphere that attracted us to Marrakech in the first place. Now that we finally got to make use of our WiFi connection, we learned that the Clippers lost game 6 to the Rockets at home (part of me thought it was probably the same 'ol Clippers again). Oh well, we still had tomorrow to look forward to, which would include a full morning of touring specific sights in the medina before heading out to Ourika Valley after lunch…
Day 3: "DON'T JUDGE A BOOK BY ITS COVER"
It was about 7:05am when we awoke (or at least we thought it was) thanks to Julie's iPhone alarm. But when we took a second look at her clock and noticed a one-hour ahead discrepancy against our watches, we then realized that her iPhone clock was still on Spain time instead of Morocco time. So we went back to sleep to try to get somewhat caught up on sleep for another hour.
Well, it turned out that Julie managed to get up at the real 7am, but Tahia and I didn't get up until about 8:05am. That left us little time to get ready and go downstairs for our scheduled 8:15am brekkie. It was probably by about 8:25am when we went downstairs, where our place settings were made and we got to have a meal at the cool atrium (especially since the heat of the day hadn't picked up this early in the morning).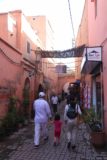 The brekkie was a pretty simple affair of a brioche with chocolate inside, a crepe, and a fluffy pancake. It was pretty heavy on the carbs. We also had a yogurt as well as a Moroccan tea while Tahia was a bit reluctant to drink the warm milk.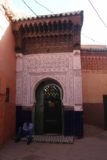 Anyways, our guide for the morning showed up while we were having brekkie. And it wouldn't be until about 9:15am that we got started (about 15 minutes later than our scheduled start). And with that, we were walking the familiar narrow alleyways towards the northern side of the medina. As we were getting through the openings of the souks and the rat-a-tat of diesel motorized bikes zipping on by, our guide (named Abdullah, I think) was describing to us how we were passing between walls and closed doors while the mosques that were in session could be heard but not really seen.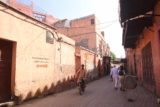 That was when he explained to us that in Morocco, you don't show your wealth. You keep it inside. The beauty of most people would be revealed from the inside, and it wasn't wise to show off on the exterior. In other words, "Don't judge a book by its cover", was the motto, and it was something that resonated with Julie and I. Since we weren't into possessions and trinkets, and we cared more about experiences and sharing them.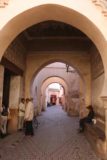 And so it became clear why the Koutoubia Mosque looked so ornate and beautiful from the glimpse that we saw yesterday. Our riad at Riad Lorsya was very beautiful on the inside while it looked like nothing more than a metal gate on the outside in a dark remote corner of the medina of Marrakech. And I think Abdullah was preparing us for the beauty of the interior of the Ben Youssef Medersa, which was the first excursion of the day.
At 9:30am, we made it into the Ben Youssef Medersa, where right off the bat, there were green checkerboard-like tiles all over the floors and parts of the walls on the interior. Abdullah explained that this was a college where students were sharing three inmates per cramped cell. But many of the quarters overlooked a very beautiful atrium with arches surrounding a dry fountain. Indeed, this was the most picturesque spot, and we really had to be patient paying as much mind as we could to Abdullah's explanations of the site without wandering off taking photos on our own. After he gave his spiel, then he let us snap away at the beautiful courtyard though the harsh lighting of the morning was already creating shadows.
The medersa was getting pretty busy so soon this morning, and it didn't take long for us to get the full gist of the place, including all the dorms. Tahia was getting cranky as I don't think she was stimulated by all this sightseeing that Julie and I were doing.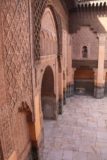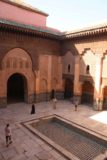 So by 9:55am, we were done visiting the Ben Youssef Medersa and then we walked a few paces past a few more souks and passageways towards the next excursion, which was the Palais Mnebhi, which was something that wasn't on our guidebooks, and it was something that our guide seemingly went off the cuff to show us. He also told us that we wouldn't have time to visit the other things on our itinerary like the Saadian Tombs, the Bahia Palace, and the Badi Palace as after this palace we were going to, we would then be visiting souks.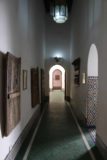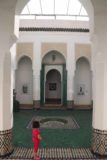 Once we got into the Mnebhi Palace (a little after 10am), we paid the pretty steep price (relatively speaking of 50 dirhams per adult as the Medersa was 10 dirhams I think per person), and Abdullah went on to tell us of the history of this place (noting some VIPs came here like the prime minister of Spain, the Moroccan royalty, etc.), especially since this place was set up by a wealthy businessman who earned a lot of respect from Moroccans given his penchant for reinvesting in the country and its people.
We learned about the difference between the Arab-style doors, which Abdullah said were pre-meditated and calculated given the symmetry and mathematical precision in its patterns, versus the Berber-style doors, which were simpler but less pre-meditated. He explained that the Berber style encouraged more creative thinking without being tied to a plan. And it was interesting how this represented opposite schools of thought when it came to planning something versus winging it. In a way, we could see how our trips could probably be characterized as being the "Arab" style given this explanation (since we tend to plan and execute while providing some wiggle room for spontaneity) as the more "Berber" analogous trip would be one where you just let fate take you wherever you end up going.
After seeing the different doors, we then went into a smaller courtyard that was also pretty ornate though not quite as fancy as the Ben Youssef Medersa. And after we had our fill of this spot, we then went back inside and towards a grand courtyard that was not covered by a canopy to protect the inside here. This grand room had a kind of giant hanging chandelier with a line of three or four fountains all while decorated with patterned floors with columns and arches adorning the perimeter.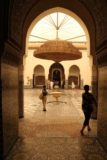 In the rooms on the perimeter of this courtyard, there were other rooms containing swords, lamps, treasures, and even a hamam (or bath). Indeed, this place had royalty written all over it, and it was yet another example of a very beautiful interior with a humble exterior; reinforcing the "Don't judge a book by its cover" motto that Abdullah told us about earlier.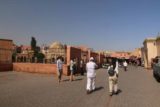 At around 10:45am or so, we were done visiting Palais Mnebhi, and we then walked past the old center of Marrakech, which was now run down but did show traces of former glory. It was now blocked off because the infrastructure was crumbling here and was unsafe for tourists to walk amongst though it was open as late as five years ago or so.
Then, we entered a non-touristy part of the traditional souks, where it was clear that this was where we were getting the sell-on as Abdullah would take us to some local artisans whom he probably networked with. While this was one of the things we weren't keen on doing when visiting developing countries, we also knew a lot of the locals could use the help, and perhaps it was better off spending money with these locals trying to earn an honest living than with the easier souks on the way to Djemaa el-Fna where there would be greater markups (and Abdullah said they bought from the very same artisans he took us to).
So we just decided to give in a little bit instead of saying no to everything like we usually did in the past. And Julie ended up getting some handmade sandals as well as some cobra carving (to add to our souvenir collection). We also changed a little more money knowing that cash is king here, and that we needed more cash on us to baksheesh (tip) more.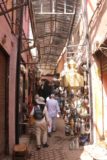 During this time, I also thought about whether we'd be missing out by not doing at least the Saadian Tombs or one of the other palaces. Abdullah's original plan was to take us to the Djemaa el-Fna in lieu of the stuff on the southern side of the medina, and that was when he processed our request and immediately took us to a spot to hail a taxi so we could get to the south sooner and still make it back to our riad by 12:30pm or so.
And so at 11:20am, we took a taxi ride right to the Kassbah Quarter ("Rock the kassbah, rock the kassbah…") of the Marrakech Medina which was a short walking distance from the Saadian Tombs. We were situated next to another mosque, which Abdullah said was the second largest in Marrakech. But again, it was closed to non-Muslims so we could only check out the minaret and the walls from the outside.
At about 11:35am, we paid a total of 20 dirhams for the both of us to get into the Saadian Tombs. The DK book kind of built up our expectations of the ornate catacombs of this place, but it turned out that most of the rooms here were being renovated, and it kind of spoiled the experience. Yet even with these renovations and repairs going on, there were still moments where the place was photogenic.
By 11:55am, we were done visiting the tombs, then took a few more photos of the minaret of the mosque, before getting the sell-on one more time at a cooperative of argan oils and other ointments ten minutes later. Though in this case, Julie was looking forward to buying some of this stuff given that we believed it would help with her eczema while Tahia could use some of the stuff to moisturize her skin given the intense dry heat of the desert here.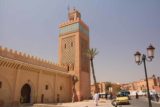 Eventually at 12:25pm, we were then taxied back to the arch at Bab Masour (the familiar gate that seemed to be away from the busy Djemaa el-Fna square yet seemed to be relatively "easier" to get back to our riad) where Abdullah took us to a quickie sandwich place to pick up a lunch before walking quickly back to our riad.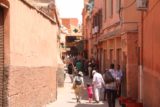 Along the way back, we baksheeshed Abdullah, then made it back to our riad at 12:45pm. While we were having our picnic lunch in the familiar atrium of the riad, we were given more sweet Moroccan mint tea while Tahia got more water with her piece of the sandwich. We learned that our driver suggested that we not leave for Setti Fatma until 2pm instead of the scheduled 1:30pm due to the heat. We went along with it, though we weren't sure if this would put more time pressure on our first waterfalling excursion of this trip…
At least Tahia got to dip her feet in the pool by the atrium, which was something she had been requesting to do ever since she first saw that pool.
At 1:55pm, we started walking to the driver. The porter took our car seat in his familiar cart. And so we made the walk back towards the arch at Bab Masour, where we then caught back up with Abdul the driver at 2:15pm. Once again, he was very happy to see Tahia as he affectionately said, "Fatima!" to her.
It took a little time to get the car seat set up as it was quite hot inside the car as I was busy trying to latch the hooks into the anchor points within the main back seat itself. But in the end, we managed to be successful, and we were ready to go some 10 minutes later.
As we were headed out, I started to see the new part of Marrakech as Abdul was navigating through wider boulevards with seemingly new high rise red buildings flanking these wide streets. Once again, I took note of how the drivers here didn't respect lane markings on the road, and it was like Egyptian driving conditions all over again. However in this case, I had entertained self-driving for full flexibility and maybe to save money, but after seeing this from the passenger seat, Julie and I were glad we stuck with letting the locals do the driving.
Yet even with that said, at 2:35pm we had apparently hit a speed trap because Abdul (and at least two other cars) happened to get pulled over by cops. The way they worked together was interesting because there were a handful of cops off the side of the road until one walked right into the middle of the road to face the oncoming traffic and force the driver to slow down, and that allowed the cop to tell the driver to pull over to the right.
I'm sure it would be wise to do as they said because there were at least two or three other cops on the side of the road ready to approach the pulled over vehicle to work on issuing the on-the-spot fine along with checking for registration, license, and other things. And if one would have thought of trying to outrun these guys, well those cops on the side of the road were at the ready to make a pursuit immediately.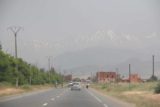 Aside from this little spot of delay, we proceeded to continue to the south of Marrakech towards Ourika Valley. The drive was mostly straightforward and flat as we were leaving the hot plains surrounding the famous city and towards the High Atlas Mountains, which we could see still had snow despite the 100-degree (or nearly 40C) heat through the hazy skies.
As we would eventually get into the town of Setti Fatma, we could see there was lots of water in the river running through the valley. There were lots of restaurants accompanied by men who trying to encourage passer-bys to pull over and eat at their restaurant. And kind of like what we had seen in the Djemaa el-Fna yesterday, they were pretty much all the same restaurants offering pretty much the same fare one after another.
Anyways regarding the high flow of the river, Abdul said it was due to the snowmelt being at its peak right now. The area looked like it had seen its share of landslides and washed out bridges, and it made us wonder whether this area might have seen a flood in its recent past. Plus, seeing how much the river was raging now, it didn't look like Tahia would be able to play in let alone swim in the water at the falls as we were hoping. But we'll see…
Abdul parked the car alongside the road at 4pm where a local Berber guide was waiting for us. We were right above the raging river, which made us a bit nervous because there were no guardrails where we were parked. Once we got strapped in and we had put Tahia in the child carrier, we left Abdul behind and followed our local guide, who called himself Abdellatif.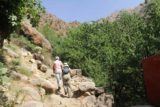 We first walked along part of the main road full of parked cars and people walking to and from the falls as well as the local souks here. At some seemingly random junction, we descended towards the river where Abdellatif showed us to a couple of seemingly rickety bridges without railings right above the raging water with a fairly small but impressive cascade flanked by restaurants.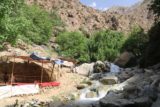 We went ahead and did this crossing so I was admittedly a bit nervous about the condition of these bridges as we were crossing, especially with Tahia on my back. And then, we proceeded to make a seemingly long, hot, and tiring steep climb along this seemingly random creek that happened to have cascades. We weren't sure if we had somehow veered from the path that was said to be the route along the main river leading up to the first Setti Fatma Waterfalls, but Abdellatif said that our steep climb was shorter and more direct.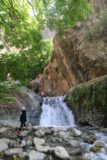 Indeed with Tahia on my back, it wasn't an easy climb and I was easily sweating bullets. We took mini breaks at some of the shops alongside the trail, including a bathroom break for Tahia knowing that we were might be in for a minimum of one-hour rough hiking in each direction.
The higher we went, the more difficult the terrain became. Gradually gone were the steps and the rickety wooden bridges spanning this creek we were following (seeing more cascades along the way), and we started seeing more direct stream crossings involving rock hops as well as slippery boulder and exposed rock climbs. And as Tahia was getting attention from people seeing us as they were going down while we were going up, I was a little amazed at how some of the women were doing this hike either barefoot or with fashionable Summer sandals.
That said, Julie and I were wise to bring sturdy hiking boots on this excursion, and even then, there were moments where things got slippery and a bit dicey, and we totally relied on Abdellatif to give us a hand or relied on his knowledge to tell us where to place our feet in really dicey spots.
It wouldn't be until about 4:40pm when we reached the second or third of the small cascades, and it at one of these falls that Abdellatif pointed out some irrigation diversion canals alongside the creek. In fact, he said that it was the Berbers who taught the Romans their aqueduct techniques when they made their way into Northern Africa, and the implications of such respect of local knowledge meant the ancient civilization must have learned from those they occupied or assimilated (as opposed to conquered, which I'm sure in some cases they sure did). And that kind of made sense because you couldn't have such huge civilizations without some degree of cooperation from those who were assimilated or ruled.
Anyways, it wouldn't be until about 4:55pm when we would finally make it to the first waterfall. And despite the treacherousness of the terrain just to get even get up to this point, we still had bi-directional traffic on the narrow exposed rickety bridge right beneath the falls so there was quite a bit of waiting our turn (or for others who were insistent and wouldn't wait).
With Tahia on my back, I did a lot of sit and scoot maneuvers on descents, and Abdellatif thought it was wise that we had Tahia in the child carrier for we saw others carrying their child by hand, and I couldn't imagine how difficult that must have been on this hike.
On the other side of the bridge (and some more slippery scrambling on either side of the bridge), we would reach the Cafe Immouzer, which was right in front of the first Setti Fatma Waterfall. And unlike the cascades we had seen along the way, this was a legitimately tall waterfall (probably 30m or so), which was producing a lot of spray.
Julie was a little bothered by some mosquitoes around this cafe, but at least we took our time taking photos of this place and overall just enjoying this falls. Now, it was time for me to leave Julie and Tahia to enjoy this falls here, while I would continue to follow Abdellatif further up the mountain to get to a viewpoint of the remaining waterfalls of Setti Fatma. Given that it was already 5:15pm at this point, there was no way we would be making the even more difficult ascent alongside the remaining waterfalls to get close to them.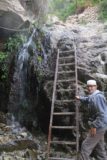 So as I followed Abdellatif without the child carrier, we then ascended a metal ladder that took us further up another steep mountainside that was both slippery and exposed to dropoffs. Here, I was really glad for Abdellatif's guidance because it wasn't easy. But as much as I was glad for the guidance going up, I knew that going back down would also be very difficult.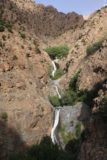 Barely 5-10 minutes later, we had ascended high enough to start seeing the scenic valley further downstream and the tiny people struggling to make their way both up and down alongside the raging creek. But we also looked upstream and saw the impressive vista of at least 3 or 4 visible tiers of the Setti Fatma Waterfalls all dropping in succession. Clearly those upper waterfalls could not be seen from the first waterfall, and I was pretty content that I could experience the remaining falls in this way without seeing one waterfall after another without the full context had we done the even more difficult ascent alongside the creek.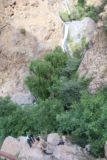 At the end of this steep scramble was a terrace with seemingly another cafe. I couldn't believe that they had set this up on such dicey terrain, but I guess that goes to show you how confident local Berbers were with this terrain, and that they truly were mountain folk (almost in the same vain as the Peruvians who seemed to be right at home under such steep terrain). In fact, we had heard on more than one occasion on this trip already that the local Berbers came from the Atlas mountains complete with their own language which was said to be just as old as the Arabic language.
So Abdellatif and I were chilling out at this terrace just taking in the full view and even noticing one local who was sitting pretty high up the cliff near the same level as the uppermost of the falls in the distance. The photos started to get adversely impacted by the longer shadows growing with the sun sinking lower on the horizon. And the sun was also going in and out of some clouds that were passing by amongst the over 4000m peaks surrounding us.
At 5:30pm, I had had my fill of this spot and we made the difficult scramble back down. Things got especially tricky near the metal ladder where the local elderly man there helped me sit and scoot my way amongst the wet rocks until I was finally able to even get to the ladder let alone descend it backwards.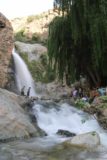 And by 5:45pm I was finally back at the first falls where Julie and Tahia were busy enjoying the stream just downstream of the now very busy main falls. I took a few more videos and shots from other lookouts at the Cafe Immouzer itself before we then got Julie's newly bought selfie-stick and took a few more family shots.
Finally at about 5:55pm, we baksheeshed the local guide with the ladder here, and started to leave the Cafe Immouzer and the first Setti Fatma Waterfall.
I thought it was hard enough just to even get to this falls, and I couldn't imagine how much harder it would be to continue higher up and that there were actually dozens of tourists who would do this. Of course with time running out and Tahia in tow, there was no way we could do that.
The descent was tricky in spots, especially with little girl on my back (in one moment I scraped her leg on a rock as we were navigating a tricky descent), but other than that, we made our way back down past the souks (Julie picked up a few more minaret carvings along the way as well as a kilo of local cherries), and then we were finally back at the village of Setti Fatma some time at around 6:45pm.
We once again caught back up with Abdul, baksheeshed Abdellatif some 250 dirhams, and drove off to the now-familiar saying of "Yellah!", which was Moroccan Arabic for "Let's go!"
The drive back was pretty scenic as I was looking back towards the villages clinging to the mountainsides of Ourika Valley, and I really wished we couldn't stopped for some of these scenes where such villages were fronting the snowy peaks of the High Atlas Mountains in a sort of Shangri-la type scene. But in any case, Tahia did notice some roadside camels which got her excited before we would eventually descend further down the winding mountain and make our way back to Marrakech.
Julie, Tahia, and even I were struggling to stay awake throughout this drive back. And it wouldn't be until about 8:25pm when we were finally back at the archway at Bab Masour. Now, it was time to quickly walk back to riad as we were to meet back here at 9:30am tomorrow morning for our drive out to Cascade d'Ouzoud, the natural bridge that was shaped like Africa, and then Bin el-Ouidane.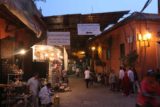 About ten minutes later, we were finally back at the familiar Riad Lorsya as we were hoping that we wouldn't be too late for our arranged dinner on this night. And at about 8:45pm, we finally sat down for our dinner, which ultimately started at their closing time at 9pm.
The food consisted of a wonderful pairing of eggplants and tomato-based dish on the cold. And then came the flavorful tagine of chicken and olives with spices for the main. And this was followed by a sweet apple dessert. And by the end of the dinner, we were totally sated.
Our dinner experience contrasted with the chaos of the Djemaa el-Fna since it was so peaceful in the riad. But once we were done with the meal, we got ready to go back out to the Djemaa el-Fna one last time so we could experience its atmospheric and controlled chaos one last time as this would be our last night out in Marrakech.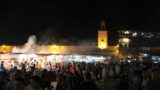 So at 10:10pm, we made the walk back out, passed through the local souks again (this time seeing and buying darker cherries than the ones we had bought on the trail at Setti Fatma), and then experienced the street performers (seemed like every time I took a photo of the ambience, some guy wanted to put dirhams in their musical instruments thinking we took photos of them), all of which added to the festivities of the experience.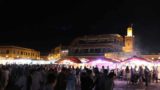 Tahia couldn't see much so I had to carry her on my shoulders, which I'm sure she enjoyed. Of course with all the rhythmic drumming, she was also using my head as a drum.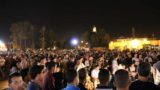 And after our meanderings, we picked up one last go of freshly squeezed OJ and one more frozen bottled water so we would have cold water back at the riad. And as we were leaving the Djemaa, Tahia was insistent on us buying her some "princess shoes" and we did just that at one of the local souks on the way back. I remembered what Abdullah said regarding the artisans who did the work off the beaten path, then the souks on the route to and from the Djemaa would buy from those artisans and mark up the price to capitalize on their well-traveled locations. So that was probably us paying for the markup this time around.
Finally at 11:15pm, we made it back to the riad. I'm sure in our younger days, we could've enjoyed the ambience and atmosphere of the Djemaa el-Fna even more, but since we had to sleep (especially with our little girl in tow), and that we had to pack and get ready for tomorrow, that pretty much drove our night activities. And it wouldn't be until around 2am when we would finally crash and try to get as many zzzs as we could before the next day would begin anew…
Day 4: DAY OF MANY SURPRISES
It was about 7:10am when we awoke to Julie's alarm. Given that it had already been 10 minutes past the hour, her alarm must've been on for at least that amount of time. Clearly, we were reluctant to get up thanks to our 2am bed time last night…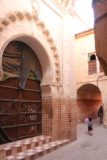 So we spent the next hour or so getting all packed up and ready to go. And it wouldn't be until 8:30am when we went downstairs for brekkie. This time, the brekkie didn't have the crepe from yesterday morning. And we knew it would be a carb heavy brekkie so we actually brought some cherries that we had bought from Setti Fatma yesterday. And that provided some of the substance in addition to the yogurt, OJ, Moroccan tea, and the pastries.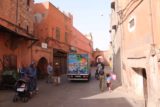 And by about 9:30am, we had brought our stuff downstairs and not much later than that, the nice porter showed up. At first, they wanted to give Tahia a ride on the wheelbarrow, but Julie thought it was a bit too dangerous for Tahia and a bit more taxing for the porter. So we all walked while the porter took the heavier and bulkier stuff out towards the arch at Bab Masour.
By 9:50am, we were finally back at the car. Indeed, we were already starting to sweat given that the heat of the day was starting to assert itself. Plus, the streets were already chaotic and busy as today was a day of rest. And we were bracing ourselves for a very busy Cascade d'Ouzoud as Abdul thought just about all of Southern and Central Morocco from Marrakech to Demnate to Azilal, etc. would come to the falls to enjoy on this day.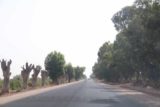 The drive was pretty uneventful as Abdul was careful about speed traps on this go. It seemed like it took a while to get out of Marrakech, and I guess that kind of showed just how big the city was. Indeed, the medina wasn't the entire city though I'm sure it would be easy to think that way without the perspective of leaving the city to experience a more rural side of Morocco.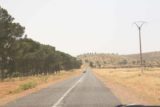 All of us were in and out of conking out at one point or another (though I stayed awake a bit longer than both Tahia and Julie who were pretty much out for almost the whole drive). Much of the drive was through flat lands that consisted of farms harvesting olives or cacti. It was kind of reminiscent of the kind of scenery we might find in California given that there seemed to be a bit more green than a typical desert would have.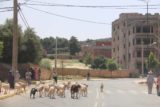 And as we were over an hour away from Marrakech, I started to notice more remnant snow on the mountains through the hazy skies. This time, Abdul told me that the mountains here were the Middle (Moyenne) Atlas Mountains as opposed to the High Atlas Mountains where Setti Fatma was located.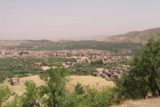 At 11:45am, we took a detour heading towards the town of Demnate en route to the Natural Bridge of Imi Nifri (or was it Imin Ifri?). This was supposed to be the natural arch that when looked in one direction was supposed to look like the map of Africa.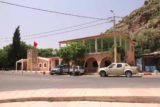 At about 11:55am, Abdul parked the car near the excursion area for Pont d'Imin Ifri, which was 6km beyond the town of Demnate. While Julie and Tahia was busy getting ready for the excursion, I did some quick scouting to see if the bridge could be seen from up here, which happened to be at the top above the natural bridge itself.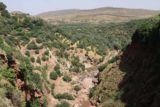 There was a guide who was waiting for us as I was sure he saw an opportunity to earn some income off of us through a baksheesh. I somehow got the feeling that a guide might not be necessary for this excursion, but we figured that it didn't hurt to help out a local, especially since he ended up helping us out with Tahia in areas where being sure-footed was required.
Anyways, we headed off at 12:25pm, and we took the backside route opposite the stairs leading down to the front of the natural bridge. We followed our guide down a well-developed trail with steps with some tantalizing but hidden views of what appeared to be surprise waterfalls way down below us. And eventually we would get to the bottom of the descent where along the way we saw other more temporary waterfalls spilling off the cliffs and into the creek below.
We took our time taking photos and movies down here while trying to savor the moment. But once we crossed over the creek, we then went by a muddy section (thanks to the drippage from the cliffs above) before going on a more narrow and primitive trail with dropoff exposure. It was here that the guide was a tremendous help in carrying Tahia over the hardest parts of the exposed trail.
We were beneath the cavernous natural bridge at about 1:10pm. Looking back upstream, I could see that there were waterfalls in the main stream though it wasn't easy to photograph from the exposed trail that we were on. I did see some people on the other side of the creek down below, and I wondered if we could get over there to get a better look at the waterfalls.
Meanwhile, when we looked downstream out towards the front of the natural bridge, this was when we started to get a look at the opening of the natural bridge that apparently resembled the shape of the African continent. So we took our time trying to convey the experience through our photos and movies. And when we eventually made it towards the front opening of the natural bridge, we looked back and noticed the rough shape of the shape of the South American continent.
It was at this point that I was starting to think of this excursion as its own waterfalling excursion so this was a very pleasant surprise. It certainly coerced us to spend more time here; at least spend more time than the less than an hour that I had anticipated.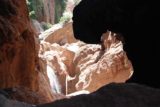 Once we got to the bottom of the descent, we took more photos of both sides of the arch openings. I asked the guide about getting a better view of the falls behind us, but he said that rocky path was too dangerous and not worth the risk. And while Tahia was busy collecting rocks or throwing them into the creek while giggling, there was a Moroccan boy who was here on holiday who wanted me to take a photo of him using his memory card with my camera.
When his dad came over and wondered what I was doing, I was done taking photos of the boy at his request, then I showed him the memory card that he lent me to take photos of him. Once the dad realized what his son's out-of-the-box thinking had accomplished, he then indulged by climbing some rocks to pose with his son using their memory in my camera.
I don't think we had ever seen this done before, but it was certainly a creative way to get the kind of photo you want when you either have forgotten your camera or you want someone else to take your photo.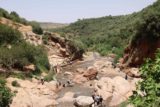 At about 1:35pm, we started to leave the cool interior of the natural bridge and head back out into the heat. That was when we noticed yet another side waterfall that was tall and also feeding the main creek as well as another small falls backing what appeared to be a swimming hole that a couple of boys were playing in. The guide directed us to look further downstream at where more people were frolicking in the water, and he said that the water down there was actually salty!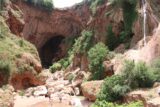 Indeed, Imi Nifri was a surprisingly diverse attraction. I wasn't expecting a waterfalling excursion out of this, yet here they were. For sure, I'd be treating it like a waterfalling excursion with its own writeup when it came time to compose the main content of the website. Meanwhile, there were play places as well as interesting wildlife as there were a combo of swallows and bats as well as a small colony of scarab beetles.
The climb back up was quite hot and tiring, but we would eventually make it back to the top at 1:55pm. There was one Moroccan visitor who wanted to take me to take a picture with him and his buddy. I wasn't totally sure what that was all about, but I indulged him. We then baksheeshed the guide who went with us some 250dh (at his suggestion).
Finally at 2pm, we headed out. Man, the AC in the car certainly felt nice!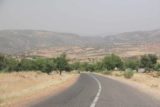 The drive to Cascades d'Ouzoud was mostly uneventful as we went by a couple of police checkpoints before taking the detour towards Ouzoud. There were a lot of big buses (both tour buses as well as public transport buses, etc.) as well as local scooters and private vehicles going in the opposite direction. So it seemed like we would be showing up to the falls at a time when people were leaving.
Now I had said "mostly uneventful" because there was one moment where Abdul went over a cut in the edge of the road that essentially acted like a pothole. I was worried for Abdul's car for a flat, but he played it off like nothing happened. Anyways, we would arrive at the car park for the Cascades d'Ouzoud at 3:15pm, where we saw quite a few tour buses, white transport vans, as well as many other scooters and vehicles.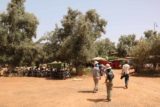 Once again, there was a guide here to escort us even though we had read that guides weren't necessary to visit the falls. Still, we gave in and figured that we could help out the locals here with our baksheesh contribution at the end of our excursion.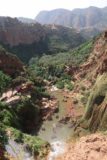 Since we hadn't had lunch yet, we ultimately decided to have a lunch at 3:30pm. We ended up with a pretty satisfying meal of Berber Omelette as well as a chicken skewer for Tahia and Abdul all washed down with some hot (and sugary sweet) Moroccan tea.
And after the satisfaction of our lunch, we then started the walk at 4:15pm. We knew that it might take some time to finish this excursion and that the prospect of Tahia playing in the swimming pool at our hotel in Bin el-Ouidane might not pan out as we were anticipating our arrival at the hotel some time after 8pm, which was probably either at or past sunset.
At first, our local guide named Hassan took us to the very top of Cascades d'Ouzoud, which was quite precarious. But it provided us a taste of just how tall and impressive the falls was. We could tell from how tiny the folks down at the base of the falls looked that we were indeed at least over 300ft up or so. The exposure to the drop offs here meant that we had to keep a close eye out on Tahia, which Hassan gladly did. He also helped carry my tripod since we hadn't really used it all trip long until now.
Next, we then swung back around the top of the falls past a footbridge crossing over the creek responsible for the falls. We were going to do the loop in a counterclockwise manner. Then, we saw there were quite a few people swimming further upstream of the bridge but we kept going along the walk on the rim of the gorge. And at about 4:45pm, we then got to our first impressive viewpoint.
It took us some time to fully appreciate this view since there were quite a few people wanting to take photos up here as well. But eventually we got what we wanted regarding a family photo, and then we followed Hassan further along an incomplete part of the footpath. About 10 minutes later, Tahia was complaining about being tired so I had to carry her on my back in the child carrier.
Eventually, the path's concrete surface would give way to gully-eroded dirt, which we would descend as we were making our way further down the cliffs over a series of switchbacks snaking between what appeared to be some irrigation gullies and hand scooped water diversions.
While we were looking at the small diversions and waterfalls as a result, Hassan explained to us that the waterfalls of Ouzoud consisted of some 25 springs. The waterflow wasn't reliant on the snowmelt from the Middle Atlas mountains, and he said that the reduced flow of the falls during the Summertime was more a function of the irrigation for olives and other things grown here as opposed to the aquifers and drainages running out of water and snow.
Eventually at about 5:15pm, we made it to a cafe called Panorama des Cascades. It had a wonderful contextual view, but it was too bad that there was a power line cutting right across the top of the falls from this spot. Otherwise, it was refreshingly cool and shady at this cafe and we kind of didn't want to leave this spot even though we had to. We couldn't stay down here forever.
But before we left, we took some selfie shots as well as tripod shots. We weren't sure if any of them turned out, but at least we made the attempt. Another plus to this spot was that we were the only visitors enjoying it as it wasn't as hectic as the more obvious spots around the falls.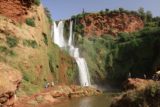 Finally at 5:45pm, we left this divine spot and continued past a few local shops before descending towards a creek crossing and bridge area cutting between the base of the main tiers and the top of the lowermost cascades. We started to see some faint rainbows cutting across the falls though given the high volume of foot traffic that was down here, we couldn't really enjoy it all in peace.
After rock hopping our way across the creek and over one of those rickety bridges without railings, we then passed by a large group of foreign tourists (the first time on this day we saw such people since Idi Nifri didn't have them). Then, we started the long climb up steps experiencing one lookout or vantage point after another.
This side of the falls started to have increased shade, but the main falls themselves remained bathed in the hot sun. Eventually, we would make it up to the last main overlook at about 6:30pm. It was here that we saw a lot of monkeys roaming around a concrete platform as people were apparently feeding them. Even Hassan saw the error in their ways as we were concerned about the monkeys getting aggressive to people if they weren't fed.
In any case, the view from up here was wide and panoramic though the trees below still blocked the lowermost tiers of the falls.
Then, we continued walking past more souks until we would finally return to the familiar restaurant that we had lunched at at 6:45pm. Hassan and the group (along with the awaiting Abdul) and other locals working at the restaurant were all celebrating over a sweet minty Moroccan tea. I drew some chuckles from some of the folks who saw my grey shirt nearly completely darkened by my sweat thanks to me having to carry Tahia for almost the entire excursion.
Meanwhile, as we were recovering, quite a few folks were fixated on the television over the futbol match between FC Barcelona and Atletico Madrid (I think). We also baksheeshed Hassan 250dh for the trouble of guiding us. So it was pretty good mood all around.
At 7:05pm, we were finally back in the car. We figured that we would probably miss the sunset at Bin el-Ouidane and that it might be too late for Tahia to be playing in their swimming pool. Still, that wasn't the purpose of our visit as Bin el-Ouidane was really more of a stopover to break up the long drive from Marrakech to Fes via Cascades d'Ouzoud and Imi Nifri.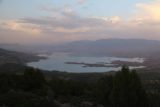 The drive went smoothly as Abdul stopped to fill up diesel at Azilal at 7:45pm, and then we'd eventually make it to the Hotel Chems du Lac at Bin el-Ouidane at 8:15pm. There were beautiful views of the manmade lake on the descent to the town, but the colors were muted thanks to thunderclouds on the other side of the lake (blocking the partially snow-covered Middle Atlas mountains) as well as the sun already hiding beneath the surrounding mountains towards the west.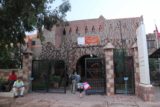 We learned that Bin el-Ouidane meant "between rivers" though given the inundation by dam to make the man-made lake, it was hard to tell where those two rivers were. Nonetheless, after getting our stuff and checking in, we would finally settle in our room at 8:30pm. And 20 minutes later, we then had a dinner, which consisted of a delicious beef tagine though the skewers (especially the beef) were tough and the all-you-can-eat salad were ho hum.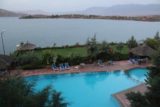 And since we were on the theme of surprises, we were also surprised to see that the dinner was on the order of 520dh (just under $60 USD), which felt like a rip off. But I guess out in these parts, beggars can't be choosers, and I wondered if there was a two-tiered pricing system going on here.
Anyways at 10:20pm, we were back in our room to unwind and recover from this very busy and active day of touring. And for sure, we accomplished a lot today considering that we visited the main waterfall of our trip at Cascade d'Ouzoud with surprisingly better flow than expected.
Now with half the long drive over, tomorrow, we're expecting to get to Fes while visiting Sources Oum-er-Rbia along the way. Thereby beginning the next phase of our time in Morocco, which we'd imagine to be a bit less touristed than both Marrakech and Ouzoud…
Day 5: THE LONG VOYAGE TO THE SOURCE
It was about 7:45am when we awoke. We had intentions of getting up at 7am, but it seemed like every time we've made the attempt on this trip, we always reset the alarm for later. This won't serve us well when we get to Spain when we jump ahead an hour, nor will it serve us well when we have to go from Chefchaouen to the ferry at Tangier MED in time for our 10am departure while factoring in all the delays that could arise from passport control, queues, traffic, and other unforeseen delays.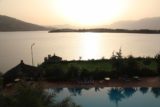 Anyways, the brekkie at the Hotel Chems du Lac was a disappointing affair. In fact, I don't think any of the breakfasts we've had so far were that great. I guess brekkie is not an important course in Moroccan culture, and it's really more of a tourist thing, it seemed.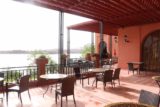 After taking in the view over the man-made lake at Bin el-Ouidane (said to mean "between rivers") from the hotel terrace, at 9:20am, we were finally heading out. I knew that today was supposed to be a long day of driving. Little would we realize just how involved this drive would be…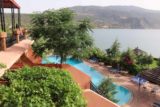 The drive out of Bin el-Ouidane was a windy mountainous affair. The road crossed over the dam responsible for the lake, but Abdul told me not to take photos of it because there were soldiers patrolling the dam and they don't like to have their picture taken.
For the next couple of hours or so, we would be following one slow-moving vehicle after another. I'm sure it takes a lot of patience to put up with trying to pass these vehicles (especially if they're diesel-belching lorries) with such limited opportunities, but it seemed like Abdul took it all in stride. Besides, the dramatic gorge scenery throughout much of the drive seemed to make for some pleasant eye-candy distraction from the monotony of driving.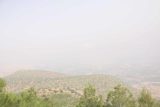 When we got to the other side of the Middle Atlas mountains, we could see way down below through the haze some intensely cultivated agricultural lands. Unlike what we saw in the plains surrounding Marrakech where the farming appeared to be small scale and local, these lands looked like they were big business agriculture. The main town down below was Beni Mellal. We could also see some major hydro infrastructure from diversion pipes descending mountainsides to the ubiquitous power lines all over the place. Indeed, Bin el-Ouidane looked like a very important piece of infrastructure for both agriculture as well as power.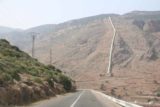 At about 11:15am, we had gone through Beni Mellal before leaving the city, getting momentarily stopped at a police check (this time it was a random check and it wasn't for speeding), and passing through orange groves (which reminded Julie and I of the fertile Central Valley of California).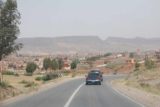 In fact, it seemed like in general Morocco was a surprisingly green place. Maybe we just happened to be passing through lush areas on a wet year (apparently there was some heavy snowfall and rain in December through April). And although there was much in the rural landscape that reminded Julie and I of California (there were even poppies in bloom!), the green here was a reminder that California was pretty much brown and devoid of moisture thanks to our multi-year drought, which I'm sure has everything to do with Global Warming and resource mismanagement.
As we gunned the straight roads cutting through the agricultural lands at the foothills of the Middle Atlas mountains, it then started to give way to curvy roads again as we got closer to Khenifra. It wouldn't be until about 12:45pm when Abdul finally stopped at a roadside stop just on the outskirts of Khenifra. There was a locked playground there that Tahia was longingly looking at, but in the end, we bought her some ice cream to pacify her as well as a little Hello Kitty watch at a little convenience store there.
The lady working the store had her daughter there, who just so happened to be named Fatima. Tahia was having fun interacting with both the lady and her daughter, and we were all getting a kick out of watching them both. And, the potty break that preceded all of these pleasantries were also sorely needed as we had been on the road for about 3.5 hours straight to this point.
At 1:25pm, we left the complex and continued on our way to the Source Oum-er-Rbia, which was to be the lone waterfalling excursion of the day. I didn't recall seeing satisfactory waterfall pictures during our trip research here so we kind of had low expectations of our visit. But we definitely were looking forward to have a lunch there regardless of how late of a lunch it was going to be.
It wasn't until about 2:25pm that we had finally made it to the village of Oum-er-Rbia (after about 5 hours on the road). I think Abdul said the meaning was something to the effect of "Mother of Arabia" or something like that. The unpaved car park was quite the scenic one as it was besides a clear pool fed by a pair of cascading streams with some very impressive mesa-like cliffs looming in the background.
It was pretty hot when we got started with our walk, and we were accompanied by a local guide. The walk was mostly uphill past some local shops and irrigation ditches flanking the walkway. Then, we made a brief detour towards the rushing river down below. We would eventually reach what appeared to be three open-air "rooms" with carpeting and pillows to sit on. Then, there were low coffee tables with tea settings that I'd imagine would also serve as the lunch table as well.
Indeed, it was 3pm when we were having lunch at this spot, which I had to say was one of the more unique lunch experiences that we can recall. For starters, there was an irrigation ditch that went right by our little lunch "room". Then, there was fencing that acted as a barrier between our "room" and the rushing stream. On both sides of the stream were other "rooms" from other shops or restaurants. I'm sure competition must be fierce here since I'd imagine there wasn't much that would differentiate one vendor from the next.
The lunch consisted of a chicken tagine that was locally made. The bread was the used to pick up the food, but we did have some silverware since we weren't quite skilled as Abdul picking up the food with the bread as he was lunching with us. The tagine was quite fresh and tasty, which was saying quite a lot for the humble settings that we were in. It was certainly better tasting than the Cafe du Glacier at the Djemaa el-Fna in the center of the medina in Marrakech.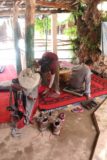 After being well fed by our single tagine that fed all four of us, we then started to walk up to the falls at 3:30pm. The walk continued a short distance further upstream past a sign that said "Cascade Khedoud" then past a couple more small cascades in the main stream before getting to a narrowing of the canyon we were in.
At this point, we had to pay 3dh per person to continue to cross a rickety bridge then continue uphill. After doing that, we then started to see the impressive 20m waterfall at the Source Oum-er-Rbia. This waterfall was our turnaround point because the canyon pretty much closed in. There was even a rubber boat in the brown plunge pool that was here.
We were enjoying this falls particularly because of the color of the water (an almost Colorado River-like brown) surrounded by red and orange rocks that were reminiscent of something we might find in Southern Utah or even Southwestern Idaho (at Jump Creek Falls). Plus, it was quite cool as we were getting a little bit of the mist from the falls crashing into the plunge pool to offset the hot sun.
We took our time taking family photos, and there was even a Moroccan visitor who wanted to pose with our daughter in front of the falls (another unusual request considering I was the photo subject of someone's yesterday at Imi-n-Ifri Natural Bridge).
By about 3:50pm, we left the cascade and headed back down to the place we had lunch at. We'd get there at about 4:05pm where there was fresh Moroccan tea ready made for us as well as the awaiting Abdul. The tea was refreshing and tasty as Julie and I were growing quite fond of this unique combination of green tea with fresh mint leaves, and maybe one cube of sugar.
The tea break was over at 4:20pm as we paid about 90dh total for both the food and the tea (roughly $10USD which was not bad at all), and we ultimately descended back down to the car park at 4:30pm. At this point in time, the car park was now quite full and busy (it was relatively quiet when we first got here). Abdul said that this place would've been crazy over the weekend, especially on Sunday. So that was kind of saying something when we thought it was a busy car park on a Monday!
Julie baksheeshed our local guide who requested 200dh. At this point, we treated the baksheeshing more like a charity as opposed to a tip for service figuring these folks could use our help and it was kind of futile to be stingy about money we were intending to spend and not re-exchange back knowing we'd lose both ways on the exchange. And then we were finally off to go to Fes.
The drive out of Oum-er-Rbia was another winding and mountainous affair as we found ourselves passing through a forest of cedar trees as well as passing by a natural lake. There was also a thunderstorm threatening and finally delivering as we were making our way out of what appeared to be some kind of reserve given how intact the forest was.
As we were getting down to the foothills of the mountains at 5:25pm, the thunderstorm started to produce some pretty big hail stones (maybe the size of marbles or so), which threatened to dent and crack the windshield of Abdul's car. So we stopped along with other drivers (not wanting to add even more velocity of our car with the velocity of the falling ice) before heading towards Azou then towards Ifrane.
The rain continued to fall off and on, and it was persistent enough that I started to wonder if this was a legitimate storm or just one of those Summer mountain thunderstorms that tend to pop up in the afternoons.
The drive then kind of became a blur as all of us (except Abdul thankfully) were in and out of naps at one point or the next. When we got to the town of Ifrane at 6pm, Abdul pointed out to me that this town was famous for having a bit of a Swiss Chalet feel given the slanted red-roofed architecture of the buildings and homes here. There were even attractive green spaces of parks and lakes as well as an urban park with a calcium-stone lion that Abdul offered to stop the car for me to check out.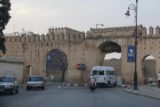 But we kept going at my request knowing that we still needed to get to Fes sooner rather than later.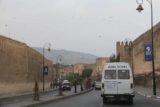 The drive to get to the medina of Fes involved quite a bit of chaotic traffic through the more modern and new part of the city, which was also quite bustling like most big cities would be. I doubted that we'd be checking out this part of the city, but it was interesting to see lots of civilians going about their business while there were armed soldiers wielding semi-automatic weapons on patrol for people who might be up to no good (e.g. ISIS loyalists or something).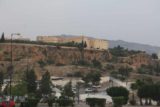 We also noticed blacks roaming the streets looking for handouts (like how children would be doing the same in the streets of India), and Abdul explained that most of them came from troubled areas of West Africa such as Senegal and the Western Sahara. He said that Morocco tended to be a conduit for these refugees to try to get across Tangier, the Strait of Gibraltar, then go into Spain or other parts of Europe in search of a better life.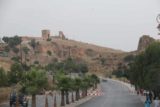 He also said that the Moroccan king has tried to put a stop to it, which might explain why there were a lot of them in Morocco now, and he warned that we would probably be seeing even more of them in Tangier MED where we're supposed to ferry our way across to Southern Spain.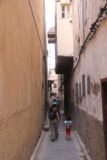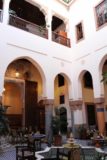 Eventually at 7:40pm, we had finally made it to the medina of Fes (after another 3 hours on the road for a total of 8 hours on the road on this day). Abdul dropped us off while we were received by someone working at the Riad Ahlam while a porter was helping us with some of the luggage. And ten minutes later, we found ourselves chilling out at the grand atrium in the middle of the riad. And when I say grand, I mean, Wow! It was impressive to the point that we were busy taking photos of it in as many ways as we could just to try to capture it and convey it to show off the folks at home.
It wouldn't be until about 8:15pm when we were finally checked into our room. And while the Riad Lorsya in Marrakech had a homey feel, our riad here was pretty spacious and even overlooked the courtyard down below. The bathroom was also spacious though it did have a bit of a smell as the ventilation was probably lacking, but that was something easily overlooked given the charm of this place.
Once we got settled, we then walked back into town at 8:45pm looking for a place to eat a late dinner. We were handed a map of the city, which the riad worker helped mark up for us as he suggested where we could go to eat. And fortunately for us, it didn't take long to get oriented as the main throughfare was a single lane called Tala'a Kbira, which we took from the parking lot by our riad all the way to the gate of Bab Boujloud.
The walk through that narrow alleyway was a very busy and atmospheric affair as we passed by one souk after another in what can only be described as sensory overload as all of these shops, cafes, butcheries, etc. were all competing for our attention in a very in-your-face manner. I'd have to say it felt a bit more crowded and more intense than the souks in Marrakech mostly because this alleyway was devoid of motorized traffic, especially those scooters.
In fact, it was so crowded and busy here that the fact that there were scooters weaving in and out of such traffic in Marrakech kind of spoke to how much space and how relatively fewer people there were in the medina of Marrakech compared to this herd of people going this way and that in Fes. We had to hold on tight to Tahia as it was really easy to get lost here. And even as much as I wanted to take photos to try to take in this atmosphere, I had to be careful not to get too separated from Julie and Tahia.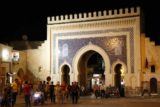 Eventually, we got to a side street on Rue de L'Isesco near the Bab Boujloud as we encountered a few more cafes and restaurants all with the atmosphere of being both crowded, loud, and happening. I doubted that eating here would be satisfying but I think it was more about being part of the action than it was about getting something gourmet.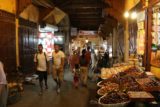 We ultimately ended up at this place called Laglali Restaurant at 9:05pm, and Julie picked it mostly because it seemed to be one of the busiest with tourists. Whether that was a good sign that the food was good or not still wasn't a sure thing even though it would be a fairly good indicator of which restaurants were good back at home.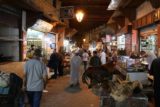 Well, the chicken tagine we had was inferior to the one we had at the Source Oum-er-Rbia, but the aubergine salad and harrira (a kind of spiced rice soup consumed during the fasting of Ramadan) were both tasty albeit a little salty.
We were done eating at 10pm, and we went ahead and continued out of the Bab Boujloud gate towards the Place Baghdadi. Unfortunately, it was a bit dead and dimly lit by the time we showed up. One of the locals said there was a festival in this plaza that was to be taking place until the day after tomorrow. Perhaps that's something we ought to be checking out under daylight or twilight hours tomorrow or on our last day in Fes.
As we were headed back to our riad, Tahia hastened us as she had to go peepee. With nothing really available until we got back to the riad, we couldn't really soak in the remaining atmosphere of the souks again. However, it seemed like it wouldn't have mattered much anyways since a lot of the shops seemed to have shut at 10pm.
By 10:30pm, we were back at the riad and Tahia managed to hold it in until she could use our toilet. Meanwhile, I did a little exploring of the riad, especially in finding a way up to a balcony overlooking the atrium. It was a bit stuffy up here, and I felt relieved to be back at our room under the weak (but somewhat functioning) AC.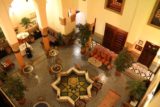 It was another night and another late bedtime. But when we're trying to take everything in, time is of the essence, and that often times come at the expense of down time and sleep. Indeed, tomorrow is going to be yet another action-packed day touring the medina of Fes…
Day 6: THE LABYRINTH OF SENSORY OVERLOAD
It was 8am when we awoke. Once again, the 7am alarm was largely ignored so our streak of late wake-ups continued. But in this case, we pried ourselves out of bed since we had read about the good brekkie at this riad. So we were looking forward to it. That said, these late wake-ups would continue to be a problem as we have the ferry to catch on the last day after leaving Chefchaouen, plus we'd have to jump ahead by an hour when going back into Spain.
So we got ready and headed downstairs for our brekkie in the courtyard or atrium at 8:30am. And as anticipated, the brekkie was easily the best of the trip. It consisted of cheese omelette, an assortment of breads including those that reminded us of cong-you-bing, various fruits, and more. All this washed down with milk (for Tahia), freshly-squeezed OJ, and of course Moroccan tea.
It wouldn't be until about 9:45am when we met up with our guide at the riad named Karim. Abdul was also there as he would act as our personal taxi to minimize the amount of backtracking while touring the medina of Fes today.
First up, we walked right to the Medersa Bouinania, which was said to be the most famous and beautiful of the medersas in Fes. We arrived at 9:50am, and it was really a simple visit consisting of a very ornate atrium or courtyard where one end had a praying area that was closed off.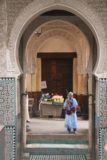 There was some water in the fountain, but with the overcast skies, it seemed like the colors weren't really brought out. But other than that, there wasn't much more about the medersa than the atrium so our visit was very short after hearing about the intricacies of the medersa from Karim.
At 10:10am, we left the medersa when we were greeted by this street busker wielding a lot of instruments. He was playing all sorts of pop songs that westerners would recognize with these Moroccan instruments, and it was clear that this guy knew was he was doing to get a generous baksheesh.
Karim even said that this guy was a YouTube phenomenon, and if that's true, I guess I could see why.
Anyways, we then continued through the familiar souks that we had seen last night. Except this time, instead of going through the Bab Boujloud, we continued walking along some imposing medina walls passing by numerous souks selling fruits, veggies, and meats among other things.
Eventually, we'd continue straight to the Place Baghdadi, which now seemed to have a little more life than last night, and it helped to provide wus with a sense of grandeur as we were surrounded by impressive medieval walls and gates dating back over a thousand years or so.
We then rejoined Abdul at the car park, where we were then driven towards the Royal Palace gate. We couldn't go inside the palace itself, and we were only able to photograph the front of the gate but none of the other gates where soldiers could be seen. We also were able to take photos towards the opposite side of the large courtyard fronting the palace.
Next, we walked along what was called the Jewish Quarter, which had some kind of Andalucian-style homes characterized by wooden balconies overlooking the street. They really stood out since this seemed more European than North African, and hence they drew camera clicks from us but it wasn't easy to try to take a meaningful photo of them given their width and all the parked and moving cars tending to get in the way.
That ultimately led us towards and past some elaborate gate that Karim said was the "Blacksmith's Gate" (I forgot its name in Arabic). Karim reminded us that Fes was the oldest city in Morocco, and we could totally see why just based on what limited action we experienced in the medina so far.
At 11am, Abdul picked us up again and we were driven up to a fortress overlooking the medina of Fes. We got up there ten minutes later, where there were armed guards. But they were pretty much minding their own business as they knew the majority of folks up here were out and about soaking in the panorama of the ancient city. And if anything, we could appreciate from this vantage point that indeed the medina of Fes was crazy big!
Unfortunately, the bright gray skies kept the colors muted so the green tiles on the roofs of some of the buildings as well as the green tiles on the sides of some minarets and buildings didn't really stand out. It was really one big jumble of buildings where it was hard to comprehend the magnitude of the walled city, especially since we were only walking in a small section of the northern part to this point.
At 11:30am, we were back in the car where some five minutes later, we were getting the sell on as we were taken to a ceramic-making facility. We've been through this drill before so we figured we mind as well let Tahia learn a little about how difficult and laborious the making of the ceramics and especially the tiles were.
At least the guy who was showing us around was pretty reasonable and didn't employ any high pressure sales tactics. He was pretty respectful about our lack of desire to pay a lot of money for some of the huge works (e.g. fountains, big tables, etc.) that would have to be shipped back home if we were interested in buying them.
So at 11:55am, we were done with this part of getting the sell on, and then ten minutes later, we were back in the medina. But this time, we would be touring parts of the southern side of the medina, which we hadn't explored yet.
The next hour was pretty much spent meandering through one narrow series of souks after another. If we didn't know any better, we'd probably think the entire city was one big souk collective. But then Karim took us on some less traveled alleyways where some tall buildings were so close to each other that they could almost touch each other. In some cases they were actually leaning towards each other.
Indeed, it was almost like a Moroccan version of the Shambles in York, UK, except in the Moroccan instance, it was on a far larger scale. Karim said that some of the alleyways he took us to were the narrowest passages in the medina itself. Indeed, I barely fit through carrying the child carrier (just in case Tahia would insist on getting a ride as we were touring).
After the narrow off-the-beaten-path parts, we then managed to walk alongside and over the river running through Fes. For the most part, it was unseen and underground, but we happened to show up near a bridge crossing over the river where we could catch a glimpse of a small urban waterfall as well as some minarets nearby in the distance. It was too bad that there was more construction work going on here at the time. Otherwise, I'm sure we could've spent even more time here trying to take photos.
Walking through this labyrinth of alleyways and souks was once again sensory overload. It seemed like every corner was an opportunity to take a photo. And Karim was right when he said that Fes was pretty much like a photographers dream.
It was efficient that Karim was guiding us because for first-timers like us, there'd be no way we could do the kind of navigation that Karim was doing without wasting a lot of time getting lost. Of course, the competing school of thought would be to allow ourselves to get lost, which would all be part of the Fes experience. However, we only had this full day to tour Fes so we had to be efficient. Tomorrow, we'd have another full day but outside of Fes and towards Meknes, Volubilis, and Moulay Idriss.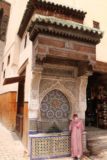 Eventually, we would reach the Nejjarine Fountain and Museum. But before touring it, Tahia was complaining about being hungry so we opted to go right to the Nejjarine Restaurant at 1pm. Once we were inside, we could instantly see that the dining area was in a giant atrium that once again totally reminded us of the riads we'd been staying in. One of the restauranteurs said this indeed used to be a riad which then became re-purposed for dining.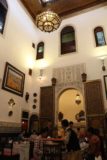 And judging from how many tourists were being brought here by their guides, it seemed like it was big business.
At this point, Karim left us alone so he could to go a mosque and pray. He'd time his return to us when we'd be done eating at the restaurant. Meanwhile, Julie and I ordered a single dish of chicken tagine with some kind of chicken pie, which was the specialty of the house. But first came an assortment of veggies, which included some delicious eggplants in some kind of spicy tomato sauce. There were also lentils, rice, olives, potatoes, etc.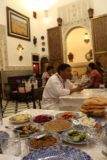 But when the mains started coming out, the chicken pie was something everyone enjoyed. It was basically some kind of baklava-like crust enclosing seemingly curried meat with cinnamon on the crust. I think this was our first taste of a b'stilla. Part of me thought that we could have gotten another one of these pies, but we refrained from overeating.
Shortly thereafter, we had the chicken tagine, which seemed like it was authentic and fresh, and therefore it was pretty good. Based on last night's experience, we wondered with such high turnover of the food, whether the tagine was really cooked in it or if it was cooked in something else before being put in the tagine to meet the rate of demand (as opposed to waiting for 45 minutes for the whole fall-off-the-bone and flavor-infused meal).
Another thing we noticed while at the restaurant as well as in other parts of the medina was that we encountered a lot of Americans here. We even met other Californians from San Francisco and San Diego. What a small world!
But we also overheard other Americans eating at the same restaurant. That was kind of a trip that Morocco was that popular of a destination amongst Americans (or so it seemed that way). It was definitely something we really weren't expecting.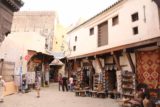 At 2:20pm, we were finally done eating. Karim actually had to take us out of the restaurant and pay at some other shop with our credit card since the machine in the restaurant wasn't connecting. Then, Julie baksheeshed the table in cash before we made our way over to the Nejjarine Museum. Meanwhile, Tahia said she was tired so we insisted that I carry her for the rest of the afternoon, and seeing that it would typically be her nap time, I obliged.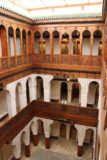 Inside the museum, there was another tall atrium surrounded by wooden columns and balconies. Karim left us to our own devices to do our own exploring of the place though we couldn't take photos of any artifacts in any of the side rooms. But taking photos of the atrium as well as the rooftop was fair game.
And so that was what we did. We quickly checked out the interior before spending more time at the Tea Salon on the rooftop. Up there, we managed to get a few more rooftop views of the neighboring parts of the medina as well as some mosque with green minaret, but with the high walls, it was a bit difficult to truly get the kind of photos we were hoping for. Plus, the construction that was going on around the minaret also left a lot to be desired.
At 2:55pm, we went back downstairs and rejoined Karim. The sun was coming out and I was starting to get a little hot, especially carrying Tahia around. And so we would continue walking through more souks and weave our way through the sensory overload labyrinth where once again it seemed like every corner tempted me to stop and take more photos.
Once again, the weaving through the alleyways made it seem like we had gone through more surprising nooks and crannies of the medina of Fes. Some parts seemed like deja vu, but yet other parts didn't. I guess it was reaffirming that if we were on our own, we would've been hopelessly lost.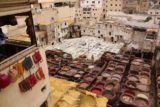 But eventually at 3:20pm, we'd enter some humble shop that made us go up and down some steps until we reached a balcony overlooking a bunch of vats. Indeed, this was the famous tanning quarter that we had seen photos of in the past in guidebooks and on the web. And it sure smelled like all the stuff in here probably wasn't going to be good for the health.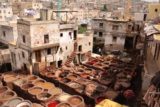 After taking our obligatory photos of the very interesting scene down below of white vats, colored vats, yellow skins and hides drying on the rooftops, and people hard at work in all the action, Julie was browsing around for leather shoes or other leather goods. We knew it was another opportunity to get the sell on, but in this instance, it seemed like we might walk out of here with something Julie would actually care about as she was spending a lot of time here examining leather jackets.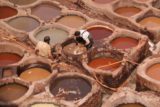 It wouldn't be until 4pm when we would finally be on our way out, but not before Julie paid about 2200dh for a leather jacket as well as a thrown-in belt for me (since my jeans needed a belt that I happened not to have brought).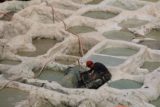 Ten minutes later, we were about to meet up with Abdul before we reminded Karim of one last item on our itinerary – the Attarine Medersa. So we went into this attractive and compact courtyard, which was every bit as ornate as the popular Medersa Bouinania. But in this instance, there was more cedar work combined with tilings to make this place a bit different from the medersa we saw earlier.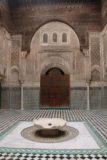 We had our fill of this place by 4:20pm, and then we continued in the labyrinth of souks in pursuit of Abdul's rendezvous spot. By now, Julie and I were getting pretty souked out, and I was starting to wear down from carrying Tahia everywhere.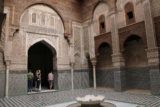 By 4:35pm, we were back with Abdul again. And now that we were back, Tahia was once again awake. About 15 minutes later, we were back at the riad, where for once, we could call it a day at a pretty reasonable hour.
So we fought off sleep with a little bit of an afternoon tea in the riad's courtyard, but then Julie wanted to go back into the souks near our riad in search of the Souk El Henna as well as the Bab Boujloud in daylight (we only saw it in darkness last night).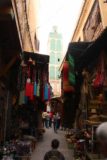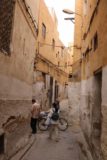 So at 6:45pm, we headed back down. And about 10 minutes later, we were back at the familiar gate, which as Julie anticipated, it was much more scenic than last night given that we could see more things and they'd turn out better in photos. Indeed, on one side, the tiling around the ornate three-arched gate was green, but on the opposite side, the tiling looked purple.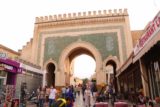 Plus, on the purple side, we could see a pair of towers (one of them a green minaret) popping up behind the action through the tall center arch.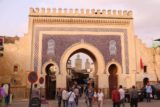 Then, we quickly made our way back through both the Tala'a Kbira before going downhill on the same road due east towards the Souk El Henna near Attarine.
We weren't sure if we had already seen this around before during Karim's guidance, but we'd get to a real busy part of the medina where there seemed to be a lot of fabrics. We weren't sure if this was the Souk El Henna so we did a little more exploring of the vicinity.
It wasn't until we asked some shop owners before we'd figure out that we weren't quite at the Souk El Henna yet. And eventually at around 7:30pm, we'd finally wind up finding Souk El Henna, which wasn't really anything that special.
However, it seemed to be different because there were a pair of trees growing in the middle of its quiet courtyard surrounded by a few shops. Apparently, those trees were important for this souk, which largely consisted of medicinal and herbal shops.
At 7:40pm, we then headed back to our riad. But since we had to go downhill just to get down here, we had to go uphill to get back to where we wanted to go. Julie stopped at a few spots to look for some Moroccan clothes for Tahia, but in the end didn't buy anything.
By 8pm, we finally made it back to the riad, where we showed up just in time for our 8pm dinner. And with that, we were finally treated to the excellent dinner that we had read was top notch. And indeed the expectations that were built up were totally met. In fact, I thought that the staff here was giving us that personal touch probably because they loved Tahia.
In fact, Abdul was also quite fond of our little girl and he was also giving us a bit of a personal touch in the time that we got to spend with him being driven around.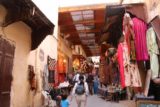 So in the end, we'd ultimately leave the dinner fully sated off our familiar Moroccan salads as well as the chicken tagine in lemon and olives. There was also Moroccan tea as well as a watermelon dessert. I think we might be coming back here for tomorrow night's dinner just so we could try different things like couscous or even a lamb tagine for myself (something I've been meaning to try since Julie and Tahia don't like lamb).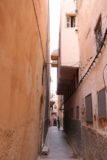 We were back in our room at around 9:15pm, and finally we could call it a day to unwind and recover from the intense stimuli of our senses. And for once, we could finally go to sleep at a more reasonable hour than 2am…
Day 7: THE EMBARRASSING ECHO
At 7:45am, we awoke. I didn't recall hearing Julie's alarm go off, but I guess we had taken for granted that we had slept at a reasonable hour (before midnight) last night so we were sure to get at least 7 hours or more of sleep then naturally wake up, and that was certainly the case on this morning.
After the usual brekkie at around 8:30am, we then saw Abdul come into the lobby about 15 minutes before 9:30am, and by 9:40am, we were in the car and ready to get moving.
At first, the skies seemed to be a little bit overcast, but as we were gradually leaving the city of Fes, the skies became clearer and clearer until soon enough, it was bright blue skies making the surrounding wheat fields appear golden. In fact, we had been driving pretty extensively for a little over an hour through such fields, and it started to make us wonder if this area between Fes and Meknes was essentially the wheat basket of Morocco (kind of how to Great Plains played that role for the United States).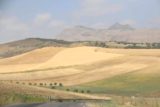 I also wondered whether we were headed to Meknes as Abdul kept going straight when the signs said Meknes was to our left. In any case, one scary thing about the route that we took was that there seemed to be more cops setting up speed traps. We saw one instance where one cop had a camera and then there was a police group further down the road ready to pull over motorists that were forewarned by the radar gun guy.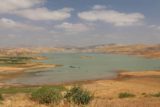 We were fortunate that a truck driver flashed high beams to Abdul giving him the heads up.
At about 10:55am, we passed by the turnoff for Chefchaouen. Abdul acknowledged that that would be our route for tomorrow.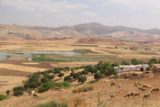 After continuing on the road cutting through rural farmlands (passing a colorful blue man-made lake in the process), we would finally arrive at Volubilis at 11:20am. So I guess we were going to do Meknes later in the afternoon instead of in the morning as we had anticipated. And as we got out of the car, Julie noticed some guy spraying some crops near the car park. Clearly, that dispelled any myths that everything grown in Morocco was organic as we knew the spray was pesticides.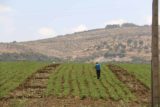 We finally started to do the walk to the Roman ruins of Volubilis at 11:30am after paying for our entrance ticket, but then we turned down the local guides knowing that we really didn't need them for an excursion like this (plus, we wanted to have the freedom to wander around as we saw fit). Besides, we figured doing this one our own would quicken our visit as well.
At first we walked past some artifacts and signage under the cool shade of a building that still seemed to be under construction. Once we got past these artifacts, we then ascended some steps to get up to the ruins themselves.
Visiting these ruins reminded us of visiting Hadrian's Wall last Summer while making the drive from the Lakes District to Scotland. We saw there were a few interesting buildings further up ahead that seemed to be a little better preserved or more substantial in terms of what was left standing. So we made a beeline for them.
Particularly compelling amongst the buildings that we noticed were the basilica (which featured a bunch of arches arranged in a row), which we managed to see from a group of columns near it as well as amongst the ruins themselves.
After experiencing the basilica, we then walked towards the Triumphal Arch, which by far was the best preserved (or perhaps reconstructed) building on site as it consisted of a large rectangular wall with an attractive arch right in the middle of it. Looking beyond the Triumphal Arch were some more farmlands out in the distance.
Tahia managed to disregard our warnings about running on the site, and she ended up falling and scraping her knee. So while Julie was tending to Tahia's wound, I took a little more time to check out the other ruins near the Triumphal Arch.
Once Tahia got over her small moment of pain, we then started to head back to the car park. But then we started to notice that there were some mosaics amongst the ruins. And so we took some time to check them out seeing if there was a way to photograph them in context with the lovely rural settings out in the distance.
Eventually it was about 1:05pm when we got back to the car. The shade experienced on the way back was very welcome as the heat of the day was intensifying.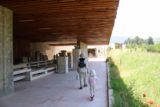 I wasn't counting on spending 90 minutes at a site of Roman ruins, but sometimes it just works out that way. Plus, another quirky thing about this visit was that it seemed like most of the other visitors here were American. One guide even pointed out to me that two of the guys he was leading happened to come from the same city as me as one of his tourists was wearning a Long Beach State shirt…
Next, Abdul drove us towards Moulay Idriss. We could see right away that it was a town perched on a hilltop. We knew that the city itself couldn't be visited by non-Muslims but we also knew that there were supposed to be some views where we should be able to at least photo the scene.
We thought it was going to be a quick stop, but it turned out that once we were at some car park past the main town center, a local guide would take us through the accessible parts of the town, including a view of Moulay Idriss from a "terrace" as well as the gate where we would be unable to proceed any further.
So we started walking at about 1:25pm. Aside from the guide smoking as he guided us through narrow alleyways (kind of reminiscent of our visits to Oia, Greece), we would eventually end up at an overview of Moulay Idriss the holy town. And after snapping photos from this spot, we then followed the guide into other parts of the accessible part of town.
At 2:05pm, we would wind up at the entrance to the entrance of Moulay Idriss, but it was clear that we wouldn't be able to pass through a bar at neck level. So we took photos of this entrance before heading back down to the town center of Moulay Idriss. Then, we would wind up in the car park near this center, but we couldn't find Abdul!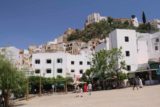 After about 15 minutes of both searching and making a real expensive phone call on Julie's cell (because apparently Moulay Idriss was not covered in our roaming plan), we finally caught up with Abdul who was also out of his car looking for us. So by 2:30pm, we were finally back in the car and then finally started making our way towards Meknes.
It wouldn't be until about 3:05pm when we finally made it into Meknes, which definitely caught our attention with the grand Bab Mansour gate as well as the impressive medieval walls surrounding the main medina. But since it was already pretty late, we decided to eat first, which was at this restaurant called Restaurant Salma, which was near the Christian Prison behind the Bab Mansour gate.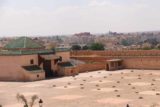 Abdul said that prison was such that people would be tied up or chained up against those things on the ground. So we could imagine just how hot and exposed and generally torturous that would be.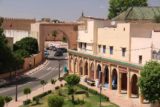 So at 3:20pm, we were busy eating at the restaurant. We had b'stilla (which was also called pidgeon pie) that was pretty good as well as a beef tagine. When it was almost time for dessert, another group of younger Moroccans showed up and were seated right next to us on the rooftop terrace. Unfortunately, one or two of them started having a smoke.
That prompted Julie to tell me quietly, "As soon as they're smoking, we're outta here!"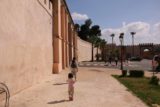 But then Tahia picked up on what Julie said, and she started saying aloud over and over again, "As soon as they're smoking, we're outta here!"
That prompted both Julie and I to laugh as well as to feel embarrassed because the Moroccans behind us were also laughing. But that didn't stop them from having a smoke anyways and sending their second hand smoke our way.
So we had our desserts in a rather uncomfortable state, and only when we were pretty much done did we quickly get up and pay for our lunch at the cashier.
Then, we headed back outside the restaurant where Abdul told us that the Mausoleum of Moulay Idriss was just around the corner past one of the neighboring gates. At 4:20pm, we were right at the entrance to the mausoleum, but we weren't sure if we could go in there or not. But when a local who was chilling out nearby waved us in, we then went through and immediately started being treated to the intricacies and elaborate elegance of the rooms comprising the mausoleum.
The walls also seemed to have a bit of a glow as they were reflecting the afternoon sun. Then, once we got into the main courtyard, we could see there was a fountain in effect that was surrounded by green tiles on both the floor and the walls.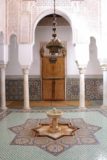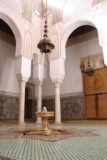 On the opposite side of this courtyard, we could see there was a tomb inside. The local watching the door here said it was ok to take photos (probably for baksheeshes) even though we saw a sign that said "No Photo".
Anyways, we were joined by another custom group where the tour guide was an Englishman. And so we were all just wowed by the interior of the actual tomb area where there was a very tall courtyard with a fountain in the middle surrounded by green patterns. Then, as we looked in the other direction, there was an ornate tomb area surrounded by red rugs and lots of intricate patterns on the walls.
By about 4:40pm, we were done visiting the mausoleum. Then, about five minutes later, we met up with Abdul again where his car was parked near some Cinderella-like carriages across the street from him. His plan was to take us to those places that we only could drive to before doing a quick stop at the Bab Mansour gate before heading back to Fes.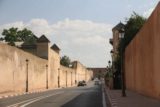 So at 5pm, we drove between some impressive fortress walls before passing through a gate then looking towards the gate of the Royal Palace at one end of a really large square. There were guards all of the place here so taking a picture of this spot was not allowed (or at least we didn't want to get Abdul in trouble).
Next, he then stopped across the street from a large building that was the Dar el-Ma and Heri es-Souani, which was said to be some kind of granary. Once we paid our dirhams and went inside the cool interior, we could see the moody and atmospheric arched chambers and hallways amidst the low lighting. It got Tahia thinking that this place was haunted, but it was in fact nothing more than a bunch of empty spaces in enclosed quarters where we could imagine grains or other foodstuffs could be stored and preserved.
Once we had our fill with the inside area, we then went outside where there were impressive Roman arches going one after another. We pretty much saw as much as we could on this part except for those other fenced off sections where there was a lot of overgrowth, and then we left the granary and followed the wall before approaching a basin called Bassin de l'Aguedal.
We made our visit here brief as we were busy taking photos of the man-made pond backed by both the exterior walls of the granary as well as a minaret directly opposite us. The only annoying thing about this part of the visit was a lot of younger teens and kids teasing us for one reason or another (not sure if it was because we were Chinese and perhaps they didn't see many of us that often).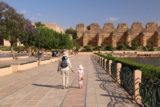 Come to think of it, it seemed like we were the only tourists around here. And we started to get the sense that Meknes was not really on the foreign tourist radar based on our observations.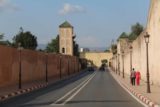 Eventually by 5:30pm, we hopped back into Abdul's car, and then we were driven in a loop to get back to the Bab Mansour gate. Now, the medina of Meknes was quite a happening place as kids were just getting out of school. So Abdul had to really backtrack before he could have a reasonable shot at making a left where allowed.
By about 5:40pm, we arrived at the front of the Bab Mansour, but seeing the precarious parking situation with Abdul's car, Julie and I didn't spend more time than necessary to capture this ornate and grand gate. I also wanted to go across the busy street and spend some time experiencing the bustling square across from Bab Mansour called Place El-Hedinne, which Abdul said was like Djemaa el-Fna in Marrakech.
In addition to spending time walking around Place El-Hedinne, I also wanted to check out Place Lalla Aouda, which seemed to be backed by an attractive minaret from the Mosque Lalla Aouda.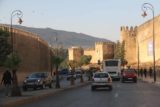 Oh well, it was getting late, and I got the sense that this Meknes visit was really a whirlwind tour without the opportunity to really get to experience the intriguing ancient medina.
So by 5:45pm, we were leaving for Fes, and by 7pm, we finally made it back to the city of Fes.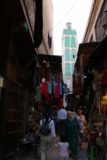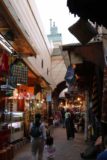 The drive back was a bit of a blur since everyone but Abdul was tired. And before we knew it, we were back at the familiar car park near the Riad Ahlam to essentially be heading back to our riad to end the day.
Julie was itching to get Tahia some kind of Moroccan dress that she had seen in the souks yesterday afternoon. But my stomach was really upset and I knew that I had the runs (something I just can't seem to avoid whenever I visit a developing nation).
So Julie and Tahia headed back into the medina where she would make her way back to Souk el-Henna. Meanwhile, I was staying in the riad experiencing diarrhea and letting the body expel whatever it needed to dispel.
Eventually, Julie and Tahia came back with the Moroccan dress that they were eye-ing. And by 8pm, we headed back into the medina looking for the Clock Tower Restaurant. We'd ultimately get there by 8:15pm, and that was when we got lucky finding a spot on the rooftop terrace.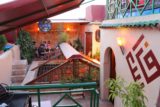 We'd ultimately have our meal of b'stilla, chicken couscous, and a camel burger. We'd eventually leave the meal pretty satisfied (albeit a little chilly), and then finally make it back to our riad at 9:35pm, where Julie managed to buy another pair of leather shoes on the return.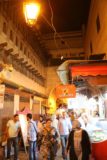 And so ended this pretty eventful day. Tomorrow, it's all about Chefchaouen, and based on our 9:30am meeting time, I was under the impression that we were only going to accomplish an afternoon visit. Hopefully, that'll be enough time to fully experience that town as well as the Ras el-Maa waterfall…
Day 8: CROSS-TALK
It was about 7am when we awoke. We were starting to get a little bit better about getting up in the morning though we were still a bit groggy from the wake-up. Still, we had to get ready for the day knowing that today was going to be a transit day to Chefchaouen. The longer we tarry, the less time we would have to explore Chefchaouen for the rest of today.
Once again, we had our usual breakfast at 8am but this time there was a different kind of crepe or pancake that was more orange than the others. That one was pretty delicious, and Julie and I suspected that it was similar to the other crepes except this one had spices (giving it the color) as well as what appeared to be green onion.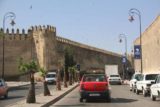 By the time it was about 9:20am, we brought our stuff downstairs and we were ready to go. We didn't know that Abdul was already waiting in the manager's room. But in any case, all of us as well as the staff (including the 7-month pregnant lady) were having a fun time with Tahia taking photos in the manager's office. In fact, there were other tourists in the atrium who came over and took photos of the commotion themselves. Indeed, Tahia was becoming quite the celebrity.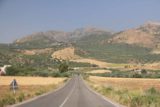 It wasn't until 9:40am when we bid a fond farewell to the folks at the Riad Ahlam, and now it was time to drive to Chefchaouen. It was already starting to warm up as we were loading up Abdul's car with our belongings so I'd imagine today was going to be a pretty hot day.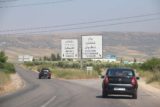 At 10:45am, we were past the turnoff where the right branch went to Chefchaouen while the left branch went to Volubilis and Meknes (the one we took yesterday). Continuing on the right branch, we were passing through more agricultural pastures with irrigation ditches where there was a strong smell of olives. Abdul said that this region was famous for its olives.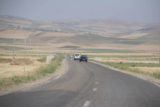 At 11:05am, we passed by yet another speed trap. Abdul and I had to have noticed at least 5 or 6 at this point. Another 20 minutes later, we saw yet another one. It really seemed like there were these speed traps every 20-30km, and it made me glad that Julie talked me out of self driving in Morocco (though this wasn't the only reason why I deferred; the third world driving conditions from chaotic city driving to the lack of respect of driving lanes made a real risk to be behind the wheel without being used to it).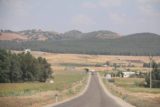 At about 12pm, we arrived at Ouezzane City, where Abdul pulled over at a gas station for a restroom break. About 20 minutes later, we continued on the drive further to Chefchaouen. By now, we were nearly 3 hours on the road, and it made Julie and I wonder if we needed to allocate more time on the day we have to leave Chefchaouen for our ferry back to Spain at Tangier MED.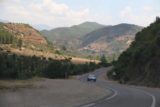 As we left the city, we then passed through mountainous roads that were climbing within the Rif Mountains. I had read that this crescent-shaped mountain range was perhaps the main reason why this part of Northern Africa had seen fewer invasions from say the North African nations east of here as well as the tribes having to cross through the unforgiving Sahara to the south.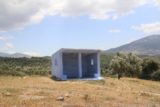 At 1:30pm, as we started to see more of the signature light blue paint on some of the buildings as well as some of the bus stops, we saw a dramatic view of the city of Chefchaouen at the base of some imposing mountains. The view was so captivating that Abdul pulled over near the Hotel Chaouen so Julie, Tahia, and I could enjoy the regal view before making our way closer to the magical town.
It was a good thing we took this roadside break anyways because Tahia was complaining that she had to poo (or diarrhea).
It wasn't until about 1:45pm when we continued on the drive. Next, Abdul drove us towards a tight and busy car park area at the Ras El-Ma, which was a series of small cascades coming from a spring. We arrived there at about 1:55pm, and then we all were out and about exploring the place. I think Abdul anticipated this to be a short stop, but I seized the moment and tried to soak up the experience from both sides of the creek. It wound up being a 40-minute visit.
The Source Ras el-Ma appeared to start from a building, which I had read was the very building that enclosed the spring. It looked like there was a bridge leading to the building where water could also come from, but upon looking at one side of the bridge, it was bone dry. On the other side of the bridge, it was a trickle. However, most of the water was coming from beneath the building.
As we slowly walked alongside the creek, we saw other cascades. None of the cascades were particularly mind-blowing, but I guess all the infrastructure and hoopla around the falls perhaps underscored both the importance and miracle of water. And for a town like Chefchaouen to pretty much exist around this source was really saying something.
Speaking of hoopla, there was music blaring around the car park for the Ras el-Ma. This kind of made for a festive atmosphere.
On the other side of the creek, I managed to get a slightly more direct view of the small man-modified cascade right beneath the building at the source as well as the more signficant 10-15 ft cascade a short distance below it. It was at this point that I realized that some of the photos I had seen from the web showing an even taller waterfall was actually taken from this point.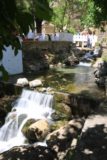 The problem was that in order to see the falls in that state, there had to have been some significant rainfall to fill in the wash further above the source. Only then could the falls then look something a bit more significant than the cascading creek that we had currently seen it in.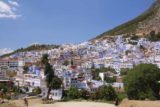 Even though Abdul drove us here, it looked like this falls was also walkable from the old medina. So that was something in my mind that I was intending to do later today.
Eventually at 2:35pm, we were back in the car where he then drove us into the center of Chefchaouen for a lunch. After parking in another tight spot somewhere near the town center, we then had ourselves a pretty satisfying "street" lunch right at a square. There were only locals in this part of town.
In any case, all of us pretty much shared a half-kilo of kefta, which was minced beef meat. That came with bread and some kind of orangish tomato-based sauce that was supposed to be for dipping. I observed the way Abdul was eating it noting how he used the bread to pick up the kefta pieces, then scoop up the sauce with the kefta-wrapped bread. It was pretty clear that this was how we were supposed to eat it since most locals probably don't eat with utensils (not everyone could afford it, I'd imagine).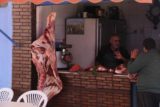 Of course, we weren't that skilled with the bread technique so we fortunately had utensils, and we kind of used the bread like a pita wrap. The dish also came with spiced yellow rice so that was also a topping in our little makeshift pita wrap.
All told, that lunch only costed us 50 dh (around $5USD). That was pretty crazy considering that it pretty much fed all four of us.
Next, at 3:25pm, Abdul drove us towards our accommodation. However, he wasn't counting on having to navigate through a local market to get to the Bab Souk (which was the gate nearest to our accommodation). There was a local who was helping Abdul navigate the crowded streets, and eventually, he'd find parking in a small quiet area just uphill from this souk. Apparently, this market only took place on Mondays and Thursdays every week. And we just so happened to have showed up on a market day.
Anyways, with that out of the way, we started walking with our luggage at 3:45pm. But as we were walking towards our accommodation at the Casa Perleta, I kept falling behind as I was captivated by the hidden alleyways flanked by walls and doors painted in blue. It totally reminded me of walking through Oia in Greece, but in this case, it was blue and landlocked.
We finally checked into our room, which was on the bottom floor, at 4pm. Unlike the riads that we had been staying at up to this point, this was the smallest accommodation of the bunch. Once we left most of our stuff in the room, we then went upstairs to the rooftop where there was a terrace to soak in the views of the lower parts of Chefchaouen as well as to chill out under the shade of the small lobby there where a couple of other guests were also chilling out.
As we were filling out paperwork, we were also given Moroccan tea as well as some loquats and watermelon slices. It wouldn't be until about 4:45pm when we were done with the cuppa, and about 30 minutes later, we finally decided to head back into the old medina to do a little late afternoon exploring.
Our initial exploring didn't get much further beyond just walking from the Casa Perleta to the Aladdin Restaurant, which was at a square next to the Kasabah Museum (looking more like a fortress combined with a mosque).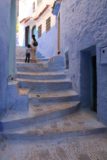 We continued to be captivated by the side passages and alleyways that just literally screamed for photo clicks. Of course the kids that were out of school at the time also knew that these locales were being photographed so they did their own little bit of mischief to try to get in on the photos.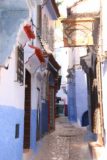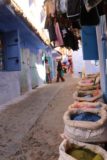 As we took our time essentially walking the main throughfare before descending down the hill towards Aladdin, I couldn't help but notice how much more prevalent Spanish was spoken in these parts. In fact, I could've sworn that our hosts at the Casa Perleta spoke Spanish (in addition to having the Spanish place name). In a way, it started to cross me up as I would find myself breaking into Spanish mid-sentence when I was intending to speak French. Or, I would instintively say Si (for yes) instead of Oui when trying to keep to French since that was the more useful language for the first 8 days of this trip.
Anyways, we then decided to just chill out at the Aladdin restaurant since we knew there was a terrace and they appeared to serve food all day long including this apparent siesta time. In fact, we showed up at a time when the restaurant was quite empty so we had our choice of seats.
After making our order of pastella (Spanish word for b'stilla) as well as another chicken tagine, we then went up to the rooftop of the restaurant for some gorgeous views of the blue buildings comprising Chefchaouen. The sun was intense, but it also brought out the blue in the buildings. There were also cups of once-consumed Moroccan tea swarmed by wasps attracted to the sugar in the tea.
Then, we had the early dinner which thoroughly stuffed us. But for a total price of about 175 dh plus tip (roughly $20 USD), we couldn't argue with the price and the decent quality of the food.
At about 7pm, we spent one last time on the terrace before heading back down to explore the medina. With all of us walking together, we just meandered a bit more trying to capture the magic of the moment as our eyes wandered every which way taking it all in. But as we it became apparent that I was intending to continue walking up to the Spanish Mosque (and there were more stairs to ascend to continue), Julie decided to take Tahia back to the room to chill out.
The shadows continued to grow as I had returned to the now-familiar Ras el-Ma, which didn't seem to be that far of a walk from our accommodation (maybe 20 minutes or so if I made a beeline for it). But now that I was seeing that the sun was sinking closer to the surrounding mountains, I continued my ascent up to the Spanish Mosque that looked discouragingly far away even though I was told it would only be another 15 minutes walk.
Eventually at just before 8pm, I had made it up to the Spanish Mosque bathed in the warm glow of the late afternoon sun.
There were already a handful of people up here just to chill out and catch the sunset. Interestingly, I had heard a lot of American voices so I knew most of the folks up here were American. Again, I was a bit surprised by how many Americans came to Morocco as I didn't think of this place as high on the list of destinations amongst Americans, but I guess I was wrong.
After seeing the sun set in the distance behind the mountains to the west, I then headed back down to the Ras el-Ma at 8:15pm, arriving there at about 8:30pm. Then, I continued walking back into the old medina in a very slow and deliberate pace. The twilight hour was fading rapidly so taking photos without a tripod started to become a challenge.
And I allowed myself to intentionally get lost as I started to wander some of the side alleyways that weren't part of the main throughfare.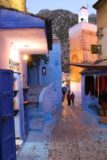 Most of them ended up being dead ends. And there were a few of them where I had encountered some insistent kids that seemed to be up to no good. If hadn't known any better, they probably were trying to distract me by insisting that they take photos with my camera while some other kid would try to reach in my pockets or my pack for some money.
Since I knew that I wasn't carrying anything, they seemed disappointed by my lack of having dirhams. I guess this behavior of seeing tourists as cash registers starts early.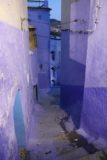 I continued aimlessly meandering the pedestrian streets trying to capture the moment and the scene. But clearly night time wasn't the best time to take photos here as the twilight magic hour was gone and the extremes of harsh lamps or pure darkness took over thereby muting out the soft blues seen earlier in the day.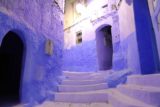 I then encountered the porter that helped to bring our luggage to Casa Perleta. This time, he seemed insistent on bringing me to his place where he wanted to sell me some marijuana. I told him that I didn't smoke, and when it became clear that I wasn't interested in the weed, he then wanted to see if I could just give him some dirhams to "help out his folks".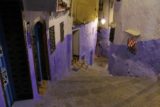 Once again, I had to be truthful and firm with him that I didn't have any money on me (which was the truth). I also told him that I had to get back to my wife and daughter since they were probably worried about me being out late at night.
Eventually at 9:20pm, I had made it back to the Casa Perleta. There was a large group of Spanish-speaking young adults (or university-aged) that crowded the lobby at the time. I started to wonder whether they would be staying here, and whether the Spanish night-owl habits might prevent us from going to sleep given how noise tended to travel here.
Things had gotten quiet when I finally made it back into the room. Apparently Abdul had called recently to let the hosts know that our start time was going to be at 10am instead of 9:30am. That seemed kind of late, but I guess we'd just have to roll with it.
As for the commotion from the large group of Spanish ladies, well after 11pm, it seemed like the Spanish ladies had returned from their late night paseo being somewhat loud and inconsiderate and conspiring to keep Tahia awake. Oh well, the commotion would continue as I was blogging and trying to figure out how to fix the internet connection issue as it went well past midnight at towards 1am. Fortunately for us, it seemed like Tahia had already conked out. I guess the rest of the puzzle was for Julie and I to fall asleep.
This was disconcerting for our last night here since we'd have to have an early morning wake-up to catch our ferry back to Spain at 10am at Tangier MED. I guess we'll see what transpires tomorrow…
Day 9: TALK OF THE VILLAGE
It was about 8am when we awoke. We reverted back to old habits ignoring the 7am alarm partially because Abdul wanted the start time to be 10am instead of earlier. I wasn't sure if this was going to bite us in the ass, but we just rolled with it.
While Julie and Tahia were getting ready for the day and to have breakfast, I went ahead and seized the opportunity to briefly walk around town to take photos while the town was still quiet. Sure enough, my hunches were correct and I managed to get the shots that I couldn't really get yesterday evening.
I basically walked a little back and forth from the attractive stairs flanked by colorful potted plants to a quieter alleyway turning down the hill. Even the main throughfare presented some nice photos though the harsh morning light had already penetrated parts of the area to wreak havoc on some photos.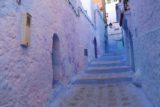 At 9am, we were having breakfast at the terrace of the Casa Perleta. We were asking about how the town became as blue as it did, and the explanation we got from a couple of the people working here (including the manager who gave it to me in Spanish; testing my listening comprehension) said they came from Jews from Spain who settled in Chefchaouen amongst the Berbers who were already here as the Jews were fleeing the Spanish Inquisition that took place during the "Reconquista" in the 14th or 15th centuries.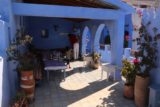 Apparently, the blue and white colors were consistent with the Israeli flag, which contrasted from the Moroccan colors of red and green. Given that there was said to be religious and cultural tolerance during Moorish rule in Spain as well as in Morocco, the Jews flourished here and imparted their cultural influence, which still stuck. However, we've been told that Jews are no longer in the medina here, but they could be found in the more modern parts of town or in other parts of Morocco.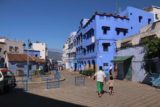 At 10am, we were with Abdul, who looked like he was dressed up in athletic gear (which contrasted from his usual collared shirt and slacks). We got back to the car at 10:10am. The car seemed to be making some kind of unnerving sound, but Abdul didn't think it was anything considering the Your Morocco Tours company car were all new.
The drive took a little time because Abdul had to ask around about how to get to Akchour. But eventually we were on the right road as we started to undulate on roads presenting dramatic views of vertical mountains and deep gorges with little buildings clinging onto the mountainsides. This seemed to be the Rif Mountains at its most rugged.
Eventually at 11am, we finally arrived in the village of Akchour. A local directed Abdul to park in a particular spot, then he proceeded to be our local guide.
It took us some time to get ready for a hike, so it turned out that we wouldn't start walking until 20 minutes later. I was definitely starting to get concerned about the late start, especially since I was told that the big waterfall was supposed to be on the order of 3 hours return and the Bridge of God was supposed to be 1 hour return.
So we decided to head for the Bridge of God first thinking that it wouldn't take that long. So after taking a little more time with potty breaks and the like, it wouldn't be until 11:40am when we were finally on the hike in earnest with Mohammed the local guide leading the way.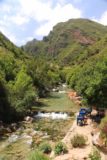 The trail was on the right side of the bridge fronting a few manmade waterfalls and underground cave springs. The well-established trail then hugged the cliffs with retaining walls before it started becoming more conventional trail once we got past the huge cliff or rock flanking one side of the man-made lake held up by the dam.
The hike so far was pretty straightforward and Tahia was walking when Abdul caught up with us. So we were hiking as a party of 5 and Abdul was having fun helping Tahia pick up blooming flowers along the way including poppies, which were quite similar to the ones seen in California.
At 12pm, after having passed a few little cafes along the way, we then showed up to yet another cafe. This was when Mohammed said it was time to change shoes. That took a little time, but about 10 minutes later, we were all in sandals (I was in Chacos), but we didn't change Tahia's shoes. When we descended steeply on the trail going down from the cafe to the river, both Julie and I fell at the same spot.
It was at that point that Mohammed decided it was better that he hold onto Tahia since he was much more sure-footed, and it was to reduce the burden on me since I was less familiar with the terrain. Once we got down to the river, we were then pretty much river walking criss-crossing the river numerous times and even wading along the banks of the river from time to time.
Most of the time, the water was no more than knee deep and usually shin deep. But there were some tricky spots where makeshift bridges made of cut-up branches and logs (which got slippery when wet) were on the route. Once again, there were a few more cafes along the way (defying our pre-conceived notions of where cafes were likely to be), and Julie and I were amazed at how they could stock the supplies or set up such infrastructure in such difficult-to-reach spots from most tourists, I'd imagine.
That said, these cafes had people eating at them or chilling out at them, so I guess business was good.
At 12:25pm, we were still river walking, and I guess this was when we started to feel that our feet were becoming numbingly cold. I guess the water was just that cold. So now we started to find ways to avoid the water for long stretches of time.
Throughout the hike, there were plenty of small but picturesque cascades in the river. There were also steep-walled gorge scenery, which drew quite a few camera clicks from me. These cascades weren't anything terribly significant though if it were the only attraction in a particular park, I guess it could've counted as a waterfall excursion. Nonetheless, I'm sure this gorge represented a huge flash flood risk given there didn't seem to be many high ground escapes if the river level were to rise suddenly.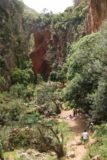 At 12:55pm, we reached the so-called Cafe Lion. And finally five minutes later, we arrived at the vista for the Bridge of God. There were quite a few visitors swimming in the waters a short distance downstream of the impressive natural bridge towering high above us.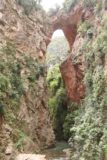 This was one of those narrow but tall natural bridges, and it took my slightly wide-angle capability to capture the entirety of the natural bridge with some of the river down below. At least Julie managed to use her panorama capability on her iPhone to try to get the whole thing.
We didn't linger here for long because my intent was to get to the all the waterfalls on the other trail, and I knew we were running short on time. So at 1:10pm, we started to head back. There was a local stray dog here that was conspiring to slow us down, especially since Julie was worried about fleas getting onto us (especially Tahia).
In any case, we finally made it back to a cafe by a small cave at 1:25pm (just past some precarious twig bridges), and at that point the dog stopped following us.
At 1:40pm, we finally managed to climb back up to the cafe where we changed our shoes. Now, it was time to wear hiking boots and wool socks again. But as we were about to take off, we were being discouraged by Mohammed (after talking with some locals at the cafe) to go to the big waterfall. They now said it was going to take 3 hours there and 3 hours back.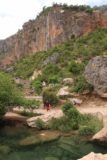 I didn't understand why I was told earlier that it was 3 hours round trip from the car park, but given that it has taken us nearly 2 hours to do the Bridge of God, which was double the one-hour estimate earlier on, I guess doubling the three-hour initial estimate made sense.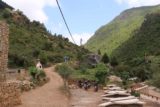 So Mohammed took us on a little shortcut that cut right across back to the main trail without us having to go all the way back to the dam and then proceed on the main trail from there. I'm sure that saved us a few minutes because it wouldn't take long before we showed up at a small snack stand at 2:15pm where Mohammed encouraged us to keep most of our belongings in a storage room there.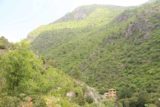 There was also a hotel across the river that looked new. Apparently, this main trail was much more popular than the Bridge of God, and I started to have doubts about the "dangerous" nature of the hike to the Big Waterfall. Still, we would proceed onto at least the Small Waterfall, and then see how we fare from that point.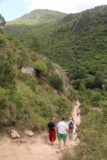 Anyways, at about 2:30pm, we showed up at a cafe next to a really tiny falls along the river. Julie and I thought we had heard from Mohammed that this was the small falls that it took an hour to get to from the car park. But I somehow didn't believe that this was it.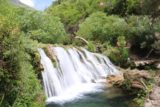 So while most of the group was chilling out at this spot, I just continued on the main trail seeing that there were still more women and children continuing on. I was starting to become suspicious about whether they just wanted us to spend money and time at the cafes and not get to the main goal, but I wasn't about to be deceived nor deterred, and I was being stubborn and insistent at this point.
So off I went, where some 20 minutes later (at 2:50pm), we arrived at the actual Small Falls (Petite Cascade), and there was a Petite Cascade Cafe here. The falls here was a bit more substantial than the disappointing one we had just seen earlier, plus there were some more cascades and swimming holes further upstream.
There were lots of people enjoying the refreshing swims down here, and it was at this point that I took my time taking movies and photos as I was frantically trying to document the experience.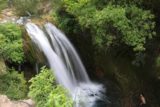 The GPS was still working at this point though I knew that it was running low on batteries. I wasn't sure if it was going to make it to the end if it was going to happen or not. In any case, I was shooting the breeze with some visitors here (especially a vocal lady chilling out at the top of the small falls) who were interested in my background as well as how I learned about Akchour.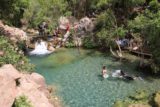 Little would I realize that these folks would be what tipped the scales in terms of my indecision to proceed on later on.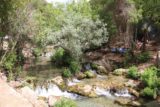 At about 3pm, the rest of the group caught up to me. After looking at our Pinterest post on Julie's phone, it would appear that the Akchour waterfall was indeed this small falls. Now, I was getting conflicting advice about it requiring 2 hours on the way there and 2 hours on the way back to the big falls. But I knew that sunset wouldn't be until after 7pm, and it's now 3pm. Surely I thought there was still sufficient time.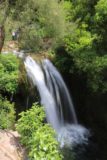 But Mohammed was really trying to talk me out of doing it. And Julie was pitching in about not going up there. So after looking at the Pinterest post, I decided to just have a late lunch at this cafe. And so they were already about to get started with the meal preparations when the vocal lady that I had met earlier said that she and the rest of her group were going to follow her brother up to the big falls.
She said her brother told her that it was about an hour's walk in each direction. And given that time frame, we would have sufficient time to go there and back before nightfall. As Mohammed caught wind of this news about their encouragement of me to proceed, I think Mohammed (as well as Julie) finally capitulated and let me continue on while Tahia and Julie would stay behind for their lunch.
By now, it was 3:30pm, and now Mohammed and I were on a mission. He gave me 2 hours to do the entire excursion, and if we didn't make it, then we'd turn back no matter what.
And so it was on. Mohammed was leading the way but he was essentially trail running, and it was my job to keep up with him. Unfortunately, the trail was getting progressively trickier for trail running as it featured pillar hopping, creek crossings on slippery wet rocks, narrow ledges in some spots, and quite a bit of up-and-down sections.
We pretty much left the group that encouraged me to go in the dust as we would persistently trail run for what seemed like forever. Fortunately, I didn't have to carry the child carrier, but I did only have one small bottle of water to stay hydrated for the entire excursion.
It was too bad that we were in a hurry because there were beautiful scenes of towering cliffs (almost Yosemite Valley-like) flanking the trail. If I had more time, I'm sure they could've been more photogenic moments where I could've taken my time and noticed more details.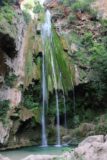 But we carried on. Most of the folks we encountered were on the way back, which wasn't a good sign since we were the only ones going in the opposite direction. Still, we kept moving brisquely as we now started to pass a small handful of people still heading to the big falls while a lot more folks were still headed the opposite direction.
Eventually at 4:15pm, Mohammed and I finally made it to the cafe nearest to the big waterfall, which I saw further up ahead. Mohammed gave me 10 minutes here before it was time to head back. And so I wasted no time walking closer to the big falls.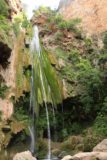 Along the way, I met up with the Korean ladies again, who were enjoying their tagine. I couldn't believe the coincidence. But in any case, I kept going all the way to a spot where I can take decent photos of Cascade d'Akchour, and I also documented everything with movies.
There were still lots of people frolicking around the falls, and there was even a group of folks about to scramble to the backside of one of the plumes of the falls. As for the falls itself, it was like a really big version of Escondido Falls back home. However, this one must have been at least 300-400ft tall or higher. Like the Bridge of God, it barely fit on my view finder.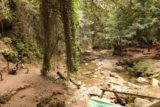 The entire falls was in shadow so I also had to muck with my camera settings to handle shade better. In any case, I got what I needed, forgot my water bottle when I caught back up with Mohammed, then I went back to get the water (when Mohammed offered having tea at this cafe, which reminded me of my forgotten water), and then I wound up helping a few folks take pictures of the falls with their groups.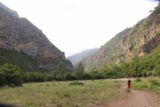 It was only by about 4:30pm that we started heading out again. And once again, Mohammed set the pace with the trail running, but at least this time it was mostly downhill though there were quite a few uphill spots primarily when we had to cross creeks.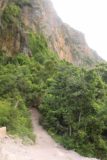 He actually spent some time while waiting for me to catch up essentially telling the locals about the feat that we had accomplished to this point. Even though it was in Arabic or the northern Berber tongue, I knew that they seemed to be impressed with what we had accomplished. In fact, Mohammed reminded me that it was unusual to do both the Bridge of God and both the Cascades d'Akchour in a single day (especially with our late start). But here we were doing the impossible, and I guess that started to make us the talk of the village.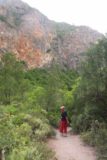 Anyways, we went on a few more shortcuts to keep the hiking as level as possible though the rock scrambling got a bit tricky.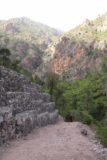 That said, Mohammed still found the time talk to some locals seeing us pass through, which I suspected had something to do with making it all the way to the upper waterfall as well as the Bridge of God earlier in the day. I got that vibe because the locals would smile and give me the thumbs up as we were continuing about our way.
Still, we kept jamming though I finally ran out of my bottled water when we got back to the small waterfall where Julie and Tahia had their local tagine. We made it here at 5:15pm. The folks had already headed back at this time. So Mohammed and I kept going.
About 10 minutes later, we got back to the tiny disappointing falls. And onwards we went. At 5:35pm, we got back to the cafe by the car park after crossing over the bridge fronting the dam. This included a small break where Mohammed went to the reservoir to put water on his shoes to cool off his feet. When I saw Julie waving at us as we approached the cafe, I knew we had finally made it.
By this time, I was relieved to see them. I guess they were just as surprised to see us because they said that they had just gotten here. Indeed, it took us 2 hours to get from the small waterfall then all the way up to the big waterfall before returning to the cafe near the car park. Indeed, we made good time. Now, Mohammed joked that he needed to have a sleep.
Anyways, I was now suffering from a little headache and a minor bout of nausea. I supposed that probably had something to do with having a little dehydration from only bringing one bottle for this last express excursion. Meanwhile, my calves were cramping (sure sign of dehydration) and me knees were stiff. My achilles were also sore. Yet in the end, I still thought it was all worth it.
We finally baksheeshed Mohammed a pretty generous amount of 400dh. I don't think he expected that much, and as a result, he even insisted that he pay for the Berber omelette that I had at the cafe (which was really nothing more than a runny egg drenched in olive oil).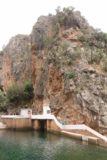 Julie was bragging about her chicken tagine that she had at the Petite Cascade Cafe, and how that was on par with the tagine that we had at the Source Oum-er-Rbia.
In fact, the more we thought about it, the more we thought that the best quality foods seemed to come from the rural places where the ingredients were more local and fresh. And we thought that it was really hit-or-miss (more like miss) for most of the places in the cities.
Anyways, I downed the food, then Mohammed and Abdul were chatting it up with a lady camping in a van parked by the cafe. It turned out that she was the sister of the vocal lady who encouraged me to go to the big waterfall, and I guess she was a bit worried about them seeing that it was getting late in the afternoon.
I relayed to them (with Abdul and Mohammed translating from English/Spanish to Berber/Arabic) that I saw her brother and sister about 5-10 minutes from the waterfall, and it was going to be about 90 minutes to get from there all the way back down to the cafe where we were standing.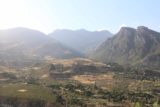 The drive out was mostly uneventful and went a bit more smoothly than on the way in. I even managed to get some shots of the dramatic gorges and mountains in the vicinity of Akchour. However, my headaches and small bit of nausea persisted.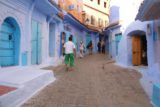 Finally, at 6:45pm, we made it back to Chefchaouen. A different guy that was helping Abdul park had offered me to buy some weed from him. Of course, I didn't smoke and I had to turn it down. I think Abdul was caught off guard when I told him that this was the second offer I had gotten as I had one of those last night.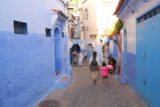 Since Tahia had just gotten up from her nap a bit disturbed, she was really cranky. The only thing that would pacify her was for me to give her a ride on the child carrier (even though it was only for a few minutes) while putting on the sun shade.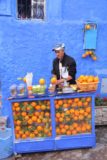 Then, we got back to the Casa Perleta at about 7pm. At that point, we regaled the hosts with our little adventure to Cascade d'Akchour and the Bridge of God. One of the hosts, who told us her name was Ibtissame (she said it meant something like "always smiling") was having fun taking pictures with Tahia as well as playing with her.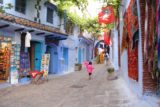 At 7:10pm, we got back to the room. We got changed into something less icky and more presentable for our last dinner out on the town. Mohammed and Ibtissame recommended this place called Casa Hassan, and so this was how we were going to celebrate our last night (and dinner) in Morocco.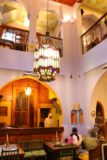 And so we walked out for one last time into the alleyways of Chefchaouen at 7:25pm. Tahia had brought out her Hello Kitty balloon (the one we had bought for some 20dh in Djemma el-Fna) with the intention of giving it away to a local girl who might appreciate it more. It would most certainly be too troublesome to deal with it while in transit.
As we walked through the familiar pedestrianized streets, we ultimately returned to the square where there was this guy serving freshly squeezed orange juice with no added sugar at 7:40pm. Since Tahia had been having a running nose all day and now started to show signs of having a cold, we each bought ourselves a cup of the fresh stuff.
At 10dh a pop, it wasn't the cheapest, but then again, when we saw how many oranges the guy was running through to make just a cup (had to have been at least 5 or 6), I guess the price was warranted.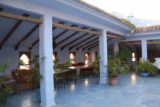 Finally, at about 7:45pm, we found the Casa Hassan and promptly were seated. But while Julie and Tahia was busy looking through the menu, I decided to go upstairs past the upper dining area, then past some rooms, and ultimately up to the rooftop terrace, which seemed quite nice.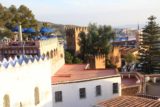 From there, I could see the Aladdin Restaurant's uppermost terrace and all the people crowding that area while the sun was setting, but I was also able to get an obstructed view of the square as well as an obstructed view of the mountains backing this place.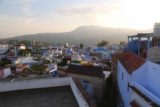 Eventually I went downstairs to join the ladies for dinner, which consisted of a b'stilla (pastella) as well as another chicken tagine (this time with some kind of tomato sauce). It turned out to be one of the better tagines that we had, and it was a fine way to cap off the trip.
At 8:50pm, we were done eating, then we slowly walked back to our room. Once again, Tahia was entertaining Ibtissame while Julie was comparing the Casa Hassan food to the Aladdin food from last night.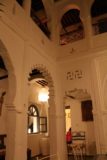 Meanwhile, Mohammed (another one of the younger hosts) explained to us a couple of the stories or myths surrounding the reason why Chefchaouen was painted everywhere (upon us asking him since his command of English was quite good).
Well, we had already heard about the story of Jewish refugees coexisting with Berbers earlier this morning. But he also told us about how the blue colors used to be painted on trees in order to prevent biting insects from nesting in them.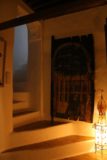 Then, he went on to say that both of these stories tended to conflict with each other, and he has no idea which one of these (or other ones that are out there) are true. So I guess it will remain a bit of a mystery about how Chefchaouen became the blue Oia of Morocco.
Finally at 9:10pm, we returned to the room. At that point, we tended to our hygienes, tried real hard to get Tahia to sleep (to help fight off her cold), and resumed packing in anticipation for our early wake-up and departure before 6am. Indeed, this was not going to be a very restful night…
Day 10: IMPROVISATIONS
It was about 4:45am when I awoke. The thing that woke me up was the chanting from the local mosque. Once I heard that, there was no going back to sleep. Julie got up 15 minutes later when her iPhone alarm went off.
And so the day began with us quietly packing up our stuff ready for our departure from Morocco to go into Spain. By 5:30am, our breakfast was ready in the cozy lobby. The employee was very bleary-eyed at the desk. Meanwhile, I got our stuff into the lobby, then I brought Tahia in there to start the breakfast. Julie would follow later once she finally got her stuff squared away.
It was quite generous that the Casa Perleta was able to serve the breakfast of eggs, toast, OJ, and Moroccan tea. Once Abdul showed up at around 5:45am, we even had enough food to share with him.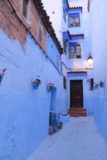 At 6am, we were out the door, and after another 10 minutes, we were in the car, ready to leave Chefchaouen. Of course, there was one slight bit of delay when the garbage truck blocked the only way out for us for a few more minutes. But once that was done, we were finally on our way at 6:15am.
The drive out was pretty uneventful, and Abdul was making good time. The surprising thing about getting out this early was that there still seemed to be quite a few people out and about. Clearly Moroccan locals in this region weren't night owls. In fact, we even encountered some businesses and locals already starting their day well before 7am.
It was about 7:20am when we had just passed the city of Tetouane. From this point on, it seemed like the speed limits were upwards of 100 to 120km/h. Abdul said this stretch from Tetouane to Tangier was like a highway.
By about 8am, Abdul at first bypassed the toll highway leading straight to Tangier MED port. However, he did an about face when we realized that it might be cutting it too close for our 10am ferry. So by 8:10am, we were finally on the autoroute to Tangier MED, and Abdul was definitely gunning it above the 120km/h speed limit.
It wouldn't be until about 8:30am when we finally arrived at the Tangier MED port, which looked all business as there were many shipping containers, cranes, and even massive car parks full of imports probably from Spain.
Abdul dropped us off somewhere past a closure point (as he didn't see a need to go to the car park and pay just to drop us off) with the OK from talking to the right guy by the barricade. And from that point on, a trio of porters followed us after we were bidding a fond farewell to Abdul, who had been with us the entire trip.
We knew Abdul was going to miss Tahia, and good-byes aren't the easiest thing to do. But the show must go on…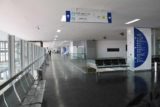 After getting through check-in, we then went right towards the passport control area. But the port authorities there halted us and anyone else who wanted to get through because there were no passport authorities at any of the kiosks. It was about 8:45am when we first started waiting, and it wouldn't be until about 9:15am when we were finally let through.
About 10 minutes later, we were at another waiting area, but this time it was for a bus shuttle to take us towards a more luxurious waiting lounge closer to the boats. We'd ultimately get there at 9:45am, but we then learned that the Transmediterranea Acciona ferry was typically 30-45 minutes late, which was not good for our expected 10am departure and 1pm arrival in Algeciras.
We wouldn't be boarding the ship until 10:30am. Then, finally at 11:15am, the large boat started moving. There only seemed to be less than two dozen passengers or so making for a pretty quiet 90-minute voyage across the Mediterranean Sea.
Nonetheless, our ferry was 75 minutes late, and I just had a sinking feeling that this would have damaging repurcussions once we get into Spain.
At least, we got to brave the wind on the outside of the boat to take pictures of both the Spanish Coastline as well as the North African Coastline, and we even managed to get a lot of photos of the Rock of Gibraltar from the sea. At least paying attention to that landmark helped prevent me from being overcome with seasickness.
Eventually the boat would finally dock at around 1:50pm, but we wouldn't be out of the boat with our luggage until about 2pm. After rushing our way past more corridors and another passport control, we then finally learned that we had to hail a taxi to get to our rental car office in downtown Algeciras.
Well, we hailed the taxi at 2:10pm, but then the driver warned us in Spanish that we need to call the rental car office because they were closed at 2pm. And when Julie tried to call, no one was picking up. When we got to the Europcar office five minutes later, we saw that indeed the office was closed and we were pretty much SOL.
It was just our luck that the ferry was well over an hour delayed and that caused us to miss our rental car pickup.
Now, we were in a bind. No rental car, possibly stranded in Algeciras, and therefore there were no options for the moment. Our Spain part of our trip already started off badly, and we'd have to figure out a way to make things work given the blow that we were dealt…
Visitor Comments:
Got something you'd like to share or say to keep the conversation going? Feel free to leave a comment below...
No users have replied to the content on this page