Day 1: OUR FIRST GAME DRIVE
Unlike our last night's late arrival to Kilimanjaro, this morning began with overcast skies. Gone were the clear, starry skies from last night as well as the unobstructed views of Africa's tallest mountain.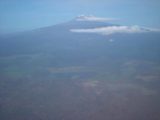 In any case, with the Leon H. Sullivan Summit (some kind of conference involving development of Africa) taking place and many of its attendants staying at the Ngurdoto Mountain Lodge, we passed on taking a shower when we found out that there was not going to be any hot water.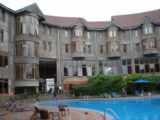 Well, this morning wasn't much better. Hot water remained elusive and I ended up taking a lukewarm shower. After Julie complained to management, she managed to get a brief hot shower before the water turned cold again after maybe a couple of minutes.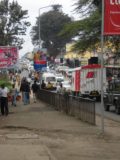 By 9am, Salim, our driver, picked us up as we loaded up the Land Cruiser and headed into Arusha. There, we did a few errands, changed some money to Tanzanian Shillings, squared some things away with the Tour Operator involving flights, and basically took note of what was going on in town.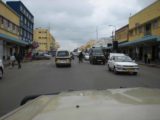 Among the interesting things about the town itself was that there was a roundabout with a pillar right in the middle marking the geographic North-South center of continental Africa. So literally, we were deep in the heart of Africa.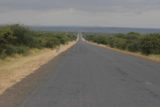 Anyhow, we continued onwards from town in a slow, deliberate manner. It seemed that our driver, Salim, was never in a hurry. It was a bit of a departure from our Zambian driver Chester racing through potholes at nearly full speed.
By 11:30am, we finally made it to Tarangire National Park.
We began our first ever game drive after a park employee sprayed the exterior of the Land Cruiser with some kind of chemical. When we asked Salim what it was, he said they were spraying for tsetse flies.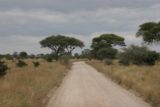 We didn't know what they were, but it didn't take long to be bitten by one to truly appreciate how annoying they were! He also managed to grab one and show us the rather big, ordinary-looking fly with a proboscus like a mosquito.
So we slowly made our way towards a picnic area seeing along the way many elephants, ostriches, giraffes, zebras, baboons, monkeys, and warthogs. With this being the first time we've seen these animals in the wild up close, we had no problems snapping numerous photos of them not knowing how common they were.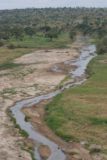 By the time we made it to the picnic area overlooking the river running right through Tarangire, it was 2pm. Time to have picnic lunch.
One thing that contrasted greatly from our Northern Zambia experience was that American English was heard quite extensively. I guess all the marketing and Disney's Lion King movie probably helped to bring Americans all the way here. While in Zambia, we were always stared at and it wasn't like anyone else was American except at Victoria Falls.
During lunch, Salim alerted us to zebras running away frantically from something. We couldn't tell what they were running from, but they might have been chased by predators… Well from where we were sitting, it didn't seem like we'd be able to see the action up close as I was sure it'd take a while to drive all the way down there.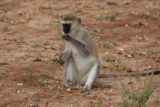 It was difficult to enjoy our boxed lunch because there were vervet monkeys looking for free food at the picnic area. One in particular climbed up a tree and managed to steal Julie's food from above when she had least expected it.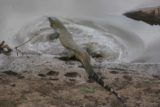 By 2:50pm, we continued with the game drive. The skies looked like it might start to show itself a little after the morning was pretty much June gloom. Salim said this type of weather was typical of winters here.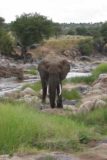 The rest of the afternoon was spent looking at other animals like mongoose, monitor lizards, waterbucks, dik diks, and more of the animals we saw this morning. No cats though.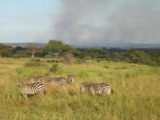 We did spot some kind of a fire while we were leaving the park. We weren't sure if they were controlled burns or if they were legitimate fires or if it was arson (highly doubt that).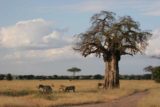 By 6pm, we made it to the Tarangire Lodge, which was really more of a tent camp. Our room was an interesting arrangement of a bed in a tent but it was attached to a more sturdier structure that housed the en-suite of bath and shower.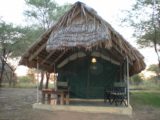 After dinner, we had to be accompanied by an escort because being in a tent camp area, there's that chance of being ambushed by wildlife. Throughout the evening, we heard some sounds as we slept. I wasn't sure if they were lions or hyenas or grazing elephants. Whatever they were, there was no way we're leaving our tent until day break…