Day 3: P-DAY – PREDATORS AND PAPARAZZI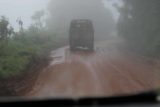 After an uneventful morning, we left the lodge at 8am. We wasted no time in leaving Lake Manyara National Park and headed up the drizzling slopes of Ngorongoro National Conservation Area before descending down its drier slopes into the vast Serengeti Plains.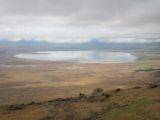 We did make a brief step at a viewpoint of the Ngorongoro Crater, but we didn't visit the crater. We knew that would happen towards the latter end of the itinerary.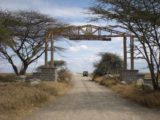 By 12:30pm, we reached Naabi Hill, which marks the southern entrance to Serengeti National Park. Serengeti is a Maasai word meaning "endless plains" and they didn't beat around the bush with this description because it's spot on.
We can already see why Serengeti National Park is associated with the Africa of Legend. We saw lone acacia trees sprouting up in the large sea of grass with the odd kopjes (rocky domes) also rising out of the grass. The flat plains also made animal sightings more probable as trees, bush, hills, and other obstructions were less common.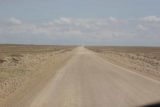 Apparently the volcanism from the chain of mountains at the Ngorongoro area dispersed lots of ash downwind. Somehow this resulted in the amazingly flat and extensive grasslands that comprises the Serengeti Plains.
Salim mentioned to us that Serengeti is a National Park because it's completely protected. Ngorongoro is a National Conservation Area because the Maasai people are allowed to bring their cattle to watering holes, but they don't necessarily live in the protection area. In fact, the Maasai people actually had to be displaced from the Serengeti in order to protect it as a full on National Park.
After having a picnic lunch at Naabi Hill, we proceeded to drive into Serengeti National Park. Salim had heard some news about cheetahs by the road and so we went looking for them. In our effort to do so, there were swarms of winged termite swarmers bothering us whenever the vehicle stopped.
After a few more minutes of slowly driving and letting other safari vehicles pass us, we gave up on finding cheetahs in our immediate area and continued driving north. Not long afterwards though, we saw a hyena sitting by the road in a puddle of water probably from some recent rains. That was the first time we saw this animal on our Tanzanian safari. After taking photos of the docile-looking scavenger and pack-hunter, we continued northwards.
Fortunately for us, there was a group of other safari vehicles up ahead and after inspecting the scene with binoculars, a relieved Salim said, "Oh, there is a cheetah up there. Actually, there are two!"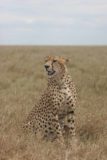 Without further delay, we went right up to the group of safari vehicles and waited our turn to pull up right next to the cheetahs. We couldn't believe one of them was right next to the road. The other cheetah was mostly hidden behind some tall grass.
The cheetah by the road looked like it was breathing heavily, but Salim pointed out its tummy was quite full. So I guess it and its partner got to eat. They're now resting, and in doing so, posing for us tourists who are playing the role of the paparazzi.
In a weird way, I guess I can now imagine how the rich and famous in the entertainment world feel about being chased by paparazzi all the time.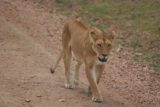 After spending several minutes snapping numerous photos of the photogenic cheetah, we continued northwards deeper into the park.
Within a few minutes, all of the sudden Salim said, "Oh, there is a lion on the road!"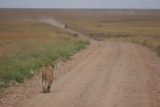 And sure enough, we saw a female lion walking along the road before crossing in front of our vehicle then walking away. It all happened rather quickly so I tried to get as many shots as I could of the photogenic lion before it proceeded to walk away.
Amazing!
Then, Salim continued northwards into the park. After making a brief detour to a former quarry site that is now a watering hole usually guarded by lions looking for an easy meal, we did see yet another lion resting deep in the grass there, but it decided to sleep and lie hidden in the grass and out of sight. So we continued back on the main road.
Salim must've acted on information his friends gave him today, because he went into an unsigned track that left the main road and get rough in places. Definitely 4wd only.
By around 3:15pm, we joined a rather large group of safari vehicles parked around a large tree. What made this tree special was that there was a leopard with a dead gazelle on it!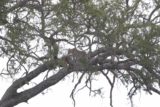 Salim gave us a 40% chance of seeing a leopard on our entire safari, but we wouldn't have known it given how we saw it so easily on the very first day in the Serengeti. We ended up spending much time here taking what photos we could.
The leopard was vacillating between eating and resting. It seemed perfectly content that no one was going to challenge its kill, and it seemed oblivious to all the paparazzi surrounding it. Salim even noticed through his binoculars that the leopard dropped a piece of meat from the tree as it was chewing.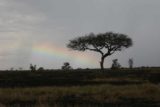 Anyways after half an hour of watching and photographing the leopard, we left the scene, made a brief stop at the Serengeti Visitor Center, and eventually arrived at the Serena Serengeti Lodge at 5:15pm through a mix of what seemed to be unseasonable rain. Salim feared that this rain might make new green grass in central Serengeti and confuse the wildebeest and zebras by making them migrate east instead of west and northwards to the Maasai Mara via the Western Corridor.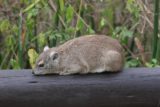 The unseasonable rain also resulted in a rainbow sighting. But before we were about to call it a day as we approached the Serena Serengeti Lodge, we saw a dead and smelly hyena lying next to the road. Salim thought someone might have gone too fast and hit it.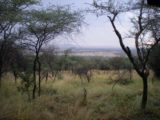 Back at the Serena Lodge, it was raining rather hard. We needed an umbrella to stay dry and the porters needed them too to get them to our room.
When it got dark, we needed an escort once again because of the presence of wildlife. In fact, there were dik diks sleeping right outside our room just as we were returning from dinner and were about to go to sleep…