Day 6: NGORONGORO
After spending almost three days at the Serengeti, I think it was safe to say that we were getting a bit Serengeti'ed out.
At 7:55am, we packed our bags and left the Ikoma Bush Camp.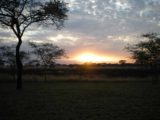 We actually saw something a little rare in our time in the Serengeti – a sunrise!
In fact, the weather actually looked pretty good so far today, and it might have been the first time in the park that it wasn't mostly overcast.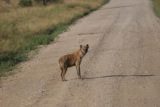 At 8:30am, we saw an injured hyena on the road with a snare around its neck. That snare is not supposed to happen in the park and Salim noted that he will make a stop at the visitor center to report the sighting.
It was quite sad to watch the hyena suffering as its neck was clearly bleeding, and the hyena looked weak.
At least Salim was going to report this to the authorities. I'm not sure what's going to happen next, but I sure hope that hyena will have that snare removed, and that it can go on living its own life like everyone else. But we're unsure whether its injuries put it at a disadvantage to survive in the wild.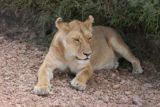 At 9:50am, we got lucky with another lion sighting as a female lion was sitting in the shade of the tall grass right next to the road. I know seeing lions is pretty special, but at this point, we were probably getting a little blase about seeing them. So we snapped our photos of it and didn't linger much longer.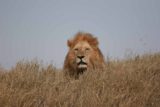 At 10:30am, Salim took us back to that former quarry site now turned waterhole (the same one that we saw on the way into the park a couple days ago, which Salim knew lions like to guard). We were the only ones on this little detour and ended up seeing two male lions sitting on separate hills in total photogenic splendor. Actually, the brother male lion we saw second was even better posed than the first lion who's photographic spot wasn't all that bad either.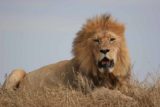 Salim said jokingly that the lions are saying to us, "Thank you for coming to the Serengeti and 'karibu tena!'"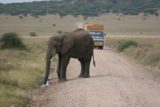 And so we were just about to reach Naabi Hill for some more administrative errands before heading to Ngorongoro Crater. However, a thirsty elephant blocked the main road, and it was headed our way. Unlike other animals, you have to be real patient with elephants, and this one was definitely bigger than our land cruiser.
It was taking its time drinking from some pools in artificial drainages right next to the road. When it wasn't happy with one water hole, it'd sample other water holes until it found one that wasn't so dirty.
We were joined by another safari vehicle and there was a big rig on the other side of the elephant waiting patiently as well.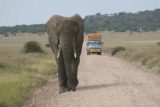 We were a bit nervous about the elephant maybe trying to push us out of the way, but when Salim and another driver parked the car side by side blocking the road, the elephant despondently went around us and off the main road.
Finally at 11am, we were back at Naabi Hill.
At 12:15pm, we saw a dik dik roadkill. Apparently, some people just go too fast.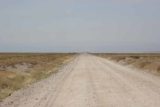 On this windy day, the canopy atop our car threatened to be blown away, but it remained intact. Good thing we figured out how to put it on the right way a couple of days ago. The wind wasn't a good thing for the thirsty Maasai people on the leeward side of the Ngorongoro mountains.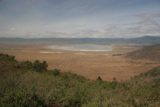 At around 1pm, we finally made descended down the Descent Road (with 4wd engaged due to the steepness of the unsealed road), and entered into the tall grasses of the Ngorongoro Crater.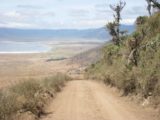 Unlike the Serengeti, it seemed that the wildlife sightings were hampered by tall grass. We even saw a cheetah resting amongst the grass at a distance that was way too far for us to photograph let alone appreciate. I guess we were really lucky with our cheetah sighting at the Serengeti three days ago.
At 1:45pm, with our sights on seeing the rhinocerous (the last of the Big 5 we haven't seen), Salim suddenly said through his binoculars, "Oh, there is a rhino over there!"
"Where? Where?" said Julie excitedly; anticipating the moment we'd finally finish seeing the Big 5.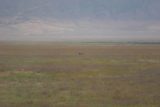 And sure enough, we saw that rare black rhino (or more accurately a narrow-mouthed rhino) way out in the distance half submerged in the tall grass. I took photos of it, but it was quite far away. But in looking through the binoculars, there was no mistaking it was a legitimate rhino.
Still in my judgement, we didn't see it if we couldn't photograph it, but Julie took the other side of the coin saying we finally saw the last of the Big 5 – photographable or not.
According to Salim, that rhino was 1 of 22 remaining black rhinos in the crater. They're also native and not stocked animals, which makes this sighting even more special and all natural.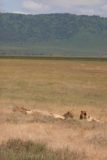 At about 2pm, we saw another pride of lions resting near the road leading to a picnic area under an acacia tree by another hippo pool.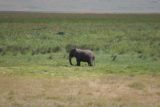 After a relaxing lunch, we spotted what Salim called a 5-legged elephant at 3:10pm. Salim says this because the penis of the male elephant is so large that it could easily be construed as his fifth leg.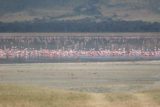 We headed out to a spot where we could see flamingoes and ostriches. We were unable to get closer to the shores of the lake though so the flamingoes still looked like pink specs dotting the water.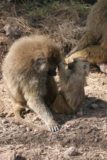 At 4:05pm, we made one brief pass through a forest area (hoping we might get lucky with a rhino and leopard sighting), but nothing came out of it except vervet monkeys, grooming baboons, and even a pair of mating baboons.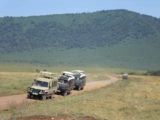 So we started our ascent up the separate Ascent Road and eventually checked into the Serena Ngorogongoro Lodge at 4:45pm.