Day 7: THE LAST OF THE BIG FIVE
We had an early start to today as we left the Ngorongoro Serena Lodge at 7:15am. The early start was intended to give us ample time to make one last game drive into the crater in the hopes of spotting and photographing that black rhino – the last of the big five. By the way, the Big 5 consist of the most dangerous as well as most hunted animals in Africa. They are – elephants, cape buffalo, lions, leopards, and rhinocerous. The last 2 in that list are the hardest to see.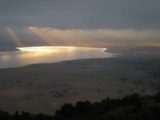 The sunrise at the lodge, which happened during breakfast, was quite nice. God beams were radiating down from the morning clouds with a reddish color.
Speaking of food, last night was the first time in Tanzania that we got to try the East African staple known as ugali! That was really my biggest gripe about the Serena Lodge food – they're all buffet of mostly westernized foods and not enough locally ethnic ones. Ugali reminded me a lot of the Zambian Nshima where you eat it with the hands (taking care not to burn your fingers) by rolling it into a ball and dipping it into sauces or picking up other foods with it. Must be a Bantu-related thing.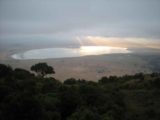 As we rejoined Salim in his safari vehicle, he told us that last night he had a flat tire, but his colleagues noticed and changed it all without him knowing until they told him what they did. How's that for being well-connected? Julie and I couldn't imagine something like that happening in our Zambian Safari.
Anyways, at 7:40am, we were back descending down the Descent Road with 4wd engaged. Going down this road really reminded me of going down the Waipi'o Valley Road by 4wd on the Big Island of Hawai'i. The difference here is that the Descent Road is unsealed road while the road into Waipi'o Valley was sealed.
At 7:50am, we helped Salim put up the canopy again – both to try to save time and be proactive clients. And so began a counterclockwise circuit of the crater starting from its southeast.
At 8:05am, we saw two armed rangers. One was carrying a spear while the other was carrying a semi-automatic rifle. Apparently, they were there to ensure no poachers go in here.
At 8:20am, Salim surprised us when he said, "You guys are lucky. There's a rhino over there!"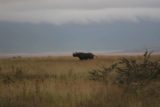 And indeed, we finally managed to see a black rhino at a photographable range! Check! That made the last of the big five!
At this point, everything else we spotted would be icing on the cake.
At 8:40am, we saw yet another rhino, but this one was way too far away and could only be seen by binoculars. Again, icing on the cake.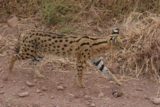 At 8:50am, Salim said once again to us, "Oh, you guys are lucky. That's a serval cat." It was basically a small cat with some stripes on it. Apparently they're not easy to see according to Salim.
Not long thereafter, Salim said to us, "Oh, you guys are really lucky." That's because there was a second serval cat that we saw.
After seeing the second serval cat, Salim noticed giant paw prints on the dirt road. Salim went ahead and followed the lion tracks even past some giant squiggly python tracks. We didn't see a python (snake sightings are very rare), but we did follow the lion tracks all the way to a big male lion sleeping by the road.
What made this lion unusual was that it had a very dark mane. Salim called it a black-maned lion.
At around 10am, Salim went over to the northern side of the crater where we joined a bunch of safari vehicles parked near a pride of lions. Actually, we saw a female lion trying to herd the wildebeest into that pride of lions that appeared to have an ambush set up.
But with all the safari vehicles around the lions, it made me wonder whether we're somehow messing up the lions' hunt.
When I asked Salim this question, he ignored it. I guess when it comes to making money off safariing, you have to pick your poison when it comes that delicate balancing act of messing with nature while still earning a living off it.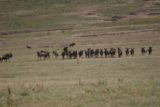 Anyways, the female lion was unsuccessful herding the wildebeest into the ambush. In fact, when the female lion realized defeat, the wildebeest were actually following that female lion as it started to retreat into the tall grass near us! That was rather strange behavior, but Salim didn't seem all too surprised from it.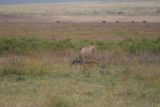 There were even a pair of jackals following the lion as well; though Salim said they like to follow lions because it usually led them to a carcass that they can scavenge.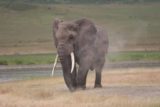 And so ended our tour of Ngorongoro Crater. But before we ascended the Ascent Road, we saw an elephant dousing itself with sand. Salim, trying to make light of the moment, said, "That elephant is saying to us, 'Thank you for visiting. Good-bye. Come again.'"
By 11:30am, we were back at the gate of the park for one last restroom break and to check out the little visitor center over there.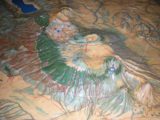 I was particularly paying attention to the relief map of the crater and especially the blurbs about the Olmoti Crater and Munge Waterfall. It was the one waterfall in the immediate area, but with this being a wildlife safari, we simply didn't have time to see it on this trip.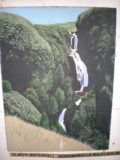 Oh well, maybe next time when we might do that waterfall as well as Zanzibar, which we're not doing on this trip as well.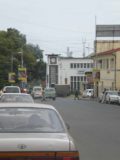 At 4pm, we were back at the Ngurdoto Lodge. The clouds remained overcast for the remainder of the day so there wasn't going to be any views of Mt Kilimanjaro from the ground. It turned out that the night we arrived to Kilimanjaro was the only time it was clear enough to see it from the ground!
There was still one last issue with having to leave the lodge at 4am or earlier tomorrow morning to catch a 6am flight. But Salim spoke to Precision Air and they later managed to change the flight to a later 9am flight. That way, we were able to sleep well and have a real breakfast in the morning (which we had already paid for as part of our tour)…
And thus ended our Tanzanian Safari. With all the wildlife sightings (especially all of the Big 5) and Salim's easy-going personality, this was an excellent experience and it wasn't going to be easy to top!
Indeed, we witnessed for ourselves the Africa of Legend. And it's certainly better seen in person than on National Geographic or the Discovery Channel!