Day 1: EGYPT IS 4000 YEARS FROM KENYA
It wasn't until about midnight that we finally arrived at Cairo International Airport. Our flight from Kenya was delayed, though it was a flight that got us nervous for a couple of reasons.
One, there was a connection in Khartoum, Sudan. Yes, that Sudan! The Dharfur Sudan!
Two, there were lots of uniformed people dressed in military gear sharing the flight with us.
So with our worries about being shot down by a rocket or being hijacked, we were quite glad to be in Cairo – late or not.
One thing that surprised us was that they actually checked for our Yellow Fever Certificate! We had expected to be checked in Tanzania due to earlier warnings, and when they didn't check for it there, we thought all that effort, stress, time, and money to get the certificates were for naught. I guess all that jazz turned out to be worthwhile after all!
After collecting our bags and changing currency (Julie made sure to get as much small denominations as possible for the ubiquitous tipping expected here), we were wisked away from the airport. Our vehicle hastily made its way through the crazy traffic weaving between swerving vehicles cutting each other off and ignoring the lane lines. The destination was the Grand Pyramids Hotel in Giza.
Even though it was already around 1am, the streets were packed with people and cars. There were even people fishing on the bridge over the Nile River!
The tour company representative accompanying us in the car (named Mahmoud) told us that Cairo doesn't sleep. They do this because they try to escape the heat of the day to live it up at night.
By 2:30am, we finally slept, but we were also raided by the everpresent mosquitoes. Apparently, even in these dry and arid parts, they have them. But we were assured that these mozzies don't carry malaria… (but what about the West Nile Virus?)
So with our limited sleep, we awoke at 7am and had breakfast.
By 8am, we met up with our tour guide of the Cairo area named Mohammed. Along with a pair of Canadian women, we rode the van together and headed right for the pyramids, where we arrived half an hour later.
The moment we left the van, it was scorching hot. There was also a little bit of humidity thanks to the Nile Delta and some of the polluted canals holding standing water (a haven for mosquitoes).
This was quite a bit of a departure from the rather cool and comfortable temperatures closer to the equator in East Africa. I guess it was because we were at elevation down there that it wasn't as hot and as steamy as we thought.
Nonetheless, out here, it was clear we were in a desert. Just on the outskirts of the city were endless tracts of sands, sandstone, and very few vegetation.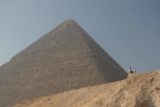 But the pyramids rose from the desert towering over the swarms of people and tour buses surrounding the attractions.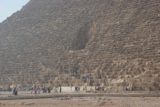 Mohammed wasted no time guiding us around and explaning some of the Egyptology involved in studying these ruins and artifacts. Though I had to admit that after a while, the energy needed to continue following his explanations amongst the stifling desert heat was probably more than what's possible for an Egyptology newbie to follow.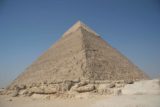 In any case, we had fun taking photos of the monuments and even spending a little extra money to walk into the second pyramid, which was an exercise in backbreaking ramped descents and ascents in a very narrow and humid corridor leading only to what appeared to be a tomb room. It seemed like an awful lot of stones involved only to house such a tiny little room.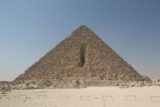 Not much later, we proceeded to head out to the third pyramid. This one was significantly smaller because Mohammed explained that the pharoah at the time had run out of money in the treasury.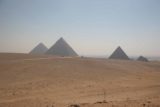 From there, we then drove to a panorama of the three pyramids. There, we were encouraged by the guide to go for a camel ride. Julie and I at first wasn't interested, but the camel jockey and the guide pointed to some people way in the distance where apparently the view of the pyramids was better.
"Only 100 L.E. per person for 20 minutes," said the camel jockey.
Julie and I still weren't that interested, but that was when Mohammed said we were going to be bored for the next twenty minutes. So Julie caved in and she wanted me to ride with her. So we were sold.
As we rode one of the camels (which was full of flies on its chafed head and neck) got up, the camel jocket proceeded to walk our camel and the other two camels ridden by each of the Canadian women on tour with us.
It wasn't but five minutes into the walk when the jockey stopped walking the camels and allowed us to take some photos.
Then the camel jockey said, "Are we finished?"
Julie and I looked at each other and wondered what he meant by this. I hope he didn't mean the end of the excursion. After all, we were told it was going to be twenty minutes.
So Julie said, "No."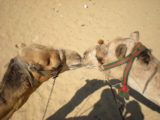 The jockey then said, "OK. I will walk a little further." And after a few more steps, he turned the camels around and asked once again, "Are we finished?"
That was when Julie asked, "Aren't we supposed to go over there?" She pointed to approximately where the jockey said earlier he would take us.
Then, the jockey said, "Oh, that's too far."
From that point on, he walked the camels back to the panorama area. It was clear that we were ripped off. After all, I had recalled there was a 50 L.E. option and it seemed that was all we were given even though we paid double that price per person!
Chalk that up to a little gullability on our part. Hopefully we were wiser.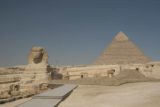 After feeling a little ripped off, we next proceeded to the famous Sphinx. There we took even more photos and soaked up the scenery before escaping the crowds and the desert heat for our air-conditioned van.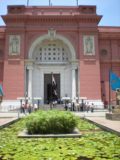 We next headed to the Cairo Museum arriving at about 11:15am. On the drive, I learned from Mohammed the extent of Arabic in Swahili when some of the words he used when talking to the driver sounded awfully familiar.
I guess Swahili ended up being more useful that I had previously imagined.
The museum tour was a blur of looking at artifacts as well as some artifacts extracted from King Tutankhaman's tomb. Despite the shade of the museum building, it was still a little humid and hot from all the people inside. Thus, we started tuning out to Mohammed's lectures after probably an hour or so.
Clearly we were already Egyptologied out.
The tour ended at 1pm and half an hour later, we were at a restaurant serving a mix of Egyptian and Armenian. It was probably the most authentic food we've had on this entire trip, and I certainly relished this moment loading up on the pita bread with tabouleh, hummus, with roasted chicken.
When we told Mohammed about the rather Westernized foods we were getting in the Serena Lodges instead of local African foods, he would smile and wryly say, "Egypt is 4000 years from Kenya."
After the lunch, Mohammed had the driver drop off the two Canadian ladies at their hotel. Afterwards, he proceeded to drive us to a series of shops. First, a clothing shop and then an aromatherapy shop.
Julie and I had to fend off aggressive and persistent salespeople in the clothing shop (supposedly an Egyptian cotton school) and we even cut short the aromatherapy lecture telling the guy that we weren't interested.
It seemed rather annoying, but I guess we had to endure this because this is all part of the economy of escorted tourism in a third world country.
Still, Julie was a little concerned that there were already things in our itinerary that Mohammed didn't cover today. She hoped that all those things will be covered tomorrow.
The rest of the afternoon was pretty much spent catching up on sleep…
Visitor Comments:
Got something you'd like to share or say to keep the conversation going? Feel free to leave a comment below...
No users have replied to the content on this page