Day 2: BELIEVING IN LIES
It was business as usual when we awoke at 7am. With the extra time to rest and sleep yesterday afternoon and last night, we were well rested.
And so we proceeded to rejoin Mohammed and be escorted around some religious district of Cairo. But with Friday being the day of rest and prayer for many Egyptians, there was a little bit of maneuvering that was going to be necessary due to some unforseen closures.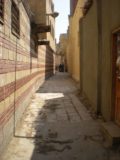 At 8:45am, we walked around what appeared to be an older part of Cairo. There were lots of tall churches, cobblestone streets, and narrow alleys surrounded by tall stone walls.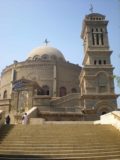 Although the scene was cool to walk around and look at, all the discussions about religion and some of the meanings of the monuments were lost on us. Being nonreligious, we tried to maintain interest even though we internally questioned what we were told.
Especially disturbing for me as the amount of ivory in many of the religious monuments, artifacts, and buildings. I wondered how many elephants were poached to meet such a demand for the ivory in their tusks?
In a way, we were seeing the ancient trade routes from Africa to Europe in action. It also made sense why Swahili was originally Arabic mixed in with Bantu and a little Portugese and Indian for this was all part of the spice, ivory, and slavery trade, and they needed a lingua franca to communicate with each other.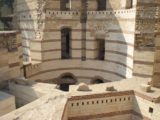 Still, we took photos of the Ben Ezra synagogue exterior, the hanging church, and some other mosque whose name escapes me.
By about 10am, Mohammed took us to someone's bazaar where souvenirs were being peddled to us. We ended up buying some miniature pyramid and wooden camel, but I wasn't so sure we got a good deal (even with Mohammed's help negotiating).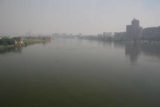 At 10:45am, we went back to one of the churches and actually removed our shoes to go see the Crypt of Jesus. Again, it didn't seem like anything special to us, but it was cool to look at I guess.
We then went to another restaurant near Sakkarah, which was delicious and authentically Egyptian. Once again, we relished the pita bread dipped in various sauces as well as the delicious garlic eggplant.
During that lunch, the topic of authenticity in the foods came up again in conversation when compared to East Africa. And once again, Mohammed said, "Egypt is 4000 years ahead of Kenya."
But then somehow Julie brought up the subject of chimpanzees and how the first humans must've come from Africa with the Olduvai Gorge skull being one of the strongest evidence of it. That was when Mohammed shook his head and refused to listen to the rest of the explanation as he said emphatically, "No, we not monkeys. We are made in Gods image. Adam was made from a rock and Eve was made from Adam's ribs."
As he was saying this, Julie and I both knew inside we hit the taboo topic. We still thought what he was saying was pure myth and that religion was nothing more than believing in fiction wrapped around possible historical events, but we didn't want to pursue this issue any further knowing no one's opinions will change. That's when Julie said, "Let's not talk about it."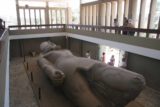 At 1:35pm, we went to Memphis, where we saw the large statue of Ramses laid down on its back as well as well as other smaller statues standing up and a smaller sphinx.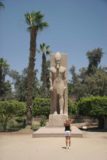 The heat was still stifling so the visit here was short and sweet.
At 2:15pm, we were at Sakkara (or Saqqara) where it was pretty much like a homage to Imhotep – a commoner who ascended the ranks and became the 2nd to the king holding some 13 titles along the way.
Considering the degree of separation between royalty and peasants, that was quite a feat!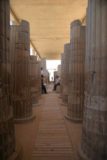 In any case, we sat through a little movie in an air-conditioned theater and then walked through an exhibit in another air-conditioned area before enduring the blazing afternoon heat in the courtyard area before the stepped pyramid.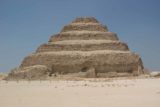 As we walked back to the tour van, we could see the city of Cairo in the distance. And that was when the degree of pollution was apparent as we could hardly see the buildings amongst the thick layer of haze and smoke. It was almost like Los Angeles in Stage 1 on steroids!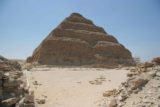 Next, Mohammed guided us to some carpet making school. Knowing we would be pitched hard on buying one of their crafts, we sat through the lecture and then entertained buying something small for our souvenir shelf. The prices they wanted were too great through and we walked away.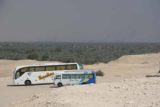 Apparently according to Mohammed, our tour of Cairo ended, and we were headed back to the hotel. But Julie was concerned that we didn't get to see the Islamic Cairo, which had the Mohammed Ali Mosque and some kind of citadel.
So Julie asked Mohammed, "Did we see the Islamic Cairo?"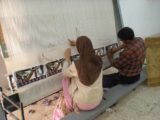 "Yes," said Mohammed. "The churches we saw, the synagogue, the crypt of Jesus, we saw all of that."
Julie somehow didn't buy his explanation. But it was only after we surrendered the tip and went back to our hotel room at 4:40pm did we look into our guidebook and learned that we had been scammed all along.
Julie angrily showed me the photos in the Eyewitness Travel book of Egypt of Islamic Cairo.
"He lied to us!" she said.
It was apparent that was we saw was Coptic Cairo and not Islamic Cairo despite what Mohammed had told us.
We spent the rest of the afternoon disappointed and feeling ripped off yet again. It didn't matter that such important sites were stated in our itinerary, which was what we paid for and expected. In the end, we figured Mohammed got his commission and his tip, and we got screwed because our itinerary was substituted for shopping excursions that weren't on the itinerary.
Indeed believing in lies seemed to be the theme of this leg of the trip. But in our case, the lies were from our guide…
Visitor Comments:
Got something you'd like to share or say to keep the conversation going? Feel free to leave a comment below...
No users have replied to the content on this page