Day 3: VEGAS HAS NOTHING ON THE REAL THING
We grudgingly awoke at 3am for our 4:15am pickup to the airport. We were supposed to fly from Cairo to Luxor, where we would connect with our Nile Cruise. The early start seemed justifiable because we reckoned there would be a tour this morning to beat the heat.
Anyhow, we managed to get to the airport before the city goes nuts with rush hour traffic and caught our 6:20am flight. About an hour later, we landed at Luxor where we met up with a representative who would take us to the boat.
As we were awaiting our luggage, the rep said a few things about the itinerary in his broken english that made me uneasy. Apparently, the list of activities and the times they would occur were way different from what was stated in our itinerary. Of course, the rep asked if we were interested in the sound and light show at Luxor, but I didn't want to make the decision without Julie so I asked to wait (though I personally wasn't interested).
Julie had gone to the restroom so I didn't say anything. But I knew something unpleasant was about to happen.
Eventually, Julie returned to us and upon learning about the inconsistency between our schedule and what was actually going to happen, she was livid! I felt bad for the poor guy since it was hard for him to explain in english his side of the story or to calm Julie down. All of his pleas for "Don't worry. We'll take care of it" fell on deaf ears.
The problem was this. The itinerary stated that we would visit Valley of the Kings this morning and then Luxor and Karnak Temples in the afternoon. The rep told us that we would get to the boat and sit there until lunch (maybe about 5 hours of idle time). After that, we'd have some afternoon tea and then finally the tour to Luxor.
With our intention of changing around the back end of our schedule to allow more time to explore Cairo on the last day (to make up for not seeing Islamic Cairo), losing an additional five hours to idling didn't seem to further that goal and was thus a seemingly unacceptable solution.
Besides, what's the point of getting up so early if we were just idling the whole morning?
In any case, with Julie incensed and me worried myself about whether we were in for another scam, we were driven to the Nile Admiral Cruise ship on the East Bank of the Nile River. There, the fireworks continued inside the lobby area as now representatives from the boat as well as from the tour company were busy trying to calm her down and get her on the phone with the manager.
I gotta hand it to Julie. She's not willing to accept a rip off for something costing as much money as this.
Eventually, things calmed down and we had to swallow the current itinerary because the itinerary was now in the hands of the cruise. Clearly there seemed to be a disconnect between the tour operator and the cruise operator because of the mismatching itineraries.
Anyways, we were finally given the keys to the room with the anxiously waiting bell boys who made sure we didn't bring our own luggage to the room. The tour operator representative (doing his job) asked us once again if we were going to do the Luxor Sound and Light Show.
"Uh, no," said us collectively.
At first we were given a room on the 2nd floor, but the first thing I noticed was that the room smelled an awful lot like petrol. I wasn't sure we could endure four nights of this.
And with that, the idling began. I was struggling with a little bit of a headache (which I'm attributing to the petrol though my diarrhea attack from earlier this morning wasn't of much help).
Upon further thought about the itinerary we were given and what was to happen later on in the trip, I started to feel a little guilty for giving the staff such a hard time.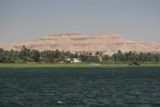 You see, the itinerary we were given assumed the Esna Lock would be closed between June 1-30. It wasn't July yet, but apparently, the cruise staff said the Esna Lock was not closed. So the itinerary discrepancy was understandable. I'm sure if someone explained that to us, there wouldn't have been as much drama.
In any case, with the Esna Lock open, we didn't need to cram a Valley of the Kings excursion this morning, and instead let the crew do their job and continue business as usual.
When I explained this realization to Julie, she was still upset and said, "Well none of this would've happened if Mohammed took us to Islamic Cairo!"
After having lunch, remaining holed up in our room (apparently missing afternoon tea time and a chance to bond with the rest of tour group in the process), and finally entering the lobby at the requested 3pm, we were introduced to our guide Abdallah and walked into the intense desert heat of the Nile Valley before boarding the air-conditioned bus.
As the bus was moving, Abdallah was talking into a microphone and addressed us in a rather slow, matter-of-fact manner of broken english, but one that was easier to understand than perhaps all of our previous Egyptian representatives and guides to this point.
He said something like, "Folks. You will notice shops and markets in town. They want you to come to their shop and buy something at good price.
"Please. Please. Please. Don't listen to them!
"I want you to have good experience on this tour. My neck is on line. If you have bad experience, I am not doing my job. So please. Please. Watch out for the Silver Tongue."
I guess Abdallah didn't have to tell us that twice. I couldn't help but wonder if we even got ripped off at the bazaar that Mohammed took us to in Coptic Cairo.
In any case, it wasn't much longer before we passed the Luxor Temple where Abdallah said, "This is Luxor Temple. We will come back later" and then we arrived at Karnak Temple.
As soon as we left the bus, we felt the blast of hot air and all of us were scrambling to juggle rushing to the nearest shadow while taking photos of the facade of the great Karnak Temple.
Abdallah took us to a shady area off the walking path where we went into his spiel about Egyptology and the significance of Karnak Temple (though I couldn't retain all that he said since I'm not an Egyptologist). And in his matter-of-fact style, he delivered a little bit about the history of the place. I honestly couldn't tell when he was being serious and when he was just BS'ing. But one thing I had trouble doing was trying to contain myself from laughing from some of the jokes he threw in there (with a straight face and matter-of-fact delivery of course).
"I like this guy," I told Julie. I think she did too. So far he was shaping up to be the best guide we've had so far.
Afterwards, we entered the temple where we were immediately awstruck by the tall columns and giant-walled facade full of cartouches. Right off the bat Julie and I forgot about the troubles of our tour and Abdallah had our full attention.
Of course the intense heat and the crowds of people kind of made it a little difficult to take the kind of photos we wanted.
Probably about a half-hour into the tour, one of the younger ladies on tour was starting to be overcome with heat exhaustion.
Abdallah noticed this and immediately had her sit on the ground with legs stretched out and have her head buried in her lap as much as possible while placing a wet cloth on the back of her neck.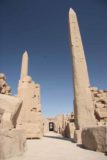 The tour still proceeded, and whatever concerns Abdallah had about the tour already having a wrench thrown in it wasn't shown. In fact, when it came time to walk to the next part of the temple, he helped the lady up and in doing so smiled and said to her, "I'm just look for excuse to hold your hand."
As we were walking to another part of the temple, another one of the young ladies also seemed to be overcome with heat exhaustion. She went back to the bus.
The Karnak Temple was my first look at an obelisk with hieroglyphs (there were actually two with a third one that was fallen over), which was something I had only seen in video games back in the days when I used to play them. Anyways, the tunes that came from games like Hexen II were ringing in my head as we were walking amongst the columns and corridors of the temple.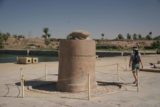 Towards the end of the tour, many of the participants were looking silly (Julie and I included) walking three times counterclockwise around a scarab beetle statue on a pillar.
Why?
Because Abdallah said if we made a wish and did this, then it would come true only under the condition that you keep that wish to yourself.
After enjoying this temple, we were back on the bus at 4:10pm and arrived at Luxor Temple at 4:30pm.
It was still hot, but at least the shadows were getting longer. It wasn't good for photography, but I think everyone cared more about relief from the heat than good photographs.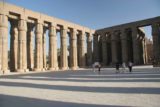 This particular temple had one standing obelisk to the left of the front entrance with a missing one on the right. Abdallah liked to point out that there are some 31 obelisks in the world and despite Egypt creating most of them, only has a handful left. He also pointed out which country and museum housed the other obelisks as well as other artifacts that were given away or stolen from Egypt.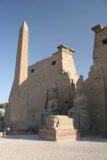 Indeed Luxor Temple was pretty impressive, but not as good as the one in Karnak, we thought. Still, it made the Luxor Las Vegas Hotel look like child's play as Vegas has nothing on the real thing!
At 6:15pm, we were back at the boat. Julie and I were met by the manager of the tour company. Now we were in touch with someone who might actually do something about our predicament.
Anyways, at first it seemed like he was just repeating the current itinerary which wouldn't have given us time to see Islamic Cairo at the end of our trip. That was when he said that he would try to move our Abu Simbel flight and Cairo flight up by three hours each.
Sounded like a plan, and we proceeded on our tour waiting to hear back from him or some representative about the latest developments later on in our cruise.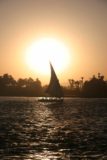 When we returned to our room, we noticed traditional Egyptian feluccas sailing up and down the Nile River as the sun was setting. It was a nice end to an otherwise drama-filled day. Certainly, it seemed our state of mind has calmed down a bit compared to this morning.
After showering, we went downstairs to have dinner. The cruise made us sit with another couple from South Africa named Theo and Nalani. It felt a little strange sitting with people you don't know, but I did appreciate the effort being put forth here by the crew to get to know other people touring with you. Turned out we had pleasant conversations and it was a good thing that the cruise did this to get the guests to mingle with each other.
Visitor Comments:
Got something you'd like to share or say to keep the conversation going? Feel free to leave a comment below...
No users have replied to the content on this page