Day 4: THREE TOMBS ONLY
We had an early morning wake-up call on this day, getting up at 5am and having an hour to get ready and eat breakfast before our took the bus to the Valley of the Kings at 6am.
Abdallah insisted before the bus ride that "I know this is early, but trust me. At 8 o'clock, you will thank me."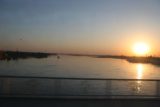 And so we went to the Valley of the Kings which was a series of tombs built underground or within the local mountains. In here were the tombs of several pharaohs.
Abdallah (and most of the other guides) took us to the first tomb, which was of Ramses IV. After giving us a talk about this pharaoh and a words eye view of what to see inside, he remained outside and let us explore the tomb on our own for a few minutes.
This one was long and full of hieroglyphs on the walls. Some parts of the walls seemed to have hieroglyphs and colors faded and I wondered how much of this was restored and how much of this was as is. In any case, it was a bit humid inside this tomb due to the number of people in here, but was impressive nonetheless.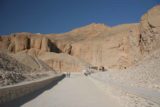 After that, Abdallah took us into the heart of the Valley of the Kings where he gave a few more talks about some of the closed tombs before letting us go on our own. He recommended that if the Ramses III tomb was too crowded, we should go to the Seti II tomb as well as the Thutmosis III tomb. He also reminded us, "As I said earlier, you will thank me at 8 o'clock. It's now 8 o'clock and you can see it's already starting to get hot."
Julie and I ended up going into the crowded Ramses III tomb, which had a line. It was very long, hot, and humid inside with seemingly more chambers than the first one we saw. But it had a similar feel with the hieroglyphs on both sides of the walls as the first one. I began to wonder if you've seen one you've seen them all…
After this, we went to the quiet tomb of Siptah (or Saptah). We saw only a handful of people including the two young ladies who were overcome with heat exhaustion yesterday. They warned us about the guard in there who wanted them to stand on some podium. Didn't quite register with us, but we took their advice and prepared ourselves for it.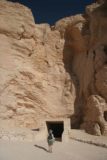 Anyways, this tomb was long, but the walls were bare and there really wasn't a whole lot to this except what appeared to be a sarcophagus with a gap between the lid and the bottom in the middle of a chamber in the very back room. There was nothing inside the sarcophagus and we left the tomb thinking there wasn't a whole lot to see here, but not before the guard (who presumably tried to get the two ladies before us to stand on the podium) hole punched our ticket as the other two guards from each of the other two tombs we had visited.
Next, Julie and I walked over to Seti II tomb. It was all the way in the back of the valley. There was another open door to a tomb along the way as well, but in any case, we just headed for the last one as we had vaguely remembered Adballah's recommendation.
Well we went about half-way into the hieroglyph-rich corridor before the guard intercepted us on his way out and was about to punch our tickets. That's when he suddently said, "No more! You are finished!" and turned us away.
Apparently, we were only allowed three tomb visits, and Siptah must've been our third one. We really wished Abdallah made it more explicitly clear about the maximum of three tomb visits.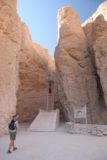 We still had another half hour to go before we were scheduled to meet up with Abdallah again. So we took this opportunity to go to the Thutmosis III tomb, which involved going up some stairs and into an opening perched high above the ground.
Fortunately, all this was in shadow so we weren't going to be overcome with heat exhaustion making the climb.
Once at the top, we took photos of the entrance, but two locals were there (one selling water the other probably serving as the guard). Knowing we were turned away at Seti for exhausting our allocated tomb visits, we didn't bother testing our luck at this tomb.
At 8:25am, we were back at the meeting spot.
Next, we were shuttled to some kind of alabaster school and store on the way to Hapshesut Temple. Abdallah was a little slick with this one (though Julie and I caught on) saying there are restrooms there that are cleaner than the one at the Valley of the Kings.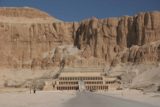 At 9:30am, we were at Hapshesut Temple. It was very windy and sometimes the gusts of wind were strong enough to blow hot, stinging sand into our faces. Moreover, the heat of the day (Abdallah reckoned it was maybe 38 degrees Celsius) was already getting up there, though Abdallah said it wasn't as bad as yesterday, which he said was about 50 degrees Celsius (122 degrees Fahrenheit).
In any case, it was hot enough for the tram ride to go from the ticket gate to the base of the steps of Hapshesut Temple (a distance of maybe not even 150m or so).
Abdallah took us up the first flight of steps and then to the columns on the right side of the temple, where he showed us some hieroglyphs. What was special about these was that Hapshesut's son-in-law wanted her name erased from all the temples. But she was clever and managed to keep her name by disguising it in the names of gods (who were unerasable).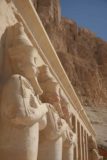 At that point, he let us explore the temple on our own for a bit. That was when we took the opportunity to climb up the next flight of steps to the top level where we were amongst the various statues and the inner courtyard where there looked to be a closed-off room at the very back.
Before returning to the bus, we enjoyed the views of the cultivated lands in the distance from our elevated vantage point.
With the heat of the day in full effect at this time, we welcomed the air-conditioning of the bus and the cold water on offer at a rate of 2 for 5 L.E.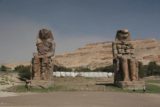 We left the Hapshesut Temple at 10:20am and made a brief stop at the Colossi of Memnon, which was a pair of two tall sitting statues ten minutes later.
At 11am, we were back on the boat. The rest of the day was a free day. But before Abdallah stopped talking, he mentioned (on more than one occasion) that there was the Galabeyah tomorrow night, which meant that we had to purchase some kind of Egyptian clothing for both dinner and the festivities thereafter. Many of us doubted the seriousness of whether we'd be denied admission if not dressed in an Egyptian Galabeyah, but it would turn out to be an interesting topic of conversation amongst strangers and essentially a convenient icebreaker.
Julie and I were chilling out in our room when suddenly I kept hearing shouts of "Hello! Hello! Hello!…" out of our window. When I turned around to see what the commotion was all about, Julie was standing there by the window watching something going on outside. I was wondering if all those shouts of "Hello!" were directed at her (turned out it was!).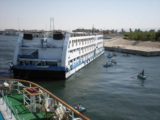 So when I joined her by the window, I was shocked to see a large gathering of Egyptian locals on rowboats trying to sell stuff! I don't think I had ever seen anything like this before.
On one occasion, one of the locals threw one of the cloths he was trying to sell at our window. With unbelievable precision, he managed to take advantage of the rope by our window and the cloth happened to be wedged between the rope and window!
Eventually, when Julie and I were about to walk to the top of the deck to see the whole scene, that guy was yelling to have his cloth returned!
Caught in this awkward situation, Julie reluctantly opened the window, grabbed the cloth, and threw the cloth back down towards the local asking for it. Unfortunately, Julie's aim was a bit off and the cloth landed in the water!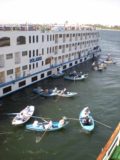 So with that, we bolted upstairs in no time to watch the rest of the scene unfold…
At the sun deck, the temperature was scorching hot! But it didn't matter because we were busy looking at scores of rowboats surrounding both our boat and a neighboring cruise ship.
Some of the locals were so bold that they skillfully lassoed rope onto that neighboring ship to lock their rowboat with it and let the ship do all the work as they followed by holding onto the rope!
We were joined upstairs by Theo, the South African guy who sat with us over dinner, and Nick, who came up to tell us that he saw someone throw a cloth into the water! Little did he know that was Julie!
I wasn't sure whether to be annoyed, amused, or scared that so many boats little row boats were around us. Of course Julie and I snapped photos of the scene, but all this commotion got me thinking about pirates or unwanted guests boarding the ship. However, I think there were crew members on board who tried to ensure that wouldn't happen.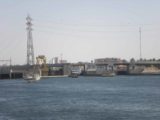 Up ahead of us was a large dam-looking structure. There were two openings with what appears to be a gate fronting each one.
That must have been the Esna Lock!
We've never been a part of this before. But the idea was that the cruise ship needs to ascend several meters as the area probably used to be rapids or some kind of cascade. Once inside the gates of the lock, the gates would close and water would flood our side making the boat rise. At the same time, the other side's water would go down so they could proceed downstream at the same time we were proceeding upstream. It was actually a rather ingenious solution and doesn't really cost much in terms of pumping water because each lock gate spills into the other and vice versa on each turn.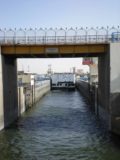 Anyways, while all this was going on, Linda and Roger (a Kiwi couple who also brought their son and girlfriend along) also joined us at the sun deck and pool area checking out the scene.
When all was said and done, Julie and I retreated to our rooms. The intense heat of the Nile Valley was enough to make Julie sleepy and so she napped. Meanwhile, I was working on the computer sorting out photos and blogging of course.
By the time it was 6pm, Julie finally awoke and we decided maybe it was time to have afternoon tea, which started an hour ago. An employee said the afternoon tea is probably over by now. I guess we had assumed wrongly that afternoon tea was an ongoing thing until dinner like it was at the other places we stayed at (the Paraa Safari Lodge at Murchison Falls, Uganda was one such example).
When I got up to the sun deck, a group was gathered around having a chat it seemed. I wasn't sure if we would be intruding so we went back downstairs to await dinner. In hindsight, I think that was the first real opportunity to bond with the other shipmates, and it was an opportunity wasted in my book.
During dinner, Theo asked us where we were during tea. He confirmed my suspicions that it was a bonding opportunity. Oh well.
Anyways, tonight was also going to be Bingo night. Perhaps that might be another opportunity to get acquainted with the shipmates.
When 9:30pm rolled around, I went upstairs to the bar area. I was half-hour late to the Bingo party and I didn't buy any tickets so I just watched Theo and Nalani. I still wasn't fully acquainted with the rest of the crew so all I did was just pretty much watch and try to root on the South Africans.
Julie was tired and slept early.
After the Bingo was over (turned out that all three winners came from the same table who are in a different tour group), I headed back downstairs to join Julie in bed. Theo had mentioned something about going into the neighboring town (we were docked in Edfu by now) with Pete, but I wasn't sure if they were being serious or not.
Visitor Comments:
Got something you'd like to share or say to keep the conversation going? Feel free to leave a comment below...
No users have replied to the content on this page