Day 5: POWER IN NUMBERS
It was a little after 7am we joined Theo and Nalani for breakfast. The first question from Theo was, "Where were you? We were waiting for you."
That surprised me. I guess they were serious after all. I said, "Oh, I just went to sleep. I was tired." Though the truth was I wasn't sure if Theo and Pete wanted to go into town to see a soccer match at a bar or something, which was something I didn't want to do in lieu of sleep. Chalk this up to an exercise in impatience and the consequences of that.
Then Theo said, "You should've come with us last night. It was nice. The whole group went."
"Doh!" I thought to myself.
Anyways, I guess we'll have to put more effort in fitting in before become outsiders in our own tour group.
But before all of that, it was 8am and it was time to go for a morning tour with Abdallah to Edfu Temple.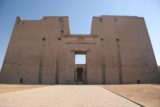 By 8:20am, we were at the temple. It was already started to heat up when we got there. But that was tempered somewhat by the impressiveness of the facade of the temple and the ruins presiding before the entrance courtyard.
In addition to the statues of Horus and more hieroglyphic inscriptions, perhaps I was interested in Abdallah's explanation that Egyptians had electricity. He warned us that we wouldn't believe him, but he pointed out a dark room with hieroglyphs inside that was deep within the temple.
So he challenged us and asked, "How could there be cartouche inside this room?"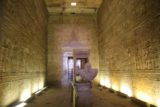 A few reluctant answers were presented, and Pete (the Egyptologist in our group) was unable to provide Abdallah with a satisfactory answer.
Then Abdallah explained that this room was worked on with the door closed. With no soot on the ceiling, it couldn't have been a candle that provided light. He also argued it couldn't have been mirrors because of the presence of the door and because of how difficult it would've been to have someone hold the mirror while the scribe wrote in such a way as to account for where the scribe was in his writings and where the sun was positioned!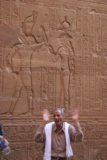 So given that, the conclusion was that Egyptians discovered electricity!
I didn't quite follow his explanation as to why, but that piqued my interest and I'm sure I'll read up on this little issue after the trip.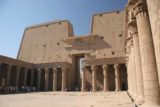 Anyways, we were done with the tour and back on the boat at 10:30am. It couldn't have ended soon enough because once again it was scorching hot.
But before Abdallah let us go, he made another friendly reminder about the Galabeyah tonight and the mandatory dress code. That got a lot of our group to go to the shop on the 3rd floor and negotiate with the shopkeeper there about a bulk order discount. We got a good feel for what was being charged and we would arm ourselves with this knowledge to tackle the bazaars later on this trip for a cheaper price.
After a few bluffs at intending to wear the skimpy belly-dancing outfits (Jenn, one of the young ladies in our group, suggested that guys should wear them and girls should wear the men's robes), we eventually decided to go to the shops on the riverfront at Edfu and see if there's someone willing to sell everyone his clothes at 20 L.E. per person later on this afternoon. Dan, the stern American from Kansas, already deviated from the plan when he found a blue robe he couldn't part with and bought it.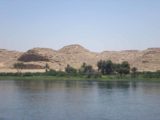 Afterwards, most of our tour group started to bond as they all went to the swimming pool area to cool off. I was busy blogging and naming photos in the comfort of the air-conditioned, but smokey, bar area. I was beginning to wonder if I should've joined them even as Julie stayed holed up in the room to get settled, but was reluctant to come out except to take a few photos on the quiet sun deck.
After lunch, Julie went to nap in the room.
I was itching to get to know the rest of the tour group especially since I had sensed that there was a bond or some sort of cameraderie starting to develop. So I jumped at the chance to play some cards with some of the tour folks when invited.
That was when I really got to know Nick, the son of Pete and Dorothy (the outgoing folks from Oregon who brought the cards and who schemed to have the group discount on the mandatory clothes) as well as Jenn and Gina (the two young Kiwi ladies where were having trouble with the heat at Karnak but seemed to be the center of all informal group activities taking place on board), and Jason (Kiwi-born son of Linda and Roger but moved to the UK with his girlfriend Rose, who was also on board but getting a massage at the moment). The South African couple Theo and Nalanie were playing Uno with Pete and Dorothy. I was playing Phase 10 with the rest of the group, though Jason left after a few rounds (but not before teaching me and helping me win the first game) for a relaxing massage after his girlfriend Rose.
It was quite fun playing cards and really getting a feel for each others' personalities and backgrounds. Before we knew it, it was already 5pm and time to have a cuppa (that's afternoon tea for those not in the know). That was when everyone pretty much sat around in the sun deck and chit chatted some more, and may have been one of the first times that everyone in the group (including the quiet ones) was face to face as a whole.
Linda got everyone to agree to head into the Edfu bazaars on the riverfront after the afternoon tour.
The afternoon tour started at 5:30pm and Abdallah led us on a walk from the boat to the Temple of Kom Ombo. It was scorching hot once again this afternoon, and Abdallah said it was probably around 45 degrees Celsius or 113 degrees F.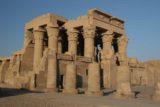 Kom Ombo Temple was pretty small compared with the others we had seen up to this point. Still, the hieroglyphs and columns were impressive. But the small size of the temple also made things a bit crowded, especially considering the limited shadow space.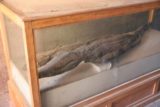 Particularly interesting was a display of mummified crocodiles inside a small and humid dark room. It was really starting to become apparent just how advanced Egyptian Civilization really was, especially if they've perfected the art of mummification (preservation) several thousand years ago.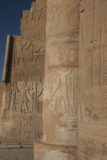 After the tour was over, it was time to put the Power in Numbers negotiating ploy to work.
So with brave faces, the whole tour group went into the melee of salespeople all trying to wave their wares in front of each of our faces and even just placing them on our shoulders.
What ensued was a blur of lots of yelling, lots of people amongst the tour group saying "No" and lots of vendors reluctant to sell the girls anything for 20 L.E. since their clothings tended to be a bit more embroidered than that of the guys.
I think it was safe to say that the Power in Numbers negotiating tactic where we come in as a group and buy as a group fell apart.
So with that, Julie had no trouble getting my shirt for 20 L.E., which she didn't mind because she thought it was a shirt worthy of re-use at home at some point. She bartered and got her robe for 40 L.E.
We weren't sure how successful the rest of the group was because we were back at the boat and showering well before anyone else in the group decided to finish their shopping and come on board.
Afterwards, an Egyptian-themed dinner buffet ensued where everyone was dressed in a Galabeyah (I think I might have been one of the least dressed-up in the restaurant despite my shirt purchase), and then the Galabeyah party came shortly thereafter.
The Galabeyah party was fun as it involved some games, dancing, and even a race involving the creative use of a hanging potato between the contestants' legs in an effort to push a ball on the floor with it to the finish line.
It was 10:50pm when Julie and I returned to the room. We couldn't stay up too much longer we had a 5am wakeup call to go to Abu Simbel tomorrow (which we learned about shortly before dinner). This was the part of the itinerary where we would deviate from the rest of the group in an effort to rectify the Islamic Cairo snafu.
Visitor Comments:
Got something you'd like to share or say to keep the conversation going? Feel free to leave a comment below...
No users have replied to the content on this page