Day 6: LAST NIGHT WITH THE GROUP
True to form, we got up at 5am for our early wakeup call. So we had ourselves a rather uninteresting box lunch and were joined by three other people from the opposite tour group on this boat (two of them were nicknamed by our group the "Goth Couple" because they were all dressed in black). They weren't exactly the talkative types so we didn't converse a whole lot even though we kept running into them.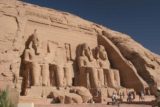 We managed to catch a 7:30am flight from Aswan to Abu Simbel. For such a short flight, Julie and I were surprised that it was such a full flight on such a big plane (maybe a 737 or Airbus equivalent). What surprised us even more was that we were also joined by Pete, Dorothy, and Nick.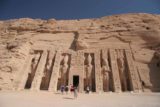 So at 8:25am, we were at Abu Simbel. We were on a private tour so we parted with Pete, Dorothy, and Nick as we did our respective tours.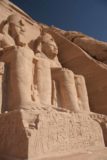 At first, we met up with a guy named Mina. Unlike other representatives or guides we've had, his second language was Spanish and not English (his third language). In fact, we would end up speaking mostly spanish to each other. I didn't think I'd have to use it on this trip, but hey, this trip was full of the unexpected.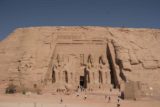 Our tour of Abu Simbel began with a photo lecture because guides are not allowed inside. The Abu Simbel Temples of Ramses and Nefertari were both moved to its current location as a result of the creation of the High Dam, which flooded its original location.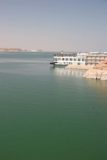 If they didn't tell you these things, I probably wouldn't even have known that little fact.
No photos were allowed inside the tomb, though I did see one pair of Contiki backpackers take flash photos without the knowledge of the guards outside. Not particularly respectful if you ask me.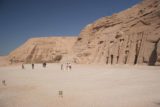 We rejoined Pete, Dorothy, and Nick outside the Nefertari tomb area. That was when I got some mustard-looking stain on my right shoulder. It happened to be bird poop. It was funny that nearly a year ago at Niagara Falls, a bird pooped on me except it was on my face that time!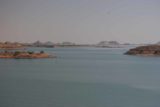 Anyways, our impressions of Abu Simbel were good. The inscriptions were mostly intact. We even had fun looking at the depiction of the God of fertility with the unmistakable protrusion at his lower extremities.
At 10am, we headed back to the entrance where we rejoined Mina. Nearly half an hour later, we were back at the airport. I guess it was a good thing we did Abu Simbel when we did because it was terribly hot here. It didn't matter that the emerald blue waters of Lake Nasser were near.
I hated to think had we stuck with the original plan, we'd have been at Abu Simbel at 11:30am tomorrow!
Moreover, if we had gone with the first improvised schedule of pushing everything 3 hours earlier, we probably would've missed our connecting Cairo flight by now.
I guess sometimes things just work out in unexpected ways.
We were back on the plane at 11:10am. Nick and I were commenting how strange it was to do a half-day excursion involving a flight. Even the bus ride between the plane and terminal (a distance of not even a few hundred meters) seemed like kind of a waste of fuel.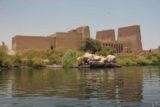 By 12pm, we were back at Aswan. There, we were picked up by the rep and met our guide for the Philae Temple. About 12:35pm, we were at the temple itself after a short (and smelly due to fuel and exhaust) boat ride.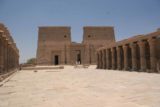 This was another one of those short but sweet temples. Except this one had more of a Greco-Roman feel to it (built during the Ptolemaic Period).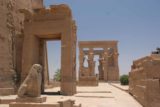 Since we were touring at the height of day, the heat was stifling and the shadows were small. But mercifully, the guide kept the tour short and sweet and perhaps she too didn't want to be out in this heat.
By 1:10pm, we were back at the boat where she reminded Julie not to forget to tip the boat driver and car driver. It was funny that under Abdallah, we each paid all drivers on tour a one-off fee of 20 L.E. per person. I guess since we deviated from the rest of the group, we had to baksheesh (tip) again.
It was about 1:35pm when we arrived back at the boat and see some familiar faces once again.
"Boy you look flustered," said Linda to me. I guess it was pretty obvious we had just gone touring in some searing heat.
The rest of the afternoon was pretty much spent waiting for tea. Though Pete, Dorothy, Nick, Julie, Roger (who's doing it again after having done it this morning), and I were to join the other tour group that just got on for their 4pm felucca ride. Abdallah's group had done it just before lunch.
When 4pm rolled around, it was time to go on the old Egyptian sail boat.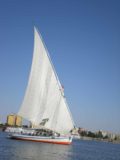 It seemed like the boat was doing lots of moving back and forth in an effort to try to catch the wind. Unfortunately, we weren't really going anywhere. It turned out that we were getting a rather unusual southerly wind (most of the time, the wind goes upstream or from a northerly direction).
In any case, it was relaxing albeit a bit less exciting than the earlier felucca ride as Jenn and Gina had mentioned theirs went all the way to the end of the botannical island.
When we were done with the felucca ride, it was time for some afternoon tea at 5:30pm. There, we met up with the group once again and decided to go to the old marketplace in Aswan for some shopping.
The bazaar experience turned out to be the kind of market experience Julie was craving for that we felt we got screwed out of in Cairo. There were tons of shops lining old streets where it was pedestrian traffic only.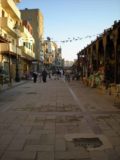 A large deal of shops tried to peddle spices as well as some cloths and carvings. Perhaps more prevalent were aggressive locals trying to get us into their stores. Although they were pushy, it didn't feel as bad as it had been in other places like Edfu and Cairo.
One of the funnier things merchants would say was, "I don't know what you want, but we have it in my store." Ha!
We returned to the boat at 7:40pm. There, we had ourselves one last dinner together as well as a Nubian dance exhibition after dinner. The last dinner felt like the last supper as Pete managed to get Abdallah to put all of our tables together so we could sit together. I wish we had done this earlier in the trip, but better late than never, right?
After a rather interactive Nubian dance exhibition where Jenn and Gina always seemed to be picked on by the dancing crew, many of us chilled upstairs on the sun deck. There, I brought the laptop so I could play "Walk Like An Egyptian" by the Bangles for Dan, as I had promised. Abdallah also joined us as he traded praises with Pete on how fun the tour and the group was to be with.
Gina was playing DJ as she was thumbing through the iTunes library churning out Luka, Hotel California, Kokomo, Love Shack, and even Beautiful Day by the Eels.
But with all that was going on, there was a bit of an air of sadness as all good things must eventually come to an end. I think many of us had felt a type of bond and cameradie with each other that can only happen when traveling in a group in a far away land while sharing experiences you can't get at home. Indeed, when little by little people started to retreat downstairs to bed, hugs and handshakes were exchanged as we knew me might not see each other again (as many of us had different itineraries tomorrow).
Personally, I felt something like this was missing from this trip (and doesn't happen often enough in our travels) where Julie and I usually just go off as a couple on our own when traveling. Even though it wasn't a waterfall excursion and I had reservations about going to Egypt, I was glad we did it as I got to meet great people who shared a passion for travel – albeit archaeological and religious in nature. Yet irregardless of our differences in political, religious, or philosophical beliefs and backgrounds, we shared a great time on the cruise and those are memories we can look back on fondly when reflecting on our travels.
I retreated back to our room at around 11:30pm where I saw Julie on the bed with money all over the sheets. She was spending all sorts of time playing accountant trying to manage what little cash we had left with tipping the guide, the staff, and other incidentals along the way with still another day to go in Cairo tomorrow…
Visitor Comments:
Got something you'd like to share or say to keep the conversation going? Feel free to leave a comment below...
No users have replied to the content on this page