Day 7: GOODBYE, AGAIN
It was a somber morning as the reality of the end of us as a cohesive group was sinking in. Even still, the tables remained together for us for breakfast and we managed to squeeze in what precious few minutes we had left together doing more small talk over breakfast. I had secretly hoped that we would all meet up in the brekkie room at the same time, and though it only happened for a few minutes (as people came and went at various times), it was still good times.
And so when 8am came around, we checked out of our rooms and proceeded to the lobby. There, we said our goodbyes one more time and went with our driver and representative to the airport at Aswan.
At 9am, Julie and I were one of the first ones at the airport. So we got settled and awaited our 10:10am flight to Cairo.
But about 20 minutes or so later, Pete, Dorothy, Nick, Dan, and Jennifer (Dan's mate) all showed up in a very unexpected surprise.
In another ten minutes, the rest of the group (Jenn, Gina, Jason, Rose, Linda, and Roger) showed up. So we made more small talk before it was time for the Abu Simbel group to get boarding at the gate on the opposite end of the departure area.
"Goodbye for like the 4th time," said I sarcastically. And that was the last we saw of them.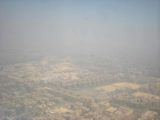 Meanwhile, we boarded our flight probably 20 minutes or so later. And we arrived at the Cairo Airport at noon. There, we met up with our familiar driver again, and he proceeded to take us straight to the Citadel.
At long last, we were to see the very thing whose omission caused so much drama on this trip!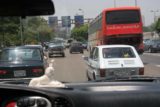 At 1pm, the driver finally made it to the Citadel after weaving through some crazy Cairo traffic. As we approached the gate, Julie and I saw that our guide for today was none other than Mohammed, our guide from the first two days!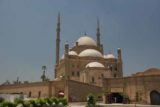 "Hey, it's Mohammed again," said I.
"Great," said Julie sarcastically.
I had to admit it was a little difficult trying to hold back my snickers at the irony of it all. But anyways, Mohammed went right into his guide persona and talked about Mohammed Ali, the inventions pertaining to the Citadel, and some additional modern history of Egypt.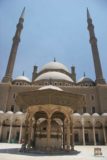 As we walked around the Citadel, we couldn't help but notice how much cooler it was here than it was in the Nile Valley. I'm sure it was still in the high 30s (in Celsius) here, but that felt way better than the 40s and 50s we had been getting on the cruise.
We entered the mosque but only after removing our shoes and zipping back on our pant legs. The dusty marble and alabaster floors of the mosque courtyard provided some photo opportunities, but it also dirtied our feet while scorching them as well since they had plenty of time to collect the sun's rays.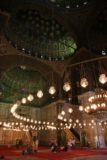 Inside the tall multi-domed, Mohammed, Julie, and I sat in a little section of the carpeted floor. Then, Mohammed gave a talk about Islam in Cairo and more about Mohammed Ali.
When this part of the tour was over, Mohammed then fessed up and apologized for his mistake earlier in the trip. He said he even couldn't sleep when he received the itinerary after the fact and saw his mistake. And he also returned the tip money saying he never accepts tips, and the envelope we gave him was misconstrued as a letter and not a tip, which was why he accepted it earlier.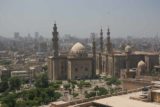 I don't know if Julie complaining to the manager upped the urgency of the rectification process, but Mohammed even said he pulled some strings to get us access into areas that most visitors couldn't do. Well, those would be surprises for us later on this afternoon.
And in any case, apology accepted. After all, we finally got to see the missing piece of our Cairo visit. That was all we wanted.
At 2:35pm, we visited Mohammed Ali's personal quarters. This was one of those places I don't think visitors are usually allowed though we did see other Egyptians around there.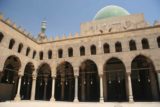 At 2:45pm, we went into the more humble but older mosque just across from the grand Mohammed Ali Mosque. This was another one of those places where the shoes had to come off and the extremities had to be covered (though women have the added burden of covering arms, which wasn't a problem for Julie since she had long sleeves on).
At 3:30pm, we went to what Mohammed called the Modern Pyramid. This pyramid (like other pyramids) was a tomb, but this is in honor of the late Anwar Sadat, who signed the Camp David Treaty with Israel and paid for it with his life in an assassination plot.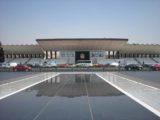 The Modern Pyramid was actually a modern structure with Arabic names scrawled on the triangular contours. In the open spaces stood about a half-dozen guards looking serious and never looking anywhere else but straight ahead.
We were the only tourists here, and Mohammed reminded us that he pulled strings to get permission to come here, which is normally reserved for ex-presidents and other international dignitaries.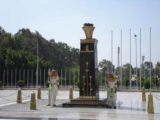 Clearly, I felt out of place here and I don't think Mohammed had to go to such lengths. But at least we knew his apology was sincere and he really tried to make it up to us. He even told us the change in flights wasn't ordinarily possible, but he managed to pull strings to even rectify that!
As we were at the Modern Pyramid, we had heard honks from passing motorists. We weren't sure if it was because of us or if it's for traffic. Somehow, I doubted it was because of the latter.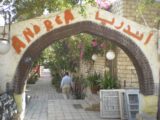 And so concluded our tour of Cairo. Mohammed insisted on taking us to the same Egyptian Restaurant (his treat) that we went to on day 1. That restaurant was called Andrea, and we once again pigged out on pita bread, hummus, some kind of eggplant mixture, roast chicken, falafel, and watermelon.
On the way there, we finally saw the City of the Dead from the road in broad daylight. Said to be the largest necropolis in the world, it was known for people actually living in mausoleums and tombs as if they were their own personal homes. The mixture of gothic-looking tombs with satellite TV dishes on their roofs attested to this strange combination.
At 6pm, we were back at the familiar Great Pyramids Hotel again. But not before we saw our good-byes to Mohammed who happened to be living nearby. He taught me another Arabic word such as Ilhamdulilleh (thank God) for having the opportunity to rectify the mess.
And so ended our Egyptian tour. We couldn't wait to get back home after being gone for two months. And so tomorrow would be a long day of flying for us with another early morning wake-up call for an 8:30am flight to London and then connecting to LAX.
But before we could look forward to the upcoming July 4th weekend with the parents, I was coming down with what appears to be a cold and I also seemed to still have diarrhea again. I guess this trip went full circle where I arrived in Sydney, Australia sick, and left Cairo, Egypt sick.
It figures…
Visitor Comments:
Got something you'd like to share or say to keep the conversation going? Feel free to leave a comment below...
No users have replied to the content on this page