Day 1: EXORBITANT VISA COSTS
It was 1pm when we arrived in Livingstone, Zambia. This was after (for the first time ever in our travels) we actually had to pay an excess fee because each of our checked luggage was about 3kg over the 20kg limit. That costed us around 376 Rand (almost $60 USD), which was clearly too much to handle considering we have numerous more flights on this African trip-of-a-lifetime.
We'll have to wisen up on how we pack our checked baggage (which we eventually did by wearing our heavy hiking boots and putting more books in our laptop bag and other hand carry-ons).
Anyways, the first order of business was to take care of all the Visas and passport control issues at the airport. So without delay, we filled out the forms then quickly got to the queue before the rest of the plane showed up.
That was when we were in for a rather steep shocker!
The Multiple Entry Visa (since we intended to go to Zimbabwe for a day and back) for USA Citizens was $135 per person in US cash only.
Ouch!
Well it wasn't like we were going to say no or anything. So we just swallowed the pill and got instantly lighter in the wallet.
Afterwards, we collected our bags and met up with Richard Chanter, who was the owner of the lodge we were staying at while in Livingstone. He's a UK ex-patriot who has spent the last 40 years in Africa.
We toyed with the idea of staying in the cheaper Victoria Falls, Zimbabwe, but the political situation with Robert Mugabe created too many uncertainties to take the chance of a last-minute change in our big trip.
Better safe than sorry.
Anyways, Chanter and Anastasia (one of his employees) told us that ever since Zambians get similar treatment when trying to get Visas for USA and the UK, the Zambian government made it so people from those countries get reciprocal treatment.
It was just this year that it happened, too!
Chanter said they used to have their clients be put on a list and Chanter would sponsor them. The cost to the clients? Free!
Anyways, we can't cry over spilled milk. If anything, Chanter lamented to us that the Visa requirements have impacted his business as fewer visitors from the US and UK are coming to the falls. These countries have historically brought the most tourists. He did point out that British citizens have to pay the equivalent of around $400USD for the same Visa! Yet Canadians only have to pay about $50USD per person.
Chanter guessed that border patrol pocketed most of the money and it didn't necessarily go back to the proper coffers in government.
"But that's Africa," he contends. "It doesn't have to make sense."
So with all the traveling we had to do up to this point from Cairns, Australia to Johannesburg, South Africa yesterday, and then to Livingstone, Zambia today, Julie and I welcomed the break at our room in Chanter's Lodge.
Chanter was willing to drive us the 11km to the gate of the Zambia side of Victoria Falls, which was around 15-20 minutes away at 3pm.
However, our rest was dampened by the fact that Julie realized she hadn't brought our Yellow Fever Vaccination Certificates with our passports. That really pissed me off because I always contended they should be together with the passports, but somehow she insisted on separating them after the Peru trip knowing they weren't necessary there. Anyways, this potentially jeopardized our entry into any country that asked for certificates such as Tanzania, and thus threatened to really put a halt to our trip of a lifetime…
When 3pm came around, we hitched a ride with Chanter and was left at the busy gate on the Zambia side of the falls. After paying our admission fee (which we had to pay on each entry regardless of length of visit), we anxiously marched towards the thundering noise generated by the falls.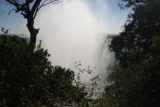 Undeterred by the blast of B.O. from some of the locals also sharing the Vic Falls experience, we were at the misty falls by around 3:30pm.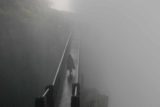 But our enthusiasm was quickly dampened by the fact that it was hard to see anything let alone take pictures due to the amount of mist spraying all the overlooks and walkways.
It was a good thing I brought the rain ponchos.
Still, with the sun kind of going against us, there weren't a whole lot of meaningful photos to take while appreciating the falls the way we did for Iguazu Falls.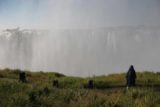 In a way, it felt disappointing.
"Iguazu Falls is way better than this one," Julie said. And I grudgingly had to agree with what we've seen so far. I thought the contest of the world's best waterfall would be much closer.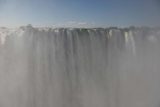 Anyways, since we were already here, we decided to literally soak up the experience – as uncomfortable as it would be even with the rain ponchos.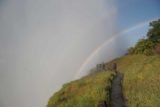 And so we braved a serious drenching on the Knife Edge Bridge to get to the other side, where all overlooks there were ridiculously whited out or hazy from lots of mist. Even as we walked away from the sun, we could see rainbows in front of us from weird angles; almost becoming circular.
Of course, none of that could be captured on camera. You'll have to take my word for it.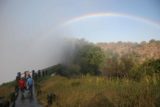 When we had our fill of the falls, we next decided to leave the falls area and take a look at some of the souvenir shops lining the car park area.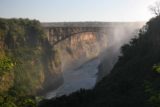 What started as an innocent window shopping experience turned into a hasty retreat with constant refusals on our part as each vendor aggressively tried to get us into their shop and sell us their wares regardless of whether we were ready to buy or not.
I swear if you didn't learn how to say no, you will learn it after one trip here!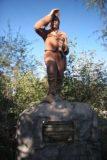 Anyways, we next tried to look for taxis to get back to Chanter's Lodge. Little did we know how much of a chore this would be.
Apparently, none of the blue taxi cars in the immediate car park area were available. They were all waiting for existing clients or something like that.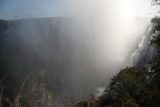 So we walked further out of the car park area and towards the main road. From there, we approached a few other taxis, but their quoted prices of around $20USD was way more than what Chanter had said, which shouldn't be more than $10USD each way.
As we weren't sure who we could trust, and we weren't sure of our bartering abilities, we finally allowed ourselves to talk to a guy who insisted he's working for the police station, which conveniently enough was right there.
When we told him we'd go back to Chanter's Lodge for $10USD, he agreed.
But he took us in his own personal car parked on a sidewalk. The car was seriously beat up and had a small-sized spare tire.
Julie and I weren't sure what to make of this as it certainly didn't seem like one of those official blue taxis.
Anyways, we rolled with the punches and were off. But not before that car struggled to make it out of the sidewalk as the curb scraped its underside as it backed away.
As we made our way into Livingstone and then onto the side road that led to Chanter's Lodge, the car struggled with the big potholes and sinkholes on that side road.
SCRAPE! SCRATCH!
The car (and us) felt the pain of the car on every dip.
We really weren't sure if this car was going to make it to the lodge let alone the poor guys making it back to the police station by Vic Falls.
Mercifully at 4:30pm, we were back at Chanter's Lodge.
We paid the money and retreated to our room with soaked ponchos, wet shoes and socks, and even wet shirt and pants.
After getting cleaned up, Julie and I had a reasonably priced and delicious Zambian dinner at the lodge complete with Nshima (a maize-like staple food to be taken with the hand, rolled into a ball, and used to scoop food and sauces as it's eaten) as well as fish and chicken with stews and curries.
All in all, it was an interesting start to the Vic Falls experience.
Visitor Comments:
Got something you'd like to share or say to keep the conversation going? Feel free to leave a comment below...
No users have replied to the content on this page