This trip was the second part of a longer 2.5-week itinerary combining a road trip over parts of Washington State and an Alaskan Cruise.
Each part of this trip could be done as separate itineraries, which is why I split them up in this manner.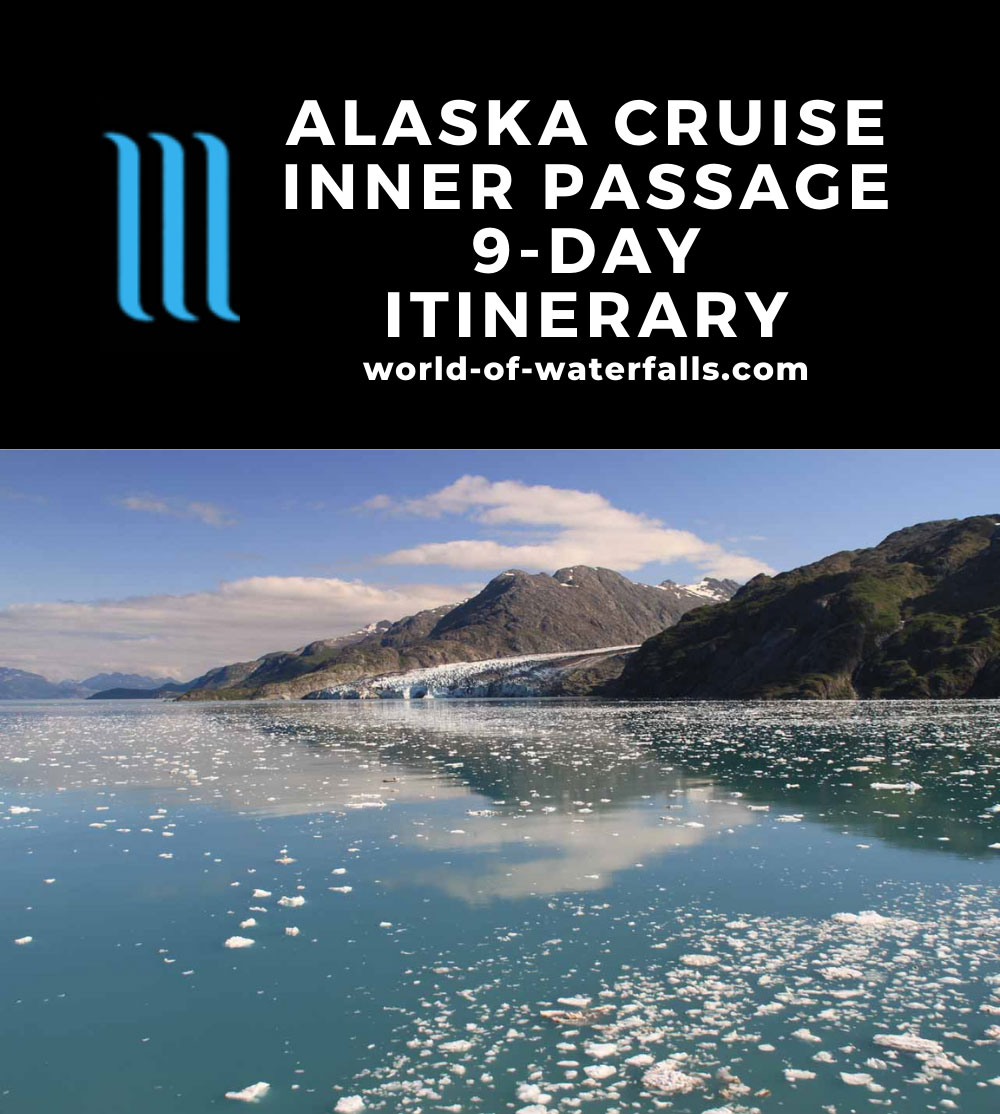 This trip was motivated largely due to trying to test what we can and can't do with a newborn when we travel (especially considering we hadn't really done anywhere since our daughter was born). We also brought along Julie's mother on this trip, which was probably the longest she had hung out with us in our travels. She was an invaluable asset in terms of taking turns watching our little girl.
Here are some highlights and logistics of how we managed to pull this trip off…
Trip Map
This map and its markings were produced by this app.
Trip Highlights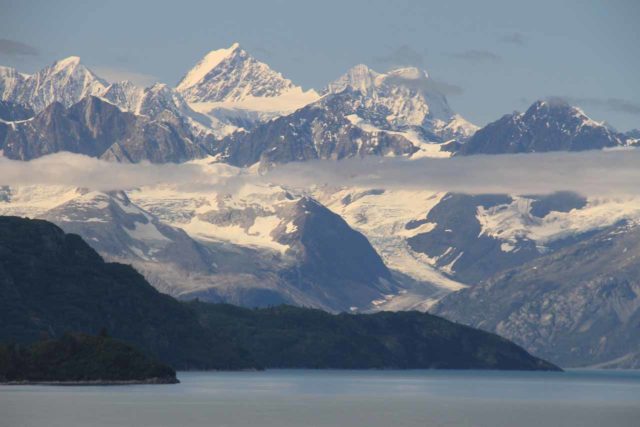 Glacier Bay – Given the fickle Alaskan weather, we were very lucky to have showed up to this protected reserve (that's in extreme danger of going away due to Global Warming) when a storm had cleared and we were getting beautiful weather. That meant that the bay was calm and reflective, the blue skies contrasted the blinding whites of the snow and ice everywhere, and we got to enjoy the scenery without needing to retreat indoors due to the elements. Julie and I thought this moment was the highlight of the entire cruise.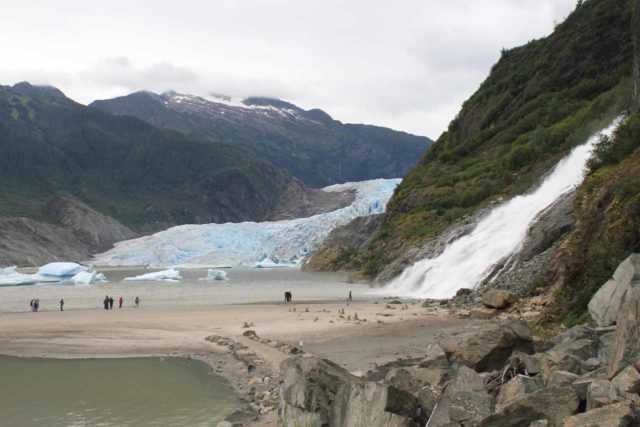 Nugget Falls and the Mendenhall Glacier – This was one of the few times we got to do something worthwhile and on our own while not being confined to the cruise ship. Indeed, once we were able to hike, we always got to see the impressive glacier and waterfall together. And when we were done with the excursion, there was a boardwalk where we had the chance of seeing Brown Bears feasting on sockeye salmon. While lots of people said they saw such a bear, I wasn't so fortunate. I just saw salmon carcasses everywhere.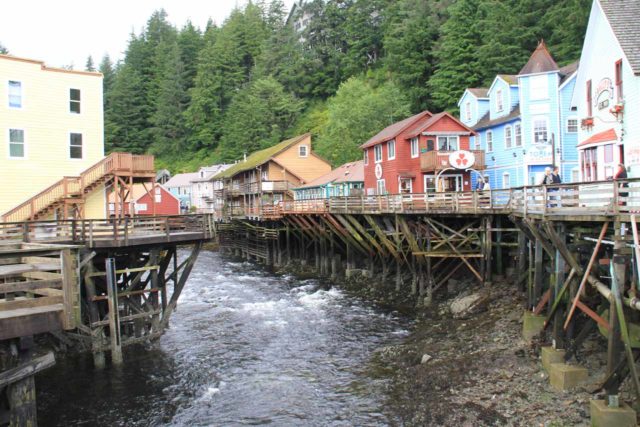 Ketchikan – This was another one of the cruise stops, where we at least got a chance to get out and explore. The most alluring thing about this town was Creek Street, where buildings seemed to stand on stilts as the creek rushed by down below. There seemed to be quite a bit of history as well as colorful buildings, the latter of which made for nice photos.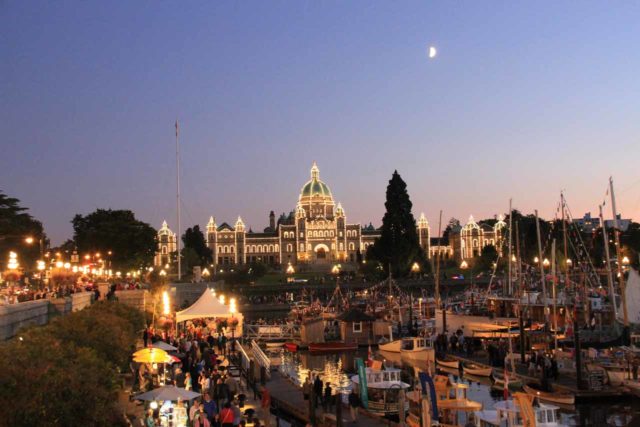 Victoria – This was the last stop of the Alaskan Cruise, and it was a very magical place when we arrived. For there were street performers, lots of people enjoying themselves in the ambiance, perfect twilight lighting, and just overall that sense that we didn't want this moment to end. Unfortunately, we didn't have a whole lot of time to enjoy this place (maybe only three hours) before we had to get back on the boat. And we vowed that we'd be back on our own to enjoy this place with a little less pressure to not miss the boat!
Trip Advice
Julie and I were never fans of doing a cruise, but our daughter kind of forced our hand to at least give this method of travel a shot. While at the end of the trip, our opinions on cruises still hadn't changed (i.e. we don't like them), we still learned quite a few things that we can share here…
Most of the time is spent on the ship or waiting in line or both: Because you're dealing with long distances, we were pretty much confined to the cruise ship most of the time. Sometimes, things got a bit choppy so my seasickness can set in. Other times (especially meal times or getting on and off the ship), we had to deal with long lines. After all, everyone eats at the same time, everyone gets off the ship at the same time, and everyone gets back on the ship at the same time. You get the picture…
Although I adopted this mentality that we were like prisoners on the ship with too much temptation to overeat or do things that have nothing to do with experiencing Alaska, it was nice to still do something with a baby in tow and a grandmother who came along. So that meant we got to spend more time as a family in unfamiliar settings, which at the end of the day, can be precious moments looking back.
Time Pressure: When it came to the few instances where we got to get off the cruise ship and explore, the most worthwhile ones like Juneau (with the Nugget Falls and Mendenhall Glacier), Ketchikan (with Creek Street), and Victoria on Vancouver Island could have been less rushed. That prevented us from really enjoying the places or doing spontaneous excursions that we just found out about so we could linger longer and really get to explore the place. But alas, unless we miss the boat and figure out a way back, it wasn't feasible. And thus, this trip left a lot in terms of seizing the moment and really getting to experience Alaska the way we would have done it had we been on our own.
Salmon and Brown Bears: I didn't know this going into the trip, but apparently late Summer (late August into September) was a good time to see grizzly and brown bears trying to fatten up for the Winter. While I wasn't fortunate enough to see one in person on this trip, the evidence was all around us from the bear paw prints on the ground to sockeye salmon carcasses and even the odd bear scat. So this was definitely the right time to be seeing wildlife.
Mini-cruises: This trip taught us that perhaps the way to go in the future would be to fly into Anchorage or one of the other towns in Alaska with an airport. Then self-drive to some of the attractions as well as go do smaller cruises so we wouldn't spend so much time confined to such vessels. That's an idea I'm toying around with if we're fortunate to come back to Alaska to do it right the next time.
International Ports: Something we noticed about the cruise was that most of the workers hail from southeast Asian countries whether it be Indonesia, Philippines, etc. We suspect the reason has to do with cost of labor, but that meant that there has to be at least one international port of call in order not to break the rules. And that port of call on this trip was Victoria.
Having spoken to some of the employees, we got the sense that some of them have not seen their families for months or even a year or two! It makes us wonder if there's a deeper darker secret about cruises. So it was with this in mind that we tried to be very respectful and gracious to our hosts. And indeed, everyone has their stories to tell, but I get the sense that this particular story is one that has not been appreciated by the masses.
Travel Itinerary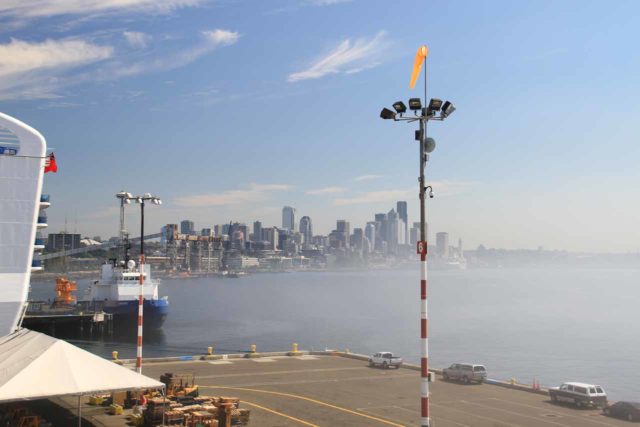 Day 9: Transport from Seattle to the Smith Cove Port
Overnight: Holland America Cruise
This was a logistics day where we checked out of our hotel, got all our stuff together, and were taken to the Cruise Ship Terminal. From there, we got settled in our little cabin and were on the cruise for the next several days.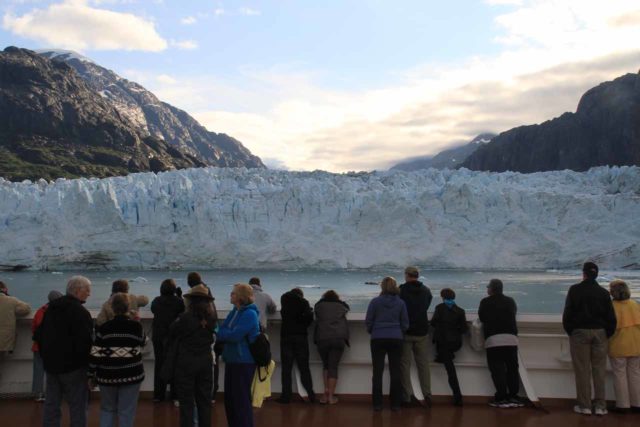 Days 10-11: Cruise to Glacier Bay
Overnight: Holland America Cruise
This pair of days was dominated by cruising on the ship. Towards the early afternoon on the second day, we finally arrived at Glacier Bay. The ship eventually left Glacier Bay and moved overnight, but like most cruise passengers, we were oblivious to the overnight movement when we slept.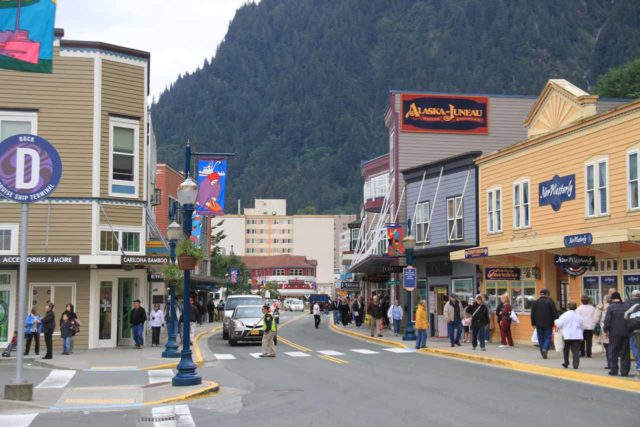 Overnight: Holland America Cruise
We started this day already in Juneau. Therefore, we were able to use local public transport to get from town to the Mendenhall Glacier. Once there, we had some time to hike to Nugget Falls and back before catching the transport back to Juneau for a late lunch (Alaskan King Crab legs), then returning to the cruise ship.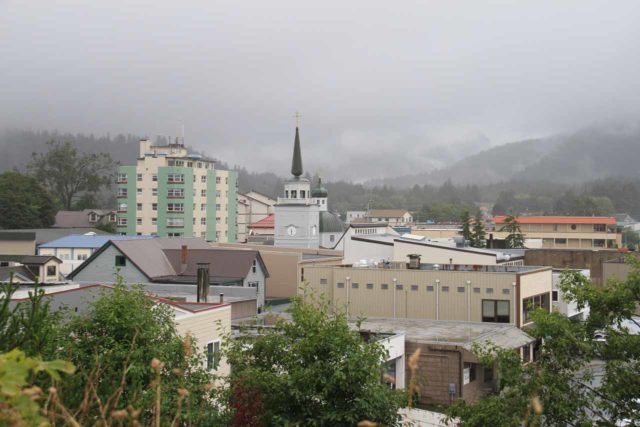 Overnight: Holland America Cruise
This was another cruise day where we spent some time over lunch in the town of Sitka. The rest of the day was spent on the cruise ship.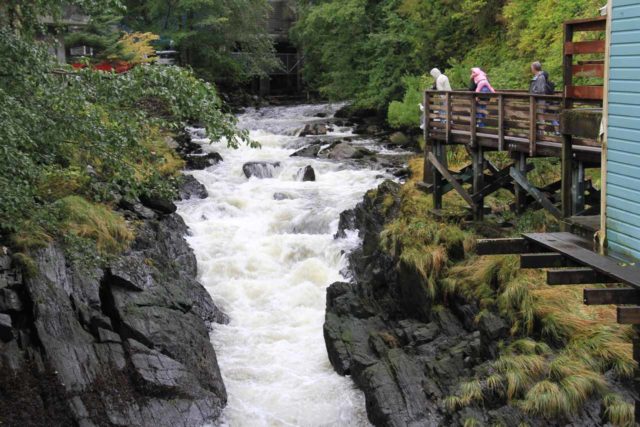 Overnight: Holland America Cruise
We arrived mid-morning at Ketchikan, where we were allowed to get off the cruise ship and explore the town, especially Creek Street. The rest of this day was spent on the cruise ship.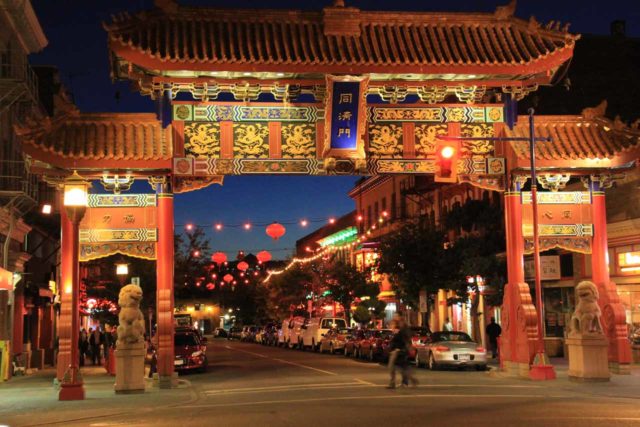 Day 15: Long cruise day before arriving in Victoria
Overnight: Holland America Cruise
Pretty much the entire day was spent on the cruise ship. It wasn't until after dinner did we finally get off the cruise ship and experience a taste of Victoria on Vancouver Island.
This was the day we got off the cruise ship, got our stuff, transported to Tukwila, and then settled for the night. No sightseeing on this day, but we did hang out with Julie's relatives for most of the day.
Day 17: Fly Home
After early morning wake-up to catch morning flight, we went home.
What to Bring
In addition to the equipment that we bring on all of our trips, we've also found the following items were especially useful for this particular trip.
Travel Stroller: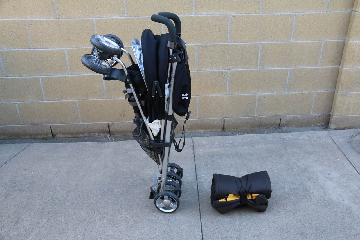 On a trip like this where we didn't have to carry our baby around everywhere, the travel stroller came in handy. It came with a bag so it was contained and able to be transported on the plane as a hand-checked luggage. We also used it to carry stuff around while we were wheeling our little girl. However, we had to be careful in that if we hung stuff on the handles, it does get top heavy (meaning it's prone to falling backwards).
While bringing stuff like this wasn't convenient, at least it served its purpose while we were on travel.
Pea Pod: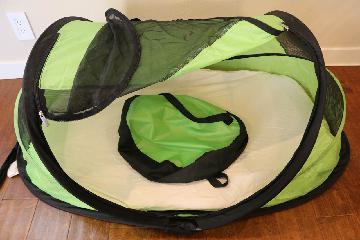 No crib? No bassinet? No problem! We found out that the Pea Pod Tent was perfect for our needs as it was compact (the tent, the blow-up pad, the blankets, etc.) all fit within a bag. And when it came time to set it up, it was self-expanding and self-standing. And thus, the setup only took less than 15 minutes.
The powerful thing about the Pea Pod was that we could set it up pretty much anywhere we deemed to be safe on the floor. So whether we were in a cramped hotel room or a spacious one without a bed for her, we were fine as long as we had this. Not only that, but if our baby would roll over or move around, the tent kept her out of harm's way. We definitely used this on every trip until she outgrew it. So it was definitely worth its weight in gold!
Car Seat: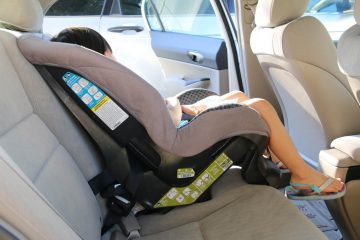 Even though we could have rented a child car seat temporarily for something on the order of about $15 per day, we actually used this when we hailed a taxi as well as when we drove around Washington State earlier on in this trip. So not only did we save money, but we also had piece of mind that it would at least keep our child in place as well as being sanitary.
Related Trip Reports
Waterfalls included in this itinerary
Visitor Comments:
Got something you'd like to share or say to keep the conversation going? Feel free to leave a comment below...
No users have replied to the content on this page