This Korea Itinerary was a road-trip that covered pretty much most of the Korean Peninsula as well as a few more days on Jeju Island lasting nearly three weeks.
It was our very first time in Korea (let alone driving and trying to grapple with the language barrier; more on this later), which was the first part of a longer three-part Asian trip itinerary where each part could be its own shorter itinerary.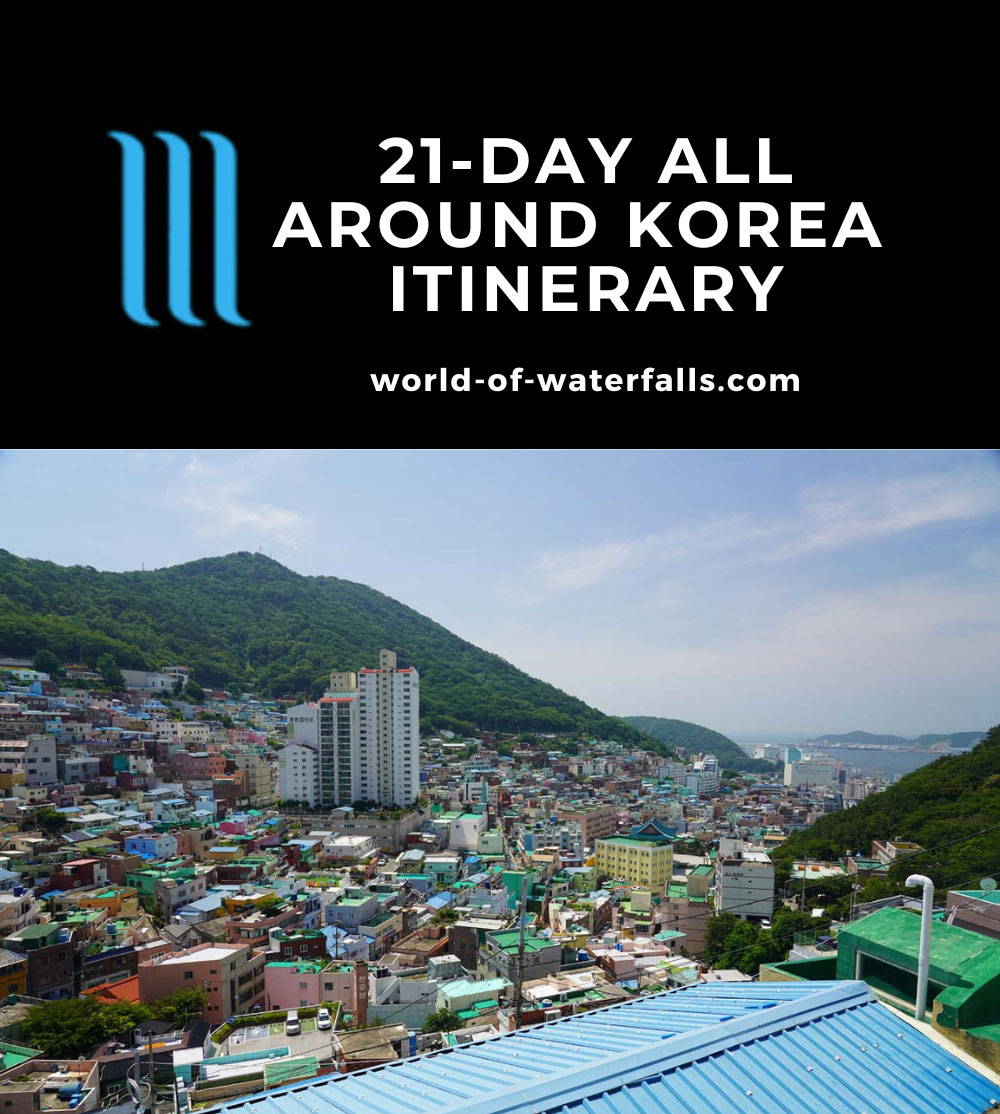 Indeed, we really had to go out of our comfort zone and explore parts of the country that the vast majority of tourists don't bother with (they tend to focus only on Seoul and Jeju Island as well as Busan to a far lesser extent).
And with those challenges, I'd say we wound up with one of our most rewarding trips to date while also opening more of my mind to the Korean culture, its language, and of course its scenery.
Here's a brief summary of what we managed to do on this trip…
Trip Highlights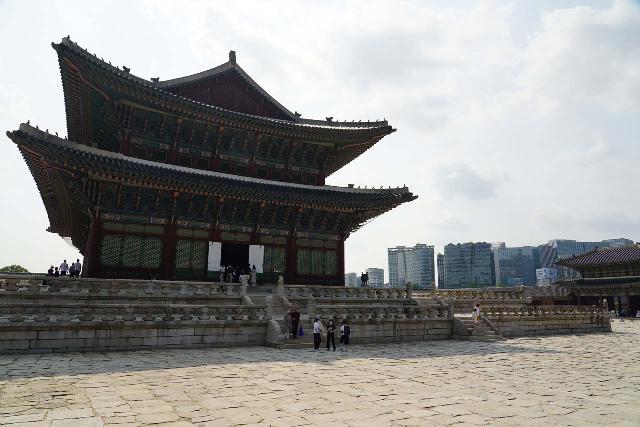 Gyeongbokgung Palace (Seoul) – if you're in Seoul, there's no way you can miss this imposing palace complex that reminds me very much of the Forbidden City in Beijing, China. Except in this instance, it's backed by knobby mountains, has gardens, and it has an intimidating change-of-guard ceremony. We probably spent an easy 2-3 hours here, but if we really wanted to, we could have spent time here even longer because there were also a couple of museums to visit in addition to all the large complex of buildings and open plazas.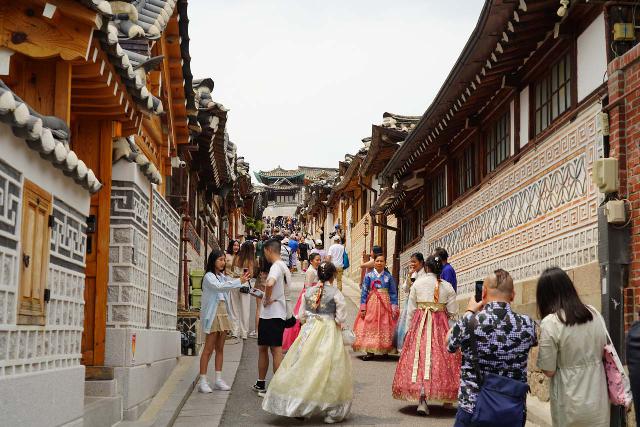 Bukchon Hanok Maeul [Folk Village] (Seoul) – this is an active residential neighborhood that has traditional-style residences and has become quite the popular photo spot. There are actually three separate neighborhoods to check out (some with homes or purposeful locations visitors are welcome to come in and check out), and it's certainly where the "old" Seoul is on display to contrast the bustling modern metropolis it is today. That contrast alone is worth checking out, and there are thousands of other tourists doing the same thing (so expect a crowd, especially those renting hanboks).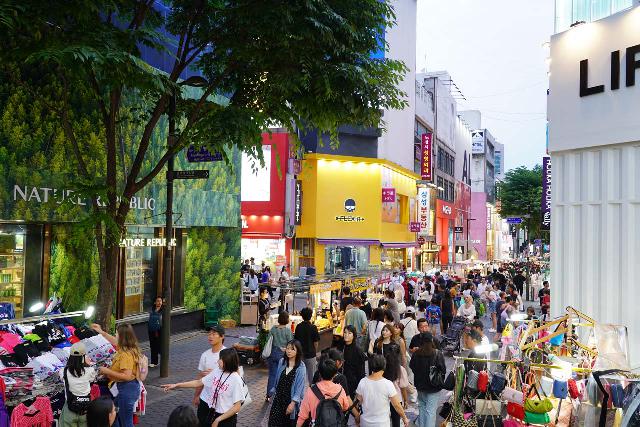 Myeongdong Night Market (Seoul) – while this can be a bit touristy, it was also the lone market in Korea that we visited multiple times on separate occasions because it definitely has the atmosphere as well as the selection (though many food and drink vendors have multiple food stalls so it's not as extensive as you think). In fact, it was Julie's favorite market of the ones we've visited in Korea. Indeed, having gone through other parts of Korea, it's hard to match the energy that this place brings every evening rain or shine.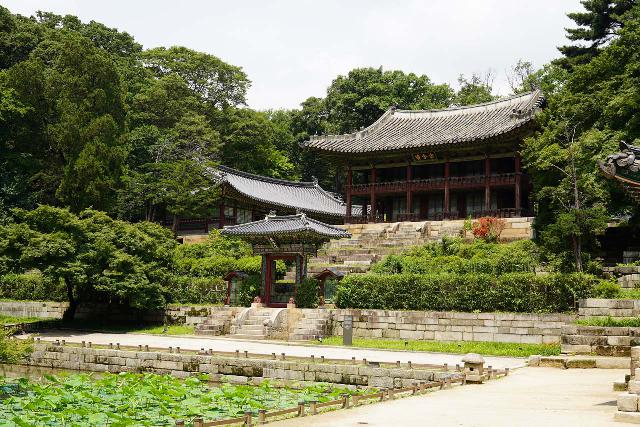 Changdeokgung Palace (Seoul) – this was kind of like a more understated palace compared to the Gyeongbokgung Palace, but this also had Forbidden City-like squares as well as gardens and lots of traditional buildings and complexes. It also had a "secret garden" that required separate paid admission, but it was more of a laid back side to the imposing concrete squares that also featured ponds, fountains, lots of greenery, and pagodas among other things.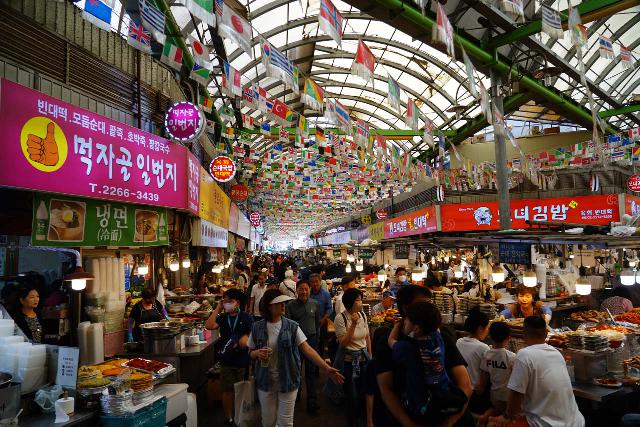 Gwangjang Market or Kwangjang Market (Seoul) – this was a happening market that was a bit out-of-the-way, but man was it packed with people. Why? Because it's known as a foodie spot, and the reputation was definitely there as there were loads of different street food vendors in a hot indoor arcade. There were lots of mung bean vendors, seafood pancakes, cold noodles, and stuff we had never seen before. You might want to come in with an empty stomach, but you might also want to get here early for some of the choice spots because the lines were HUGE!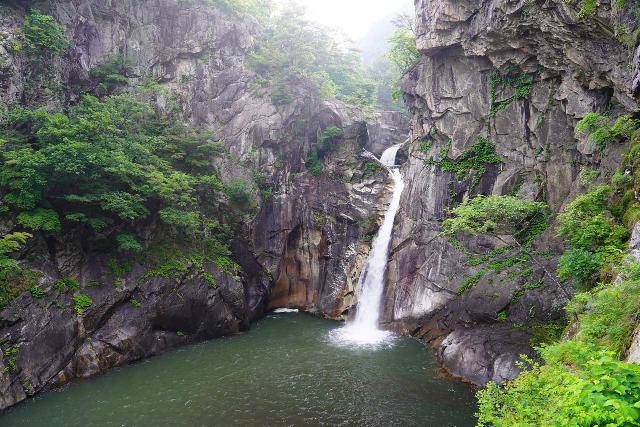 Sambuyeon Falls – this was my first waterfall in Korea, and it took me a bit of a road adventure to get there as I was getting used to the idea of driving in the country. Nevertheless, this was quite the nice getaway from Seoul, and it was an easy waterfall to experience while also having a cool tunnel to pass through.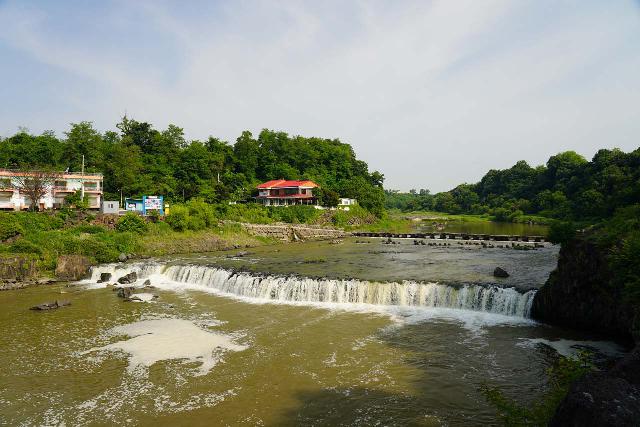 Jiktang Falls – this was Korea's version of Niagara Falls though it has nothing on the real thing, but it was yet another opportunity to experience a more laid back side of the country, especially in the far north not far from its border with North Korea in the Hantangang Geopark. I also got to experience this place on both sides, and I was pretty much alone on my visit, which was quite unexpected for a place as easily-accessible as this.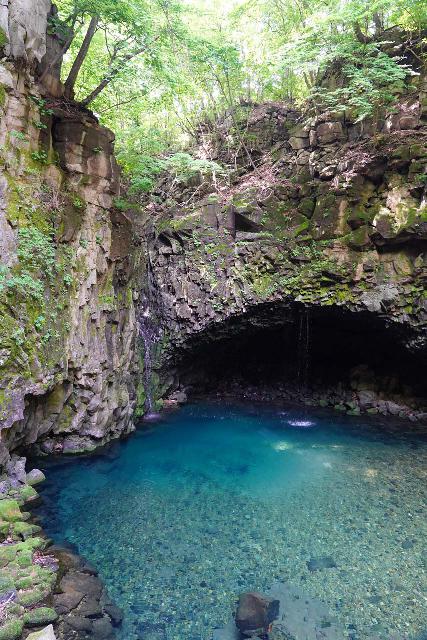 Bidulginang Cascade – while this waterfall wasn't flowing much during my visit, it's the color of the water combined with the deep cave that made this experience. Plus, the views of the Hantangang River further added to the experience, and it was no wonder why this place was pretty busy even on the weekday that I showed up.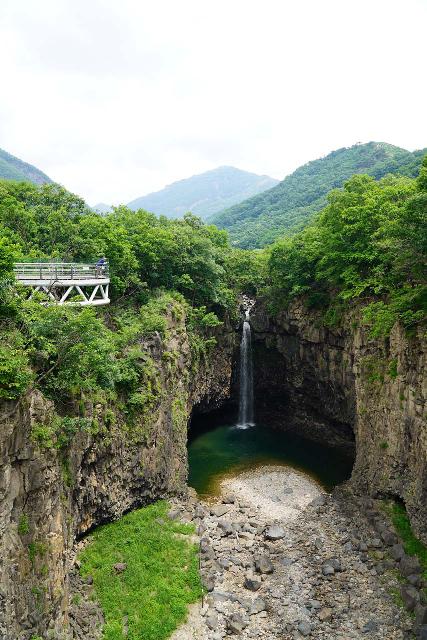 Jaein Falls – it's hard to beat this waterfall not far north of Seoul because I got to experience it from all sorts of different viewpoints (from above, below, in front of and from the side) while noticing basalt columns and backing mountains. Oh yeah, there's an overhanging viewing deck as well as a suspension bridge, and I even met a Korean movie producer and his entourage filming something here, which was kind of a cool, unexpected thing during my visit!
Gugok Falls – this waterfall was a nice stopover for us on the long drive between Seoul and Gangneung. We had a nice morning stroll to this waterfall, but it will forever live in infamy in my mind because I lost by GoPro HERO 9 at the parking lot here.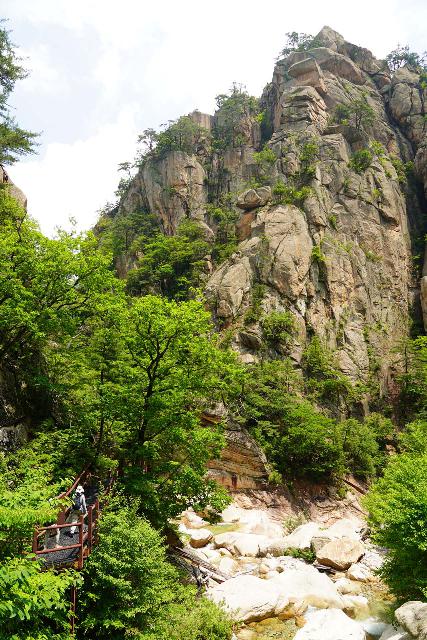 Yongso Falls – with this waterfall, it was more about the superb gorge scenery in the southern part of Seoraksan National Park, but the waterfall itself was a nice gusher with blue water, especially when the sun came out.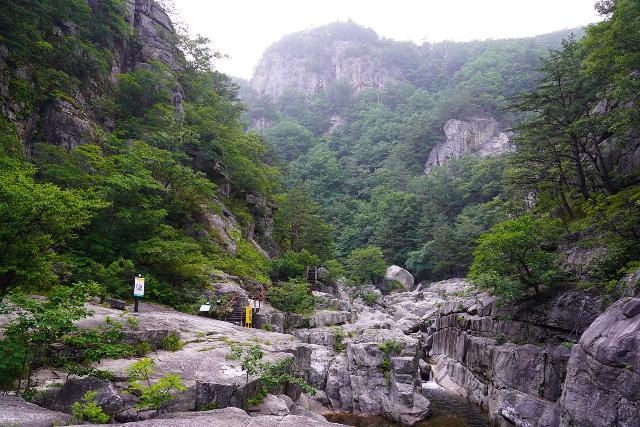 Guryong Falls – this was a multi-waterfall excursion over a moderate hike in the Sogeumgang Valley part of Odaesan National Park, where I felt the gorge scenery and the temple added more to the excursion and the Guryong Falls was more of the excuse to experience this place. But it was still worth the effort to make it out the the 9 Dragons Falls though you definitely need to start early so you won't get caught out in the dark.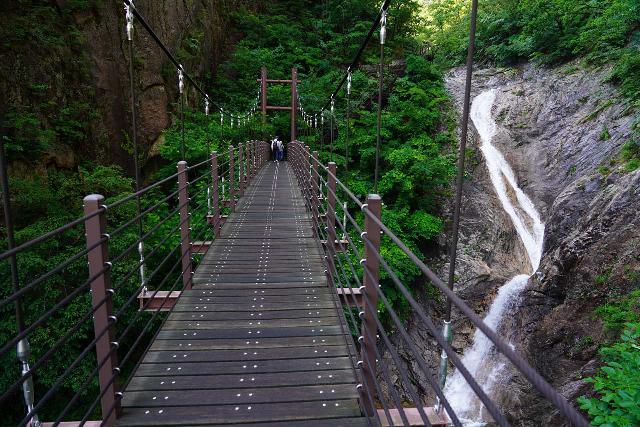 Yukdam Falls, Biryong Falls, and Towangseong Falls – in my mind, this was the quintessential waterfall hike that also takes in the best of what Seoraksan National Park has to offer. In addition to a short detour to the Sinheungsa Temple, there were three big waterfalls (including the last one up among the granite peaks). It was definitely one of my favorite hikes to do in Korea.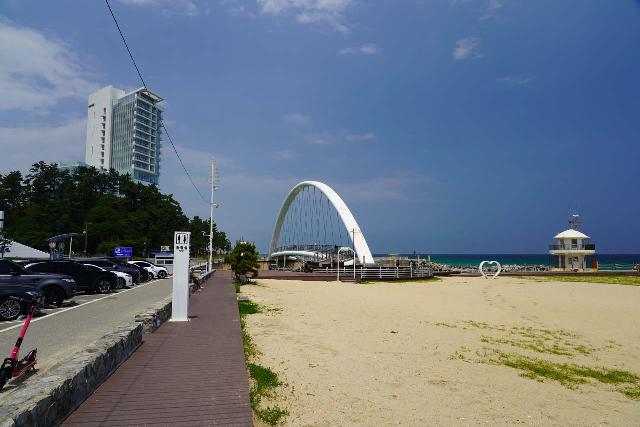 Gangmun Beach (Gangneung) – this was one of the attractive beaches to be had in the Gangneung area, where there were shops and cafes behind soft sandy beaches with water that were a nice aqua blue especially when the sun was out. We definitely appreciated the nice contrast of this beach versus the city that we had experienced a lot of to this point in the Korea trip.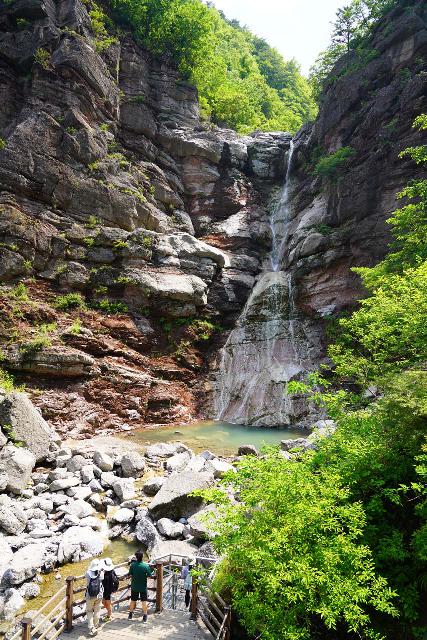 Miin Pokpo – this purplish waterfall with blue water (when the sun is out) sits near the mouth of the Simpo Gorge (also called the Tongri Gorge) which can be called the Korean Grand Canyon. We also had the opportunity to visit the Yeoraesa Temple though it was closed during our visit, but there was also another waterfall called the Piano Falls that was worth checking out.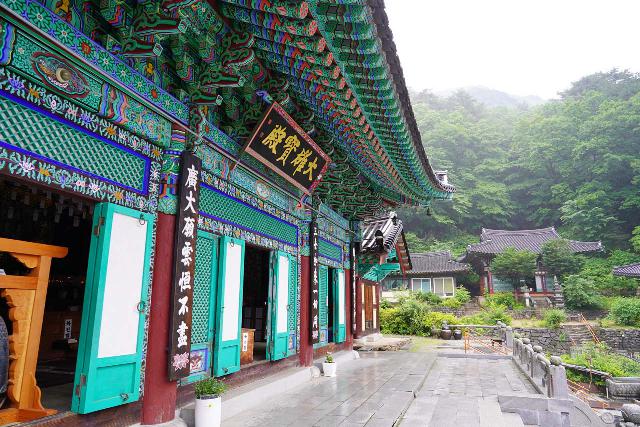 Huibang Falls – this waterfall almost felt like a waterfall lover's excuse to experience the Huibangsa Temple, which was an impressive collection of holy buildings at the foot of Yeonhwabong Peak. Of course, I'll remember this experience because I happened to be caught in an intense thunderstorm at the temple itself, where I had to seek shelter. Still, the waterfall was nice, and it was a pretty easy excursion to visit that as well as the temple.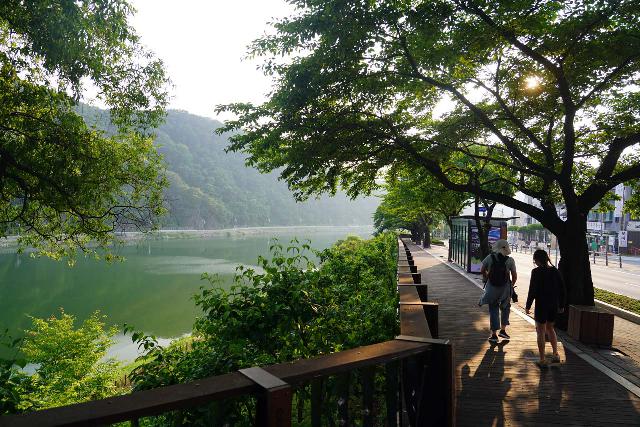 Danyang – this riverside town had a nice promenade alongside the river while also affording us the opportunity to witness some people hovering over the water. It was definitely a more laid back town that was within proximity of the Guinsa Temple as well as the Huibang Temple among other places.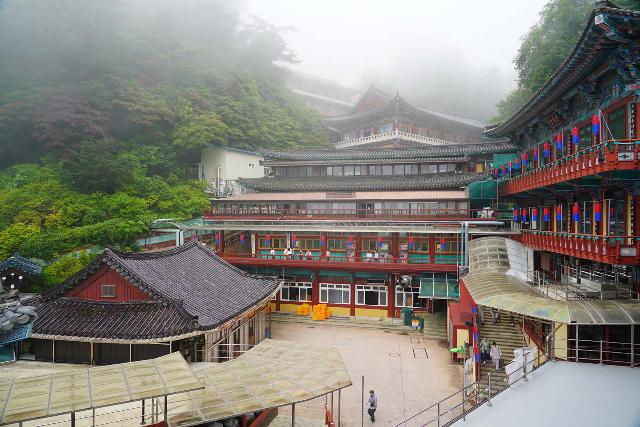 Guinsa Temple – this was a major temple complex roughly 30-45 minutes drive away from Danyang. The complex felt more like a village or town than a particular temple, and thus the sheer size of this place was quite overwhelming. Still, it was definitely worth at least a half-day to experience this place!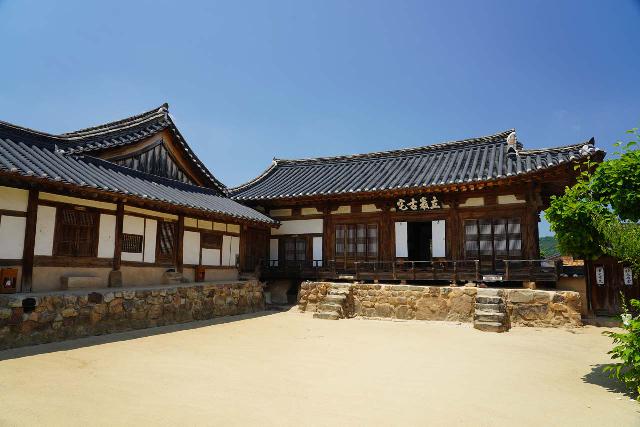 Hahoe Hanok Maeul [Folk Village] – this was a more traditional folk village that's near the city of Andong between Danyang and Daegu. It was a more quieter and open-air setting though the Summer heat was definitely here.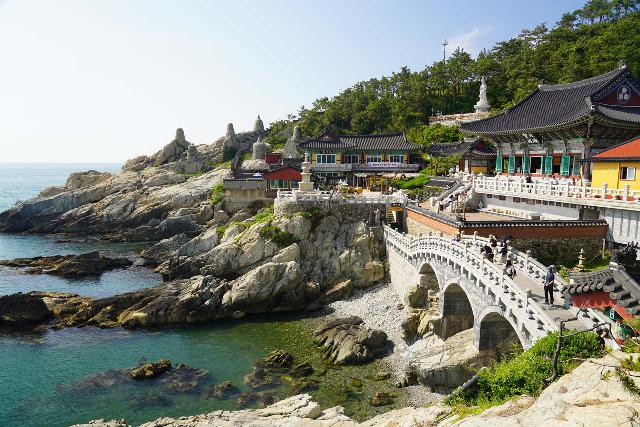 Haedong Yonggungsa Temple (Busan) – this was a seaside temple on the eastern coastline just to the north of the bustling city of Busan. It was one of the few Buddhist temples that we witnessed on this trip that was by the sea as opposed to deep in the mountains. And it was a great introduction to us on what the city of Busan had to offer.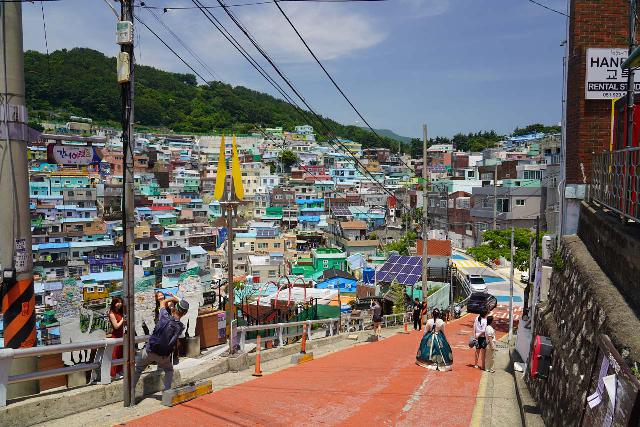 Gamcheon Culture Village (Busan) – when it comes to must-do experiences in Busan, I'd say this brightly colored neighborhood (giving me a lot of South American and Caribbean vibes) was where it was at. Sure it was a little on the touristy side, but it's for a good reason as walking up and down the steep hill-clinging town really felt quite unlike any other experience you can have in Korea. That alone made this excursion stand out to us.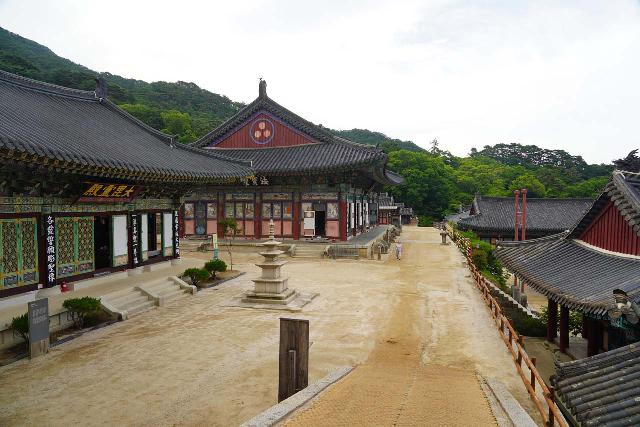 Haeinsa Temple – this temple to the west of Daegu was best known for housing some of the first printings off of block type (a printing press, if you will) that even predates Johan Gutenberg's version in Europe. It was certainly worth checking out though the blinged out worshipping areas of this temple itself was also worth check out (just don't take pictures of the worshipping area inside).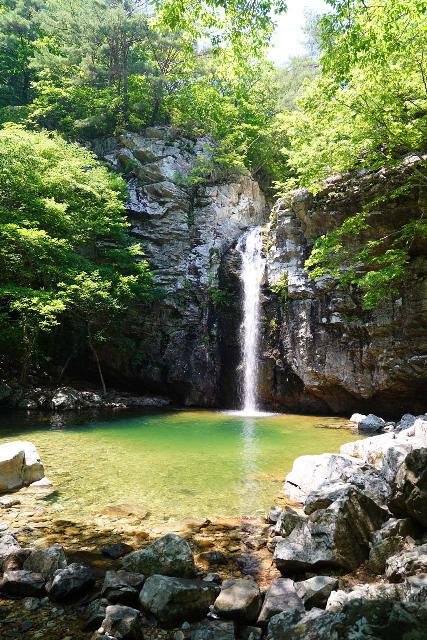 Paraeso Falls – it was very hot when we were staying in Daegu and visiting the area around there. So it made sense for us to go to this somewhat hidden waterfall near Ulsan to at least get close to some refreshing waters, and other people were thinking the same thing because this place was pretty busy!
Dongseong Road (Daegu) – when it came to seeing the happening spots in the city of Daegu, it's really this outdoor shopping street (as opposed to the more publicized Seomun Market). In fact, we spent so much time here on our last night in Daegu that Julie and Tahia went Croc shopping as well as going on several sweets runs.
Ssangyesa Temple and Buril Falls – this temple was impressive and quite atmospheric during our visit as monks seemed to be actively chanting and filling the silence with it. Beyond the temple, I went on a moderate hike to see the impressive Buril Falls as well as some other temples along the way. Little did we realize that this place was also quite famous for something else (see next entry)…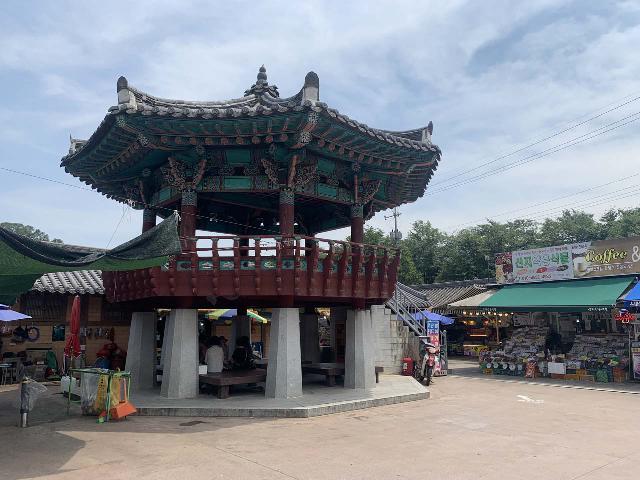 Hwagae Market – we actually stumbled upon what turned out to be quite a famous market, especially since it also happens to be a famous cherry blossom viewing spot as well. We stumbled upon this because we had pursued the Ssangyesa Temple and the Buril Falls, and this spot further added reason to explore that temple-waterfall combo. Now if only we timed our visit for Korea's largest cherry blossom viewing of the year, then I'm sure this place might be a zoo compared to our June 2023 visit. Of course, we remember this place well because we may have had our best green tea bingsu on this trip!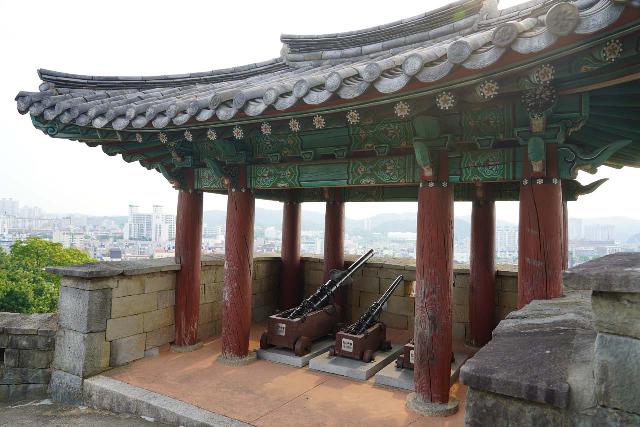 Jinjuseong Fortress – this imposing riverside walled fortress in the city center of Jinju was a large complex that was more park-like with ramparts and cannons to check out as well as a museum and various shrines and living quarters. It was definitely educational as well as a good place for views of the city itself and the Cheongcheon River.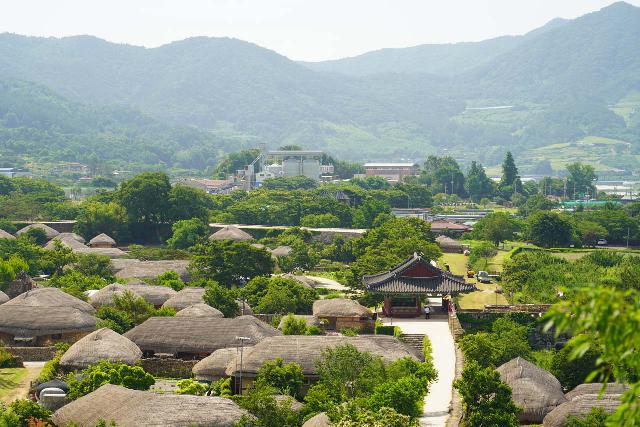 Naganeup Hanok Maeul [Folk Village] – this was an impressive but understated folk village, where we got to walk the city walls as well as going into some of the museums and residences that were open for the public to see.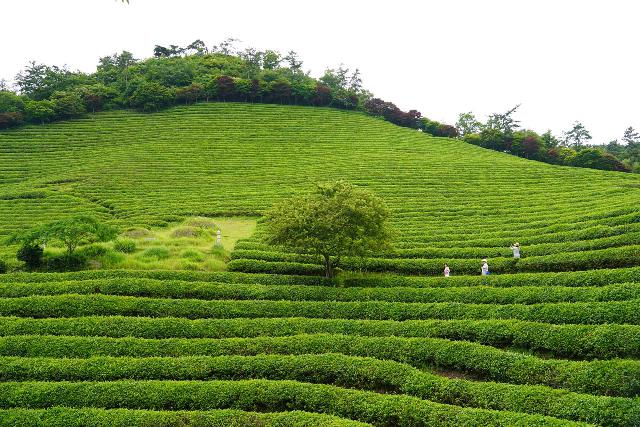 Boseon Tea Plantation – this place gave me some of those same vibes as the famous rice terraces in Bali, but in this case, we're talking about growing green tea, which as you can see, also take on the form of terraces on steep hillsides in the south of the Korean Peninsula. It was definitely worth it to check this place out, especially since the southern part of Korean wasn't that heavily touristed.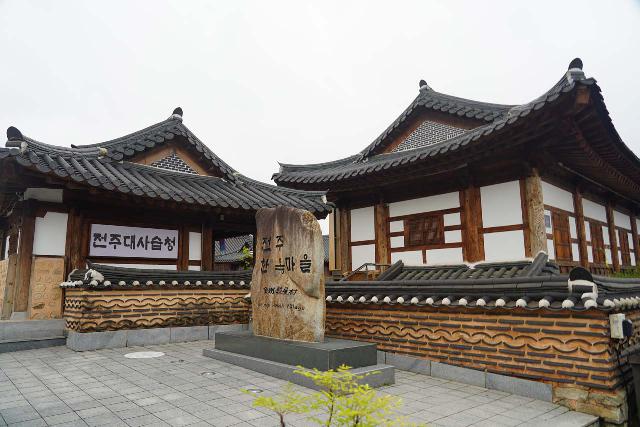 Jeonju Hanok Maeul [Folk Village] – this folk village was a little more touristy, but it was definitely pretty impressive due to its size as well as its charm given the plethora of traditional-style buildings and residences. We even spent a night here, and we were glad to have done that so we could experience a little quieter ambience when the tour buses leave…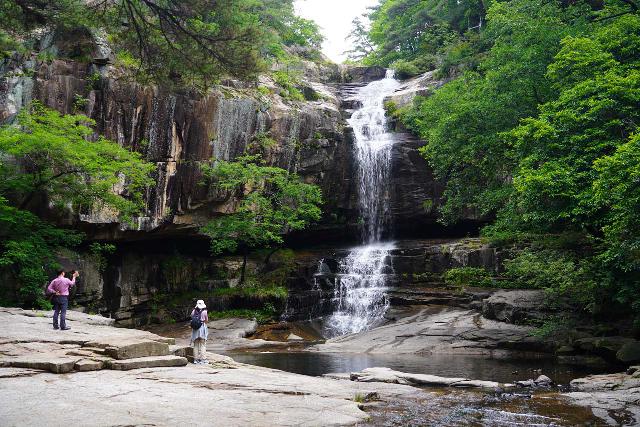 Suok Falls – this was the last waterfall that we visited on the Korean Peninsula, and we had almost skipped it because it was quite out of the way. Nevertheless, as you can see above, we were glad to have visited this easy waterfall, and we even got to experience both its sides before chilling out at a cafe. Apparently, this place featured in quite a few K-dramas and movies, and we could totally see why they chose this spot as a filming location.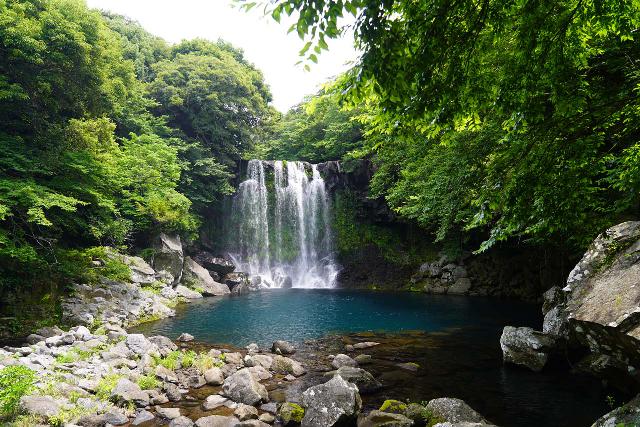 Cheonjeyeon Falls – with this waterfall excursion, you're really talking about three waterfalls in one (though that first one only flows during or right after heavy rain). Moreover, the blue colors of the water also add to the appeal of this place, and even the name of the falls is said to mean "Pool of God", which is saying something. This falls can be very conveniently accessed from the Jungwon Tourist Complex on Jeju Island's south.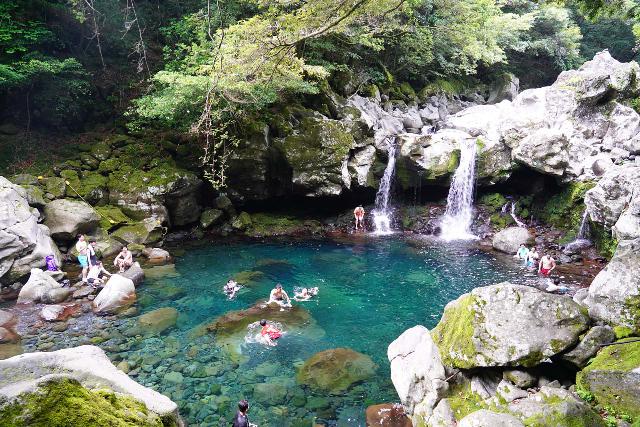 Wonang Falls – most waterfalls are primarily look but don't touch, and in this case, we're talking about one that actually lets you swim in its refreshingly cold waters. The plunge pool of this segmented waterfall even has clear blue water to boot. Of course, when it's raining, you'll probably want to steer clear of the river, but when it's calm like it was on my visit, it's hard to turn down going into its waters!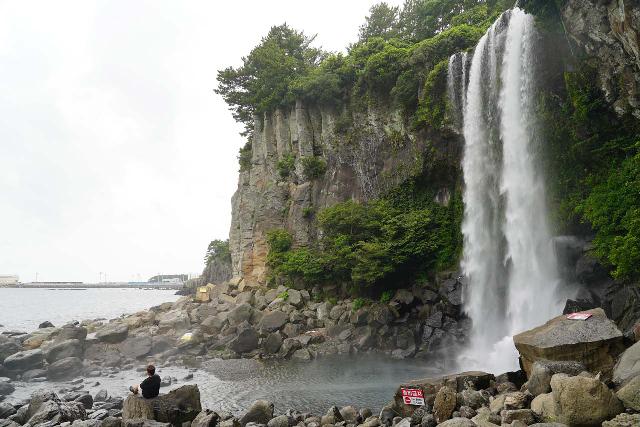 Jeongbang Falls – this south-facing seaside waterfall is perhaps the most famous waterfall in Korea let alone Jeju Island. Indeed, even before we started considering Korea as a destination, we already knew about this waterfall from the socials. So did it live up to the hype? I'd say yes as you can see above, but it also had some monuments here as well as a museum dedicated to China's first emperor who commissioned a trip to this part of Korea in search of an elixir of eternal life (kind of like the Holy Grail).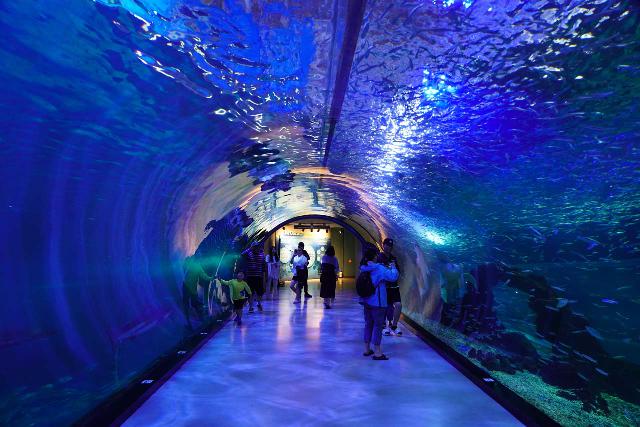 Aqua Planet – when the weather in southern Jeju Island was foul, we retreated to the far east of the island to this impressive acquarium full of exotic tropical fish and other wildlife. They even had a dive show (with Russian divers), which was probably the highlight of our visit.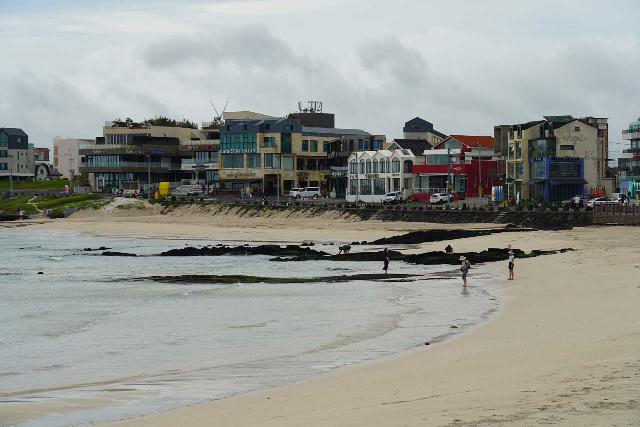 Woljeong Beach – one thing we found out too little too late was that the beaches along the north side of Jeju Island was where it was at in terms of beaches, better weather, and atmosphere. This beach was actually on the more subdued side, but it did have off-shore windmills as well as colorful buildings and businesses backing this long stretch of sand.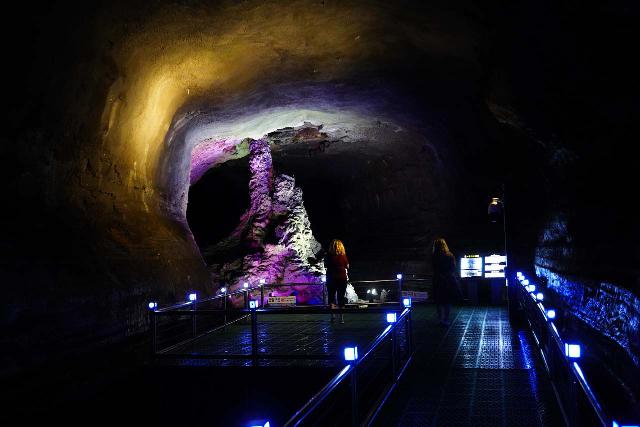 Manjanggul Cave – this was actually a long lava tube that was hollowed out, and the trail let us go all the way to a lava column that now became like stalagmites. Perhaps the one thing we appreciated most about our visit here (near Woljeong Beach) was its cool temperatures to offset the stifling humidity on the surface!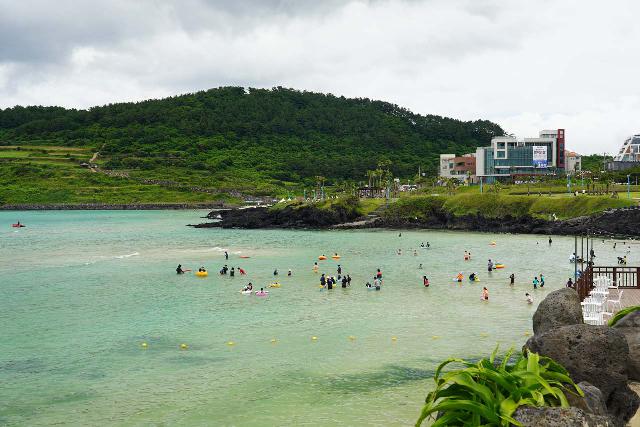 Hamdeok Beach – of all the beaches that we went to on Jeju Island, this one was by far the most atmospheric with soft sand against turquoise blue waters, and it even featured some sandbars that go pretty far out. Backing all this beach action were businesses lined right up so a refreshment or meal was never far away.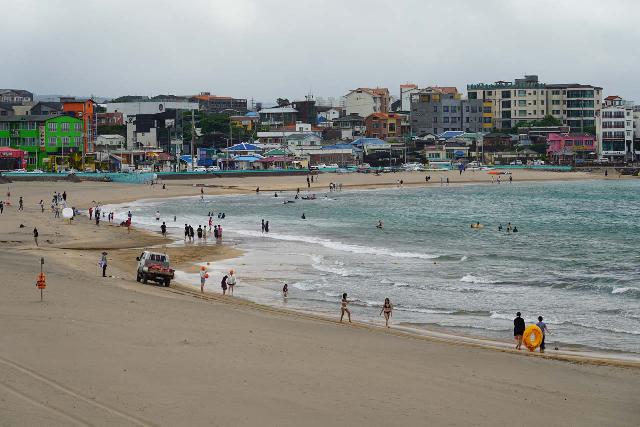 Iho Tewoo Beach – this beach featured a crescent sandy beach backed by some beach houses and buildings on one side, but the other side featured a shipping channel with two lighthouses both shaped like a horse (one red and one white). It was our last sightseeing stop in Korea, and we definitely savored it before retreating to the hotel for one last evening in Korea.
Trip Advice
Our Korea trip definitely challenged us in terms of having to adapt to a lot of things that were unfamiliar to us, especially regarding the language barrier and willing to do things on our own that were well off where most of the foreign tourists concentrate on (i.e. Seoul, Jeju, Busan, and maybe Jeonju). Here are some of the things we learned that might be useful to know…
Climate Change: In most of the Korean Peninsula, they get pop-up thunderstorms that can be total downpours with lots of lightning in the afternoon. The intensity of these storms could very well have been exacerbated by Global Warming. As for Jeju Island, we heard on the radio that the monsoon came early, and that meant persistent flooding rains, especially in the south side of Jeju Island (apparently, the monsoon was supposed to be in July, but we experienced it in the last week of June). I think this has to do with more water vapor in the air as well as more heat energy in the atmosphere as ice caps and glaciers continue to melt and expose darker oceans (the ice would have reflected some of that energy back to space).
Aggressive Drivers While in most parts of the world, people tend to be aggressive drivers in general, it seemed like in Korea, people are more direct with their impatience. I know in Busan and in Jeju, there were a couple of incidents where some drivers couldn't tolerate us having to do a lane merging or looking for a parking spot, respectively. The best defense against this is to always drive defensively and not engage and escalate any confrontations. After all, driving in Korea in general isn't easy, but you don't have to make it any harder than it already is.
GoogleMaps and Korea: If you're from the USA like we are, routing apps that we're familiar with like GoogleMaps will not provide turn by turn directions. In order to do that, you need to use Kakao Map or Naver. I opted to use Kakao, which is nice in that it's easy to register, it tells you speed camera locations, current speed, school zones, and more. The catch is that you need to add the Korean language to your phone so you can look up placenames in Hangeul. Trying to do the same thing with Romanizations of placenames isn't nearly as effective (actually it's probably less than 5% success rate doing that whereas with Hangeul, it's probably over 95% chance that your desired routing waypoints will be found). To that end, it was also a good idea to pre-save routing waypoints in Kakao Map BEFORE the trip for places like hotels and for specific destinations you know you're going to be driving to. It's a lot easier to prepare when you're at home as opposed to doing it while in the foreign country as time becomes very precious!
Surveillance Cameras: One thing we learned about in Korea is that cameras are everywhere! That means no Nature calls in the bush because there's a good chance you'll be on camera doing your business. Actually, there are toilet facilities situated in a lot of places on the trails so make use of them and resist the urge to Nature call. The same goes for things like littering or other activities that you think you can get away with when no one is watching.
Internet Connectivity: To that end, the internet connectivity in Korea is second to none! We had cell reception even in a lot of remote areas, especially at temples in the mountains. We think this is related to all the CCTV cameras everywhere, and the only way to have such cameras in remote places is to have a lot of connectivity to move all that data around without introducing more wires than needed.
Korean War Technically Did Not End: In case you're wondering why GoogleMaps doesn't work and why there's CCTV surveillance everywhere, maybe it's because North and South Korea never formally acknowledged the end of the Korean War via treaty or truce. So it seems like the two sides are always on guard though the South definitely opened up a lot more where the North definitely keeps to itself (except for the few allies that they have).
Toll Roads: Almost all the toll roads that we encountered were cash only, especially since they don't accept foreign credit cards (at least that was our experience). While an ETC would have been great for us, our rental didn't include it so we had to make do with lots of cash. Fortunately, the toll amounts were very cheap compared to say Japan (where there was another order of magnitude difference). Only in a couple of instances (where apparently foreign drivers don't normally go) that we had to use the service call button to go through unmanned toll stations.
Cash Expenses: The exchange rate was actually in our favor as it was about 1300 won per US dollar during our June 2023 visit. So indeed, most goods and services bought in Korea turned out to be quite cheap compared to what we had been used to. Only in well-touristed spots, especially in Seoul and perhaps Jeju Island were costs more in line with Westernized prices.
Language Barrier: There was definitely a language barrier while traveling around Korea, and as expected, English is not well-spoken outside of the well-touristed areas. Even in the touristed areas, it's not the norm to expect Koreans to speak English well. The best defense against this is to make an attempt at learning the language seriously (Duolingo doesn't help btw), and try to prepare your GoogleTranslate on a phone that will use a Korean SIM card (unless you have an international roaming plan). GoogleTranslate has Google Lens (for translating signs and menus in real-time) and a microphone feature (to translate something you're saying when you speak into the app). Take advantage of Korea's excellent internet connectivity to help with this necessary function!
Travel Adapter: One thing we really messed up on was not bringing Korea-specific travel adapters. Unlike most of Asia (e.g. Taiwan and Japan), Korea uses the European-style rounded plugs as opposed to the American style flat vertical ones. So we found ourselves looking around for twaeji-ko (pig's nose) or else risk not charging anything (e.g. laptop), and it was only at shops like Daiso that we found the foreign ones we were looking for (since Korea does get Japanese visitors, and the unprepared would be in a similar predicament)!
Travel Itinerary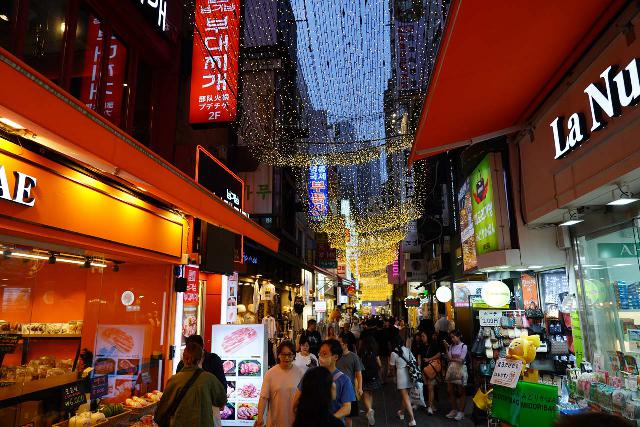 Days 0-2: Red-eye flight to Seoul from Los Angeles
This was a long travel day where we flew from LAX to Seoul by a connection in Taoyuan International Airport in Taiwan. We then strategically rented a car at the Gimpo Airport in Seoul so we could drop it off here at the end of the Korean Peninsula part of the trip (to go to Jeju Island), but that involved taking a train from Incheon Airport to Gimpo Airport. Then, we had to drive to the Lotte City Hotel in downtown Seoul, and it was pretty late at night (after 10pm) when all was said and done…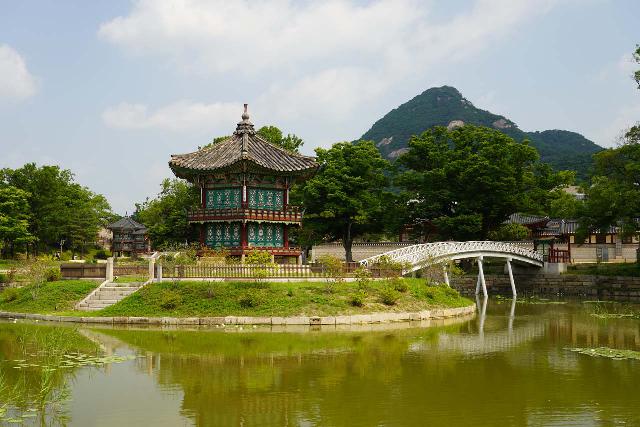 Day 3: Seoul
This was a day where we spent the better part of the morning at the Gyeongbokgung Palace (by way of the Gwanghwamun Square), then we spent the afternoon checking out the Bukchon Folk Village. By the time it was evening, we checked out the high energy ambience of Myeongdong Night Market. Indeed, this was pretty much a quintessential Seoul touristy day.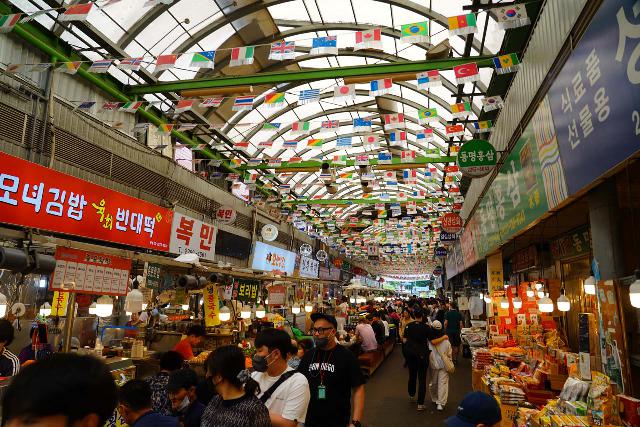 Day 4: Seoul
On this day, we did another day tour of Seoul, but this time we targeted the Changdeokgung Palace in the morning before going out of the way for the Kwangjang or Gwanghang Market for a late lunch. Finally, we checked out the national museum at Gyeongbokgung Palace (forgetting to do it yesterday) before walking the Gwanghwamun Square on the way back to Myeongdong. We also had one more go at the Myeongdong Night Market.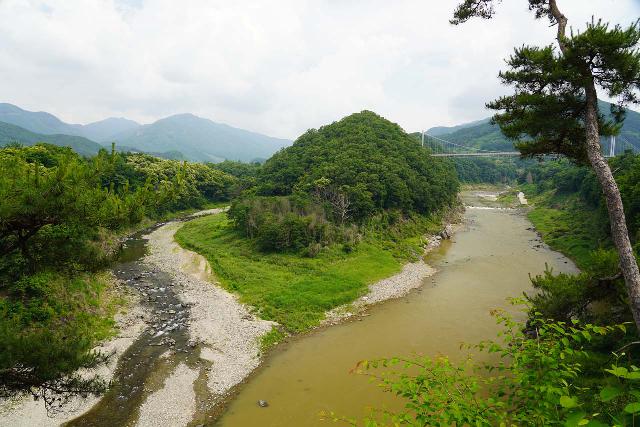 Day 5: Divide-and-Conquer – Day Trip to Waterfalls or City Touring
On this day, we pretty much did a divide-and-conquer, where I solo'd my way to four waterfalls north of Seoul while Julie and Tahia stayed behind in Seoul itself to do some city touring that we didn't get to do so far over the past couple of days. The waterfalls that I hit were the Sambuyeon Falls, Jiktang Falls, Bidulginang Falls, and Jaein Falls.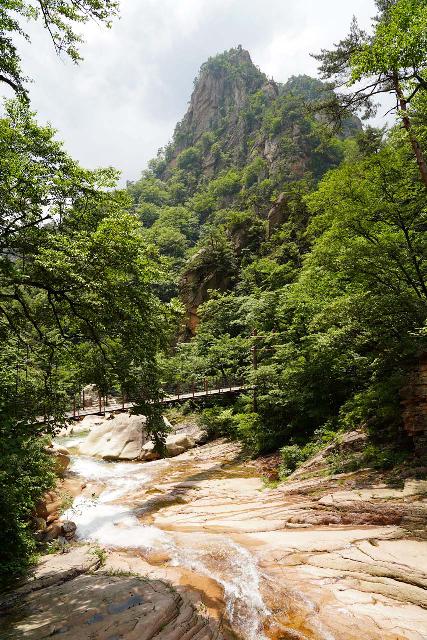 Day 6: Drive from Seoul to Gangneung
Overnight: St John's Hotel (Gangneung, South Korea)
This was a long driving day as we finally left Seoul and started exploring the rest of South Korea. The main destination was the beach town of Gangneung, but along the way, we stopped by the Gugok Falls and Yongso Falls. After settling into Gangneung, I made a late afternoon hike into Odaesan National Park to pursue the Guryong Falls.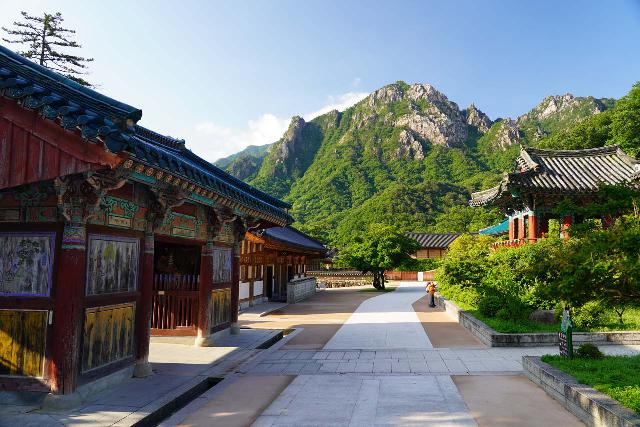 Day 7: Seoraksan National Park and Gangmun Beach
Overnight: St John's Hotel (Gangneung, South Korea)
With the dramatic improvement in the weather in the morning, I got an early start and did the big hike in Seoraksan National Park that went up to the lookout for Towangseong Falls. Then, in the afternoon, I returned to Gangneung where we chilled out at Gangwon Beach and just had a laid back late afternoon in Gangneung.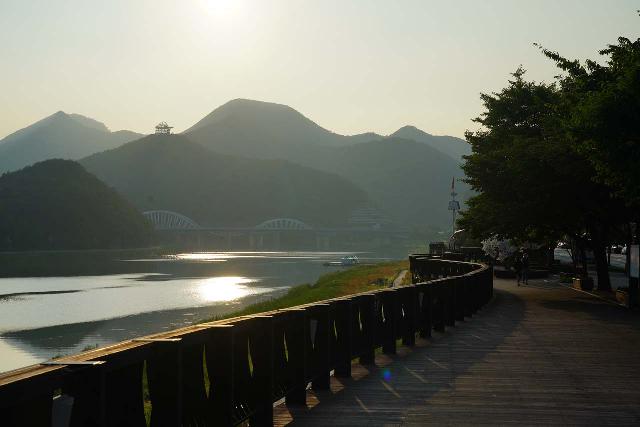 Day 8: Drive from Gangneung to Danyang
On this day, we did a long winding mountain drive continuing south from Gangneung and eventually winding up in Danyang. Along the way, we made two waterfalling stops – Miin Falls and Huibang Falls. We also spent some time at a farmer's market in Taebaek as well as a nice post dinner afternoon stroll in Danyang.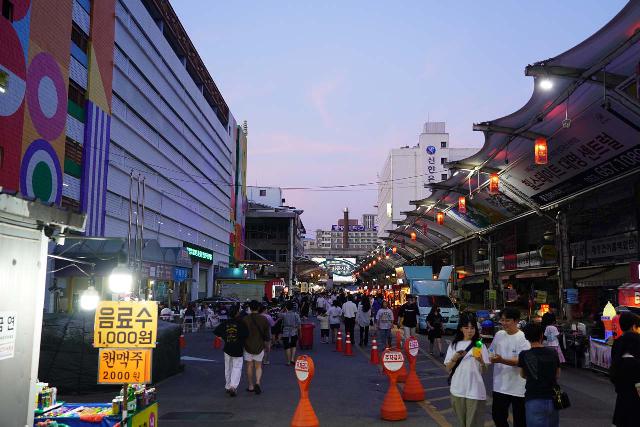 Day 9: Drive from Danyang to Daegu
Overnight: Hanok 1957 (Daegu, South Korea)
This was another long driving day, but we started off with a morning visit to Guinsa Temple (really more of a religious retreat village than a single temple). Then, we spent the better part of the day visiting the Hahoe Hanok Maeul before settling in on Daegu, where we tried out the street foods at the Seomun Market.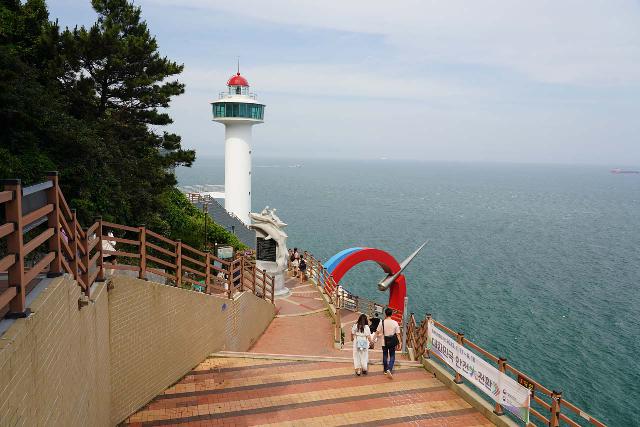 Day 10: Day trip in Busan
Overnight: Hanok 1957 (Daegu, South Korea)
On this day, it was pretty much devoted to spending the whole day in Busan as a day trip before coming back to Daegu at night. While in Busan, we did the Haedong Yonggungsa Temple and the Gamcheon Culture Village. The afternoon was spent in Taejongdae Resort Park while also having a dinner there.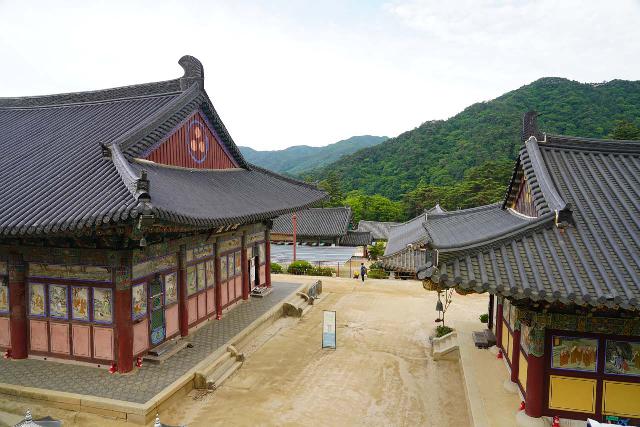 Overnight: Hanok 1957 (Daegu, South Korea)
On this day, we started off with a morning visit to the Haeinsa Temple before driving in the opposite direction towards the hidden Paraeso Falls. When we returned to Daegu, we spent the evening strolling about the Dongseong Shopping Street.
Day 12: Drive from Daegu to Jinju
This was another driving day as we made our way out to Surak Falls before checking out Buril Falls and the Ssangyesa Temple (and accidentally stumbling upon the famous Hwagae Market). Then, once we settled in Jinju, we spent the better part of the late afternoon checking out the Jinjuseong Fortress.
Day 13: Drive from Jinju to Suncheon
On this day, we visited the sights of the southern end of the Korean Peninsula starting with the Naganeup Hanok Maeul, then the Boseon Tea Plantation before visiting the Suncheon Wetland when it was too early to check in (and it was raining). Then, we settled in Suncheon.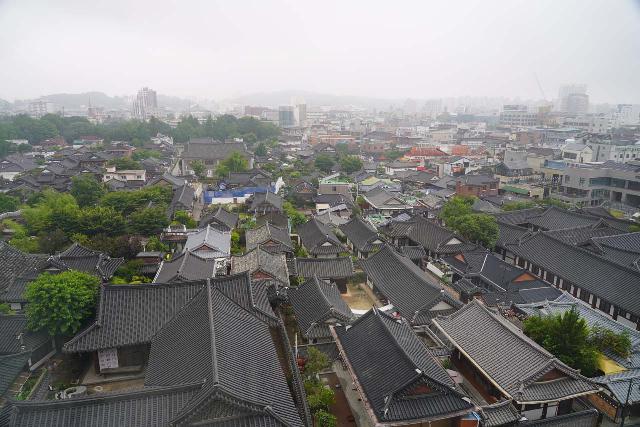 Day 14: Drive from Suncheon to Jeonju
With an early start, we drove all the way out to visit Jikso Falls (and stumbling upon Seongye Falls) before spending the rest of the day in the Jeonju Hanok Maeul.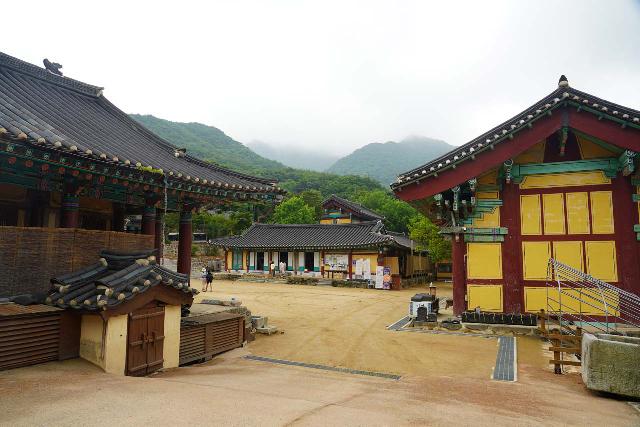 Day 15: Drive from Jeonju to Daejeon
We started off this day by driving to the Wibong Falls and the Wibongsa Temple before going to the Yongmun Falls with Gapsa Temple. Finally, we went out of the way to visit the Suok Falls before finally settling in on Daejeon in the early evening.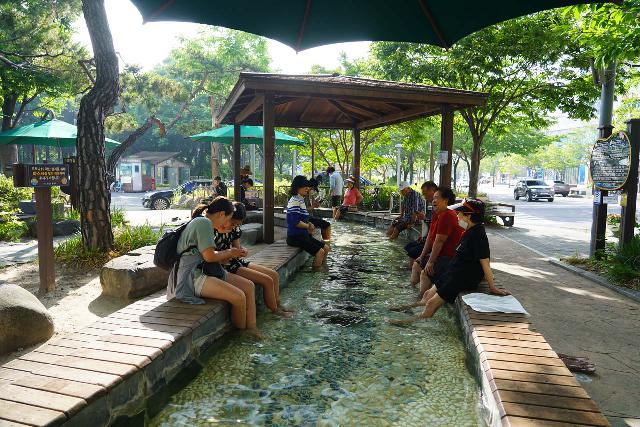 Day 16: Drive from Daejeon to Gimpo
This was a light touring day that started off with a drive into the city center of Daejeon to soak our feet in a hot public foot bath. Then, we drove all the way to Gimpo Airport to return the rental car and then spend the rest of the day checking out the Myeongdong District of Seoul one last time before returning to Gimpo Airport to wait out the rest of our time on the peninsula in anticipation for tomorrow morning's flight.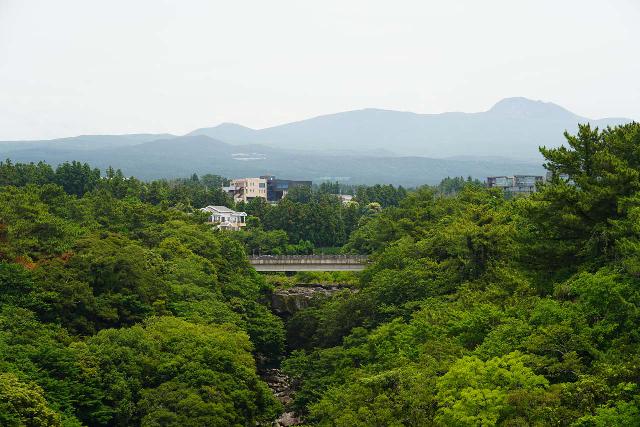 Day 17: Fly to Jeju Island, then drive from Jeju-si to Seogwipo
We started this day by flying from Gimpo Airport to Jeju Island, then we picked up the rental car in the late morning before driving to the south of the island. Once down there, we visited Cheonjeyeon Falls, Wonang Falls, Jeongbang Falls, and Sojeongbang Falls.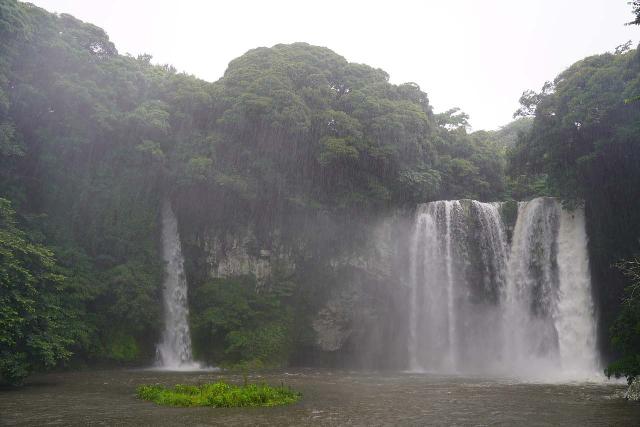 Day 18: Eastern and Southern Jeju Island
Knowing that today was going to be a bad weather day, we spent the morning visiting Aqua Planet (Jeju's impressive aquarium), and then we visited Cheonjiyeon Falls before visiting Eongtto Falls, and finally touring what might have been at the Lotte Hotel Jeju in Jungwon Tourist Complex.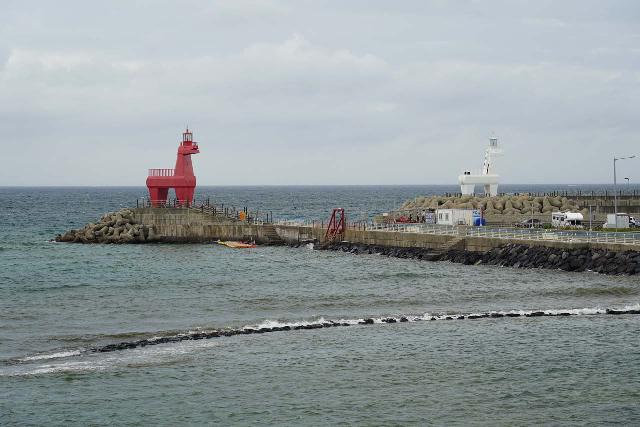 Day 19: Drive from Seogwipo to Jeju-si
Overnight: Grand Hyatt Jeju (Jeju-si, South Korea)
On this day, we escaped most of the bad weather in the southern part of Jeju Island and enjoyed the beaches and sights of the northern part of the island. Basically, we started with a visit to Woljeong Beach, then the Manjanggul Cave, then Hamdeok Beach, then Iho Tewoo Beach, and finally living it up at our accommodation in Jeju-si.
Day 20: Fly from Jeju Island to Taiwan
This was a travel day where we returned the rental car, then flew from Jeju Island to the Taoyuan International Airport, and then we caught a bus to get all the way to the city center of Taipei, thereby ending the Korean leg of our big Asian Summer Trip of 2023.
Best Places We've Stayed At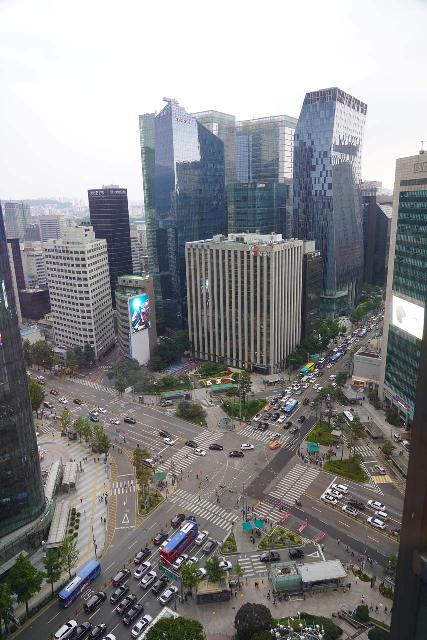 Lotte City Hotel Myeongdong, Seoul– This wasn't the cheapest place and we spent 4 nights here (so it represented a big chunk of the Korean part of our trip expenses), but you can't beat the location and you can't beat the amenities. We had a very comfortable stay here (something we'd come to appreciate as the trip progressed) and its central location was perfect for the sightseeing we wanted to do in the city.
Case in point, we were able to walk to the Gyeongbokgung Palace via the Gwanghwamun Square, to the Changdeokgung Palace, the Bukchon Hanok Maeul, and enjoying the evening ambience of Myeongdong Night Market. We were also readily able to take a taxi to and from the Gwangjang Market.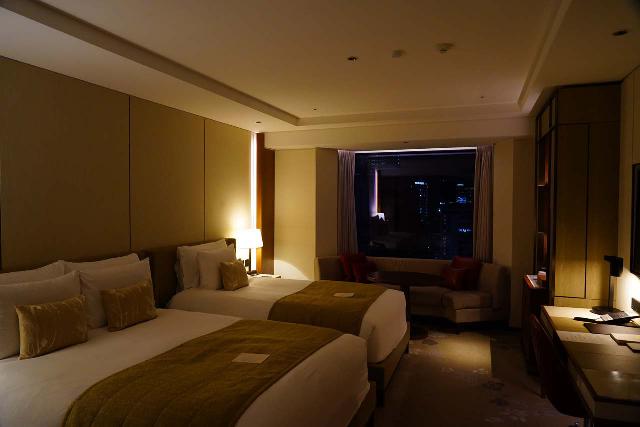 Indeed, there's so much to do in Seoul, and this was the perfect base to make that happen. And, oh yeah, parking was free during the whole time we were staying here, which allowed me to go on a day trip to chase waterfalls and then come back to Seoul without parking worries!
On top of its awesome location right across the Esplanade from the beach, it was also spacious and well-stocked with two bedrooms, two bathrooms, a full kitchen, and a spacious living room with an impressive balcony with a nice view towards the beach.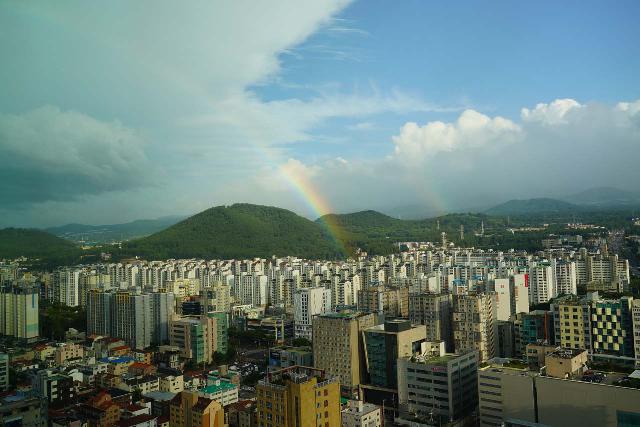 Grand Hyatt Jeju– As far as luxury accommodations are concerned, none surpassed that of the Grand Hyatt in Jeju Island, where our room had a floor-to-ceiling view and comfortable beds (something we really appreciated after having slept on the floor of traditional joints or in basic accommodations throughout Korea).
The hotel itself also had quite an extensive shopping mall (as well as a casino that we didn't bother with), but I admit that we really didn't take advantage of the central location in the city since we only had one night here and it happened to be raining when we were ready to explore.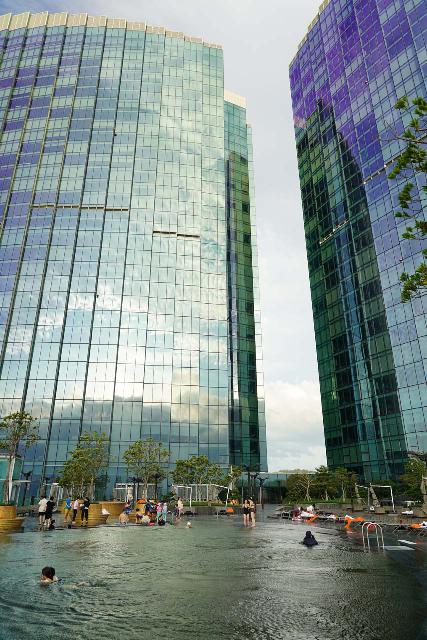 That said, I think the best part of this hotel was its rooftop swimming pool, which was watched over by the remainder of the hotel's skyscraper high-rises on one side while offering views over the city towards the sea as well as the airport on the other side.
Indeed, it was quite the happening scene up there, and my regret was not spending more time up at this pool instead of the indoor pool down below.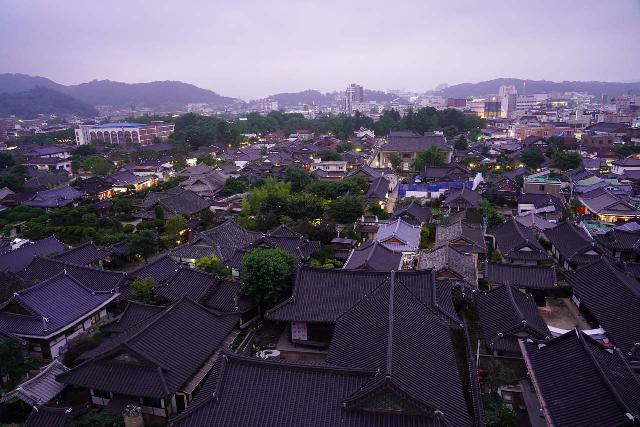 Lahan Hotel Jeonju– I do have to mention that we also had a nice stay in Jeonju Hanok Maeul (Jeonju Folk Village) at this hotel, which also yielded a view over the folk village itself right from our room.
I think that view along with its location (we could just explore the folk village on our own by going downstairs) was what really made this place stand out to us (though the comfy beds also didn't hurt).
Trip Reports
Waterfalls included in this itinerary
Visitor Comments:
Got something you'd like to share or say to keep the conversation going? Feel free to leave a comment below...
No users have replied to the content on this page