Even though this is a waterfalls website, we recognize that there are many highlights in the American Southwest (both involving and not involving waterfalls).
So we've come up with this page to pay homage to some of the highlights that we think are worth mentioning as you try to figure out what to see and do in your own trip plans.
While I recognize that this list is by no means exhaustive and that it is highly subjective, at least you have an idea of what we loved about the American Southwest Region. By the way, we're defining this region to encompass the states of Arizona, Utah, New Mexico, Colorado, and Nevada.
So without further adieu, here are the highlights in no particular order…
Arches National Park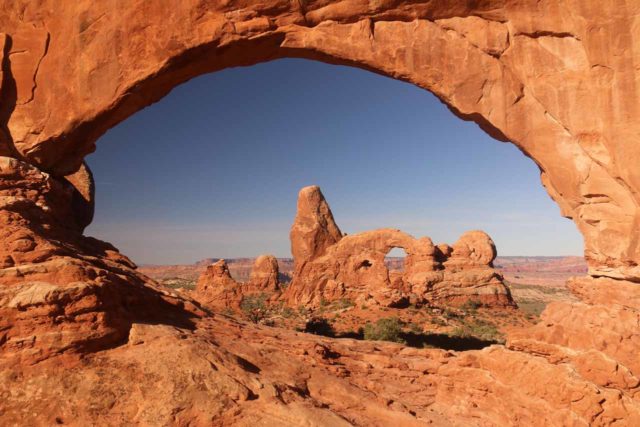 This spectacular wonderland of nature's sandstone sculptures contains the highest concentration of natural arches in the country.
Its tremendous gallery of natural arches include Delicate Arch (Utah's state symbol), Landscape Arch, Turret Arch, Double-O Arch, Double Arch, Tower Arch, and countless others both named and unnamed.
There are also interesting rock formations like the Three Penguins, the Three Gossips, Park Avenue, and Balanced Rock.
Conveniently located near the slickrock mountain biking playgrounds of Moab, many of the arches are easily reachable.
Canyonlands National Park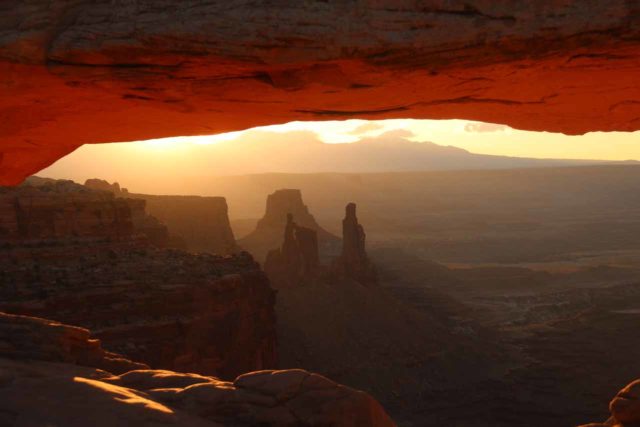 This Grand Canyon-like region is home to some of the most remote and hard-to-reach parts of the United States. Thus, this national park offers the most unspoiled and untouched desert scenery anywhere.
Many such places require a good deal of self sufficiency, but the rewards are more arches, slot canyons, sandstone formations, and true solitude.
If you're not up for spending several days in the rugged backcountry either backpacking or in a four-wheel drive, there are attractions reachable in day hikes as well as roadside attractions such as Mesa Arch (pictured here).
Dead Horse Point State Park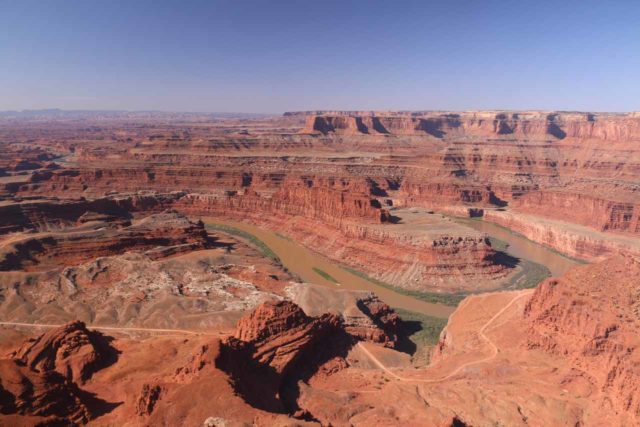 This spectacular peninsular overlook of the legendary Colorado River got its name from the mass deaths of wild horses who were chased towards this dead-end and left in the corrals here to starve when they weren't selected for use by cowboys.
It's a worthwhile stop especially if you're visiting the Island in the Sky District of Canyonlands National Park.
Grand Canyon National Park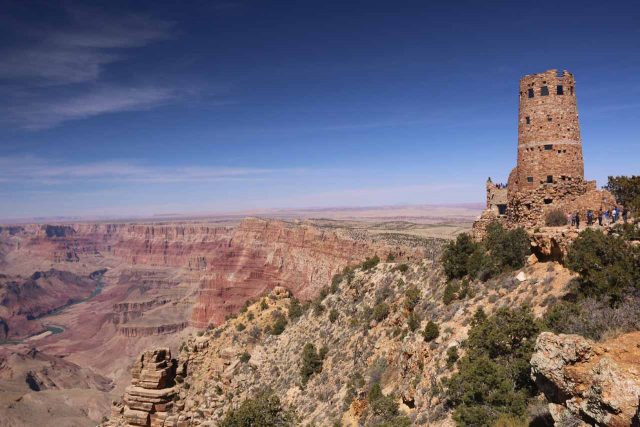 This world wonder attracts millions of visitors each year as they seek to witness the handiwork resulting from millions of years of geologic forces along with the cutting of the layers of rocks by the Colorado River.
You can see the canyon from the South Rim as well as the less crowded North Rim.
The hardier visitors opt for a multi-day trek into the interior of the canyon. Meanwhile, fortunate visitors with the money and patience to sit for years on a wait list can join a Colorado River tour and see the canyon the way John Wesley Powell did.
Bryce Canyon National Park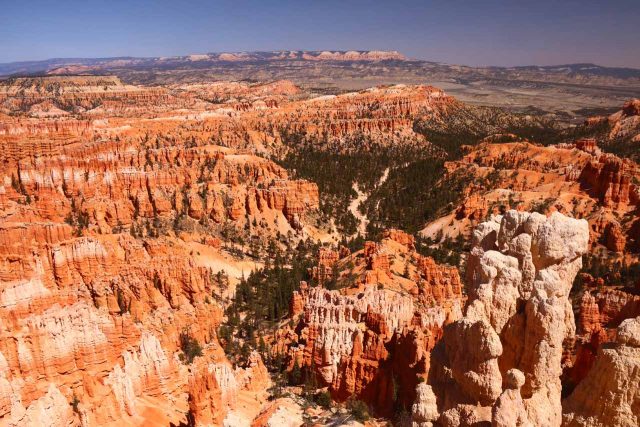 This park is known for its striking hoodoo formations, which the Paiute Indians believed were legend people turned to stone for misdeeds.
You'll see hordes of these pinnacles standing together like a crowd of people, which inspired names such as the "Silent City."
Upon a hike into the amphitheaters and amongst these hoodoos, your imagination will run wild as you might think you're seeing familiar-looking objects in these spires.
Such formations include Thor's Hammer, the Fairyland Castle, the Tower Bridge of London, and even Queen Victoria herself!
Zion National Park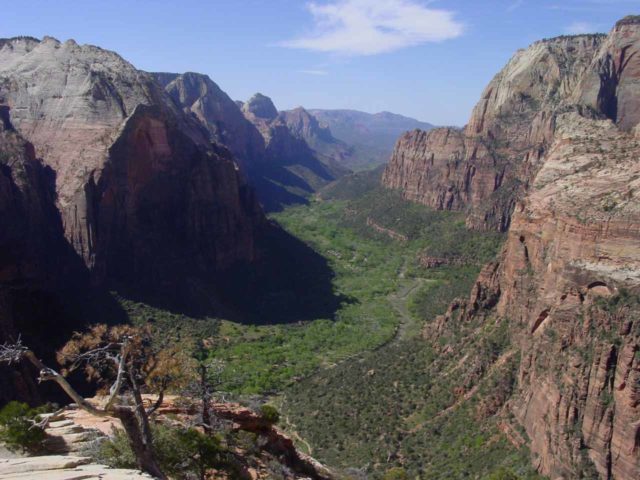 Anchored by Zion Canyon, this national park is a favorite among Southern Utah visitors as it features towering sandstone cliffs, slot canyons, natural arches, waterfalls, and a world famous adventure undertaken by hiking IN the Virgin River within the Zion Narrows.
Outside Zion Canyon, there are also attractions in the Kolob area of the park as well as the Kolob Terrace sections, which includes the Subway.
While in Zion Canyon, you can go on one of the strenuous hikes up to the canyon rim to get the sense you're on top of the world while getting incredible birds eye views of the panorama around you. Perhaps the best known of the hikes we did for such a view was Angel's Landing.
Alternatively, you can remain in the canyon and get a stiff neck looking up at the features around you while taking on several of the easy walks between the river and the cliffs.
Monument Valley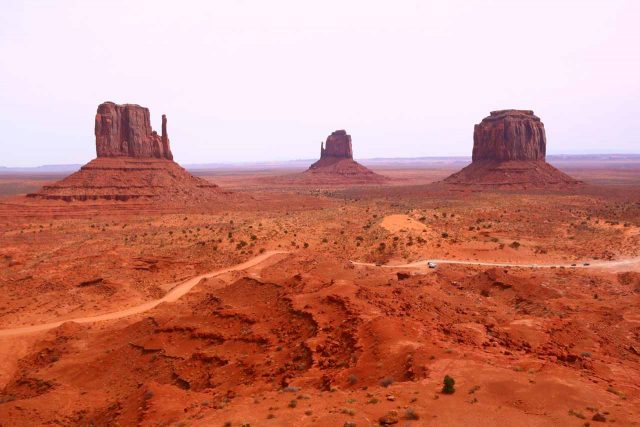 This area on the eastern Utah/Arizona border conjures images of Wild West cowboy movies and the frontier spirit of the early United States.
However, Navajo Indians who still inhabit the area have co-existed harmoniously with the rhythms of the land and are eager to take you on a tour to glimpse the culture, traditions, and their ways of interacting with the land for hundreds of years.
The timeless sandstone buttes and natural arches beckon those who want to experience this ruggedly beautiful landscape.
Natural Bridges National Monument
Antelop Canyon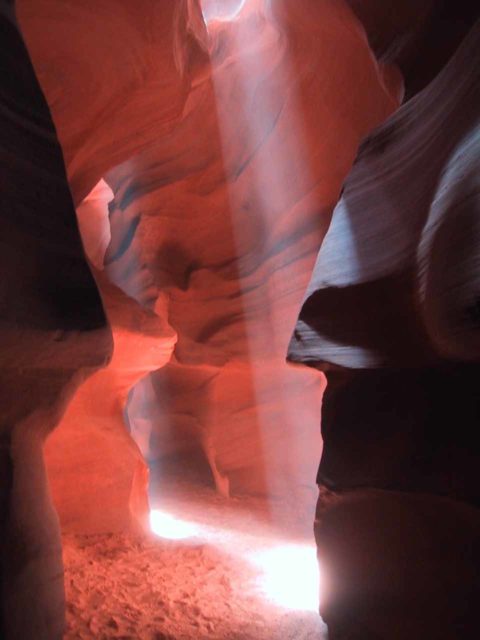 This spectacular pair of slot canyons near Page, AZ are immensely popular as they give visitors easy access to some of the most spectacular slot canyon scenery in the world.
Upper Antelope Canyon features cave-like darkness penetrated by sun beams providing an almost cathedral-like feel to the scene.
The twistier and more rugged Lower Antelope Canyon forces you to use ladders and stairways to enter its eerie and narrow flash-flood-carved depths. Often you'll have to contort your body as you squeeze your way between some of its narrow regions.
Over the years, we've seen dramatic changes in the way tourism is administered here. It's now even more popular, the lower canyon now requires a one-way upstream hike by guided tour, and the prices have jumped dramatically from the $14 per person we paid to do the canyon by ourselves to the minimum of $48 per person range (as of 2018).
Hole-in-the-Rock Road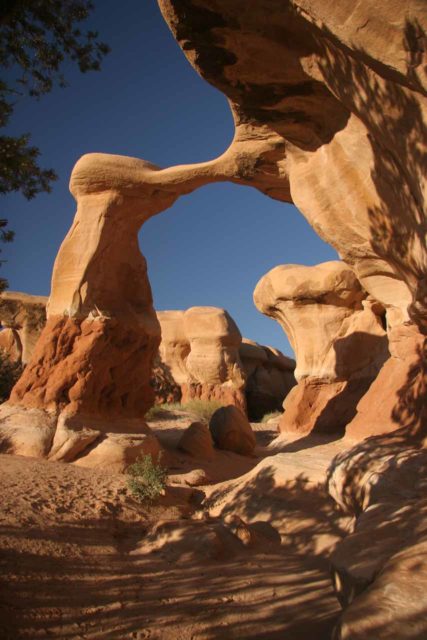 This former Mormon wagon path traverses through the heart of the Grand Staircase National Monument en route to the northern shores of Lake Powell at the Hole-in-the-Rock site.
Along this 60-mile unpaved route, you'll find numerous historic sites, slot canyons, and arches.
While many of the sites here require some degree of self sufficiency and care due to its undeveloped nature, it's a great way to truly experience the rugged deserts of Southern Utah while rewarding you with unforgettable adventures away from the tour bus crowd.
Among some of the featured attractions found in a Hole-in-the-Rock Adventure are the Devil's Garden, Coyote Gulch, and Broken Bow Arch.
Sedona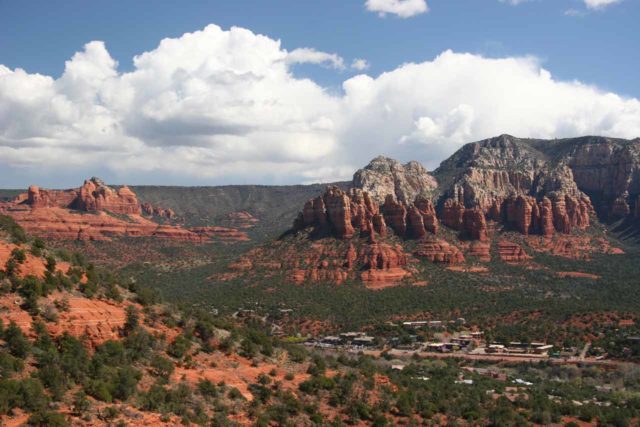 In my mind, this is Arizona's answer to Southern Utah's Zion National Park.
It's actually a strange mix of suburbian development surrounded by scenic red rocks that could've easily been a National Park on its own.
There's plenty of activities to do (not all of them nature related) such as shopping, golfing, helicopter touring, etc.
But even if artificial pleasures aren't your cup of tea, there are hikes and scenic driving opportunities here such as several natural arches and bridges reachable by hiking trail.
Waterfalls
Waterfall Pages
Visitor Comments:
No users have replied to the content on this page