Day 2: HOODOOS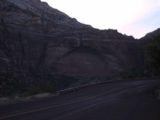 With some minor protest from our party, we all got up and checked out of the Bumbleberry around 7am. It was pretty quiet in the park, and we pretty much uneventfully drove up the switchbacks up towards the Zion-Mt Carmel tunnel, which was an interesting tunnel consisting of some openings that allowed us to glimpse the Pine Creek Canyon in bits and pieces contrasting the darkness.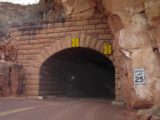 Outside the tunnel, we were then amongst some different scenery where instead of red sandstone cliffs, we were now seeing more beehive-like formations. Perhaps the most dramatic of these formations was the so-called Checkerboard Mesa, which had a pretty nice morning glow on it.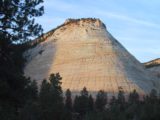 The rest of the drive was pretty much a bunch of rural roads as we left the east entrance of Zion, then eventually connected with the US89. We then headed north on the 89, which passed through a bunch of small towns (that really could be thought of as speed traps given the high difference in speeds).
When the 89 junctioned with the 12, we then headed east on the UT12. The scenery started changing from rural lands into some interesting red rocks. In fact, we passed through Red Rock Canyon, which was scenic though we didn't spend time to stop as we were committed to go to Bryce Canyon for the morning.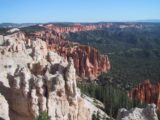 Eventually we got into Bryce Canyon after 9am where the heat of the day started to assert itself even though we were in fairly high altitude. With the heat, there were annoying gnats swarming about us in which some of them might have been biting (leaving itchy welts). We never experienced biting insects like this before, and we were wondering if they were the deer flies that we had heard about.
In any case, we enjoyed the views of the many hoodoos (the pinnacle-like spires in Bryce Canyon), and we were starting to understand why earlier settlers thought of these hoodoos as mythical people.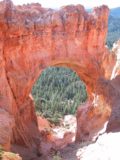 We took the road all the way to its end where the hoodoos seemed to be less concentrated than the amphitheaters closer to the northern end of the park. So we didn't linger down here for too long though according to the signs, we were supposed to see pretty far south (even into the Grand Canyon?) from there.
We also noticed an attractive arch, which was labeled as a Natural Bridge.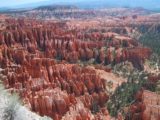 As we made another round of checking out the viewpoints, we started to get a little fatigued of hoodoos as the viewpoints started to blend in after a while. I guess with the grandeur of the scenes before us, it was real easy to lose the sense of perspective. Had we had a little more time here, perhaps we should've allocated some time to go hiking amongst these hoodoos to better apprecate the more subtle beauty that were hidden in the depths of these amphitheaters.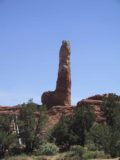 Next, as we were leaving the main part of Bryce Canyon, we then headed out towards Tropic. When we went past that town, we then entered Canonville. That was when we headed a little south and entered Kodachrome Basin State Park. Here, there were some rather interesting (and phallic) formations that were believed to be remnants of what was once a geyser basin.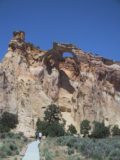 Immediately after checking out Kodachrome, we then drove further south onto an unpaved road as we knew there was an arch called Grosvenor Arch that was hidden amongst the desolation of the lands south of town.
The drive was a little bit washboardy but it wasn't anything the Isuzu Trooper we rented couldn't handle. However, the drive itself was around 12 miles of unpaved roads, and since we weren't that accustomed to driving such roads, it was a little slow going.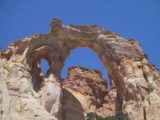 But at around 1pm, we finally got to the attractive arch which someone reminded us of a royal crown. There were some picnic tables here, but given the heat of the day and the pesky gnats (or deerflies?), we took our photos and then left.
So we drove back up the unpaved road back to Canonville, then we drove east on the UT12 towards the town of Escalante. There were some pretty funky sandstone cliffs and formations that we had never seen before. But we were pretty much of the mindset to get into Escalante so we could get settled given our early start.
At around 4pm, we finally checked into the town of Escalante. We stayed at a B&B so we were actually in a residential neighborhood. We stayed downstairs in this B&B, which was more like someone's home. So it had more of a homey feel. There were also no locks on the doors, which was a little unusual for us, but I guess they're not used to break-ins or crime in these parts, which was a rather refreshing change.
The innkeeper here was very hospitable as she introduced us to her family and dog. All of this hospitality struck us as very warm and friendly. Coming from LA, we weren't used to this, and it seemed like we had found ourselves a pretty nice place to stay that we'd remember for quite some time.
Since we hadn't had much to eat most of the day, we decided to drive into town. Even though it was early afternoon, the town was pretty dead. We did go to this pizza parlor (the only place in town that was open) that made some surprisingly decent pizza. That food really hit the spot, and we were pretty much reliving the event-filled day.
When darkness fell, we were awestruck by the quantity of stars up above us. We spent some time just chilling out in the yard of the B&B as we'd all stare out at the starry night sky amazed that the night sky could be so populated (unusual to us since there was too much glare from city lights back at home). We even noticed shooting stars from time to time.
So all of this added to the feel of what seemed like a rather magical day (and night). We went to sleep knowing that tomorrow there would be yet another early start (with more stuff to do). However in hindsight, we probably could've spent a bit more time here, including the breakfast that we knew we'd be skipping out on.
Visitor Comments:
No users have replied to the content on this page