Day 9 (April 21, 2017 – Las Vegas, Nevada: "Atmospheric Conditions"
It was about 4:50am when I awoke. While both Tahia and Julie were asleep, I had spent some time to get ready for the sunrise at Mesa Arch without waking them. During that time, I looked at the weather forecast given that yesterday evening featured a little storm, but fortunately, the forecast had said that it was all clear today.
So it wasn't until about 5:30am when I was finally leaving. I probably dilly dallied in the room a bit too much when I saw that the GPS predicted that I was going to be at the Mesa Arch Trailhead at 6:35am, which was right about the predicted sunrise time. So I had to speed a little bit in the dark to make sure I could get to the arch in time at sunrise. But at the same time, I had to be really wary for wildlife running across the road.
That said, the drive went by without any issues. I only had to pass one person and I had thought I would be one of the few people (if any) crazy enough to arrive at the Mesa Arch at sunrise just like the last time I did this in late June 2001. But when I rocked up to the trailhead at 6:10am, I was shocked to see that the trailhead parking lot was almost full! Something must be a little off I thought. Surely not this many people would be waking up before the crack of dawn to go see the sunrise at Mesa Arch, right?
Well, after doing the brief hike, I wound up seeing a whole bunch of people pretty much gathered and filling in most of the arch's span's opening. Yep, like many other things I had done in the past, the word was out and now this had become quite the special event, much like the Yosemite Firefall. Gee, is there anything left like this that doesn't involve crowds anymore? I guess this just shows that there are either too many people in this world, or that social media and the web pretty much makes it too easy to find the worthwhile spots, or it could be a combination of both. But whatever it is, this Spring Break Trip was definitely reminding us that travel during Spring Break was certainly almost like Summer in Spring for all those that either have kids or for students, and so perhaps that also exacerbated the forced lemmings effect in terms of travel timing.
Anyways, I would also join the crowd, but it seemed like the photo line was such that it was difficult to squeeze in and take a photo of the entire arch with the Washer Woman Arch and Monster Butte through it as well as the La Sal Mountains in the background all the while getting the sunrise through the arch – and to be able to do this without someone's head or tripod or camera getting in the photo. The photo line was simply too close to the arch for that to happen. So I had to get a little creative about how to take photos.
So I spent some time checking out such alternate vantage points like from an elevated rock behind the photo line as well as a different elevated rock looking down at both the arch and the line of photographers. I guess the latter was more of an amusing shot (of taking people photographing the arch). But at the same time, I knew that that position would also yield the bonus of good color contrast beneath the arch was well as the cliffs in the background. I was mentally thinking that if we ever come back to Moab area, I might consider coming back here in the afternoon just to see what the lighting might look like, especially when I overheard someone in the photo line saying how magical the view was here after the clearig storm yesterday evening.
When the sun finally breached the clouds and the La Sal Mountains in the distance, that was when you could hear the camera clicks as well as the beeps from those cameras with the timer turned on. It almost sounded like what photo shoots might look like when a model was posing for a photographer, and someone in the crowd joking said, "Work it, work it!" Another person noticed someone had flash turned on in his or her camera phone, and said aloud, "You might want to turn off your flash" as probably it might ruin the lighting of someone else's photo let alone ruin their own photo (though if they knew what they were doing, I suppose the fill flash of the shadows might work).
This would persist for the next half-hour or so as the sun continued to rise. I actually relegated myself to taking the photo with my arms almost fully extended above my head in an attempt to avoid the tripods and heads in front of me. It actually worked out to some extent so I'm sure camera shake might be an issue. I was also experimenting with different color settings (i.e. "shade" vs. "daytime" vs. "default" modes) as I had noticed that the redness of the sun-lit cliffs were different depending on how the camera was set up.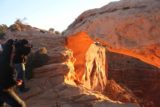 I finally had my fill of this spot as the light was getting harsh by 7:10am. I quickly made my way back to the trailhead, where I decided that perhaps I should head over to the Grand View Point before heading over to the Windows Section of Arches National Park, and do all this before returning to the apartment between 9am and 10am as promised.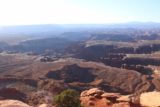 I eventually got to the Grand View Point parking lot at 7:25am, where I was the only person at the lot. But when I rocked up to the Grand View Point itself, I saw that looking in the direction over the cliffs towards the La Sal Mountains was against the sun and didn't work out. Perhaps this was more of an afternoon view. Still, when I looked more southwards, I got the nice reddish brown colors of the canyon rims towards the Abajo Mountains. And so at least I'd get some more updated shots compared to Julie's old analog Nikon camera that it was taken on some 16 years ago.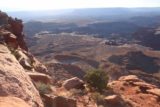 So it didn't take long before I was back in the car (just as someone else had pulled in), and I started driving all the way out to the Windows Section of Arches National Park. It would take me a little over an hour to get there, but at least the National Park Entrance was still not open and so there was no line of cars waiting to get in. That said, there was still a bit of traffic on the park roads given that there were many other people going at their own pace and leaving long caravans of cars.
I'd eventually make it to the parking lot for the Windows Section at 8:35am, but I was quite surprised to see just how many people were already parked here as the upper lot was almost full already! Crazy! Anyways, I did manage to score one of a handful of open spots left, and then I promptly walked up the familiar trail right to the opening of the North Window.
Obviously the lighting of this arch was terrible when facing east, but I knew that the mission here was to finally get that signature photo of North Window through to the Turret Arch. It was a signature shot, but I also knew from scouting this spot yesterday that it would involve a bit of a tricky scramble on slickrock to get at the right position for such a shot.
Sure enough, as I got back there, I proceeded to scramble to that spot, and I really had to watch out for the dropoff exposure. It was strange that with all the people who'd rock up to the opening of the North Window, I was the only person pursuing the view of the Turret Arch through the North Window. During the scramble, I managed to scratch my left hand (causing it to bleed a little bit due to the dryness), but at least I got my shot from a pretty precarious elevated bump in the slickrock.
I took photos both with and without other people in it (if it had people in it, they provided interesting scale as to the magnitude of the opening of the North Window). And like with Mesa Arch, I played with the camera settings to get this shot with different shades of red and orange from the morning sun shining on the rocks supporting both arches.
By 9am, I finally made it back to the car knowing that the mission was finally accomplished after all these years that I was waiting to get that signature shot that we had missed out on the first time around. Though now that I knew what it took to even get that shot, it wasn't surprising why such a shot was difficult in the first place.
And on the way out of Arches National Park, I made a few stops along the way to photograph some of the interesting rock formations that we kind of rushed our way through when Julie and Tahia came along when we first showed up to Arches National Park two days ago. So this included getting some photos of the Whataman formation as well as the Courthouse Towers, where I got dedicated shots of Sheep Rock (which looked like a dead ringer for a sheep, but I didn't know that it was also formed from a collapsed dual-span arch).
So it wouldn't be until about 9:45am when I finaly made it back to the apartment. Thinking that Julie and Tahia would be ready to go, and we'd be in Vegas probably by about 4pm, it turned out that they were nowhere near ready. In fact, Julie had spent some time to get brekkie ready as well as preparing a lot of banana bread (of the gluten-free kind) as well as strawberry sorbets, which I gladly took on as my brekkie.
Then, while Julie was frantically packing things together, I spent time in parallel doing the dishes. Tahia was buried in the iPhones getting more screen time than we were comfortable with letting her have.
And it wouldn't be until about 11:10am when we had finally loaded up the car. But before we left, Julie made one last grocery run at the Moon Flower next door, and so we wouldn't finally be leaving Moab until 11:25am.
Anyways, the drive out from Moab to Las Vegas was a long one, but it persisted mostly along the I-70 as well as the I-15, where a large chunk of the drive topped out with speed limits of 80mph with a few spots of 65-75mph. Perhaps the most notable thing about the drive was how scenic it was, especially along a 106-mile stretch without any services (we had a little over a half-tank at the time) where the road climbed through some interesting cliff formations that were part of the greater Capitol Reef formations though this part of the road I didn't think was part of the Capitol Reef National Park per se (that was further south).
When we got onto the I-15 going south, there were definitely way more cars on the road than there were on the I-70, but at least the going was still relatively smooth as most people kept right except to pass. However, backups would occur whenever slower trailered vehicles as well as big rigs would pass other slower vehicles.
In one instance, one truck had cut me off and as he was busy trying to pass another truck with us nearly tailing him, we heard a loud boom with smoke coming out of his truck, and then moments later, we saw shreds of tire flying by our car. In other words, he blew his tire right in front of us and we had to do a little swerving to avoid the biggest chunks of tire while we had to let the smaller shreds shower the car.
Aside from that moment of drama, we then learned as we crossed the state line of Nevada near Mesquite that we had gained back an hour since most of this trip was spent on Mountain Time. So with that hour, that meant that our six-hour drive was really seven hours long! Man, this was quite the drive, but Julie and I were now considering doing a dedicated long weekend trip on Memorial Day Weekend to Salt Lake City just to avoid some of the more chic destinations where we knew places like the National Parks might be a bit too crazy.
There was some heavy traffic on the I-15 as some kind of closure or accident had taken place on the I-15 in Las Vegas. So as Julie was having us stop at Trader Joe's before checking in and then going to Wolfgang Puck's at the MGM Grand. We wound up taking the 215 and then the 95 to get to the northwest side of the city. We'd finally get there at 4:55pm.
That shopping run went by pretty quick (we also had to use their facilities), and then we'd finally self-park at the New York New York Hotel and Casino, where we'd be staying for the last two nights of this trip. We got there at about 5:35pm. And we pretty much had to carry lots of things in one trip (so we had to be strategic about our luggage and stuff) since we knew that it'd be quite a walk to get from here all the way to the reception or lobby.
Eventually, we'd finally get to our room at 6:25pm. Julie had paid to upgrade the room (which we had been using Hyatt points to score for free initially), but apparently, only the upgrade price had to be charged. She said it was supposed to be $15 per night, which was not bad, when we saw that we had gotten a corner room looking out both to the east (in the direction of MGM Grand) as well as to the south (in the direction of Luxor and Excalibur).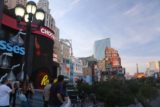 After finally using our street clothes for the first time all trip long, we then went back downstairs at 6:50pm, and used one of the pedestrian bridges to get over to the MGM Grand Hotel. It was a good thing there were staff along the way to ask for directions, because we probably wouldn't have found the Wolfgang Pucks restaurant (or at least not in a timely manner) otherwise.
By about 7:30pm, we were finally seated for our Open Table reservation at this time though we were here 15 minutes earlier than that and had to kill time by checking out this dragon by the Ka Theater that really freaked out Tahia whenever it would open its mouth and roar.
The dinner turned out to be pretty good because we had really good margherita pizza (we relented on pizza since we knew this place would do pizza well) as well as pan-seared sea bass. The pork chops was a little on the burnt side and we probably regretted not getting the more expensive rib-eye steak. Anyways, the main reason why Julie picked this place for dinner (she also considered doing one of the Jose Andreas restaurants in town) was to have the chocolate souffle, and we wound up having two helpings of it!
The dinner wound up being pricey as expected (about $160 with tax and tip), but this was now pretty much par for the course as far as this trip was concerned. Even though it wasn't an international trip, our daily expenditures were certainly rivaling some of our other such trips abroad. Maybe, this was to be expected these days, especially since our third person (Tahia) was getting older and required a third main or additional appetizers as we refused to give her Kids menus, which were usually non-nutritious junk at inflated prices.
Anyways, we left the restaurant at around 9pm, and then we'd proceed to do a bit of a walking tour down the Las Vegas Strip from the MGM Grand all the way to the Bellagio and the Paris Hotel. During the walk, it seemed like we had stumbled upon the prime hour for touring the place, which had a very New York Times Square feel to it given the bright lights and lots of stimulation of the senses.
On top of all that, there were lots of women dressed up in clubbing attire ready for a fun night on the town. There were also people on the street from strippers (clothed albeit suggestively) trying to provide photo ops for a fee to people handing out cards for strip clubs, it made us wonder how Tahia was taking all this stimulation in. Was she processing all this, or was it just a bunch of noise in the background.
When we finally rocked up to the Bellagio at 10pm, it was just in time for the fountain show, which apparently went off every half-hour or so. And so the light and fountain show was going on to the tune of Uptown Funk. Tahia had to ride on my shoulders to get a view given that all the choice spots along the railings were taken. And she was definitely amused by the show.
Next, we crossed the street (Las Vegas Blvd) to get into the Paris Hotel, where Julie was scoping out potential restaurants to eat at when she'd hang out with her cousin for lunch. Again, there was the usual stimulation of people dressed for a good time, but it was also around the time that Tahia was getting tired as it was well past her bedtime.
So after about 10:30pm, we had to make our way all the way back to the New York New York. And as we were heading back, it sure seemed that as the night continued, there were more and more people on the streets. This was certainly becoming quite the international destination that reminded us of our CBD evening experiences in big cities around the world, and perhaps Vegas was starting to become a bit of a step up from the old sleazy reputation that we had come to associate with this place when we were last here many years ago.
That said, Vegas as still one of my least favorite places in the world, but at least experiencing the bright lights ever big city was quite atmospheric in a fun way. It certainly was better than the atmosphere in Nature that felt a bit more crushing than I had remembered in the past back in the Moab area. I guess you gotta take the good with the bad, especially these days when nothing is really a secret or as peaceful anymore given that you're having more and more overcrowding in the world these days.
At 11:05pm, we were finally back in the room, where Tahia managed to get her teeth brushed and Google-searching some of the terms she'd picked up on this trip (you know, like the words "organs", "Van Allen Belt" from one of the B-52 songs played in the car, among other things) before crashing. It wouldn't be until about 1:15am when I finally slept, which I knew wasn't good news if I was going to wake up early to get ready for my solo nature excursion tomorrow morning…
Visitor Comments:
Got something you'd like to share or say to keep the conversation going? Feel free to leave a comment below...
Los Alamos
May 15, 2021 2:45 pm
-
J. Robert Oppenheimer, the high-powered physicist who became the scientific director of the Manhattan Project, loved New Mexico and had even bought a ranch there. When he was looking for a remote place where secrecy could be maintained more easily, a New Mexico location seemed ideal. Indeed, Los Alamos is located on the former site… ...Read More