Day 10 (April 22, 2017 – Las Vegas, Nevada: "Earth Day Persistence"
It was 4:45am when I awoke. It was still dark outside and I had spent the better part of the pre-dawn hours blogging and getting ready for today's hike. The plan for today was another divide and conquer type thing where I'd be driving up to Mt Charleston to at least visit Mary Jane Falls and possibly Big Falls and/or Little Falls. Meanwhile, Julie and Tahia would chill out at the Las Vegas Strip, and New York New York (where we were staying) was pretty centrally located so they didn't need me to drive them around.
So it wouldn't be until 6:15am when I left the room, but that wasn't before I managed to witness a beautiful sunrise from our corner room. It was the perfect start to what turned out to be Earth Day.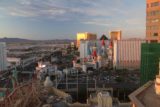 As I got into the car and left the New York New York Hotel and Casino at 6:20am, I could tell that the casino was delightfully quiet. The concentration of cigarette smoke wasn't nearly as bad as I knew later in the day would be, and even traffic was delightfully light as well.
And so the drive up to Mt Charleston was uneventful as I zoomed along the I-15 then the US95 before getting off at Kyle Canyon Road (labeled Hwy 157). I actually followed a pair of cars going right at the speed limit, and eventually they'd pull over (probably because they were here to work or do something else). During the drive, both cars were making room for runners running along the shoulder to the right. There were rumble strips in the middle line between the two opposing lanes, and a van in front of me managed to lose his hubcap on those rumble strips just as a group of runners was coming down. I saw them having to stop to avoid the hubcap, which was I'm sure was quite the scare.
Anyways, on the way up, I was regretting not stopping to pull over to take early morning views of the snowy mountains flanking Mt Charleston. As the road's speed limit slowed down to 35mph, I saw a well-defined signpost for Mary Jane Falls just as Echo Drive left the Kyle Canyon Rd, and then after another signposted turnoff, the car park was another 1/4-mile past a large spillover car park (or parking for what turned out to be the Trail Canyon Trailhead).
I was probably one of a half-dozen or so cars that made it up to the Mary Jane Falls Trailhead at this time of day at 7:15am. The car park looked pretty big so I figured this must be a pretty popular spot. It was still quite chilly outside so I had to wear my jacket as I was gearing up and getting ready to go. And from the car park, I could see there was a pretty tall dry fall. I wasn't sure if that was supposed to be the Big Falls or not, but it was quite an interesting thing to check out before starting the hike.
The uphill hike followed along a wide dirt and stony path past a pit toilet building. It was already climbing albeit gently as I was meandering amongst tall trees. There were a couple of snow patches that I had to traverse, but they were no big deal. The rest of the trail turned out to be pretty snow free despite the high elevation as I had gotten started at around 8,000ft and the trail was still climbing higher.
When I got to the switchbacks, I saw that there was a wash and some wide "trail" to the left of it. I knew from reading previous trip reports that the Big Falls was supposed to leave from this point, but thus far, I wasn't able to tell which of the ravines contained the other waterfall.
Having been acclimated to high elevation since this entire southwest trip was pretty much at elevation (even Sedona was around 5,000ft while Mesa Verde, Telluride, Hanging Lake, and Moab were either at or higher than this elevation), I was able to quickly get up these switchbacks without feeling the effects of altitude sickness. There were a lot of false shortcuts cutting directly through the switchbacks, and they looked awfully steep. But I could imagine on a place this close to Las Vegas (just driving here took about an hour or less) there must be lots of people who simply don't respect or appreciate the erosion the shortcutting causes.
Anyways, being as experienced in hiking as I had been, I always knew to follow the trail and keep along the switchbacks. There were probably at least a half-dozen or so of these switchbacks. The higher I went, the more of the mountains on the opposite side of Kyle Canyon that I could see. I was keenly looking for any clue or obvious signs of Big Falls across the canyon, but with all the snow covering the mountains there, it was hard to tell.
I did spot a somewhat hidden ravine with a couple of little wet streaks on the wall in the shadow between some snowy sections, but to be honest, I was never totally sure if I had spotted Big Falls or not. Whatever the case, it didn't look like it was a good idea to even pursue the Big Falls on this hike, and so I figured that would shave off or save a couple of hours or so. I definitely expected to be back at the Las Vegas Strip sooner rather than later.
Eventually after hiking along some pretty vertical cliff walls after the uppermost of the switchbacks, I spotted some alcoves (some were tagged with graffiti, which wasn't surprising), and then I'd ultimately arrive at the Mary Jane Falls at 8:25am. With lowered expectations of waterfalls around the Las Vegas area, this place definitely exceeded mine.
There were actually three different segments of waterfalls, and the main Mary Jane Falls appeared to be the one in the middle. The first one I saw was actually falling down next to a series of alcoves. The uppermost ones appeared inaccessible though I swore I saw some of those alcoves containing shrines (from someone who might have passed away here) or some kind of evidence of people making it up there (not sure how).
To the left of the main Mary Jane Falls was another thin cascade. Photos definitely didn't do this falls justice given how wispy they were, but the mere fact that they were flowing made me pretty happy about this experience. And to top it off, I was able to get a nice view across the Kyle Canyon towards snowy mountains as well.
I managed to experience this falls from several positions, which were still in shade. It seemed like it would only a take several minutes to an hour or so before the sun would breach the cliffs above me and start to wreak havoc on the lighting here.
There was a group of Indian guys who scrambled back down here to the base of the falls after having been to an alcove to the left of the leftmost of the falls. They must have been the folks that had been hooting and hollering perhaps to listen to their echos or something. But throughout the upper part of the switchbacks, I had noticed this cave and I figured I'd get up there myself to see what the view would be like.
Indeed, after having my fill of the base of the falls, I then went into the sunlight and scrambled up to the alcove. It was an easy trail until I had to do a little bit of scrambling to get up there, but it wasn't too bad. Once inside the alcove, I once again spotted unsightly graffiti, which was a real shame to see, but I guess it was inevitable given its relative proximity to Las Vegas.
The view from up here was also pleasing, and I was joined by another guy who I guess had recently moved to Las Vegas. We also talked a bit about the graffiti and came to the same reaction about how much it was a shame this was happening, especially if this was some kind of excuse to show everyone else that they were here and left their ugly mark on an otherwise beautiful spot. On top of that, we both came to the conclusion that it probably wasn't worth the effort to extend this excursion to include the Big Falls as well.
Eventually at 9:15am, I started to head back down. I was pretty much flying down the trail since it was all pretty much downhill. I did see many people making their way to the falls just as I was going up so it became very apparent that this was a popular trail. There was some confusion by some of these folks as the shortcuts were misconstrued as the actual trail. I'm sure over time, the forest service will have to address this issue. Some of the inexperienced hikers seemed to have been put in precarious situations where they had trouble maintaining traction as they'd easily slide down while trying to ascend.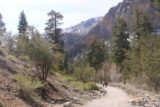 At 10am, I finally made it back to the car park, which was now very full! I guess I had beaten the rush, but this was consistent with the dozens of hiking groups that I had seen while making my way down. Indeed, this was a very popular place, but now after having seen Mary Jane Falls, I could totally see why.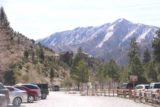 And typical to some of the Southern California hikes, these groups ranged from large families to folks bringing loud music with them to day hikers in running wear to more prepared hikers in hiking gear. Boy I was sure glad I had gotten my early start because the peaceful experience there was the perfect contrast to the chaos and bustle of the Las Vegas Strip, which wasn't really my thing.
Now, I had the option of going straight back to the Las Vegas Strip to rejoin Julie and Tahia, but I figured that since I was here already, I mind as well look for the Little Falls, which was also mentioned in the forest service literature. I figured this would be an easier experience than the Mary Jane Falls since it was a shorter trail and there was enough literature to get me going.
So at 10:15am, I arrived at the Echo Trailhead, where I was one of only four cars here. There was an obvious sign that said "Trail" that pointed to the right. And when I pursued the trail, it didn't take long before I suddenly lost the trail in a wash. I was looking around to see where I was supposed to go next, but there were way too many false trails and evidence of people tree cutting so it was really hard to tell where to go next.
But as I was scrambling in the wash, I noticed a tall plunging waterfall to my left. Could this be the Little Falls?
And so that made me more determined to continue this scramble even though I found myself scrambling amongst overgrowth and rocks. I'd eventually get to a point were I saw some people further up the ravine where there was a trio apparently near some kind of snow field. It seemed obvious at this point that in order to get up to the waterfall, we'd all have to do the snow hiking.
Meanwhile, as I was working to catch up to them, I finally found some faint trails (again, I wasn't sure if it was official or not), as I passed by another human artifact in that there was some kind of trailer or pull cart lying off to the side of the path. I figured that on the return hike, I'd follow this path back to wherever it'd take me.
But as I was continuing up, I'd evntually make it up to a point where I'd have no choice but to hike onto the snow field. There were lots of pine branches and twigs littering that snow field, and I wondered if these were the result of an avalanche or something. Now, they helped to facilitate the footing since if it was pure snow, the combination of steepness and the slipperiness of the ice and snow made things even dicier.
It had also crossed my mind that there was the possibility that this snow was bridging the creek beneath. Hopefully no part would give way into an underlying dropoff.
Eventually I would pass the trio of hikers struggling up the snow, and I'd continue up to a part where I'd get somewhat of a satisfactory view looking up at a two-tiered waterfall. Again, I had no idea what this waterfall was as I was having doubts about whether it was the Little Falls. I was also having doubts that it was the Big Falls as well because I didn't think I went up the canyon far enough to be where the Big Falls was at. So which waterfall was this? And why wasn't there any literature about the presence of this falls?
Was it real? It certainly seemed to have better flow than Big Falls (assuming that I had noticed it and correctly identified it from the Mary Jane Falls Trail). Anyways, I had a really bad #2 urge while I was up here so I wasn't going to push my luck and try to scramble even further up to get to the base of this falls. There was simply too much time I was spending on this trail, and I had this bad feeling that I had somehow missed the Little Falls.
So I quickly made my way down the snowy slopes essentially skiing without skis, and I left the trio to continue up the path while I was making my way all the way back to the apparent trail of use near the start of the snow. As I went past the old cart or trailer, I then continued following the faint trail, which eventually branched off at some point. I saw that there was a gentler trail going into the overgrowth and shade to the left (further away from the Echo Trailhead) while there was another path to the right that seemed to descend directly down to the road.
I kept right here and eventually got down to what appeared to be the overflow parking for Mary Jane Falls Trailhead at 11:25am. That said, I saw another signpost down here that no one seemed to be around or noticing, and the sign said something to the effect of "Old Ski Tow". Was this waterfall part of the Old Ski Tow, or whatever this historical marker was supposed to be?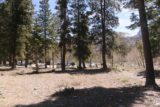 Anyways, instead of hiking back along the road to the Echo Trailhead, I followed the wash where there was a brief moment of water in the wash before the water disappeared again. At 11:40am, I was back at the Echo Trailhead where there were a few more cars parked here now. But with my #2 urge getting desperately strong, I had to drive back up to the overflow parking area (which turned out to be the Trail Canyon Trailhead), and I found myself relieving myself in one of the pit toilets.
When I was done doing this deed at 11:55am, I took a look at the trailhead signage. And that was when I realized from looking at the map here that my suspicions were confirmed in that I didn't see the Little Falls at all! So I figured that instead of leaving and wondering what Little Falls was like, I mind as well persist and check out the Little Falls for real.
So I returned to the Echo Trailhead at 12:10pm, texted Julie and Tahia that I'd be running late to get back to the Strip, and then I'd look for the real trail to the Little Falls. And sure enough, when I got back there, I saw that I had missed a second "Trail" marker right across from a little wash almost immediately after I had gotten started.
I saw there was another family further up ahead down the wash that had made the same mistake that I had made earlier. But in any case, I was now on an established path that was going somewhat gently uphill. There were more trail markers keeping me on the right path and avoiding some false paths though there was some confusion where one of the signs had arrows pointing in two directions that said "Echo Trail".
The path to the right of this sign at this fork looked legit, but it climbed higher quickly. And I knew that this couldn't be the Little Falls Trail even though there was another couple I saw back down at the junction saying that the rest of the Echo Trail went back down to the Cathedral Peak Trailhead or something like that. Still, I saw that they didn't go very far before they drew that conclusion and my instincts told me that this false path steeply going uphill was not right either.
So I continued to the left of the Echo Trail sign and eventually reached an unsigned junction with some snow patches on the path to the right as I was facing it. I knew the continuation of the path to the left went back to an alternate trailhead and there was some fenced off infrastructure down there as well (private property?). Anyways, the forest service literature said that the Echo Trailhead was the correct starting point even though the Cathedral Peak Trailhead seemed to be 0.3 miles closer.
Regardless, I kept hiking on the trail as I pretty much undulated between snowy patches and dry obvious trail. After passing by two or three other hiking groups, I had suspected that I had finally found the correct trail leading up to Little Falls. One elder Mexican couple pretty much confirmed it to me, when I asked them in Spanish if it this path was "a la cascada"?
There was a large group (probably a family) chilling out at the start of what appeared to be a relentless snowy area, and I asked if this was the Little Falls (just for additional confirmation). They confirmed, but they also said that if I could hike in the snow pretty fast, it was another 10 minutes from this point.
In following the footprints on the snow, I found myself amongst a narrowing of the canyon walls, which was pretty scenic in its own right as the incident light from the early afternoon sun kind of create a more-or-less slot-canyon-like experience. There was one part where I could hear the creek underneath me, and they kind of reminded me that I was on some pretty dangerous grounds and that I shouldn't linger in the snow for too long. I then eventually got up to some graffiti before rounding a bend that finally revealed the Little Falls.
Unfortunately, there was a large snow patch and logjam that seemed to block the lower part of its drop so I was only able to see the upper parts of it. This was kind of a disappointing result for such trouble to find this falls in the first place, but at least I could finally leave Mt Charleston without regrets.
I did what I could to document the experience, but there wasn't much to keep me here for much longer, so I went back down and spoke with that familiy that was still chilling out at the beginning of the large snow part. They said that they were here in January earlier this year and the falls was completely frozen! They said that most of the trail was still snow free except the last part, which was kind of amazing to me considering that we were already in high altitude and that much of Mt Charleston was snow free!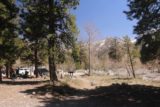 At 1:05pm, I finally returned to the Echo Trailhead, which was now pretty much full with nearly a dozen cars or so. There was a Mexican Family here having a picnic with some music. Meanwhile, I got back in the car, and started to drive back down towards the Las Vegas Strip. I'd eventually make it back to New York New York's parking structure at 2pm after getting through some moderate traffic on the interchanges in Las Vegas.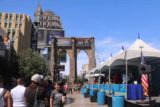 After getting changed into more appropriate street clothing, I then started what turned out to be a pretty long hike to get from New York New York to the Venetian where Julie and Tahia would be waiting for me. I started to head out at 2:20pm, and it wouldn't be until 3pm when I finally met up with them.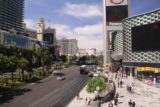 It was pretty hot down here in Vegas so I was sweating a bit. But I finally saw that Julie's cousin Larry was there, but he would be the only relative of hers that we'd be seeing as the rest of his family was in Georgia on a trip to see the grandparents.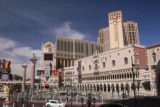 Meanwhile, Julie also learned that her other cousin and family had a change of plans so we wouldn't be able to see them tomorrow morning either. I guess when it came to seeing relatives that Julie hadn't seen in many years, this turned out to be a bit of a strikeout though seeing Larry for just the few moments here at the Venetian was pleasant in its own right.
When Larry left, we were on our own to explore the Venetian's re-created canals (in perpetual twilight; a la Disneyland) as well as the fountain area of the Palazzo. I was getting very parched and tired given the long hike it took to get here, and I also didn't have any brekkie or lunch save for a croissant and some desserts (macarons) that Julie and Tahia had bought while doing their little tour of the Strip to get here.
In addition to checking out the canals and shops of the Venetian in its perpetual twilight, we also went back outside to the front of the Venetian where we took pictures of the re-creation of the Piazza San Marco and the Riato Bridge. But it was pretty draining out there as the late afternoon sun was beating down on us and draining our energy as this was easily one of the warmest days we've experienced on this trip.
When Julie finally figured out where she wanted to eat and made changes to the reservations, we then headed back inside the air-conditioned (but smoky) confines of the casino part of Venetian, we then briefly checked out some atrium area of the Palazzo, with its "LOVE" sign fronting some fountains in a mall-like setting. It looked like they wouldn't let anyone get up to the third floor of this complex so we were content to get our shots from the second floor, then head downstairs and pursue the Bouchon Bistro Restaurant.
At 5:30pm, we eventually had ourselves and early dinner at the Bouchon Bistro in the Venetian. I always thought it was strange that this restaurant was in an Italian-themed hotel instead of the French-themed one at the Paris Hotel. Anyways, we had cancelled a 5:45pm dinner at the Jose Andreas Bazaar Meats or something like that when we found out how much trouble it would take to even get there on an expensive dinner (as we'd have to either walk another hour or Uber our way there and back).
And so we had ourselves a pretty satisfying Thomas Keller meal that had some familiar French fare like the Burgundy-style escargots and foie gras with raspberry jam and toast. We also had duck confit as an appetizer before eating on mains like Steak Bouchon (basically a filet mignon and not quite the ribeye I would have expected) as well as some poulet roti dish that Julie loved very much (the waitress said this was the signature dish of this restaurant).
I was finally able to quench my thirst as the busboy made frequent visits to our table just so I could down some water as I was quite dehydrated prior to this dinner. Though I knew that this would probably impact my body's ability to digest food thanks to the water diluting the stomach acid.
Anyways, after the dinner, we spent some time taking twilight photos of the front part of the Venetian, which turned out to be the perfect time to do such an activity. After all, the sun was down so it wasn't nearly as hot as it was before dinner, and the lighting was such that we were in real twilight (not the indoor perpetual twilight), which was the right time of day to take early evening shots of things under lights.
When we finally had our fill of the Venetian, we then walked around the Las Vegas Strip once again as we slowly made our way back in the direction of the New York New York. Along the way, we made one quick gelato stop at Amorino near the re-created London Eye that we hadn't seen before in Las Vegas. We also stopped at an elevator corner with a nice view towards both Ballys and the Paris Hotel, where it was a rare moment that we all got a little bit of relative peace from the chaos of the sidewalks on the Strip as apparently we stumbled upon a spot that was overlooked by most of the pedestrians.
When we were done indulging our sweet tooth (especially since we had forsaken more expensive dessert at Bouchon Bistro), we then crossed Las Vegas Blvd and happened to witness another one of Bellagio's dancing fountain shows. This time, the fountain show was done to the tune of God Bless the USA instead of Uptown Funk.
After that show, we then made a beeline back through the Cosmopolitan and then back through the outdoor sidewalks leading right up to the New York New York. And eventually, we finally get back to our room at 9:15pm.
Tahia wanted to play in the pool, but it had been closed since 6pm. So the rest of the evening, we crashed as we were finally able to unwind from this very busy day of touring. Tomorrow, it was time to go home, and without seeing Julie's cousin Tuan given the change of plans, we expected to be back at home sooner rather than later (hopefully to avoid the bulk of the I-15 traffic)…
Visitor Comments:
Got something you'd like to share or say to keep the conversation going? Feel free to leave a comment below...
Los Alamos
May 15, 2021 2:45 pm
-
J. Robert Oppenheimer, the high-powered physicist who became the scientific director of the Manhattan Project, loved New Mexico and had even bought a ranch there. When he was looking for a remote place where secrecy could be maintained more easily, a New Mexico location seemed ideal. Indeed, Los Alamos is located on the former site… ...Read More