Day 11 (April 23, 2017 – Los Angeles, California: "Leaving Las Vegas"
It was about 6:05am when I awoke. Unlike the rest of this trip, I didn't use an alarm for the wake-up. I decided that for the first time all trip long that I was going to sleep in. But now that I was up, and I saw right away from our pretty awesome corner room that I had awoken just in time for sunrise. So like yesterday morning, I busted out the camera and took a few morning shots to try to capture the beauty that was before us. Of course, a lot of this was deja vu, except there were a bit more clouds on this morning, and I always contended that it was the clouds that essentially make a sunrise or sunset more extraordinary provided it wasn't so overcast that the sun would be all muted out.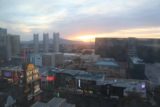 The rest of the next couple of hours or so were spent eating some leftover food in our cooler (kinda tough to do this when you don't have a microwave so it all consumed cold), and then we got packed and ready to go. So by 8:50am, we were finally leaving Las Vegas as we checked out, loaded up the car, and were out the door.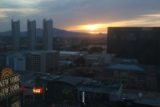 The original plan was to leave Sin City later in the day (and deal with more traffic on the I-15), but given the change of plans or work schedules with Julie's cousins, this trip wasn't going to be the little family reunion that we were hoping it'd be. Oh well, at least we knew that Las Vegas was just another long weekend trip away, and I'm sure there'd be more opportunities to come back. Besides, the next time I'm here, I might redo Little Falls and Big Falls up at Mt Charleston when there's a bit less snow. I might also check out the Valley of Fire for the first time since I was too little to remember. I had read that there were some waterfalls there as well, and so it might be worth a visit to better round out our collection of Nevada Waterfalls. Who knows?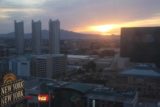 The drive back to Los Angeles was for the most part uneventful. But even then, there was quite a bit of traffic on the I-15, which wasn't at all surprising. And even though I had expected the traffic volume, I guess I had been conditioned throughout the American Southwest of the road rules where you're supposed to keep right except to pass. In Arizona, New Mexico, Colorado, and even Nevada for the most part, people seemed to obey this road rule. And in most of Europe, they don't even need signage or laws for this as you just get tailed big time if you try to be stubborn and clog the fast lanes there as everyone knows to move over. For some reason, this stretch on the I-15 between Las Vegas and Los Angeles, people don't have this sense of road rules and it shows.
So clearly, you have drivers who are either idiots, self-entitled, or ignorant of the road rules, and they wind up clogging the passing lane thereby causing a ripple effect in that you get congestion even out in the boonies on the I-15 (from as far away as State Line and even Baker). Usually you get backups like this when big trucks have to pass other big trucks. But in this case, you have passenger vehicles unnecessarily clogging the passing lane because they don't want to undo their cruise control and/or change lanes. The thing is that you don't have to undo your cruise control and still keep right except to pass. But, I guess it is what it is, and it was one of the main reasons why I never really look forward to making this drive between Los Angeles and Las Vegas, especially since Vegas isn't exactly my most favorite place in the world to spend a whole weekend.
In one instance, some idiot who was clogging the left lane was being passed by us on the right lane. Then, he decided to speed up to try to prevent us from cutting back in to pass a truck on the right lane. But when we got in anyways, he decided to drive on the shoulder to our left and endanger everyone around us, including ourselves, before finally relenting and getting back in the legal lanes. The irony was that after I went back in the right lane upon passing the slower traffic, he zoomed by and then decided to go back to his old ways and clog the left lane and piss off other people wondering why he's not in the right lane. Indeed, the road rage factor is definitely high on the I-15, and California (and perhaps Arizona and Nevada) should do what Utah, New Mexico, and Colorado are already doing and that's instituting and/or enforcing the keep right laws.
By 12:45pm, we finally arrived in Rowland Heights to have a late dim sum lunch so we could see my parents as well as my brother's family. These are always nice as we get to catch up on what has been going on, even if it's a brief time to let the kids be kids and let the adults talk amongst themselves. Ever since Julie had her gut issues, I can't remember the last time we even had dim sum.
Eventually, after the lunch, we then chilled out at my parents' place for a couple of hours. I managed to nap and get caught up a little bit on sleep (and subconsciously learn that OKC lost to Houston), before we all went our separate ways and life could finally get back to normal again. When we finally got home after 4pm, I came to realize that barring any last minute plans, next weekend would be the first weekend that we'd be spending at home for the first time in four weeks. Indeed, it had been a hectic month where we did a spontaneous Santa Barbara trip back in the end of March, then followed that up with a Death Valley Trip with the parents, and then followed that up in a short week to do this Four Courners Trip, which occupied the next two weekends.
I guess we could use a little normalcy though I'm sensing deep down that I wouldn't mind some more hecticness as long as we're in position to create more unforgettable memories even if it's at the expense of slowing down…
Visitor Comments:
Got something you'd like to share or say to keep the conversation going? Feel free to leave a comment below...
Los Alamos
May 15, 2021 2:45 pm
-
J. Robert Oppenheimer, the high-powered physicist who became the scientific director of the Manhattan Project, loved New Mexico and had even bought a ranch there. When he was looking for a remote place where secrecy could be maintained more easily, a New Mexico location seemed ideal. Indeed, Los Alamos is located on the former site… ...Read More