Day 1 (April 13, 2017 – Sedona, Arizona: "The Risks Of Knowing Too Much"
It was about 4:30am when I awoke. Having only slept a little over three hours, I was essentially kept up by the need to get out of Los Angeles as soon as possible to ensure that we could at least enjoy Sedona while there was still daylight. But that would require us to leave no later than 7am, especially since I had targeted a visit to Slide Rock State Park along the way.
We had to be all business on the first two days of this trip (i.e. a lot of driving) because there wasn't that many days to fit in all the things we wanted to see and do during Tahia's Spring Break. After all, there was the opportunity to visit Fossil Creek Falls (though that one took reservations) as well as check out the Tonto Natural Bridge. Even Seven Falls near Tucson seemed to be pretty neat to check out. In any case, those things would have to be punted to a separate long weekend trip only on years where Southern Arizona would get significant enough rainfall to warrant such a plan.
And so with a lot of things to get done in terms of packing up and getting ready to go, I got started with loading up the car with what I could while Julie and Tahia still were sleeping. Eventually at 5:15am, they both got up and things were moving along. Tahia woke up with the sniffles, which was not good. She picked a pretty bad time to come down with a cold – right on the first day of this Spring Break trip!
Eventually after having hastily prepared breakfast of kefir and oatmeal, while Tahia had some milk and eggs, we'd finally leave the house at 6:35am.
There was some pretty heavy traffic going east towards the I-15 and even on the I-15 freeway itself! But after getting past Rancho Cucamonga, then getting past the Cajon Pass, it was pretty smooth driving along the I-15 and then along the I-40.
The music choice during the drive became a battle of wills as Tahia and I were enjoying the happy music of the B-52's
while Julie wasn't digging any of their music and wanted more of my Triple J playlist. Whenever Julie was trying to get caught up on sleep, that was when Tahia and I would sneak in the B-52's. But when she was awake and the B-52's were on, she'd angrily make me change the iPod
.
As we were humming along the I-40, I had recalled from our last trip to the Sedona area and even to the Grand Canyon in years before that, that we could make it all the way to Kingman on one tank of gas. My memory suggested that gas was pretty cheap in Kingman, and so I had it in my mind that we ought to be able to make it all the way there, especially with the car's "Range" indicator telling me how many miles I was supposedly able to drive before the tanks goes to empty.
The progress along the I-40 going east towards Needles wasn't as desolate and isolated as I had anticipated. There was some pretty extensive road construction going on that caused the two-lane (in each direction) interstate became one-lane. There were even some CHP officers hiding out in some boonie spots away from developed centers. Plus there were lots of truck drivers. We went this slightly longer way instead of taking the 10 east to Phoenix because we figured that the 10 Freeway was a bit too busy for our liking (based on our numerous drives to the Palm Springs area in the past couple of months).
But we pretty much hummed along as we were heading towards the California-Arizona border near Lake Havasu. By the time we got to the state border, the car's range indicator claimed that we still had around 150 miles before going empty, which appeared to be well within range of reaching Kingman.
The further east we went on the I-40, the more the road surface deteriorated and even presented some potholes, which was definitely not good when you're going the Arizona speed limit of 75mph (as opposed to 70mph in California). Some of the roughness of the roads made me want to abandon the typical highway etiquette of keeping on the right lane except to pass slower vehicles.
But with the right lane seemingly beat up from greater use, we kept worrying about messing with the alignment of the car with each bump in the road that we'd hit. It also didn't help that it was quite windy in the deserts here so every once in a while, I'd feel the car swerve with the gust of wind especially after passing big rig trucks.
And yet, the worries didn't end there because apparently, the Range Indicator on the car lied as all of the sudden it jumped down by 50 miles in one shot and then I was worried that we wouldn't make it to Kingman on a single tank of gas. When it became apparent that gas services were few and far between in this part of Arizona, we started to get real desperate to find any gas station as we were running out of gas!
I guess that was the problem with knowing too much about this route. It gave me that false sense of security of thinking I could get all the way to Kingman on a single tank of gas and then pay cheaper gas rates at Kingman instead of Lake Havasu or somewhere else earlier. And in hindsight, I knew that even if the gas was 30 cents per gallon cheaper, it would only result in a $3 savings on a 10 gallon fillup. The risk of being stranded out in the desert in Arizona simply wasn't worth the risk. So with fingers crossed, I sure hoped that this was merely a big lesson learned and not something that could cause a logistical disaster on the first day of this trip!
Eventually at 11am, we went along the Route 66 briefly towards some truck stop gas station. It seemed like a dodgy mom and pop place, and I decided to just fill in $5 just to be safe because I wasn't sure how much further Kingman was. But after we did what we had to do, we then drove further east along Route 66 before we suddenly found ourselves within the town of Kingman, AZ.
As we passed through town, Julie noticed a Thai Restaurant, which she wanted us to stop by since she saw the rest of the selections of foods were mostly chain stuff or truckers food. Eventually, we'd fill up at a Chevron at around $2.59 per gallon (about 50 cents cheaper than what we'd normally pay at home), and then Julie placed a phone order so we could backtrack to the Thai Restaurant for a takeaway lunch so we could keep moving.
At about 11:20am, we arrived at the Bangkok Thai Restaurant where we got our food of Pad Thai and Beef Broccoli (gluten free). I hastily ate a few spoonfuls of the hot Pad Thai, and then once we were back on the road again at 11:40am, Julie and Tahia were eating the rest of their Thai food in the car while I was busy driving.
The I-40 continued to fluctuate between pretty poor road surface conditions (especially for an interstate) and busier-than-expected traffic, we did enjoy the views of the snow topping the San Francisco Peaks as we would eventually hit the I-17 junction near Flagstaff before taking the Hwy 89-Alt Route south directly towards Sedona. Along the way, we pulled into a queue waiting to get in and park the car at Slide Rock State Park.
We got in line at around 2:05pm, and then we were finally let in and parked the car at 2:15pm. I guess we managed to show up right around the end of the first or second waves of people towards the end of their opening times.
The car park was quite busy as people who were led in were marauding for parking space. After getting our stuff and walking along the paved walkway towards the Slide Rock area, that was when we then found before us a real happening scene of people just enjoying themselves around Oak Creek. Further adding to the scenic allure of this place were the attractive cliffs to our left as well as flanking other parts of the Slide Rock area.
The ambience of Slide Rock reminded me of the scene at Bassi Falls near Lake Tahoe last Summer. At that spot, there were also numerous people enjoying the many pools and slides after doing a fairly moderate hike to get there. But in the Slide Rock State Park case, all we had to do was walk about 0.3 miles from the well-established parking lot.
So its accessibility further added to this place's popularity. But now we can totally see why it was so popular.
While Julie and Tahia took some time to get ready (more like getting Tahia into her swimwear), I took some time to document the experience at Slide Rock. The sections of fun pretty much was divided into three parts. There was the lower slides and pools, which had quite a handful of people swimming and overall just playing. The second part was the middle pools and the signature Slide Rock waterfall itself. It was at this second section where I noticed several people do a cliff jump into a deep pool below, and I also saw a handful of people scoot their way down Slide Rock. It definitely looked like fun though I wasn't equipped to do that natural waterslide.
Beyond the main part of Slide Rock (which by the way was also the busiest part of this state park), I then scrambled a bit more further upstream where there was a real tiny cascade. I'm sure there could be a lot more in the way of waterfalls further upstream on Oak Creek, but I was pretty content to just experience the signature parts of this hike.
When Tahia and Julie finally showed up to this main section, I rejoined them while Tahia was busy wading in a somewhat shallow pool. When it was Julie's turn to scramble at least up to the view of the Slide Rock itself, that left Tahia and I to keep each other company. During this time, she got into this game where she'd pick up something light (like a twig or small rock), then chuck it right into a current where we could see those thrown objects pulled under the footbridge and then further downstream.
After Julie got her fill soaking in the atmosphere of the Slide Rock part, she rejoined us and then we started to head back to the car. As time flies when you're having fun, we wound up spending over 90 minutes here, and even then, Tahia was grudgingly leaving with us as this was a spot where she could have stayed all day, I reckoned.
So at 3:55pm, we were back in the car. There were still a few more cars pulling into the parking lot though the spaces were starting to free up as this site had opening and closing hours, and they were still an hour before the last admission.
And so we continued south on 89-Alt towards Sedona, but by 4:10pm, we found ourselves stuck in traffic as the two-lane road (one in each direction) was at a standstill moving towards Sedona. We didn't know what why there was so much traffic (we never recalled dealing with this on our first trip to Sedona back in 2009), but as the minutes continued to tick by, when we finally got to the Hyatt Pinon Pointe at 4:45pm, we realized that the big hangup was the roundabout right underneath the Hyatt!
So this was kind of a self-inflicted problem, I guess, where they didn't want to put traffic lights in this part of Sedona? Anyways, after getting our room, we marveled at the beautiful views of the surrounding buttes and mesas around the town of Sedona, and we also loved the room we were staying in. It was the kind of place we wished we could have spent more nights, but alas, time was of the essence.
Speaking of time, after putting our stuff in the room, we then immediately headed back out for dinner. Julie first wanted us to go to Elote, which didn't take reservations (i.e. it was first come, first served). But when we showed up there at 5:10pm, there was a big line in the front of the restaurant. After looking at the menu, Julie realized that she couldn't have much of the fusion stuff on offer here as she needed more clean food.
So after about 15 minutes of waiting, she called up The Hudson Restaurant, and they didn't have a wait. So we promptly went there, and just five minutes later, we were seated on a terrace with a gorgeous view over towards the surrounding buttes and mesas around Sedona. Even though the sun was shining on us, I thought this was worth the sun burn risk. Besides, the sun was setting anyways.
Our meal consisted of a juicy rib-eye steak, a sole (fish), and some pulled port tacos. Tahia had the tacos, which thankfully she liked because the kids meal was bad (i.e. burgers, mac and cheese, etc.). We didn't have dessert as we didn't want Tahia's cold to get worse.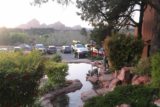 And so at 6:50pm, we were done with dinner and back in the car. It was a good thing we had gotten there when we did because now there was a line to get into The Hudson. So we had beaten the rush!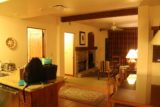 Ten minutes later, we stopped by the Nature Grocers, which Julie wanted to check out even though there was a Whole Foods just down the street. It was in a part of town where they actually had traffic lights, and it seemed to be the main part of Sedona. I didn't recall spending much time in this part of town the last time.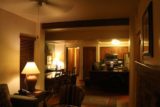 Anyways, the Nature Grocers turned out to be quite a nice little grocery store with all the stuff she cared about concerning gut health, and they even had a classroom in the back of the store! They seemed to be really serious about holistic health here!
It was too bad we were constrained by cooler space. Otherwise, I'm sure she could have bought up more things at seemingly cheaper prices than Whole Foods. Anyways, by about 7:25pm, we got back in the car, by 7:55pm, we returned to the Hyatt, where we could finally enjoy the room we were staying in. Julie and Tahia immediately went to the jacuzzi spa inside and relaxed there. Other than that, we wound down the day and got some much needed rest, especially since tomorrow was going to be yet another long day of driving to Santa Fe, NM with some stops along the way…
Visitor Comments:
Got something you'd like to share or say to keep the conversation going? Feel free to leave a comment below...
Los Alamos
May 15, 2021 2:45 pm
-
J. Robert Oppenheimer, the high-powered physicist who became the scientific director of the Manhattan Project, loved New Mexico and had even bought a ranch there. When he was looking for a remote place where secrecy could be maintained more easily, a New Mexico location seemed ideal. Indeed, Los Alamos is located on the former site… ...Read More