Day 2 (April 14, 2017 – Santa Fe, New Mexico: "Salvaging The Most Of A Charming Capital Experience"
It was about 5am when we awoke. We knew that we had to be efficient about getting ready and out of here by no later than 7am because we had just as much driving on this day as we had yesterday. Plus, we had to make a couple of stops along the way, and we wanted to check out the main parts of Santa Fe, which was New Mexico's state capital.
As Julie was preparing some breakfast, in parallel, I was trying to get Tahia ready as well as getting her to eat her breakfast. She was being picky again so her unwillingness to cooperate with eating kefir (especially since she had a cold) complicated things a bit. We knew that we couldn't get out of here before 7am because the Hyatt here was a timeshare and their reception for checking out wasn't open until 7am.
So given all that, we got packed, loaded up the car, and there was still time for Julie to finish up her breakfast. By 7:10am, we left Sedona (which was also pretty in the morning, but nothing magical from a photography standpoint like yesterday afternoon). There were already quite a few cars on the roads so the roundabout just below the property was busy (but not crazy like yesterday).
Then, we had to follow a handful of cars along the 89-Alt going north to Flagstaff. At first, we were going a pretty good rate even though we had a line of say 3 cars with some slow pokes courteously using the turnouts. But after we got past some accommodations north of the Slide Rock area, there were a lot more cars causing a backup so by the time we were finally at the road work area about 5 miles before the junction with the I-17, there had to have been well over a dozen cars in a line.
Once we were on the I-17, we then quickly made it to Flagstaff, where we pumped up for gas, made some last minute potty breaks, and then were promptly on the I-40 for the long haul drive all the way to Albuquerque and ultimately to Santa Fe. Albuquerque itself was at least 326 miles from Flagstaff, but I thought making a quick stop at the La Ventana Natural Arch some 270 miles away from Flagstaff (along the way) would be a good opportunity to stretch the legs while also getting a photo op.
So the drive was pretty uneventful and actually notably mostly flat and desolate. We passed by the familiar exits for Meteor Crater as well as Leupp Road (which I remembered we took the last time we were in Sedona to get to Grand Falls back in 2009).
As we got further east, we saw signs for the Petrified Forest National Park. We didn't have time to do this, so we figured this would have to wait for the next time we're in the area. The same went for visiting Canyon de Chelly or other scenic attractions in the Navajo Nation in the northeast corner of Arizona as well as the four corners landmark encompassing the states of Utah, New Mexico, and Colorado.
I was surprised at the amount of time the GPS
said it would take to get to La Ventana Arch because it said that we'd get there in almost 5 hours (by 1pm)! It was around 8am when we were in Flagstaff. But that was when I realized that crossing into New Mexico meant that we'd be on Mountain Time, which meant we had to lose an hour! I overlooked this little fact when I planned our itinerary, so that further put pressure on us to get to Santa Fe before we'd no longer get to experience the charm of the historic downtown area.
We made one brief stop at the state border for a potty break. It was surrounded by some interesting mesas and cliffs, and there was a welcome center with a bit of a Native American flavor to it. But aside from this brief stop, we kept heading east.
Anyways, almost as predicted by the GPS, we managed to get to the parking lot for La Ventana Natural Arch at 12:35pm, which was right off the 117 Highway. It was about 17 miles away from the I-40. We could already see the impressively tall natural arch from the car park, but we couldn't get that view where you could at least see blue skies through the arch because there was a cliff right behind it.
So Tahia and I got started first by going on the 1/4-mile trail leading right to the bottom of the arch (or so we thought). The trail was paved in the beginning, then went on a dirt trail leading to a viewing area not quite beneath the natural arch. But even from there, we couldn't look through the arch with sky behind it. So we could visually see the arch with our own eyes, but it didn't photograph well. Thus, Tahia and I concluded in hindsight that we probably didn't need to have done this hike.
We didn't particularly feel like scrambling to get closer for that sought after shot, especially as the signs said it was a revegetation area. I'm sure in my younger days, I might have tried it, but with Tahia with me, I wasn't going to chance it (especially with chance of poisonous rattlesnakes and stuff in the bush). But I guess if we needed to have better light (the sun was almost on top of the arch), we would have needed to come later in the afternoon or something.
When we were on our way back to the trailhead, we saw Julie near the restrooms and told her about how disappointing the view was. Still, she took a few minutes to get her views, and it wouldn't be until around 12:55pm when we were all back at the car and continued the long drive to Albuquerque.
Since we were running short on time and I knew Julie wanted to eat lunch at Alburqerque, I decided that we were going to divide and conquer. Julie and Tahia could chill out at a restaurant while I'd solo a visit to the Travertine Falls, which I knew was just minutes east of Albuquerque.
So eventually at 2:15pm, I dropped off Julie and Tahia near a couple of Asian restaurants (one of them was the Plum Cafe and the other was the Nanami Noodle House). Then, I promptly filled up gas and took off further east along the I-25 then I-40 to get to Travertine Falls. There was traffic due to an accident on the I-40 going east, which slowed me down a bit more than I would have liked.
It wasn't until about 3pm when I finally made it to the trailhead for Travertine Falls. I lost a few minutes because the GPS wanted to take me to the Route 14 then turn left onto Penny Lane. But I knew something was off when there was no signage and there were lots of private property signs as I got near a dead-end and so that wasn't as much of a waste of time as it could have been, but it was still frustrating to have wasted those precious minutes on this unnecessary detour regardless. Plus, it seemed like the residents here must've gotten other people misled here because the signage said for any stranger to turn back.
Anyways, there were a handful of cars parked here at the real trailhead, and when I finally started hiking, I saw a guy going the other way. Not sure about whether I was on the correct trail to Travertine Falls, I asked him if this was the right place. He confirmed though he did say the falls was a trickle. Still, I had to finish this hike and document it to at least show what was here on the website.
And so I continued up the uphill trail. It was pretty bone dry in these parts and I could see that the trail followed along what appeared to be a dry creek. After passing a couple of other hikers going back down, then surpassed a trail junction with a trail labeled "Crest Trail No. 130", I finally arrived at the Travertine Falls at 3:20pm, which had one trickling section while there was an interesting little cave adjacent to it.
I took some photos and videos of this spot, but as I was doing so, my stainless steel water bottle somehow fell from the side of my pack and fell into the mud from the trickling stream. That was annoying as I didn't have anything to wipe the stuff except my hands and my hiking clothes. And now I was worried about the parts of the bottle where I'd put my mouth to drink as I'm sure some microorganisms must be living in the mud that now got on this bottle.
Right in front of the trickling part of the travertine, I saw a scrambling trail joining up with the Trail 130 that branched off from the Travertine Falls spur. I decided to scramble up to that trail because I saw a couple of other hikers pass by up there. And when I got up there, I then went downhill, which turned out to be a little longer than I expected due to a couple of switchbacks before finally rejoining the trail junction.
The flip side was that I got to get nice views looking towards a mountain with a radio tower as well as an unsightly quarry to the right of it.
By 3:45pm, I got back to the car. The drive back to Julie and Tahia at the Nanami Noodle House took me about 25 minutes as the driving was a bit smoother. But instead of taking off right away, Julie insisted that I eat the food there at the restaurant because there was fish sauce that she didn't want all over the car. So that put even more pressure on us to get to Santa Fe and see the must-see sights before it gets dark.
So it wasn't until about 4:30pm when we started leaving for Santa Fe. The drive north along the I-25 was pretty smooth going as they, too, had a 75mph speed limit for much of the way. And it wouldn't be until about 5:30pm when we were finally checked into our room in Santa Fe, which was the Hyatt Place off Cerillos Rd.
Unfortunately, it was quite a ways from the downtown Santa Fe area so again, that put even more pressure on us to get to the main part of town after dropping off our belongings. And indeed, several traffic lights later and some aimless driving on Canyon Rd (basically a bunch of art galleries) and a closed State Capitol building, we eventually decided to park on the street next to the Cathedral Basilica of St Francis of Assisi at 6:10pm.
Now the first thing that came to mind when it came to this cathedral was its name as Julie and I had been to Assisi in Italy. But the thing about this cathedral was that there was a statue in front that was said to be the oldest Virgin Mary in the US. There was a nice late afternoon glow on the front facade of the cathedral so we took some photos there before continuing an aimless stroll in search of The Plaza as well as a place to eat.
We saw straight away that there was a huge line at The Shed, which seemed to be set back in a charming arcade within a blue-lined walkway. Then, at the Plaza, it was basically a park area with an obelisk-like thing in the middle. On one corner was an art museum, whose exterior reminded me of something we had seen in Spain from Gaudi or from Andalucian Spain where the corners were rounded and very earthy.
We then went to some place called Pasqual's, but the earliest reservation was for 9:15pm and it wasn't even 7pm yet! So as we walked around some more of the downtown area, we finally wound up eating at this place called La Plazuela, which was within another Gaudi-like building as it was within a hotel called La Fonda.
We got seated at 7:10pm, and the restaurant interior had a bit of a nice ambience within an atrium-like courtyard. We had to get seated at a really small table set out in a walking aisle just outside the restaurant since the main tables were all booked out. But that was fine by us since we were looking for a place to eat and relax even if there wasn't much real estate on the dinner table.
We ultimately had a duck tamal, tortilla soup, a duck main, prime rib, and tacos de San Francisco (which we got Tahia to eat instead of the always unhealthy and expensive kid's menu). The waitress reminded us about the kid's menu, but we knew what we were doing. And in the end, Tahia really liked her taco, especially because she all of the sudden loved the beans.
As we got out of the restaurant at 8:35pm, we noticed the cathedral was now lit up and there happened to be quite a few people taking photos in front of it (definitely more people than I would have expected this late at night). But aside from that, we were back at the car at 8:50pm, and we then drove off with a stop at Whole Foods for Julie to pick up some eggs and stuff.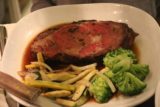 So it wouldn't be until around 9:35pm when we got back to the Hyatt House, where Tahia and I rushed to get to the swimming pool so she could finally get to play in it. She was really looking forward to it all afternoon. Meanwhile, Julie took the car to Target nearby for more shopping.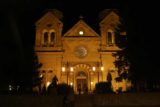 Unfortunately, Tahia's swimming clothes were still in the car so we had to settle for letting her wet her dress in the pool. At 3.5ft deep, this pool was a bit deep for our little girl so I made sure she stayed by the steps. I risked getting wet just to be by her so she could practice (in a very limited way) her swimming.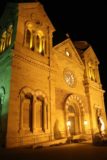 Finally at 10pm, we were back in the room, where I gave her a warm bath (she was shivering when she got out of the pool), then brushed her teeth and let her sleep just when Julie returned to the room. It was definitely a hectic day, especially since it seemed like everything conspired to slow us down (from the disappointing stops at La Ventana which we probably could have skipped and the trickling Travertine Falls) to the springing forward another hour once we got into New Mexico to the late extended lunch by Julie insisting that I eat in the restaurant and not punt to dinner.
It definitely felt like we didn't do Santa Fe justice on this rushed evening visit. I guess we'll have to do it again some time in the future when we find ourselves in this part of the American Southwest again…
Visitor Comments:
Got something you'd like to share or say to keep the conversation going? Feel free to leave a comment below...
Los Alamos
May 15, 2021 2:45 pm
-
J. Robert Oppenheimer, the high-powered physicist who became the scientific director of the Manhattan Project, loved New Mexico and had even bought a ranch there. When he was looking for a remote place where secrecy could be maintained more easily, a New Mexico location seemed ideal. Indeed, Los Alamos is located on the former site… ...Read More