Day 3 (April 15, 2017 – Durango, Colorado: "Compounding Missteps"
It was about 5am when I awoke. Considering that New Mexico was an hour ahead of Arizona, it definitely made it harder for me to wake up. Julie and Tahia didn't get up out of bed until almost 6am. I had a feeling that these late starts were costing us in the long run, and with today involving a lot of driving, I was afraid that we were going to have yet another long day of touring with little to no time to unwind towards the end of the day.
That said, I started loading up the car at about 6:50am, and after having brekkie, we wound up leaving the Hyatt Place in Santa Fe at 8:05am. As we were leaving, Julie wanted me to stop at the Trader Joes in town because she wanted to get some broccoli chips and apparently they were the only ones who carried them from what she could tell.
But when we showed up at 8:20am, she found out that they didn't have them! In my mind, we took an unnecessary detour to get to this Trader Joes, and we wasted another 10 minutes on top of our sluggish start (because I was hoping we'd be out of the Hyatt Place shortly after brekkie at 7am). And so in my mind, we were already behind the 8-ball when it came to trying to go at a decent pace on today's itinerary.
Well, at least as we pulled out of the Trader Joes, we were right onto the 285 going north, which we'd eventually have to get to anyways had we taken the more direct route. As we were continuing to head north along this highway, we noticed quite a bit of walkers walking on the shoulders of the high speed highway, which I thought was pretty unusual (and potentially dangerous for them).
We noticed some signs saying something to the effect of "Sanctuario Walkers", and we were reminded of the people walking the Camino de Santiago in Northern Spain. But this was the first time we were ever aware of such a thing going on in the USA! And indeed, we saw numerous people (mostly Native Americans it seemed or at least locals from this part of New Mexico) decked out in cowboy-type attire.
We'd eventually get to an exit for the 503. At this exit, we noticed signs pointing the way to Nambe Falls and Lake, but we also saw another sign for Santuario de Chimayo. Were these folks going there? Were these folks walking there because of today being the day before Easter Sunday?
We wouldn't know the answer for sure as we were driving, but as we continued to drive east along the route 503, we saw more and more people walking alongside the narrower two-lane road. The 503 eventually reached a traffic-lighted junction with the NP-101 Road, which continued further to the southeast direction towards Nambe Falls.
Along this road, we saw signs saying something to the effect that we were going into the Pueblo of Nambe and that we were going into Indian Reservation land. We eventually got to a stop sign right across from a gate where there were people collecting fees to enter. We went ahead and paid $15 for our carload, and after being asked for our zip code and purpose of visit, we were then directed to turn right and follow the unpaved road to its end.
At 9:05am, we arrived at the very large open space for the Nambe Falls trailhead. There were about four or five shelters labeled "Ramada", and they were apparently picnic areas that were all reserved on this day. We were one of the first to have arrived in this area so we went ahead and parked in a shady spot and got started on our hike.
There was a red sign near a bridge over the Nambe Creek, which was flowing very well. That was a very good sign considering how sorry the Travertine Falls were yesterday. We went ahead and crossed the bridge then followed one of several trails just past the bridge in the upstream direction. Another sign beyond the bridge reminded us that we were headed to the Nambe Falls Overlook.
At first, it was confusing which of these trails we were supposed to take (as there were at least three or four of them right after the bridge), but we'd later find out that at least two or three of them converged alongside the creek. The hike was initially shady, but then it promptly started climbing fairly steeply as we went up some steps.
The trail became a little more exposed to dropoffs as it narrowed and hugged a ledge so we had to make sure Tahia was paying attention to where she was going. We had seen some mist wafting up and out sideways way off in the distance, and we were kind of worried that Nambe Falls was that high up on the cliffs. But at 9:50am, we finally made it to the fenced overlook of the Nambe Falls as it turned out the mist we had seen earlier came from water coming down a spillway from the dam even further upstream and higher up the cliffs than the Nambe Falls itself.
The waterfall was pretty impressive as it featured a two-tiered drop. There were trees kind of blocking the view of the lower drop, plus it was resting deep in the shadows of the canyon of the gorge it was in. Further up the canyon, we saw an imposing wall with a spillway, and this must've been the dam holding up Nambe Lake. Since we were looking against the sun, the view was something tricky to photograph. But from looking at the steep terrain, we were also studying how it was supposed to be possible to scramble up to the base of the falls even though there was an alternate trail on the other side of the creek. My suspicion was that it wasn't possible to safely make it up to the base of the main waterfalls, but perhaps it was possible to at least get to the pools below the mostly hidden lowermost of the tiers of Nambe Falls.
There wasn't a whole lot we could do at this overlook other than to spend a few minutes to check it out. However, as we looked in the downstream direction, there was a pretty scenic view towards the Pueblo of Nambe as well as some of the surrounding mountains in the distance. That part was bathed in pretty well-situated morning backlighting.
After having our fill of the falls, we went back down the trail towards the car park. We went ahead to went along the alternate trail to see how feasible it was to get to the base of Nambe Falls, but it didn't take long before the trail kind of stopped at a open-air shelter with some rocks blocking further obvious progress. Julie said she saw some kids continuing to climb beyond the rocks, so I went ahead and did that just to see how much further I could go.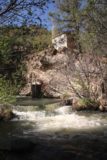 But the non-trivial scramble just to get past this shelter and avoid getting wet had already planted seeds of doubt in me, and as I continued past some kind of gauge, the trail pretty much started to follow or go right into the pretty flooded creek. After continuing for a bit while taking advantage of the Gore-tex boots, I finally got to a part where I doubted that it was worth continuing as undoubtedly, I'd have to get even more wet to keep going.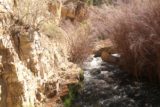 So I turned back and at 10:05am, we were back at the car ready to go. Tahia was being bad as she somehow had the idea to use one of the rocks and scratch the car paint in an attempt to draw something on the car's body, which prompted a very angry reaction from Julie. Perhaps the commotion we caused was somewhat drowned out by some more visitors just showing up to picnic with blaring mariachi music (despite the signs saying something to the effect of no loud music).
So we took off and headed towards the Jemez Falls knowing that we'd have another 90 minutes or so of driving ahead of us. We were only here barely an hour, but it somehow felt that $15 was a bit steep for this particular waterfall that was pretty but seemed to have too much man-made interventions and felt somewhat unfulfilling. That said, we're totally for fees to pay for management and upkeep of the area, and besides, this was Native American lands, and they can charge what they feel was right for a visit.
As I was speeding along the NP-101 on the way out, I was suddenly tailed by someone in a truck. I thought that it wanted to pass me or something, but I didn't see a place to pull over and let him pass so I doubled down and went a little faster even though I was already gunning it some 20mph past the 35mph limit.
But then after another minute or two, I noticed that this truck had blinking lights turned on in my rear-view mirror. It was at that moment that I quickly realized that I had just been caught speeding. I guess this truck was an unmarked vehicle because it had nothing on its paint job that indicated it was police. So I had to pull over when it was safely possible, and we eventually found a somewhat grassy shoulder along the narrow road.
When the sheriff walked over to the driver side and asked why I was in such a hurry. I really couldn't say anything other than we were headed to Durango. Julie interjected and said that we're sorry for speeding, but the sheriff just said that zooming at the speed I was going (probably 50mph in a 35mph zone even though there wasn't a whole lot of development) was endangering the child (he noticed Tahia in the back seat) and could be considered child abuse had we gotten in a wreck. Plus, he also said that going at that speed was not going to get us to Durango any faster than within the speed limits.
So I was prepared to just get the strike on my traffic record and pay the fine (and deal with traffic school when I get back home), but the sheriff ultimately gave us a warning. Unless he ticketed us electronically, apparently we had dodged a bullet. But the lesson was learned, and I pretty much stayed with the speed limit instead of trying to make up time from our later-than-desired start and pace to the day.
It brought back memories of that time I was driving through Southern Utah with my Mom and had gotten two traffic tickets in a day on a Memorial Day weekend back in 2003.
Anyways, the drive further west along the Route 502 was pretty uneventful (except for passing through some scenic cliffs as passing through what appeared to be Bandelier National Monument or something like that). But then we started to follow the Hwy 4, we were going by some signs and some infrastructure saying something to the effect that we were passing by some research facility.
Signs mentioned that they were from the Department of Energy, which made Julie and I wonder what kind of energy was being researched in these lands. But then, the road kind of detoured us towards some gate and inspection area. When we pulled up to one of the gates, we weren't sure what the inspection was all about. Regardless, I showed my driver's license to the gatekeeper, and after being allowed to pass, that was when I then realized that he must have been security monitoring who was trying to pass through what appeared to be the town of Los Alamos.
And after seeing some road signs (one street name was "Bikini Atoll Road"), that was when it dawned on us that this was a nuclear research facility! No wonder why there were gatekeepers at the periphery of this town. It was completely buoyed by this nuclear research area. Not only that, but we saw some NASA sign (no doubt there must be some particle accelerators, which were probably underground hidden beneath these mountains, to study the subatomic guts of the atom, I'm sure), and the "energy" from the involvement of the Department of Energy must've been because of nuclear energy.
It was all coming together in an "aha" moment as we knew that the Manhattan Project that ultimately led to the dropping of the two atomic bombs on Japan to end World War II was developed in New Mexico. And I also thought of Area-51 and the apparent UFOs in Roswell, New Mexico. I guess New Mexico was a hot bed of military activity and bases as I knew there was also supposed to be some base in White Sands, but I never realized that Los Alamos was another such facility.
Who knows? Maybe New Mexico must have some lax environmental regulations so it was easy to set up bases and research facilities as perhaps it was too sparsely populated or the Native Americans were forced to swallow the bitter pill of having their lands being abused in the name of government.
Whatever the case may be, that was an interesting pass through, and as we left Los Alamos, we then followed a mountain road that kept climbing. Now, the scenery changed from classic desert southwest scenery with buttes and mesas everywhere to more of a pine forest. Signs indicated that we were now over 7,000ft, and the road eventually went alongside Valle Grande, which seemed to be a large meadow or valley.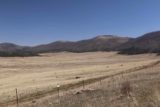 A sign here said this was an elk viewing area, and when we made a brief stop to stretch our legs and take a photo or two, Julie noticed a bunch of cars parked further down within the valley. There appeared to be brown dots near these cars, and so we wondered if they were spotting elk! The prospect of Tahia getting to see live elk was too hard to pass up so we continued along the route until we turned right onto an unpaved road that went into National Park lands.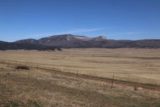 The road was a little on the rough side, but eventually we got to some parking lot and visitor center at 11:20am. But when we looked around, apparently those dots we had seen earlier weren't elk, but they were some kind of bins! Psyche! No elk on this detour so I guess it was technically another wasted trip conspiring to delay us even more on the way to Durango.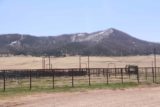 Well, at least I took the opportunity to study a map inside the visitor center to see how we could get to Jemez Falls, and one of the rangers there had told me that the road to the Jemez Campground was still closed by the Forest Service so we'd have to walk the mile to get from the parking near the gate all the way to the trailhead. I figured that that would add some additional unforeseen delays to the day, but since we were here, we mind as well finish the job.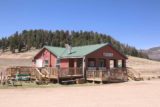 And so we got back in the car and promptly drove to the Jemez Campground turnoff. The GPS had wanted me to take some non-sanctioned road to get to the falls, but I knew that wherever we were going was right off the Route 4. We had passed one busy trailhead labeled East Fork Trailhead, but eventually at 11:55am, we'd arrive at another very busy roadside parking area for the Jemez Campground. At first, we couldn't find a spot and had to park a ways back from the gated turnoff, but just as we started walking, at least three or four cars were leaving, and that was when we scored a shady spot (which was very welcome since we had a cooler with stuff that could spoil).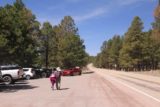 So we promptly got started and walked the road to the Jemez Falls area. There were lots of people doing the same thing as this was apparently a very popular waterfall. The road seemed to be longer than a mile as it wasn't until 12:45pm that we finally arrived at the Jemez Falls parking lot. While at this area, it wasn't immediately obvious where the trail down to the falls was supposed to be.
But we did see some people walking down near the East Fork Trail junction, which suggested that it was possible to get to the falls from that other trailhead at the East Fork where we had seen a lot of cars. It was probably similar in distance to the road we had just walked, but it was along the East Fork of the Jemez River, which I'm sure must've been more pleasant to walk than the road itself.
Anyways, we followed the trail towards what we believed was the way to Jemez Falls. Along the way, I got a partial glimpse of an attractive shield-shaped mountain which I thought must have been Jemez Mountain. Anyways, after getting past a wooden trail maze near an attractive rock formation, we started to lose the trail alongside the East Fork Jemez River. We and quite a few other hikers were dumbfounded as I knew from my research that this was supposed to be an easy trail. It wasn't supposed to involve a log crossing though one of the folks we were following insisted that that was what was necessary to keep going.
So Julie and Tahia headed back up while I was doing some investigating. But even when I crossed a makeshift log to get across the river, there was no trail so I knew this couldn't be the right way. And when I crossed back over to the trail maze and went back up the trail, that was when I spotted an unsigned trail junction that was not at all obvious save for some footprints. The time was 1:15pm when I figured this out.
How on earth were we supposed know that this was the way to go? There was no sign and even the correct detour was in shade at the time! And as I followed this trail, I was eventually led to a few spur paths (one leading down to some people chilling out by the apparent 6ft waterfall that I knew was the Upper Jemez Falls, which was the partial view of the small falls that the guy thought we had to cross the log to reach earlier on) while further along the trail was a fenced overlook that I knew was the correct end of the trail.
Sure enough, I got the view of the Jemez Falls which appeared to be 40-50ft tall and was gushing. I sure wished Julie and Tahia could have been here to realize the fruits of their labor for having walked all the way this way only not to get to check out this view! That was too bad.
When I had my fill of this overlook, I then took another path down to the upper falls plunge pool, which seemed like a perfect spot to cool off since the main waterfall didn't seem as accessible from a swimming hole standpoint.
At 1:30pm, I had enough of the Jemez Falls overlook and started heading back, but as I was doing so, I noticed some people coming from a different direction. So I followed where that trail was coming from and it eventually went up a pretty steep path. I wasn't sure if this was a sanctioned trail or not, but when I crested the ascent, I was now on a very wide dirt path flanked by trees.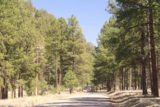 Eventually at 1:40pm, I found myself back at the fences of the Jemez Falls day use parking lot. I guess the presence of these fences made it seem like this wasn't a sanctioned trail, and maybe it still wasn't. But I still saw people going this way (they must've been in the know or been here before because to folks who hadn't been here, there was nothing to suggest this was the way to go).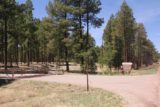 Anyways, I saw that Julie and Tahia were picknicking in one of the picnic tables here, and I showed them what the falls looked like. Still, we knew we were running late, and Julie and Tahia both decided that they didn't want to do this. And so we left together to get back to the trailhead though I couldn't help but feel for them for leaving empty-handed.
At 2:25pm, we were back at the car, which was still in shade. We definitely scored big time on the parking spot. That said, we were running way behind on getting to Durango, Colorado at a reasonable hour (in terms of enjoying their downtown and having dinner). The GPS
said we wouldn't get there until around 6:30pm, which was almost like the predicament we were in when we showed up to Santa Fe yesterday. But with Santa Fe, we really felt like we messed up by not having more time to enjoy that city. Were we doomed to the same fate with Durango, especially given all the delays and setbacks from earlier on this day?
As we were continuing to drive on the Hwy 4 we made a few stops along the way in search of a decent place for a takeaway lunch. We wound up stopping by a convenience store near a turnoff from the Hwy 4 not far from the Jemez Falls Campground but came away empty-handed there when Julie saw that they didn't have anything but processed foods (i.e. chips and other packaged goods). Then, we went into Jemez Springs trying to get something from a cafe there at 2:55pm. But that place said it would be a half-hour wait to get the lunch prepared, which we felt we couldn't stomach given how much time we had already lost in the first place.
We eventually went to another place called the Trail House some 7 miles south of Jemez Springs at 3:10pm. Julie promptly went in there, but when we a napping Tahia and I were sitting in the car patiently waiting for Julie for what seemed like forever (we ended up being the only ones left in the store as people came and went as we waited there), it ended up being 3:35pm when we were finally leaving!
It was pretty much the same 30 minutes that we would have had to have waited had we grabbed something from the cafe in Jemez Springs. So with this bit of a setback (for burgers and fries no less), we were finally on the road south to the Hwy 550, which was a bit more straightshot as that was the road heading north to Durango, Colorado via Bloomfield and Aztec.
That drive was pretty smooth going as it was mostly 70mph speed limit, but instead of gunning it at over 80mph, I decided to play it safer by staying closer to 70mph and following other cars on the right lane except to pass (something not enough people do, I reckon, especially in California). I didn't want to push my luck having already been pulled over earlier this morning.
It wouldn't be until about 6:25pm when we finally made it to Durango. The descent to the city was scenic as it was backed by beautiful Rocky Mountains capped with snow. With time of the essence, I dropped Julie off at the Nature's Oasis while I went to fill up gas in parallel.
We finally got to the room at the Homewood Suites at 7:10pm as we were running out of time to see the downtown Durango area. 15 minutes later, we finally arrived in the historic downtown of Durango, which was actually surprisingly close to our accommodation (unlike Santa Fe, which was almost a half-hour away from our accommodation over there). It turned out that we had a few minutes to check out the downtown area before our 8pm reservation at this place called Ken and Sues.
We eventually came to the conclusion that this was pretty much a typical downtown so perhaps it wound up being ok that we didn't have a whole lot of time to tour this place. And so eventually at 8pm, we were at Ken and Sue's for our late dinner.
We wound up having some filet mignon (to help Julie maintain a clean diet), grouper, lobster enchilada (for Tahia to avoid the junk kid's menu), and pork belly appetizers. The service was a bit on the slow side, but it turned out that getting the dessert caused another 30- to 45-minute delay as the server apparently forgot to put in the order for that. I was fine with letting it go, but I think she tried to save herself by saying it was already put in and would come out in a couple of minutes (it was already past 9:30pm at the time).
But it wouldn't be until 10pm when we finally left the restaurant, which was well past Tahia's bedtime and putting pressure on us to get by with less sleep as we were attempting to get to Mesa Verde tomorrow morning (earlier rather than later so we can have control of our itinerary). I guess to her credit, the waitress comped us for the dessert, but the damage was already done.
When we left the restaurant, Julie wanted to check out the Strater Hotel across the street given how it looked very historical even on the inside. We spent a few minutes checking out the saloon, the lobby area, and even the restaurant though they were closed for the night. It was definitely the kind of place that we could have stayed at, but I guess Julie needed to have the kitchen so we opted not to stay there. I wasn't sure if this was with or without regrets.
At 10:20pm, we were back in the car, and five minutes later, we were finally back in the Homewood Suites to finally wind down the day. With such a late ending to the day (further compounded by all the setbacks on this day), time will tell just how much pressure that's going to put on the next day going forward…
Visitor Comments:
Got something you'd like to share or say to keep the conversation going? Feel free to leave a comment below...
Los Alamos
May 15, 2021 2:45 pm
-
J. Robert Oppenheimer, the high-powered physicist who became the scientific director of the Manhattan Project, loved New Mexico and had even bought a ranch there. When he was looking for a remote place where secrecy could be maintained more easily, a New Mexico location seemed ideal. Indeed, Los Alamos is located on the former site… ...Read More