Day 5 (April 17, 2017 – Grand Junction, Colorado: "The Long Detour"
It was about 4:45am when I awoke. Julie got up roughly 15 minutes later. With a long driving day ahead of us, we had to tend to a lot of errands in terms of getting packed up as well as Julie trying to make breakfast using the kitchenette in the room. Unfortunately, there was extremely limited space so it was a bit of a challenge for her to do those things. I was tasked with washing the pots and pans, her blender, as well as the plates and utensils.
So given all that, it wasn't until about 8:05am when we finally got to the car all loaded and up and ready to go. Since the reception and partial breakfast from the hotel wasn't available until 8am, I guess the timing worked out though I was still a bit worried about a late arrival to Grand Junction given we were facing about 8 hours of driving on this day, including a long out-and-back detour to the North Clear Creek Falls.
When I was planning this trip, I tried to think real hard about when would be the opportunity to visit this falls because even though it was only 31 miles as the crow flew from Ouray to the falls, driving-wise, it was going to be about 3 hours in each direction to pull it off! And yet, it was such a good waterfall and I thought it was going to be real easy to see, so why not do this?
Anyways, we first had to drive out to Ouray from Telluride. The drive for the most part was uneventful, but as we were heading east along the Hwy 62, Julie noticed some real idyllic scenery of grass-fed cows grazing in pastures fronting very scenic snow-capped mountains. Since I was in the midst of a caravan of cars following some slow drivers, I didn't have the presence of mind to pull over the long shoulder and take a photo of it. I wondered at the time if I'd regret that decision not to stop.
The 62 eventually junctioned with the Hwy 550 at Ridgway, which seemed to be a fair-sized town. We then headed south along the 550 towards Ouray. Again, there were some more idyllic scenes of cows grazing before snowy mountains, but it wasn't as scenic as along the 62. Regardless, we entered the quiet yet scenic town of Ouray. Apparently, this town was known for Hot Springs, but it looked like with this being shoulder season, there was a lot of construction work going on to get this place ready for the next season (Summer? or Winter?). It had a very scenic backdrop of snowy mountains similar to the kind of scenery experienced in Telluride.
And when we got to 8th Ave, I saw a sign pointing to the left for Cascade Falls, which was the first waterfalling target for the day.
As we turned onto the street, the road became unpaved. It was also climbing fairly steeply so I had to put the car in a lower gear to ensure it wasn't overly taxed while also providing enough momentum on the washboarded unpaved road to get up to the car park less than a mile later.
We knew we were in the right place because there was a long portrait-oriented sign talking about the Cascade Falls as well as another vehicle already parked here. We parked at 9:20am, and right off the bat, we noticed that Cascade Falls could be seen from the parking area. Julie was already pretty impressed with its height so we eagerly laced on our boots and got moving on this short hike.
On the way up, we noticed a concrete flume that seemed to channel the runoff of Cascade Creek. A small sign here said that the flume was created to manage erosion from inevitable floods that would race through this area from time to time. Anyways, it didn't take long on the uphill path before we arrived at a viewing area just by a trail junction and footbridge. I knew we weren't going to do any of the other trails here to extend the hike as we were content to just visit this main waterfall.
From this vantage point, we got pretty nice clean looks at the Lower Cascade Falls (apparently there were six more waterfalls on Cascade Creek according to the signage) with some minor cascades fronting the main drop. But like Cornet Falls yesterday, it was the red cliffs that really made this waterfall stand out against most of the other waterfalls we had seen in our travels.
After having our fill of this idyllic spot, we then crossed the bridge and hiked a little further uphill to the end of the Lower Cascade Falls Trail. That was where we got unobstructed views of the impressive falls while also noticing the little mine or tunnel or whatever it was that was near its base. The morning sun was just starting to pierce through the clouds casting a glancing shine on the top of the falls.
When we had our fill of this spot, we descended back downhill but before noticing some of those nice snowy mountains partially obstructed by trees. And so we'd be back at the car by 10am, and then we made a quick stop in the main drag of Ouray to try to take photos. And as we were doing this, we saw a sandwich shop, which Julie immediately seized the opportunity to pick something up on the go knowing that today was going to be all driving.
So we promptly did that, and it wasn't until about 10:25am when we were finally back out on the road. I took some more photos from town during the time we were waiting for the food, and from what Julie learned by talking to the proprietor there, Ouray was more of a Summer destination as this shoulder season was when most of the locals would go on their vacations for a couple of weeks.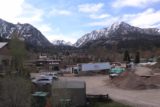 Anyways, the drive north on the 550 would eventually enter the city of Montrose, which was definitely pretty big compared to all the other towns we had seen in the heart of the Rockies so far. We then turned right onto the Route 50 which got us into some pretty undeveloped lands in the vicinity of the Black Canyon of the Gunnison National Park. This was only notable to me because I had a coworker who worked in the National Park Service in that particular park before joining our company.
I guess it's not often that you'd come across a resume saying you've worked for the NPS when you're applying for an engineering job.
Anyways, after getting by the Blue Mesa Reservoir, we then junctioned with the Hwy 149, and followed that road southwards towards North Clear Creek Falls. It was a fairly smooth drive for us as we didn't encounter another car going in the same direction as us (i.e. we were never passed and we didn't have to pass anyone) until we got to the town of Lake City, which seemed to be some kind of Summer resort town or something. There was a one-lane road construction area that was going on there that caused a short delay. Anyways, throughout most of the drive along the 149, there was so little traffic that cars going in the opposite direction would have drivers waving to me whenever we'd pass by.
Right after Lake City, the Hwy 149 became more dramatic as the road climbed up to Slumguillion Peak at over 11,500ft! It also went past Spring Creek Pass at around 10,900ft! Whoever said the Tioga Pass was the highest mountain pass in the lower 48 states at just under 10,000ft was obviously incorrect because here we had just driven one in the heart of the Rockies that easily surpassed it!
At 1:40pm, we finally made it to the turnoff for the forest service road leading to the North Clear Creek Falls. It was clearly signposted, but the problem was that the road was gated as it was pretty obvious that there was still snow on that road. Another sign said it was only a half-mile to get to the falls so I pulled over by the gate, and proceeded to walk to the falls. Julie and Tahia decided to stay behind in the interest of time though I wondered if they'd regret that decision.
The walk was pretty uneventful though we were at about 10,000ft so the breathing was a little bit heavy though there was no threat of altitude sickness since we had been acclimated to the high elevation throughout this trip. The road was very bright thanks to the incident light from the patches of snow as well as the pavement itself.
At 2pm, I arrived at the parking lot for the North Clear Creek Falls. Then, I briefly checked out the signage here before checking out the overlook area, where I finally got to lay my eyes on the impressive waterfall thundering below. There was still some snow patches along the viewing areas essentially flooding some of the overlooks, but with the Gore-tex boots, I was able to step into them without wetting my socks.
As I walked closer to a more angled view of the falls, I saw that the timing was right for a slight rainbow near its base. And as I looked back towards the Hwy 149 from here, I could still see our parked car. This was clearly an easy excursion that Julie and Tahia should have done, but I guess they'll have to experience it vicariously through my efforts right now. Nonetheless, I figured this waterfall had to have been at least a 3 in my mind.
At 2:35pm, I got back to the car. Indeed, I wound up spending just under an hour here when I expected to spend less since this was supposed to be a drive-to waterfall. Oh well, with this being shoulder season, I guess you have to roll with the punches on the conditions like we did with Jemez Falls two days ago.
Next, we did the very long drive from here back to Montrose and then onto Grand Junction, where we could finally spend consecutive nights in one place and not have to vagabond it like we had been doing for this entire first half of the trip. It had taken a bit of a toll on us, but now as we were moving into the second part of the trip, it seemed like the pace promised to be a bit more reasonable in Julie's eyes.
Along the way, we made a quick stop at the Windy Point Overlook, which was still in the higher elevations just before we were going to make the descent to Lake City while driving the 149. The view from the overlook was over some kind of valley surrounded by tall snow-capped mountains. There was also some deep snow covering almost up to the signs there. Tahia had some fun playing in the snow, and even though we had to get moving, she was dragging her feet to leave.
On the approach to Grand Junction, Julie made an Open Table reservation with this place called 626 on Rood. We were openly questioning whether we made the right decision in staying in Grand Junction this evening as opposed to Glenwood Springs due to logistics (Glenwood Springs was closer to Hanging Lake, where we were going to tomorrow), but we knew the big pluses for Grand Junction was the city's size so there'd be greater chances of getting food at a Natural Grocers or Whole Foods or Sprouts. But it also meant greater selection of dining as well, and Julie's ability to make the Open Table Reservation might have been a tougher thing to pull off had we stayed further east at Glenwood Springs.
We got there at 6:10pm, and promptly had what turned out to be a very delightful dinner consisting of local stuff, including Julie's Wagyu beef roast, Tahia's 626 burger (of wagyu beef patty), my two-bone rack of Colorado lamb, $1 oysters, and foie gras. The dessert was some kind of flourless chocolate cake, which we also added ice cream with from some ice cream alchemist based in Boulder, where apparently it would take two days to churn every scoop of honey ice cream there.
While the bill was high (we paid nearly $150 with tax and tip for everything), Julie insisted that we experience the high quality and fresh stuff found in Colorado, which we knew we weren't going to have when we'd leave the state. Her friend Dana used to live in Boulder and she told me that she was really sad to have to leave that place given all the organic and fresh foods that they had over there. And in our Colorado Springs trip about a month ago, we had similar experiences with the food.
Anyways, we were back in the car at 8:05pm, and then after Julie made a pretty lengthy grocery stop at a Sprouts from 8:20-9pm, we finally arrived at the Residence Inn, where we could unwind from the day at last and look forward to Hanging Lake and Rifle Falls State Park tomorrow without worrying about packing and unpacking as part of the day's activities…
Visitor Comments:
Got something you'd like to share or say to keep the conversation going? Feel free to leave a comment below...
Los Alamos
May 15, 2021 2:45 pm
-
J. Robert Oppenheimer, the high-powered physicist who became the scientific director of the Manhattan Project, loved New Mexico and had even bought a ranch there. When he was looking for a remote place where secrecy could be maintained more easily, a New Mexico location seemed ideal. Indeed, Los Alamos is located on the former site… ...Read More