Day 6 (April 18, 2017 – Grand Junction, Colorado: "Cost Isn't Everything"
It was 5:15am when I awoke. The expectation of today was that it was going to be a bit less hectic than all the rest of the mornings on this trip because we didn't have to vagabond it for the first time all trip long. But even with the fewer things to do before heading out, it still wouldn't be until 8:15am when we were finally in the car after having the brekkie at the Residence Inn. I guess our brekkie experience here had once again shown that we tended to like the Residence Inn brekkies than say the Hyatt or the Holiday Inn Express ones.
It turned out that we still had to drive some 86 miles east along the I-70 to get to Hanging Lake. Again, I couldn't shake the thought I had debated with myself about staying in Glenwood Springs instead of Grand Junction, but I wound up picking Grand Junction so Julie would have more food choices and so far it was panning out that way. That said, logistically speaking, Glenwood Springs would be a lot closer to Hanging Lake so we could have started the hike there a lot earlier than we were about to now given that we had to drive some 90 minutes or so east of Grand Junction just to get to Hanging Lake instead of something more like less than 20 miles or so from Glenwood Springs.
Nevertheless, the drive out east was for the most part uneventful. We were zooming along at the 75mph speed limit while we were passing by the familiar buttes and mesas of the desert southwest. We had noticed that the vegetation in these parts were noticeably more brown and the grass more sparse, and I figured that the difference between this part of Colorado and the lusher, greener pastures of say the mountainous lands further to the south like Telluride and Ouray were a result of the difference in elevation.
The greener pastures were closer to say 7,000-8,000ft elevation while we were more like around 5,000ft elevation. I guess that difference was what made the change in vegetation so apparent. Still, as we kept seeing more and more of these familiar mesas and cliff formations, it became even more apparent how this area showed its rock layers before the softer sand or dirt skirted down the remainder of the cliffs. I had read that these things were a result of the area being the sea floor at one point or longer in the earth's history, and that layers upon layers of different rocks were the result of past geological epochs depositing their sediments that would ultimately harden and become the rock layers we would wind up seeing as we zoomed through the interstate.
After a short potty break as Tahia had to go real bad at around 9:10am, we would eventually arrive at the Hanging Lake Trailhead at 9:50am just as we had exited the I-70 before a tunnel. I had remembered watching a Science Channel special about this stretch of the I-70 east of Glenwood Springs, and I could clearly see the dramatic scenery where we were near the bottom of near vertical cliffs as the highway pretty much followed the course of the Colorado River.
As we got ready for the hike, the first thing that we noticed was the lack of freeway noise, which was also a tribute to the engineering and planning required to maintain the peace and tranquility of Hanging Lake. Clearly, it was a very beloved spot. Of course, this all came at a cost, but Julie mentioned that "cost isn't everything", and it was certainly apparent in this case. Had the old plan gone forward, I'm sure the highway would have more or less followed the railroad tracks across the manmade lake at the car park.
Indeed, the signage at the trailhead here said that this was the most celebrated stretch of interstate in the United States, and we were starting to see why.
We finally started our hike at around 10:10am. The hike began past a pretty big restroom facility next to the parking lot (there seemed to be limited marked spaces and we wondered if it was more crowded on the weekends and Summer where parking space would be even harder to score. I mean, where would they park if it got too crowded? This off-ramp was basically by itself. So it's either this or the I-70, I reckoned.
Anyways, along the whole first 0.3-mile of paved sidewalk alongside the manmade part of Hanging Lake, we got good views of the towering cliffs juxtaposed with the man-made lake, which was showing some reflections at this time of the morning.
It turned out that the tranquility wasn't totally complete in this stretch because we did get to a part where we could see the I-70 and hear the traffic zooming along over there. Thankfully, we didn't have to continue on the sidewalk, which looked like it was heading closer to the noise, and that walkway might have gone to a different car park area (perhaps that might be the saving grace for overflow parking for the Hanging Lake Trail).
Anyways, we wouldn't be in position to find out where that trail went because we were about to go up the real part of the Hanging Lake Trail, which started right before a bridge with some restrooms nearby. However, we could clearly see that the trail promptly climbed from this point forward as we'd leave the concrete behind. And we were warned by the receptionist at the Residence Inn last night that this was going to be a steep and relentlessly uphill hike. The signage said to only be 1.2 miles up but it soon became apparent what they meant by this trail being "strenuous".
Indeed, we immediately went up what appeared to be a trail flanked by rockfalls from the verticality of the cliffs right next us. That made the footing a bit uneven even for an established trail like this. The progress was immediately slow because of the altitude in addition to the steepness. Personally, I was fine with the altitude since I had done a lot of the hiking at the high altitudes while Julie and Tahia had been doing other stuff when we were in our divide-and-conquer mode. But that was also the reason why they were struggling a little bit with the altitude though they weren't getting to the point of altitude sickness since we had already been somewhat acclimated in the higher elevations having been on this trip for at least five days now.
As we went higher up the trail, the slow progress degenerated into something way less than a mile an hour, which was already a typically slow pace. That was because Tahia was getting dehydrated and insisted on water stops almost every dozen steps or so. At this rate, we weren't making hardly any progress and we were getting passed by one hiking group after another, including one all-girl group where some of them appeared to be not much older than Tahia.
During our slow progress, we did see bridges with numbers on them (they were incrementally increasing by one) as well as a trio of quarter-mile posts, which seemed to be spaced further apart than I mentally envisioned how their frequency should have been given our slow progress.
The trail just kept going up and up and up, and it was getting to the point where Julie and Tahia were starting to complain. Perhaps contrasting the physical rigor was the presence of Dead Horse Creek pretty much always flowing alongside the trail, especially with some minor cascades along the way. With each stop we made, Tahia would always have the energy to drop some light twigs in the creek to watch the current take them away.
The trail would eventually climb up to a point where we were encountering snow still on the trail. There were still enough rocky sections of the trail that skirted around most of the snow, but where we didn't have a choice, we were glad to have worn our hiking boots which gripped the snow fairly well for the most part.
Once we got past the snow, the trail then made one last climb hugging a cliff ledge with some railings to assure us that we wouldn't fall off. Towards the uppermost part of this ascent, there were steep rock steps and dramatic views back down the Hanging Canyon. And when we finally got atop this dramatic and steep climb, we then followed a boardwalk that led to the Bridal Veil Falls.
The most striking thing about this place was how it totally reminded us of Jiuzhaigou, or Plitvice. Indeed, we were looking at a travertine "hanging lake" and waterfall. The clear water its greenish color really made this place colorful and dramatic, and it definitely got Julie to proclaim that, "it was worth it!"
We managed to get up here at 12pm, and we probably lingered here for a pretty good 35 minutes or so as we looked for ways to capture this magical moment through videos and photographs from as many different angles and positions as possible. This was quite the popular spot (and deservedly so) as more and more people took the trouble to get all the way up here and just bask in the beauty that was the real Hanging Lake. Now, we could finally see why this place was so beloved.
Now just prior to getting to this divine spot, there was a spur trail labeled Spouting Rock, that kept going up. One of the folks who were sharing the views with us of the Bridal Veil Falls said that it was well worth the short uphill hike to get up to the Spouting Rock. In fact, I noticed that there was another tier of waterfall further upstream through the foliage, and the folks said that that waterfall was indeed the Spouting Rock.
And so we made our way further up to the Spouting Rock, which was a dramatic plunging waterfall emerging from a hole in the cliff. In other words, it was a gushing spring, where we could also get right behind it and look out. With this waterfall, Julie and I now would give this place a 4, and it was easily the best hike and waterfall we had seen on this trip. It was also making us re-evaluate how we were rating or even orienting the Plitvice Waterfalls on our Top 10 list, which we'll get to when we re-launch the website after the migration would finally be complete.
Tahia was also loving this spot because she managed to find a little nook in a rock that was right before the Spouting Rock, and it was facing a pond just downstream of it. She found herself laying down having some snacks and it appeared as if she didn't want to leave.
Anyways, it wouldn't be until about 1:10pm when we finally left. We had made one more stop back at the Bridal Veil Falls so we could make use of Julie's selfie stick for the family photo. But now it was getting late in the day and we still had Rifle Falls to do before getting back to Grand Junction.
Fortunately for us, the rest of the hike was all downhill, and it seemed like it gave Tahia a second wind as she was leading the way down, which impressed many of the hikers we had randomly encountered along the way. One of the ladies who was going at a similar pace as us said that she was a "natural born hiker".
As we returned to the paved part of the walk at 2:05pm, we could clearly see that now the sun was more or less in front of us as we faced a more westerly direction. We'd eventually return to the car park at 2:20pm, where we then had ourselves a little bit of a picnic lunch at one of the tables next to our parked car. Our meal consisted of some bagels with cheese and ham along with some blackberries.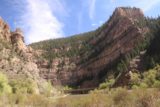 We had to fend off one chipmunk or squirrel which seemed really keen on having what we were eating. There were also an army of ants near one side of the picnic table. Clearly, the wildlife here had gotten used to human scraps.
At 2:50pm, we finally got back in the car and started driving out of the now-very-packed parking lot. Apparently, some folks got creative and did some parallel parking in addition to the parking in the marked spaces. But I wondered what people would do if even all of these spaces were all taken up and where would they next find parking?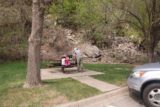 The drive back east along the I-70 was once again pretty uneventful. We'd follow some brown signs pointing the way to Rifle Falls State Park (among other things) just as we were approaching the town of Rifle. Julie and Tahia were already taking their afternoon siesta, and as we were following the 13 north and then the 325, which skirted by a manmade lake at the Rifle Gap, we then finally arrived at the more subdued Rifle Falls State Park.
After doing the right thing and self-paying the $7 (there was apparently no kiosk attendant on duty), we promptly found a shady spot to park the car at 3:55pm. Both Julie and Tahia wanted to sleep in a bit, and Tahia protested the most about having her nap interrupted. So we got started on the short stroll to Rifle Falls though Tahia was probably as uncooperative as she had been when it came to finally using my tripod to take family photos. Julie was also very upset with her for throwing food away.
Rifle Falls was a three-segmented waterfall that was quite impressive. The sun's late afternoon position wasn't ideal and I could see that this was more of a late morning waterfall. Nonetheless, there were people angling in the plunge pool before the falls, and there were families doing one of the trails surrounding the falls as well as just playing around the water. Once again, Tahia was busy tossing twigs and light rocks in the stream to watch them get carried away by the current.
While Julie and Tahia were lingering by the bridge downstream of the falls, I was busy exploring the trails. I first went up the left side of the trail where I could get a profile view of the falls, and then I went over to an alcove where I was more-or-less behind the far left drop of Rifle Falls. Even on the ascent here, I could see some minor caves attesting to the travertine nature of the underlying bedrock of this waterfall.
After taking family shots with the tripod, Julie and Tahia headed back to the car. Meanwhile, I then followed the Coyote Trail, which led me to the right side of the falls then past some more interesting caves (some of which appeared to go pretty deep; or at least to where you needed a flashlight to see what was ahead). The trail then descended before ascending again towards the junction with the Bobcat Trail.
I kept left and followed the trail along the perimeter of the travertine cliffs looking into some of the cave openings from the top as well as getting interesting views of the Rifle Gap vicinity. At the top of the falls, there were railings as well as protruding overlooks offering up different profile views of the three-segmented Rifle Falls. One of the segments appeared to have come out of a hose, which I thought was quite unusual.
I guess that was to ensure there was a third segment though I wondered how much of that third segment would be there had there not been diversion or that hose. Anyways, after having my fill of this spot, I then completed the Coyote Trail, which deposited me back near the car park. I wound up rejoining Julie and Tahia at 4:55pm, where we next had to drive back to Grand Junction, which the GPS
said would take about another 90 minutes.
So in a little bit of deja vu, Julie booked a table at this place called the Bin 707 Foodbar, which was said to be the top eatery in Grand Junction. It was probably going to be our last splurge as Julie really enjoyed the organic and fresh stuff from Colorado, and after our travels, we could see where this food was being sourced from (i.e. farm-to-table, so to speak). We knew as we'd be leaving Colorado tomorrow and eventually heading for home, that this stuff wouldn't be available, especially in Southern California where water was even more scarce.
Again, the drive was pretty uneventful, and it wouldn't be until about 6:20pm when we got to the Bin 707 Foodbar, which was pretty close to the 626 on the Rood place we were at yesterday. And fortunately for us, there was plenty of places to sit. We wound up sitting at a community table in which we were the only ones there for the whole time we dined.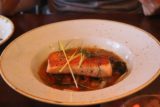 We ended up getting appetizers of elk carpaccio and 7x wagyu beef tartare. Then, for the mains, we got Tahia a Bin Burger while I got duck over cassoulet, and Julie got salmon over the snapper base (of veggies). It was once again a pretty good meal, and we ended it off with the Momofuku Crack Pie, which also had the ice cream alchemy vanilla bean ice cream. While the dessert was ok, it didn't take away from the fact that we left the restaurant pretty satisfied, and even Tahia (the harshest critic) enjoyed her meal.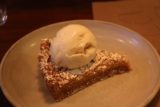 By 8:05pm, we got back in the car and then ten minutes later, we followed the familiar Hwy 50 and 6 byway towards the hidden Natural Grocers. Julie once again spent a good deal of time there and it wasn't until about 9pm that Julie was done with her groceries. By 9:20pm, we were back at the Residence Inn, and 15 minutes later, Tahia and I went to the pool that we had promised she could play in if she behaved.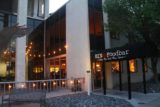 We did this until closing time at 10pm, and then when we got back in the room, we were all pretty much conked out from yet another busy day of touring. I, probably more than anyone else, needed the Zzzs as I was even dozing off while Tahia was playing at the shallow end of the pool (not a good thing).
But with tomorrow being less of a planned day at Arches National Park (something Julie and I had done 16 years ago), I figured that we could sleep in a bit for this night as much as I wanted to get the most of even tomorrow…
Visitor Comments:
Got something you'd like to share or say to keep the conversation going? Feel free to leave a comment below...
Los Alamos
May 15, 2021 2:45 pm
-
J. Robert Oppenheimer, the high-powered physicist who became the scientific director of the Manhattan Project, loved New Mexico and had even bought a ranch there. When he was looking for a remote place where secrecy could be maintained more easily, a New Mexico location seemed ideal. Indeed, Los Alamos is located on the former site… ...Read More