Day 7 (April 19, 2017 – Moab, Utah: "Spotty Recollections"
It was 6am when I awoke. Compared to the rest of the trip up to this point, this was sleeping in. I had actually contemplated getting up to my alarm at 5am, but at Julie's urging, I went back to sleep.
We took our time to get ready for the day since I didn't really have a set agenda for today, and so it wasn't until about 8am when we returned to the room after going down to have breakfast at a little after 7:30am. And it wouldn't be until 8:45am when we finished packing and were in the car ready to check out and leave.
But before we'd leave Colorado for good, Julie wanted to make one more stop at the Sprouts in Grand Junction. And we did that at 9am. Fifteen minutes later, Julie was back with loads of strawberries (as it was a good deal), and then we were finally headed to Arches National Park in Utah.
The drive to the west along the I-70 was pretty smooth going as the traffic seemed to be delightfully light. What was even more notable was that the speed limit had increased from 75mph in Colorado to 80mph when we crossed the border to go into Utah!
So it didn't take long before we arrived at the turnoff for Arches National Park, which was off the US191 a few miles north of Moab. This was the first time that Julie and I were back here since June 2001. I had originally wanted to drive all the way to Salt Lake City to do something we hadn't done before, but given the distances and limited time on this trip, I decided that Tahia should at least get to experience Arches and Canyonlands, which was closer to Las Vegas than having to drive further to the north then going back southwest towards Vegas to end the trip.
Anyways, since it was still only 10:45am, it was too early to check in so we thought we could make our visit straight into Arches National Park before checking into to our accommodation for Moab for the next two nights and figuring out where to have dinner.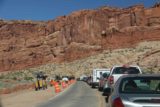 However, we were greeted with a pretty big line of cars waiting to get into Arches. I had never remembered having to deal with such a long line before. And I had also never remembered seeing that they were booting everyone out of the park from Sundays through Thursdays at 7pm due to major road construction work throughout the park throughout this year. So that meant there'd be no way we could check out Delicate Arch at sunset like we did the last time we were here.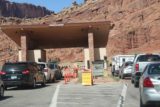 Well, at least the line was fairly fast moving and after showing our annual pass at the kiosk to save on $25 for admission, we were in the park. We ascended the familiar road beneath the Three Penguins formation, and we wound up at the car park for the Park Avenue viewpoint and trailhead at 11:05am after getting lucky with someone pulling out just as we were trying to find a parking spot and doing one circle. Again, I had never recalled having difficulty finding parking in any of the places within Arches, but this time, it seemed like dealing with crowds was going to be the order of our time in the Moab vicinity.
I had originally planned for us to do some walking within Park Avenue, but with Julie trying to figure out what to do with the accommodations in Vegas (as her cousin offered to let us stay at his place instead of using our points to stay at New York New York on the Strip), it was just Tahia and I enjoying the views as there were impressive formations converging onto this narrow canyon. With the current lighting of the late morning, only the left side was lit up by the sun while the right side was somewhat in shadow. I wasn't sure if the lighting would be more distributed earlier in the day or later into the afternoon. Regardless, we both had our fill ten minutes later.
When Julie was done doing her business, she then briefly checked out the viewpoint before she was back in the car and we were out of there to continue to tour Arches National Park. The next part we targeted was the Windows Section, where we knew that there'd be the Double Arch as well as the Spectacles and the Turret Arch. In a way, this would be like the last time we first showed up to this park some 16 years ago, but unlike that last time, Tahia would get to see her first really big arches from up close.
We pretty much followed a long caravan of cars, and given how busy it was, we opted not to stop at the interesting Balanced Rock. Instead, we turned off at the junction with the Windows Section, and we'd eventually make it to the car park there as we parked in the lower lot closer to the Double Arch since there were no spots closer to the Windows Section. We finally stopped the car at 12pm.
Since Tahia and Julie were hungry, we decided that we were going to picnic within the car since there were no picnic tables here. That kind of delayed things as it took time for Julie to make the same bagel sandwiches like we had did at the Hanging Lake car park yesterday. It had been pretty warm though there was also a somewhat chilly wind that had been blowing.
It wouldn't be until about 12:50pm that we'd finally wrap up our informal picnic lunch and finally get going with the sightseeing of this part of Arches National Park. So first up, we briefly walked down to the Double Arch since we had been looking at it the whole time we were picnicking. The sandy approach was every bit as interesting as it was the last time we were here, but the lighting was better.
But once again, there were a lot more people on this path (and underneath the arch) that last time when it seemed like we were only one of a handful of people that were here 16 years ago. Either everyone seemed to be on Spring Break or something or we happened to show up at Arches' peak season as opposed to late June when we were last here. So the park felt a bit more crowded that before like with the experience at Park Avenue.
We'd eventually get to a spot where there was a little bit of a cul-de-sac off to our right to get pretty good photos looking through the Double Arch with blue skies through them. After getting our photos from here, Julie and Tahia headed back in the other direction towards the Windows Section in the interest of time given the early park closure at 7pm. Meanwhile, I briefly solo'ed the continuation of the short hike to get right underneath Double Arch and climb up to a part where I'd be able to look back at the scenic Windows Section as well as the snowy LaSal Mountains through one of the spans of Double Arch.
I'd eventually catch up to both Julie and Tahia when we got up to the steps before the upper parking area. Then, we'd walk up to the North Window together, where we saw the familiar big and accessible arch that was very much crowded at the bottom of its span. I was scoping out where it would be possible to photograph Turret Arch through this arch, and I could see that I'd have to do some scrambling to get up to a spot (somewhat precariously) that would allow this view to be possible.
I knew that this was best photographed early in the morning when the rocks would glow more red so I'd keep it in mind to do this hike first thing in the morning when I'd solo this part while Julie and Tahia could sleep in or get ready. I'd either make this attempt first thing tomorrow or first thing Friday when we'd make the six-hour drive all the way to Las Vegas.
Anyways, we took some selfie shots of the whole family while we were here. Tahia was having fun climbing the slickrock beneath the North Window. We had to keep a real close eye on this girl because she really seemed to have no fear of falling, especially with the dropoffs on the other side of this arch.
Next, we then hiked back down to the junction with the Turret Arch approach (though in hindsight, we probably could have just completed the loop). Either way, when we got towards the Turret Arch, we saw where we could look back at the impressive North Window and South Window together in a scene that was informally known as the "Spectacles".
And unlike the last time when we had point-and-shoot digital cameras or Julie's analog Nikon camera, this time, I could just use my DSLR
and take the scene together in one shot without the need for stitching. We then spent some time scrambling to the other side of the Turret Arch, where we made an awkward attempt at looking back at the Spectacles through the span of Turret Arch though the left eye was blocked by some rock formations fronting it. So we'd have to settle for a different view through the South Window and the snowy LaSal Mountains to the right of it.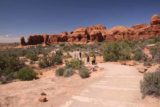 Meanwhile, Tahia was busy climbing up to that vantage point, which was a bit on the steep side, but she insisted on doing this without any help. She was quite the independent little cookie.
After having our fill of the Turret Arch, we then went back onto the loop trail where we'd get another look at the Spectacles from the trail (knowing now that that was the best spot to take it in). We'd do some more awkward family shots using Julie's selfie stick (I didn't bother bringing a tripod though in hindsight, I probably should have), and so by 2:20pm, we were finally back in the car.
Next up was the Delicate Arch, which we wanted to fit in before continuing onto Moab for checking in and for dinner. We knew that it was probably going to be now or never to do this arch, which we figured was the most dramatic one in the park. Mentally, I had planned to do the longer 5.5-mile out-and-back hike through a bunch of arches in the Devil's Garden tomorrow so I knew that trying to do Delicate Arch ater that was probably not going to be feasible.
Even still, Tahia and Julie wanted to nap in the 15-minute drive it took to get to the Delicate Arch Trailhead. So Tahia was in a pretty hissy mood. Even Julie was protesting about our "go-go-go" mentality of road tripping, but I was insistent that it was going to be now or never for a chance for Tahia to see the dramatic Delicate Arch, especially with the backdrop of the snowy LaSal Mountains.
And so eventually they grudgingly summoned up the energy to get going on this hike. Julie brought Larabars to help boost up the energy though Tahia wasn't that interested in eating them. We did eat apples though.
The hike started off by passing by the Wolfe Ranch, which was a couple of restored log buildings as well as some wooden fence relics. We figured we could come back to this thing on the way back to the trailhead. We also skipped some spur trail leading to petroglyphs, but after having seen the impressive panel at Mesa Verde, both Julie and Tahia weren't particularly interested in seeing the work of the Utes on this hike.
Right after the second of two spurs to the petroglyphs (both signposted), we then started the fairly long climb along the 3-mile round trip trail. With hardly any shade, it was becoming a hot hike. But since we were all properly equipped with hiking boots, we didn't have much trouble going up the paved incline and then up the slickrock though we were being passed by plenty of other faster hikers. We also saw a lot of people running down the slickrock on the return so that kind of helped us to navigate our way through the slickrock section since I knew (and remembered) how tricky slickrock hiking could be.
The hike felt pretty long, but I was pretty sure that this trail hadn't changed over the 16 years since we were last here. Unlike that last time when we showed up towards the end of the day (under high 80s or low 90s heat), this time, the temperatures were probably in the high 70s or low 80s, and it was far more comfortable.
But like before, it was a pretty busy trail.
As we got up towards the height of the slickrock climb, the trail then undulated between slickrock and red sand. Eventually, we'd get to a slickrock ledge, where the hike continued towards the familiar tiny window that required a bit of a scramble to get up. This time, we all made the steep climb to see what the view like up there, and it turned out to be quite a good move as we were treated to a gorgeous view of the LaSal Mountains in the distance as well as an angled view of the Delicate Arch!
The steep climb made me a bit concerned about Tahia's safety, but once again, she insisted that she could do the climb without any assistance, and well, she certainly did it on the way up as well as on the way down where I was most concerned.
Other hikers who happened to be here were congratulating her on doing well. One person even offered her some assistance, but Tahia refused as she insisted on doing it herself.
After having our fill of the Delicate Arch through this window (which was a bit crowded with people so it wasn't easy to get our shots without people ruining them), we then rounded the final bend along the slickrock ledge, and then we were back at the familiar view of the Delicate Arch.
We were pretty content to just sit down and relax while looking at the signature and iconic natural arch of Arches National Park. And this time around, we were taking photos with the intention of featuring the snowy LaSal Mountains in the backdrop contrasting the reddish color of the natural arch itself.
The bright 4pm sun wasn't quite as soft as I would have liked, but since we couldn't be here later than 7pm (sunset was at 8pm), there would be nothing we could do about it on this visit. Also, the sun was not high enough on the horizon where the whole arch would be lit up as it appeared that a good deal of the side facing us was partially shadowed. So perhaps we had timed it right on our first visit back in late June 2001 though I also remembered how much desert heat we had to deal with back on that trip.
And so we'd spent the next half-hour or so trying to take our shots, our selfies, and do all this while not dropping anything down into the big bowl between us and the Delicate Arch. We also decided that we weren't going to take any of those shots of us standing beneath the Delicate Arch knowing how tiny we'd be compared to the arch. But that didn't stop plenty of other people from doing that so there'd almost always be people at the arch in our photos.
It wouldn't be until about 4:35pm when we'd finally had our fill of Delicate Arch and so we started to head on out. Along the way out, I made one last scramble up to the window before the Delicate Arch seeing that there were fewer people up there save for a couple that was somewhat hidden in a corner to the lower right to not intrude too much on photos (that was courteous of them to do that whether they knew it or not).
The hike back down was a lot faster than on the way up (and definitely far less steeper than the Hanging Lake hike), and so we'd be back at the car by 5:35pm. Interestingly enough, we saw a few hikers going in the other direction, which I thought was really pushing the time limit of getting out of here by 7pm. There was even a ranger or two here that were discouraging people from doing this hike in the interest of time (to allow for road construction at night between 7pm and 7am).
I guess those people that did get the late start must have done so just before the ranger showed up to turn people back. And as we had considered doing when on the way up, we stopped by for a closer inspection of the Wolfe Ranch though we didn't take the few moments to examine the petroglyphs.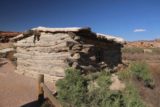 Finally, we were headed down into Moab, where we followed the long caravan of cars doing what we were doing and heading back out of the park before the nightly road construction could begin in earnest. We'd eventually get down to the Kokopelli Lodge for check-in at 6:15pm, which struck me as sort of a sleepeazy since we were pulling up to what appeared to be a motel.
But when Julie got the keys and we were told to drive a couple of blocks to the north, we then got into the Kokopelli Inn Towner, which turned out to be quite the cute and spacious single-story apartment or residence pretty much right next door to the Homewood Suites. That was Julie's original choice, but at over $300 per night, the Kokopelli Inn Towner was far more reasonably-priced, and it turned out to be a far better value. So what if this place didn't have the chain name.
Anyways, we wouldn't be eating in any of the real popular spots in town given how busy it was and how reservations weren't until 9pm. So we ended up settling for this place called the Atomic Grill a little north of Moab's downtown. Julie really wasn't in the mood for cookie given our late arrival so that was where we'd eventually show up at 7:10pm after we had finally gotten settled in our apartment.
We were a little skeptical of this diner at first since it seemed like we were one of a handful of people here. But beggars couldn't be choosers I guess. Still, we ordered some elk stew, full rack of baby back ribs (since they said they brined it here), and some romaine duck salad. With the exception of the fairly ordinary ribs, the rest of the dishes were actually quite good, especially the duck salad.
Then, we had a flourless cake with ice cream for dessert. The server seemed to be overwhelmed when suddenly the restaurant had gotten busy during dinner, but he noted to us that we were a pleasure to serve to since we seemed to be the only ones enjoying our meal while everyone else had something to complain about apparently. So he seemed to give us pretty good service.
Anyways, at 8:50pm, we were done with dinner. It was probably the first time I didn't have to spend over $100 on dinner on this trip though it was still around $80+, and it was also the first time we didn't have to end our dinner past 9pm (which was saying something considering that we had gotten started after 7).
At 9:30pm, we were finally back at the apartment as we had spent some time driving around the rest of Moab just to see how much the town had changed. I still remembered how much this place reminded me of a smaller town, and I even remembered having Chinese food here, which felt like it was more on the edge of town. But now, it seemed like the town had expanded quite a bit over the 16 years since our last visit as there was now a somewhat walkable couple of blocks of shops and restaurants with a few more sprawling shops, groceries, gas stations, and accommodations.
That Szechuan Chinese place was still here after all these years though it now seemed like it was in the downtown area intead of on the outskirts of town. The old sleepeazy (I think it was the Canyon Inn or something like that) that we had stayed at was no longer there though. I remembered how it had a real spacious car park on the northern edge of town. Indeed, Moab felt a lot less quaint than it did before, and it felt a lot more commercialized. And from hearing a lot of foreign languages both in the park and even at dinner (we heard French, German, Italian, Portugese, and Spanish [both the European brand as well as the North American variety]), it appeared that Moab was quite the international destination now.
Julie made a quick stop at the City Market just to stock up on more water. But she was really interested in checking out the Moon Flower Grocery, which was apparently more Trader Joe's-like but it was closed at 8pm so we couldn't do a grocery run there on this night. Julie said that the City Market was pretty much like a Ralphs. And there was definitely no Natural Grocers, which we had seen a lot of in Colorado, which Julie was already missing.
Anyways, we spent the rest of the evening getting cleaned up. We had spent a pretty significant chunk of the rest of the evening trying to figure out what to do the next day. The original plan was to do Landscape Arch and Double-O Arch at the Devil's Garden in Arches, but after further research, Julie thought it would be better to go in a different direction and out to Mesa Arch, Dead Horse Point, and this dinosaur exhibition that Tahia might not find so boring. And given how crowded Arches was today, perhaps that was the better alternative way to spend the better part of tomorrow morning.
Meanwhile, after seeing all the snow on the LaSal Mountains, I knew there had to be some waterfall in the Moab vicinity so I was busy looking for such waterfalls to visit tomorrow afternoon. I wrote down some notes to check out Mill Creek ("Left Hand" according to locals) and Faux Falls. I thought those would be the perfect excuses to talk about the magical wonders of this place if I'd be successful finding those waterfalls and swimming holes.
And so it wouldn't be until well after midnight that Julie and I finally went to sleep. I'm sure as much as we were packing in tomorrow, we'd have a pretty hard time waking up…
Visitor Comments:
Los Alamos
May 15, 2021 2:45 pm
-
J. Robert Oppenheimer, the high-powered physicist who became the scientific director of the Manhattan Project, loved New Mexico and had even bought a ranch there. When he was looking for a remote place where secrecy could be maintained more easily, a New Mexico location seemed ideal. Indeed, Los Alamos is located on the former site… ...Read More