Day 3: FINALLY THE NARROWS!
It was about 5:15am when we awoke from our uneasy sleep. We were still shivering from our miserable time trying to stay warm without our sleeping bags. But at least we didn't take long before we were packed and ready to go. We proceeded to walk to the Visitor Center area in the Watchman Campground and patiently awaited the shuttle. And like clockwork, the vehicle arrived on time.
The shuttle was really more or less a van with high clearance. There wasn't a whole lot to see during the drive. I had seen just about all the SH9 sights we had covered already. When the shuttle left SH9 towards Chamberlain's Ranch, the road was unpaved but still manageable for passenger cars.
At around 6:40am, the driver dropped off a small group of four people at the head of Orderville Canyon. It didn't look like much from where we were at. But I knew it was be a nice experience having been in the lower parts of that canyon a couple years ago.
Finally at around 6:50am, the shuttle bus dropped us off right in front of the private property of Chamberlain's Ranch. The driver took off the other way and we were left to start the 16-mile through hike in the Virgin River.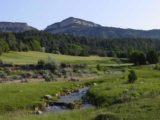 The scenery here was mostly pastures with a few odd hills. We saw some cattle grazing but our thoughts were on following the four-wheel drive track towards the actual trail itself. The other folks who caught a ride with us were already well in front of us. Our group took its time getting used to the pack weight and building a rythm walking as we talked amongst ourselves.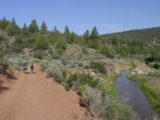 Before long, we crossed an unimpressively flowing Virgin River and then followed the trail as it paralleled the gentle river. A little over an hour into the hike (8am), we passed by a dilapidated building with its roof looking like it was caving in. This building was called Bulloch's Cabin, but we didn't linger here much longer after taking the obligatory photos of it.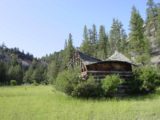 It took a while before the dirt trail eventually converged onto the Virgin River. It started crossing the river numerous times before we finally hit a stretch where we had to walk in it for long stretches.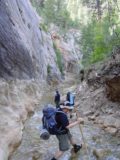 The canyon walls were gradually closing in, but it looked nothing like the famed Narrows we had seen in postcards and on the web. So far the cliffs were probably a hundred feet or so tall at most. The hike uneventfully went on for a couple hours like this. However, by 11:15am we finally reached an area where it legitimately looked like we were in some narrow section of the canyon.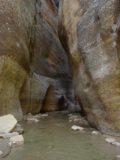 Shortly after going through the first of the so-called Upper Narrows, we had a quick lunch break. We enjoyed the company of a lizard who was basking in the sun on one of the rocks before us as we had our sandwiches. The reptilian served to remind us that we were still in the desert even though we were in the middle of a deep canyon that seemed nothing like our idea of what a desert was supposed to be.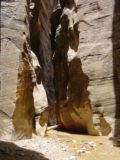 At 12:20pm, we arrived at the top of a waterfall obstacle. I had heard of people hastily jumping off this obstacle and risking a bad fall, but I knew there was another way. Sure enough, there was a bypass route that went through a narrow slot to the left of the waterfall.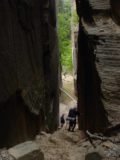 When we got to the bottom, we took the time to head back upstream briefly to get a look at that waterfall obstacle. It was about 12ft tall and there were logs at its top with water pouring over them. I thought those logs probably helped to improve the height of the waterfall somewhat, but all it takes is a big flash flood to snap those logs and perhaps reduce the size of the falls.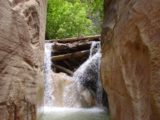 At about 1:20pm, we reached a confluence of Deep Creek and the Virgin River. We noticed a signposted campsite in a delta just above the confluence of the river. The sign said "2" so we wondered how we missed campsite 1. Anyways, that got us in the mood to carefully look for clearings and signposts so that we wouldn't miss our assigned campsite #6.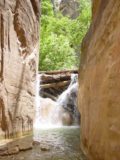 Now the Virgin River was consistently about knee deep and in some places thigh deep. The boulders on the river were increasingly slick and slippery. Apparently, Deep Creek really added to the volume of the river and the Virgin now seemed like it was flowing like a legitimate river.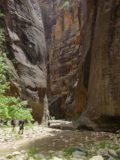 After Deep Creek, we noticed there was an intriguing cave. Or at least we thought it was a cave. But when we got up close to it, the opening was nothing more than an alcove that was deep enough to give the appearance that it was a cave until we looked straight into the opening.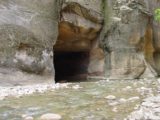 By 2pm, we reached the confluence with Kolob Creek. This side canyon looked dry, but all of us were tiring and eagerly looked forward to setting up camp. Nearby the confluence was the signposted campsite 5. Ok, the next one was it.
Finally at 2:30pm, we arrived at Campsite 6. It was a pleasant little sandy cove sitting beneath a huge fallen rock that now provided a little shelter. It was well elevated from the Virgin River (like the rest of the campsites) so we weren't as concerned about flash floods should it occur.
It felt good to finally remove the soggy canyoneering shoes and neoprene socks. Our feet felt that much better and we walked around barefoot amongst the sand. There was even a somewhat private spot to relieve ourselves of solid waste, which Julie actually had to do into one of those specialized bags that she would have to pack back out. Ewww! The rest of us shuddered at the thought of carrying our own poop out so we actually held on and probably abused our digestive tracts by doing so.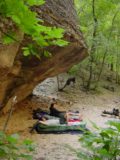 We quickly lined the ground with garbage bags before we unfurled our pads and Thermarests and placed our sleeping bags on top of them. The ladies quickly reclined on their resting spot and wasted no time relaxing and enjoying the serenity and calming and constant sounds of the Virgin River rushing below us. We left our tents back at the Watchman Campground purposefully to save weight. Thus, we'd be sleeping out in the open. It took a little getting used to this idea, but comfortable weather quickly made us forget any dirty inconvenient thoughts we had earlier.
I took my collapsable bucket and scooped up half a bucket of water so we could boil it on our compact pots and pans over my Pocket Rocket burner. We had a simple meal and basically enjoyed a comfortable silence together broken by a few odd comments here and there about the scenery.
Some time at around 6pm, a backcountry ranger and a companion visited our site. He asked for our permits, which we gladly showed and then engaged in a little talk with him about the howling winds we had experienced last night. Apparently it was a natural phenomenon that had to do with the canyon releasing the accumulated heat of the day. With that explanation, we worried about being in a little sandstorm in this canyon as we slept out in the open. But we couldn't really do anything about that now so we just tossed those thoughts off to the side and let things be. The ranger eventually left us to check up on other campers to see if they were legitimately here.
We realized that it was the summer solstice today – the longest day of the year. So I didn't recall seeing the skies turning dark before I eventually conked out and slept like a baby.
Visitor Comments:
Got something you'd like to share or say to keep the conversation going? Feel free to leave a comment below...
No users have replied to the content on this page