Day 4: LAST DAY IN THE NARROWS
All of us awoke at around 6:30am. I swore I had never slept better before in my life. I felt totally refreshed and I couldn't believe sleeping in the open like this could be so comfortable.
The rest of us except Ed slept well. Ed said he always has trouble sleeping in a camp and this was no exception. Apparently, the wind storm experienced two nights ago didn't happen last night.
It wasn't long before we were packed up and back onto the Virgin River at 7am. Unfortunately, a strap on one of Ed's Canyoneering Shoes broke. I'm sure that made for some uncomfortable hiking, but he taped up the shoe and was good to go.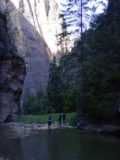 As we went downstream on the river, we noticed there were people camping in the "forbidden" campsite 7. This was our first choice as I had read it was the prime spot on the internet. However, the backcountry ranger told us it was closed because of irresponsible use in the past. Now given the fact that a ranger came by and checked our permits, shouldn't he have kicked out these guys?
Campsite 7 was called the "Alcove." And sure enough, it had a nearly cave-like alcove that seemed perfect for a group gathering around a fire. The only problem with this site is that it was right next to the trail so you wouldn't have much privacy.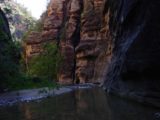 Ed and I wondered if we were being lied to by the permit-issuing ranger so they could hook up some friends here. Anyways, it didn't matter because we enjoyed Campsite 6.
At 7:45am, we reached the confluence with Goose Creek. We briefly explored this side canyon but didn't bother to go any further when some fallen trees blocked our progress and we had no interest in scrambling past it.
So we continued to head downstream on the Virgin River with the shadows of the morning dominating the scene and the moon showing against the blue sky above us. For the next half hour or so, we sloshed through the deeper river. The water was cold but we had now gone a day and a few hours in the river so we were well used to it.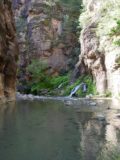 At 8:30am, we finally got to a place called Big Spring. Like the name suggested, it was a spring that rushed out of the cliff and into the poison oak surrounding it. After all the similar (albeit gorgeous) scenery that we had been seeing for several consecutive hours, this pseudo-waterfall attraction varied things up a bit and so we spent some time here just relaxing a little.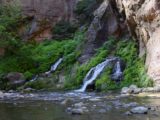 We also recharged on water. So with caution, Julie and I filled up the collapsable bucket with its cold fresh water and proceeded to pump and fill up our nalgenes full.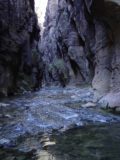 Next, the Virgin River was nearly wall to wall. I knew we were about to enter the famed Narrows that we had read about prior to this trip. Sun had still yet to penetrate the depths of the canyon so we quickly sloshed our way through this area.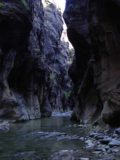 This was certainly no place to be in a flash flood as there would be no place to go sideways and up out of danger should it happen. But at least it was morning and thunderstorms don't usually build up until the afternoon.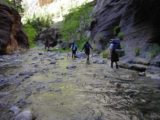 It was about 10:20am when we started to see the first hikers coming up from the bottom of the Narrows. It was also around this time that the sun started to penetrate the canyon depths as well.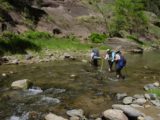 By 11am, the sun had fully penetrated the canyon floor and we were treated to a spectacular scene of towering fluted walls glowing with the reflected sunlight off both the river and the nearby canyon walls. So this was the famous Narrows that I had read about.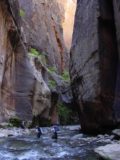 Even though the scenery was beautiful, I kept lagging behind as I was taking photos. Progress was slow since the water was typically between thigh and waist level. Nonetheless, it was just way too easy to get distracted by the scenery and keep trying to capture and document what was being seen here.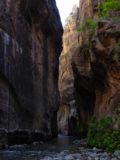 Indeed, the hits just kept coming, and we responded in kind as we took our sweet time sloshing along the river and taking plenty of photographs. It was difficult to convey in our photos the sheer magnitude of the canyon walls dwarfing us lowly folks in the river, but Ed and I certainly tried our best.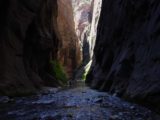 The Narrows section kind of alternated between sunny sections and cold shady sections. It wasn't until we got towards the end of a particularly narrow and shady section did we start to see hikers going the other way (i.e. upstream). That was an indicator to us that we must be getting fairly close to the Riverside Walk.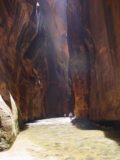 At 11:55am, we went around a scenic bend before the river finally met up with the confluence of Orderville Canyon. By now, the Virgin River was at full flow, but the worse depth we had experienced was about waist deep in a standing pool. The rest of the time, our canyoneering shoes and hiking sticks pretty much kept ourselves and our gear upright and dry.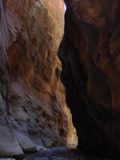 Having been in Orderville Canyon two years ago, Julie and I weren't interested in re-exploring that side canyon. All four of us looked forward finishing the hike and eating a nice hearty meal. I was also looking forward to the decent toilet facilities in our campsite as well.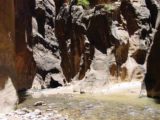 At 1pm, we started to see a tall and trickling waterfall that spilled out of Mystery Canyon. It was Mystery Falls.
None of us were technical canyoneers so we could only imagine what it must be like canyoneering in the mysterious depths of the slot canyon of Mystery Canyon. This waterfall was the only piece of that spot we could experience.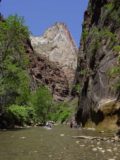 Finally at 1:30pm, we made it back to the Gateway to the Narrows and the back end of the Riverside Walk. It felt good to finally be out of the river and now we just had to do the short half-hour walk on the paved trail to the shuttle stop at the Temple of Sinawava.
And so ended one of the most memorable journeys all four of us had ever experienced. We didn't know it at the time, but the subtle and unusual features of the Virgin River really grew on us. Sure it didn't have any striking features like a Half Dome or giant waterfalls we could brag about seeing. But the cumulative experience of being in the mysterious depths of the thousand-footed fluted sandstone walls was definitely etched into our memories.
We basked in our accomplishments after returning the gear at the Zion Adventure Company. Ed received a business card with a handwritten note saying he'd get free rentals on his next visit since he complained about the broken canyoneering shoe he had to put up with. He promptly gave me his card not anticipating another Narrows-type trip but it's still sitting in my wallet unused (even three years after the trip). I wonder if they'll honor it if I present it to them to do this again (I still want to do a one-way Subway semi-technical canyoneering excursion one of these days).
We eagerly chowed down some Mexican food at the Bit 'n Spur in Springdale. It felt good having the hot food tumbling down into our stomachs and the ice cold drinks to wash it all down. We were also mentally relaxed as we couldn't stop talking about our Narrows experience.
The rest of the afternoon was spent walking around the Zion Visitor Center complex at the Watchman Campground. All this time, I had forgotten about the deer incident yesterday. But one look at that rental SUV parked at our campsite reminded me that I'm about to burn a hole through my wallet with the aftermath of my little crisis once the trip is over.
Visitor Comments:
Got something you'd like to share or say to keep the conversation going? Feel free to leave a comment below...
No users have replied to the content on this page