Day 2 (May 26, 2017 – Salt Lake City, Utah: "Cottonwood Everything"
It was about 6am when I awoke. It was actually to both Julie's alarm as well as my own one. I was pretty groggy given how late I had slept last night and yet I was still the first one up.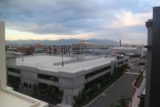 It was already bright outside so I took the opportunity to take some photos of the mountains and the city in the foreground under the overcast skies. But this also made me realize that today was probably a lost cause in terms of going to Provo Canyon or any other excursion requiring a somewhat early start. So I decided in my mind to do Donut Falls instead since it was much closer to downtown Salt Lake City.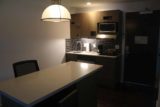 When Julie finally woke up, the small room still was an issue for her so she called the reception and asked if we can use our status for a free upgrade. It turned out that we were able to, and so the receptionist moved us right across the hallway for a much bigger room with a full-sized fridge. That immediately got Julie out of her groggy state and now it felt like we could finally enjoy the standard of the Hyatt House stays that we had been used to up to this point.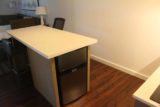 Still, we were getting quite the late start, and I was hoping that we wouldn't get shut out of the Donut Falls trailhead parking, which I knew could fill up fast on the weekends. But perhaps with this being a Friday, maybe it wouldn't be so bad on this day?
At 8am, we went downstairs and had ourselves the included breakfast, which was pretty good for a Hyatt House brekkie. They had an omelette bar, which was pretty good, as well as well made French Toast as well as oatmeal with lots of fresh fruits.
Well, it wasn't until about 9:05am when we finally left the Hyatt House and made our way to our first hike of the day. Given our late start, I decided that we should target Donut Falls first and then see if we could also visit Rocky Mouth Falls as well as the Lisa Falls on this day before returning to the accommodation. And since we tended to go very slow as a family, especially since Julie wasn't keen on doing waterfall hikes on a pace that was faster than her more deliberate trip pace, I was worried that even visiting just these three waterfalls on this day might be a little on the ambitious side when in my mind it shouldn't be.
As we drove on the I-15 then the I-80 and eventually the I-215 before following the signs leading to Big Cottonwood Canyon, we'd eventually get onto the Utah 190, which weaved its way through Big Cottonwood Canyon, which was flanked by impressively tall jagged cliffs. I felt compelled to stop and attempt to take photographs of the immense scenery around us, but it wasn't possible while I was driving, and it was also hard to tell when would be a good place to stop and take such photos.
The GPS
eventually led us to a turnoff at Cardiff Fork, but there was a gate blocking further progress. Still, there were many cars parked in the parking lot before the gate on both sides of the Hwy 190, and we presumed that many (if not all) of them were pursuing the Donut Falls, which we knew was a popular spot amongst the locals in the Salt Lake City area.
After getting prepared for the hike (and the possible 2- to 3-mile extension due to needing to walk on the road), a trio of young guys asked me if this was the way to Donut Falls. When I told them that we were just as uncertain as they were, one of the guys showed me his iPhone
, which showed what our own GPS had shown – which was that we were around a mile to 1.6 miles from the Donut Falls.
With that much extra hiking facing us, we promptly got started on the hike. It was almost like Jemez Falls all over again. But just as we were getting started, we saw one guy who was in the process of opening and closing the gate so he could drive out. He confirmed that this was indeed the way to the Donut Falls, and so that made us more confident that this excursion would stand a better chance at being successful than when we started off.
The hike along the road was somewhat uphill, which already made us a little bit winded as we knew we were at elevation. But this time, we didn't have the benefit of having a few days of getting acclimated before hiking. And it definitely showed as our hearts were already beating faster than usual.
The walk along the road passed through some private property. Given the amount of clearing alongside the road in the private property, this also happened to be where some of the more photogenic trail shots could be had. Anyways, there were enough "Trail" signs to keep us on track at some of the potentially confusing junctions.
After finally making it to the official trailhead, where there was a little clearing for some cars as well as a basic pit toilet facility, the trail then continued climbing alongside and across some residual snow patches. Julie was starting to complain that she was getting light-headed and that she verbalized that she wanted to faint.
Given her weakened state with her gut condition, this was nothing to dismiss. But still, we took frequent water breaks, and so that allowed her to catch her wind somewhat. But that also meant that people who were starting the hike later than us, managed to catch up to us, and then were already headed back down while we were still on our way to the Donut Falls.
There was a potentially confusing junction just past a footbridge over the rushing creek. There was a trail sign pointing to our left to continue on our way, but when going back to the trailhead, I could see how this particular junction could be confusing as the path leading back across the bridge was narrower than the seemingly more obvious path continuing down the slope while not crossing the bridge.
The trail then meandered about more semi-open terrain as we would pass a couple more unsigned forks, where we kept left at them considering we saw a handful of people coming back from those directions. The trio of dudes that I had seen earlier had also made their return already. And they told us that the water was very cold after having crossed the creek to get a better look at the Donut Falls.
Since I came prepared with Keens
on this hike, I felt confident that I could experience the falls the way it was supposed to happen – i.e. getting up close to the falls.
Eventually at 11am, we got to a part of the trail that descended an embankment and skirted alongside the creek. At first, we were able to get through some of the trickier embankment sections without needing to get our feet wet. However, it didn't take long before we got to the end of the official trail where further progress meant getting wet in the creek. The view from this sanctioned spot left a lot to be desired because there were trees obstructing the view.
At that point, I decided that after all this trouble, it was time to put the Keens to the test. And so I changed out of the hiking boots and hiking socks and promptly put the Keens
on and then hiked across the creek. When I got to the middle where there was a fair-sized flat slab of rock, I took the opportunity to take a quick breather while also documenting both the views and the experience from this very spot. The water was painfully cold so that little break on the slab in the middle of the creek also helped to allow my feet to warm up a bit before I had to get back in the water and continue the creek crossing.
The water was deepest at about shin-deep level when I took my first step back into the creek from the rock slab I was standing on. There were also some spots where it was all whitewater over rocks towards the opposite side as well. And so when I finally reached the other end, I was doing a little dance to try to bring some feeling back into my feet, which went from numb to pain and eventually to just cold.
Next, I had to cross a little snow patch, where I used some footprints as footholds. Thankfully, not much snow touched my feet on that traverse. And once I climbed to the other side of the snow patch, that was when I finally got a pretty clean direct look up at the Donut Falls, where the waterfall fell right into a pothole before re-emerging through a hard-to-see natural arch further below. Then, the rest of the creek cascaded and twisted its way down past my vantage point before continuing another cascade right where I had crossed the creek earlier.
At this point, I saw that there was absolutely no way I could safely scramble my way up to the donut itself so I had to be content with my distant (albeit closer) views and take advantage of the zoom on the camera lens. After earning this view, I felt that I mind as well enjoy it while also trying to capture the scene as much as I could.
Julie and Tahia were looking on while other strangers also showed up and evaluated whether to make this crossing or be content with the views. Meanwhile, once I had my fill of the creek-side view on top of a rock with that direct view of Donut Falls, I then decided to continue ascending up to another view, but it required climbing up another snowy embankment or patch. This one was steeper, but I managed to make it across without any sudden collapses as the thought of a thin part of snow over a hidden dropoff was definitely on my mind.
The view from this spot was a little more angled and less fulfilling that down below. But at least the angled view did allow me to get a different perspective of that donut that the waterfall fell into. Meanwhile, there was another couple that had already scrambled across the creek and were busy doing selfies at that rock that I was at earlier on.
When I had my fill of this spot, I slid back down the snow, and then got back to the rock again. At that time, the couple headed back. So I took this opportunity to get some last shots of Donut Falls while also showing what the creek crossing was like as this couple was braving the icy cold water that I was about to get back into again.
Minutes later, I took a similar path as I had taken earlier in traversing the creek. And thankfully when I rejoined Julie and Tahia at 11:35am, I took the opportunity to change out of the Keens
and try to let the feet dry for a few minutes while getting some feeling back. Then, I put on the wool socks and eventually laced on the hiking boots while securing the wet Keens in the garbage bag, which then promptly went back in my pack.
At that point, we proceeded to head back to the trailhead. Julie said that she felt better after this little recovery time, but she didn't feel that this waterfall was worth the trouble. So we hastily made our way back downhill to the actual trailhead and eventually back to the parking area by the gate way back along the Hwy 190. By that time, it was 12:35pm and there were lots more cars at the parking areas on both sides of the road. There was also some kind of filming going on nearby there as well though we couldn't tell what it was for.
As for trying to equate the quantity of cars versus the quantity of hikers, it didn't equate to us as we swore there weren't that many people that we saw on the trail though it was pretty popular. So clearly, some people must have taken the other trail on the opposite side of the highway though I knew not where that trail went.
There were also impressive blooms of wildflowers alongside a different creek that ran alongside the Hwy 190. Part of me wanted to keep driving east to see what else the Big Cottonwood Canyon area featured, but Julie was getting restless about having lunch so once we got all loaded up in the car, we then drove back in a westerly direction along Hwy 190 eventually towards the suburb of Cottonwood Heights.
Along the way back down, we made one brief stop at a pretty dramatic part of the drive through Big Cottonwood Canyon where I took advantage of a pullout and climbed up to a top down view of the road dwarfed by impressively jagged peaks all around. This brief stop happened at about 12:50pm.
Back in the car, we then eventually drove all the way to a Panda Express right across the street from a Chipotle. Along this part of the drive, we noticed that there was a Whole Foods as well as a Target. So that gave us the idea that before heading back to our accommodation later this afternoon or evening, we ought to make our grocery run so Julie would have something to make tomorrow.
When we entered the Panda at 1:05pm, Julie only wound up getting some steamed veggies because everything else had soy sauce and therefore had gluten. So we then went across the street and ate at the Chipotle where we knew the food would be cleaner for Julie though she couldn't have the veggies there as they contained peppers and raw veggies that she couldn't have.
At about 2pm, we were done with lunch and were back in the car. We then drove back the way we came before turning right onto Route 210 before branching off and heading towards the suburb of Sandy. We'd eventually get to the trailhead coordinates for the Rocky Mouth Trailhead. However, we could see that it was right in a pretty exclusive suburban neighborhood and with hardly any cars parked on the street, we knew that we weren't going to park near the trailhead in this manner. Then, when I briefly drove back towards the trailhead looking to see if there was any other street parking possible, that was when I saw signs saying that the Rocky Mouth Trailhead Parking was at 11250 South Wasatch.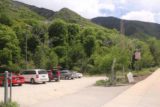 So I continued back down the residential road to the main road then turned left. And shortly thereafter, I saw a small sign and a small parking lot on the left side. So this was where we eventually stopped the car, at which point it was about 2:25pm. The lot was full so we were about to park the car awkwardly on the far end of the small lot. But just as Julie and Tahia were getting ready for the hike, someone pulled out and we promptly took that more legitimate spot.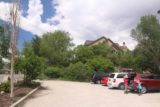 There were probably about room for a half-dozen cars though one person was poorly parked (i.e. double parked). Anyways, the sun was definitely coming out at this time, and so we got our hats and hoped that the greenhouse effect on the car wouldn't cause some of the water jugs and bottles inside the car to leach.
The hike started off by ascending some steps between a couple of pretty regal-looking homes. Then, we briefly walked along the residential street that we had just driven earlier. But this time, we followed the bend in the road back up to the trailhead, which was a narrow fenced corridor right in between a couple more fancy homes.
In that corridor, the path climbed some more, and it wouldn't be until we got towards the end of this climb that we could finally take advantage of the views looking back across the basin towards more mountains with snow in the distance where there was more blue skies.
The climb petered out and then bent around some interesting rock formations on our left. It turned out that these formations harbored a couple of shallow caves, which provided some interesting photo ops. Meanwhile, we continued along the short trail, which then followed alongside a cascade that was climbable without getting our feet wet. Some people were headed back downhill on this stretch so it was pretty obvious to us that this was the way to go.
Meanwhile, we could see Rocky Mouth Falls further upstream though I was already concerned about the amount of sunlight hitting the flanking rocks causing the falls to sit too deep in the shadows thereby making photography difficult. And as we got up to the informal viewing area, another family was right behind us and they had a large group so they took some time to take pictures before the falls though I wondered how well their photos would turn out given the harsh lighting conditions and contrast.
While that was going on, I scrambled into the creek and took advantage of the Gore-tex properties to get around the commotion and walk right into the shadowy parts of Rocky Mouth Falls' cove. From there, I felt like I was a little bit too close to the falls, but at least the lighting was a bit more agreeable so I took what photos and videos that I could from here without getting in the photo of that family.
It felt quite cool and refreshing in this spot as some of the waterfalls' spray was coming at me and my camera, but it wasn't so overwhelming that I felt I'd have to wipe the lens every so often. Eventually after having my fill of this spot, I saw that Tahia was trying to join me. Knowing that her boots weren't equipped for handling the wet like ours were, I intercepted her and we headed back to drier parts so we could take a few photos while Julie was busy looking at her iPhone.
After taking a few people shots while trying hard to take advantage of a brief window of clouds blocking the sun and creating more even lighting, we then headed back towards the car while also taking a few more people shots at one of the caves alongside the trail.
The hike back down the short trail was now bathed in sun as we were enjoying the views as well as marveling at how elaborate some of the homes here were. They probably fell in the category of "not in our lifetime" though it was kind of fun imagining what it might be like living in one of these homes and enjoying both the views as well as taking for granted the Rocky Mouth Falls that would be so easy to visit right after work or something.
By about 3:40pm, we were back at the car. Tahia and Julie were starting to get waterfall fatigued again, and Tahia was requesting that I drop them off back at the Hyatt House before going to the next waterfall. Meanwhile, Julie had to get Tahia to change her shoes because she got both those and her socks wet around the waterfall.
Anyways, I couldn't honor Tahia's request as the next waterfall called Lisa Falls was barely six miles from where we were at. So I promptly drove northwards then to the right into Little Cottonwood Canyon, which was also pretty impressive as we were driving into a big ravine flanked by granite cliffs precipitously dropping on both sides of the highway 210.
There was still snow further up the canyon though I knew that we couldn't be able to drive that far given the time constraints. And eventually by about 3:55pm, I reached a pair of pretty busy pullouts that I knew must be fore Lisa Falls. Actually along the way, I saw some cascades tumbling down the mountain though we didn't have a chance to stop for them. One of those cascades was what appeared to be Lisa Falls, which was apparently a pretty long and impressive mountain cascade, but I knew from researching this trip that the trail leading close to the falls only revealed a couple of small tiers.
So Julie and Tahia decided to stay in the car. Meanwhile, I went ahead and did the brief half-mile round-trip hike, which had an unsigned but pretty obvious trail that started from where we had parked. The scenery around the trailhead was quite impressive as I couldn't resist the urge to take pictures of the surrounding mountains which were too grand to effectively try to capture and convey in a photograph along with the road for perspective and scale.
The uphil hike was pretty straightforward though I'm sure my trail shots of no one on the trail were probably less meaningful than if Julie and Tahia were my trail subjects. Anyways, it didn't take long before the trail degenerated into a short boulder scramble as I could see where some people were headed back down and a couple of guys were busy abseiling or rappeling down a cliff face that was right next to the Lisa Falls.
I went ahead and scrambled around the graffitied boulders and then got right up to the twisting waterfall itself, which was surrounded by bright granite, which made photographing this a little tricky since the views were a bit too close to the falls while the brightness of the whole scene meant long exposure photos would be a bit too bright.
So I took some time to photograph and take videos of the Lisa Falls and the surrounding commotion from the abseilers and other people checking out the falls. One of the folks there kept bugging me to check out the squirrels in the area as if I should be paying attention to them. In one instance, I did see one squirrel on its hind legs and it was almost as if it was posing for me.
Anyways, after having my fill of this waterfall, I then promptly headed back down to rejoin Julie and Tahia. There was one pretty giant hiking group of a dozen or so people on their way up so I guess I must have beaten that rush. And so at 4:25pm, I was back at the car and now it was time to head back into Cottonwood Heights so Julie could do her grocery run.
During the short drive back, Tahia was knocked out and finally went on her afternoon siesta. When we showed up at the Whole Foods, which was at a real busy intersection, Julie went ahead and did her grocery shopping solo while I kept Tahia company so her nap wouldn't be interrupted.
It took Julie nearly an hour to do her grocery run, which was kind of par for the course, and eventually by 5:25pm, we finally left the Whole Foods in Cottonwood Heights and headed back to the Hyatt House in downtown Salt Lake City. We'd eventually get back to our accommodation at 6pm, where we then turned up the AC and fan in the room so we could dry off the wet shoes and Tahia's socks.
Then 20 minutes later, we went back into the car so we could briefly drive towards this place called the Copper Onion. I guess the reservations were all taken but they did say that half the restaurant was for walk-in customers. And so we were one of those walk-in customers. While Julie and Tahia were waiting for a table to free up, I was busy figuring out the street parking, which was apparently $2 for every hour until 8pm. I paid for time up until the 8pm time slot to eliminate the possibility of getting ticketed.
Anyways, once we were finally seated in the restaurant, we wound up at a pretty cramped table that was really meant for two. We made the most of the situation as apparently, this restaurant was pretty popular so perhaps it was a good thing we got a table in the first place.
Our meal consisted of a lamb riblet, flatiron steak, and a Copper Onion Burger for Tahia (we always try to ditch the kids menu and go for something that both Julie and I could eat if Tahia couldn't finish). We also picked up an appetizer of duck confit over scallion pancakes. The food turned out to be quite delicious, and Julie even supplemented the meal with an asparagus in some kind of mustard sauce and breading (though she had to use her glass of water to wash off the breading given her gut condition).
We skipped out on the dessert (we were tempted with the strawberry rhubarb galette) given how busy this place was and so at 8pm we were back in the car where we saw the guy parked behind me got a parking ticket. We also noticed some cathedral in the distance between two buildings as we walked back to the car. That made us look at TripAdvisor to see what cathedral it was and it got us into wondering if what we saw was the Cathedral of Madeleine.
It was something we might have to fit in tomorrow. As of today, I was hoping we could get back to the Hyatt House, then walk to Temple Square, which we knew was the signature attraction of Salt Lake City. Julie wanted me to drive to the Temple Square and attempt to find street parking, but alas, there was none to be found in the immediate area. So when we got back to the Hyatt House at 8:15pm, we asked the receptionist what time that Temple Square closed, and it turned out to be closed at 9pm.
With a minimum of 15-minute walk ahead of us, it was getting too close to closing time so we aborted our intent to walk over there even though the sun was still pretty high up in the sky at this time of day. And so we called it a day. It would be yet another thing to add to the list of things to do tomorrow. And that made me mentally change up our plans as I decided we should divide and conquer where I'd do both Adams Falls and Horsetail Falls solo while Julie and Tahia would have a mommy and me day inside downtown SLC.
Depending on how efficient I would be on the hike, perhaps I could get back to the Hyatt House in time to do both the cathedral and Temple Square before dinner, which Julie was hoping we could self-cook and save a little money and health in the process. And so the last-minute plan was set, and we'd ultimately chill out in our room while also looking at the buildings and snow-topped Wasatch Mountains change color with the setting sun from our room…