Day 3 (May 27, 2017 – Salt Lake City, Utah: "Red Tape Deception"
It was about 4:45am when I awoke. It was still dark outside so I was busy getting cleaned up and getting dressed then try to wrap up some last-minute blogging that I was too tired to do last night. And I had to do all this without waking up Julie and Tahia from their sleep.
There was a lot of material to cover so it wasn't until about 6:30am when I finally got to a point where I could go downstairs for breakfast. By this time, Julie finally woke up, but since today was a divide-and-conquer kind of day where I was going to do two harder hikes while Julie and Tahia were going to tour downtown Salt Lake City on their own, I was intending to go downstairs without any intention of going back up.
But when I got down to the lobby, I saw that the omelette bar was still not open. When I asked the staff about it, they said that the omelette bar wasn't open until 7am. So I had to put up with some pretty crappy pre-made breakfast (at least compared to yesterday) where I wasn't nuts about the pancakes and scrambled eggs, but I did load up on oatmeal, Greek yogurt, and bacon. By the time I was done eating these things, it was about 10 minutes until 7am so I went ahead and returned to our room where Julie gave me some grapes to snack on as well as a couple of clementines for the hike.
By about 7:05am, I was back downstairs where the omelette bar was now open and I went ahead and got the omelete of the day, which was some kind of Mexican-inspired omelette. After having the fresh stuff, I then went to the car, where I had already pre-loaded it with my pack and camera and a set up GPS. And by 7:15am, I was ready to get moving.
As I drove out of the Hyatt House, I immediately saw that the skies were clear blue, which contrasted mightily with the overcast skies from the last couple of days. The drive north on the I-15 then the US89 went pretty smoothly. But after going past the light at the Oak Hills Drive intersection (near a water tank), I then turned right at an unsigned access road leading to the Eastside Drive. If it wasn't for the GPS
alerting me to this road, I would have missed it.
Once I was on Eastside Drive, I then backtracked heading briefly south to the Adams Canyon Trailhead, where there were already quite a few cars parked here at 7:45am. There were still long shadows as the sun hadn't quite breached the hills to the east, but perhaps that was a good thing because it meant that the uphill climb wouldn't be too bad. I could only imagine how much more brutal this hike could be later in the day when the temperatures could get up there.
So the eyes didn't lie to me as I could see the climbing that I had to do immediately. There were several switchbacks flanked by high fences (to prevent shortcutting and erosion I guess) while the surface of the trail was a fine dirt or some kind of sand. I could imagine that this could get pretty brutal on hot Summer days where the fine dirt would get kicked up in the air (and taken in by the lungs) while not getting all the traction that we'd be used to on packed dirt or some other surface that was more grippy.
Again, the morning shadows were welcome as the switchbacks weren't too bad, and I had barely worked up a sweat as a result. Eventually, I climbed up to a point where the sun was well above the nearest hills, which caused me to look against the sun (making trail photos harder to take while looking forward). But when I looked back, I could already get pretty regal views towards the Great Salt Lake as well as the suburb of Layton.
That said, the Great Salt Lake looked a bit flat, and it even appeared that there were more mud flats than lake from my vantage point on the trail. At about 8:10am, I arrived at an unsigned junction where the trail appeared to be a little wider than the trail I was just on. Apparently, it was possible to visit Adams Falls from other trailheads.
Anyways, I continued going right, where the trail leveled out and started to enter Adams Canyon after rounding a bend. I could already hear water rushing in the creek responsible for the canyon, and it didn't take long before the exposed sunlight gave way to the cover of trees.
After a few more minutes of hiking amongst the trees, I then reached a junction with the Bonneville Shoreline Trail. I found it interesting that there was no verbiage saying anything about the Adams Falls, but I knew that the trajectory of the Bonneville Shoreline Trail was not continuing up Adams Canyon and therefore could not be the correct trail for the waterfall. And so I promptly kept left and continued a more gradual uphill ascent alongside North Fork Holmes Creek.
Much of the trailside scenery remained under tree cover with hints of tall cliffs on the sides. The shadowy parts remained cool, which was welcome as the hike continued its gentle ascent. I encountered a handful of people coming down already but there were a couple of people passing me by, including one young lady who was moving pretty fast and at one point waited for me so she could have me take a picture of her balancing on a log with her iPhone.
At this point, she told me that there was still a solid 40 minutes of hiking to go, where the last section was pretty steep. But she also had me look out for a waterfall with a cave besides it or something like that. So I kept that in mind considering I didn't recall anything of this sort in my trip research.
The trail continued climbing as I started to encounter some really steep sections, especially after a bridge that traversed the rushing North Fork Holmes Creek. A lot of the hiking involved hand-over-feet scrambling, and without that trail being so popular, I'm sure I could have gotten into trouble getting lost at the myriad false trails or detouring trails as well as the scrambling sections where the trail wasn't so obvious.
Eventually, I got to a point where the trail ascended steeply past some impressive cascades. At the top of this cascade series, there was what appeared to be a large slab of rock that had fallen and essentially created a "cave"-like alcove or something like that. I took some time documenting this feature though I'm sure under lower flow, it might have been possible to traverse the creek and get deeper towards one of the caves on the opposite side of the falls.
Just beyond this cascade, the steep scrambling continued as I then found myself waiting for a handful of people figuring out how to proceed without getting the feet wet. There was a short stream scramble on the far right side of the creek where it was possible to find rocks and embankments as well as letting the Gore-tex do its job within the edge of the creek itself. Then, beyond this, there was more steep climbing along with some more trickly scrambling up and around another attractive cascade or waterfall.
After some more creekbank hiking along with some more steep scrambling, I'd eventually reach yet another steep scramble where the girl I encountered earlier was now on her way down. She encouraged me by telling me that I was almost there. But she also told me that in order to get a good look at the Adams Falls, I would have to cross the creek, where it was inevitable that the feet would get wet.
I considered myself warned, and I was mentally bracing myself for the possibility of needing to cross the creek without shoes (though I hoped that it wouldn't get anywhere close to that point).
After some more time spent following the banks of North Fork Holmes Creek, I'd eventually get up to the aforementioned creek crossing. And sure enough, it didn't look good in terms of trying to keep the feet dry while needing to cross the stream. There was even a makeshift rope tied to one of the rocks here to perhaps make it a tad easier to get past the initial wet part of the scramble.
When it came my turn to make the crossing after a handful of people before me made the traverse, a little bit of water happened to trickle into the top of my hiking boots though with my wool socks combined with the Gore-tex, it didn't seem all that bad. Of course, it was mentally nerve-wracking given how swift the current was moving.
Finally at about 9:30am, I managed to get across the creek, and I was right before the Adams Falls. Since I was looking against the sun, it was a good thing that there was still a long shadow from the neighboring cliff. So I took advantage of that shadow to take direct shots of the falls. However, I knew that it would only be a matter of time before the sun would breach the cliffs above and eventually make taking photos here an almost useless exercise.
The only drawback to where the extent of the shadows was the amount of spray that could reach the camera lens. So I found myself periodically wiping the lens with a cloth before taking the next photo or video. And while it was getting a little on the cold side, I could always walk towards the spots where the sun was bathing the area (like what others here were doing) and warm up a bit.
As I was busy taking pictures and videos, I was also trying to convey the wet creek crossing that was required to even get to this spot by showing others struggling with the deeper parts. Unlike yesterday at Donut Falls, there was no choice but to make this crossing in order to even see the falls. So there were lots of wet feet, but from looking at the kinds of running shoes that people were wearing that seemed to be so common here (almost looking like Nike Frees or something like that), perhaps they were ok with getting them all wet. Some even wore those black socks (neoprene?) to protect their feet from the cold temps of the water.
I probably spent about 20-30 minutes here before it was time to make my return. By that time, I was one of two people that were left here. So I was on my own when it came to trying to get back across the creek without soaking the feet. While I did feel some water touch my socks, it wasn't enough to make the hike back squishy. But it was a little nerve wracking trying to put weight on submerged rocks where water was rushing pretty fast. In fact, I could feel the water trying to push my feet off those rocks as I was leaning against the cliff for balance.
On the way back, I started noticing large groups of people making their way up. As a testament to how popular this hike was, I had to have counted at least a half-dozen or more large groups of at least six people or more. I recalled one group had to have had over a dozen people. And this wasn't even counting the couples or smaller families of 4 making their way up.
The hike back went a lot quicker than on the way up as it was mostly downhill. There were lots of moments where I had to wait and let the people going up pass given how narrow and eroded several parts of the trail was. But aside from those little hiccups, I made good progress.
I also made a couple of pauses to eat some of the grapes and clementines that I had brought along while also refilling on the water. On that pause, I managed to use up the backup water bottle in the 32oz stainless steel container, which got transferred to my smaller Kleen Kantene
bottle that I kept on the side pocket of my pack for easy access.
This trail also lacked toilet facilities so I had to periodically find scrambling spots and use the cover of vegetation to heed Nature's call, which wasn't easy to do given how much traffic was on this trail.
After getting back to the junction with the Bonneville Shoreline Trail, the trail became much easier and less eroded but I had also lost the tree cover. That meant lots of sun, but on a day like today, the views towards the Great Salt Lake and Antelope Island were dramatic though it seemed like the lake was pretty flat while fronted with a large extent of mud flats so it made the pictures look a little flat despite my higher elevation vantage point.
Plus, now that the sun was higher on the horizon, I was able to take pictures looking back into Adams Canyon. I thought to myself that those doing the hike right now must be having a harder time keeping cool with the sun beating down on them. This was especially true when I had to go back down the switchbacks where the sandy surface made the people going up wear the weary look on their faces when saying "Hi" to me as I passed by.
And that was just the beginning of the hike (on the way to Adams Falls)!
Anyways, at 11:10am, I finally made it back to the parking lot, which was now even more crowded with cars than when I had gotten started. In addition to the rocky parking lot area, there were also many cars parallel parking alongside the Eastside Drive stretching out in both directions both towards the US89 access as well as towards the dead-end further to the south.
I was at a stage where my bladder was almost bursting, but with no privacy back at the trailhead as well as no facilities, I had to drive back south along the US89 and then along the I-15, where I took one of the exits and went to a gas station though I probably didn't need to fill up on the gas as I still had more than a half-tank.
Still, I managed to get my relief, and then resume the drive south towards Horsetail Falls, which was what I was targeting for the second half of the day. Adams Falls took a little longer than I thought, and I was hoping that Horsetail Falls wouldn't take as long since I was hoping to rejoin Julie and Tahia at a more reasonable hour to visit some of Salt Lake City's more non-waterfalling attractions (like Temple Square and the Cathedral of the Madeleine).
The drive south along the I-15 and then east along the Timpanogos Highway (Hwy 92) went quite smoothly. I noticed that along the Hwy 92, then had these single-file commuter lanes, which I took. It pretty much paralleled the rest of the four lanes of the Timpanogos Highway but the difference was that the commuter lanes bypassed all the traffic lights.
Eventually, when I got to N 6000 W street, the GPS
had me turn left even though the paper directions that I had researched recommended turning left later on. I opted to listen to the GPS since I didn't want to be driving and looking at the paper at the same time. Regardless, the GPS eventually got me to Westfield Rd and then 200 N Rd before turning left onto Grove Drive. I'd follow Grove Drive all the way to dead-end where there was a large parking lot for the Deer Creek / Dry Creek Mountain Trailhead.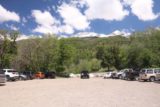 I got here at 12:25pm so it wasn't surprising that there were lots of cars parked here. But what was surprising was that I managed to score a parking spot almost right across from the trailhead itself. I saw others parallel parking along Grove Drive for a ways almost reaching the rodeo entrance and cow farm entrance way down the road.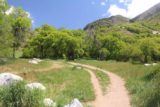 The car park looked pretty scenic as I could immediately see snowy peaks against the blue skies and some pop-up clouds growing at their peaks. It seemed like a pretty idyllic picnic spot as looking further back downslope revealed glimpses of Utah Lake and the suburn of Alpine and other surrounding cities south of Salt Lake City and north of Orem and Provo.
After lacing up the boots again and getting the day pack loaded up with a second backup set of 32oz stainless steel container of water as well as my trusty Kleen Kantene
immediate access bottle, I put the car shade up and promptly started the hike.
The research said this was supposed to be a 2.1-mile hike in each direction so I was banking on perhaps spending 3 hours to do the 4.2-mile round trip hike, if the distances were determined correctly. But right off the bat, the trail started climbing. Under the sunny day like today, it was already forcing me to work up a sweat.
There were already lots of people heading back down, including people on horseback. I also noticed these red tapes hanging from specific branches on trees. I wasn't sure where the red tape was going, but they were going onto trails that branched off from the main wider trail. So I figured that the red tape was for the foot trail since the horseback riders didn't take them. And thus I followed the path to the left with the red tape.
This red-taped trail was a bit narrower with more foliage, but it was still wide enough for me to see that plenty of people had gone this way. But when I started to descend a steep and pretty eroded ledge leading down to a campfire that wasn't completely put out, I began to wonder if I was going the right way at all. And as the trail continued to get more overgrown, I was having my doubts.
Aside from one girl who went past me and kept going on, I decided I had to turn back at 12:50pm. Apparently others made the same mistake I made and after talking with them, they said that they didn't go anywhere either though they crossed the rushing creek to continue onwards before giving up.
At about 1pm, I was done backtracking and I was back on the main trail. But like the start of the trail, this main trail continued its wide but rocky ascent. Little did I realize just how much ascending that was still before me. For it would be at least another 20 minutes of relentless climbing before the trail finally felt like it was flattening out a bit, but then shortly thereafter, the trail resumed its climb.
At least by now, there was sufficient tree cover that I was able to leave my hat off my head for long stretches. That helped to keep things a little cooler for me.
The pace and length of this incline reminded me of Cascade d'Ars in the Pyrenees of France which was also relentlessly uphill. But in this case, there was also the high altitude though by now, I was already acclimated to the higher altitudes thanks to this being the second full day up in the Salt Lake City area.
The relentless climb kept going past these detoured paths where they'd split and then reconverge again. There was also an attractive meadow along the way as well as some minor muddy patches and creek crossings with the aid of some well-positioned logs.
At the meadow, I met up with a couple who told me that I still had another half-mile or so to go. But they did tell me that there was a dirt trail on the left leading to a frontal view of the Horsetail Falls. So based on that conversation, I was trying to stay alert for any spur trails leading closer to the falls. They assured me that there were bound to be people there, which kind of made me think immediately that whatever this spur trail was, it was not signed.
At around 2pm, I finally reached a trail junction where I followed a couple of guys and went left. That led to a rock outcrop revealing the first views of Horsetail Falls. Looking in downslope, I could also get glimpses of snow on the mountains in the distance as well as Utah Lake again.
Anyways, it was still quite distant from the falls, but it at least gave me a second wind to keep going. In the back of my mind, I wondered if this was the spur trail that the folks I spoke to were talking about…
After having my fill of this overlook, I followed an obvious but narrower trail that meandered amongst rocks with some cover of foliage. When I got to a spot where there was water running across this smaller trail, that was when I saw that it rejoined the main trail again right at a spot where there was quite a bit of water strewn about the whole width of the rocky trail.
At least the water wasn't deep so I was able to take advantage of the Gore-tex and go right through. And beyond this part, the main trail continued its relentless climb as it continued past a couple more major stream crossings (fortunately there were log "bridges" set up to get by without soaking the feet).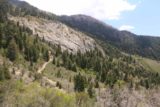 The trail would eventually reach a sign at a major junction. The sign pointing to the right for Deer Creek Mountain Trail or something like that, but I saw many people coming down from the left, and my instincts knew that that had to be the way to get closer to Horsetail Falls despite the lack of signage saying anything about the falls to this point.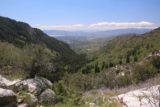 Now, the trail was considerably narrower but it was still obvious. I kept going uphill amongst the tighter quarters as it went over another little stream crossing before reaching some not-so-obvious trail junction where a large pile of rocks I guess was supposed to signal that this was the spot to veer left and leave whatever this current trail was climbing steeply towards.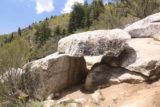 So I now followed this other spur trail that cut across with wide views looking downhill towards Utah Lake well in the distance as well as the suburb of Alpine again, but now I could see the contours of the mountains making its V-shape framing the mix of developments and the large greenish lake to the left. Again, there were also snow-topped mountains in the far distance though the scene was so distant that it appeared to be more on the flat side without the foreground contours to add some depth to the photos from this area.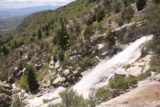 I'd eventually reach a little rock "arch", which was really more like a balanced rock propped up by two other large boulders. But I could tell from the sound of the rushing water that I must have been closer to its top than its bottom. And when I looked out towards the base of the falls rushing below me, I also saw a group of people way down below checking out the front of Horsetail Falls.
When I saw how far down they were, I asked myself, "How the heck did they get all the way down there?"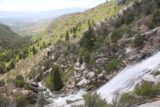 So I went ahead and made the steep scramble to get right down to where they were since I knew that that was the best place to get a frontal look at the Horsetail Falls. The descent was a little dicey and slippery in spots, but I took my time and eventually made it down to where those folks were at about 2:30pm.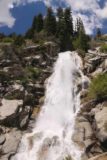 Just as I arrived, those folks had left and they apparently took a trail to the left that was nowhere near as steep as the trail that I had just taken. So I made a mental note to go that way on the way out though I wondered where I must have missed the turnoff to get to this spot.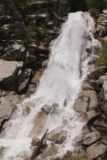 Regardless, I had a brief moment of being able to document the Horsetail Falls alone but it was barely a minute or two before a lot of people showed up at the falls. There was a trio of girls who essentially hijacked the ledge right in front of the only shade in this general viewing area, and even that shade was claimed by someone else just as I turned around.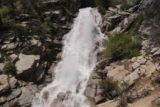 So it was difficult to get clean shots of the whole falls without those girls sitting in the photo, but I made do with the circumstances by trying to show them as subjects before the falls. I also took this opportunity to snack on the rest of the grapes that I had brought as well as the last clementine. Plus, I refilled the Kleen Kantene
water one more time, where I pretty much depleted that other 32oz backup bottle. So from here on out, that was the last of the water I'd be having on this hike.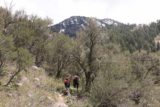 I probably spent a good 15-20 minutes here which was just enough time for the girls to finally take off and allowing myself to get a few more clean photos before I took off. This overlook never really was free of people while I was there, but I wasn't complaining since I finally got the payoff from such hard work to even get to this spot.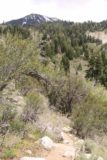 I could imagine the disappointment from others unwilling or unknowingly getting to this spot as the more obvious trails ultimately led to either the unfulfilling top of the falls or kept going higher up the mountain towards who knows where.
As I was making the hike back out along the trail that I saw other people take, it eventually got back to the more obvious trail just past that trail sign that I had seen earlier on. The final climb to rejoin that trail was a bit on the badly eroded and dicey side as clearly a lot of people had made this scramble below, and I suspected that it would only be a matter of time before even this gully or embankment would be impassable safely.
I then decided to continue going back up the semi-main trail to satisfy my curiosity about where this trail ultimately went. So I kept going back to the familiar junction that I went left across to get to the top of the falls, but I kept going up the semi-main track just to see where it went. But it didn't take long before it got really steep and rocky, and from looking at the GPS I was holding, it was veering away from Horsetail Falls so I knew I was supposed to backtrack and take that trail junction that I had taken earlier to get to the top.
Once I was back at the top where that little balanced rock or rock "arch" was, I then continued scrambling around just to see if there was a more obvious top-of-the-falls spot. But I wasn't successfully finding it. I only had some other miscellaneous cascades just upstream from Horsetail Falls to show for it. So at this point, I knew that it was time to go back down.
On the way back down, I saw another pair of hikers who were looking for Horsetail Falls. I told them that this was only the "top" of the falls and if they wanted to see the falls up close, they'd have to either scramble down or backtrack to a trail that was easy to miss to get there. I told them that there wasn't anything else up here though I was back up here just out of curiosity to see what else was up here.
Anyways, it was about 3:15pm or so when I headed back down. At that time, I was thinking and hoping to find some people scrambling down that eroded embankment or scrambling back up that dicey section just so I could convey where people should be going or coming from in order to access the base of the falls.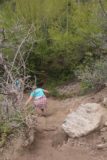 So when I got back to that eroded embankment, there was no one there. I decided to spend a few minutes waiting for someone to come up to rejoin the trail in this way so I could show in photos what it took to get to the base of the falls in this manner, but no one came.
Plus, I saw other hikers miss this embankment detour essentially making the same mistake that I had made myself. It wasn't until one couple was about to skip this gully when I told them that the way to the base was down this gully. So they provided the subjects that I was looking for, but at least the payoff for them was that I saved them the trouble of going all the way to the top then scrambling down to get to the bottom of the falls.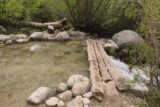 Once that deed was done, I then pretty much trail ran the way back. It was getting late in the day and Julie had texted me asking when I would be back at the Hyatt House. I predicted to her that I would be back around 5-ish.
Well, I wasn't that far off because the hike back down went way quicker than the relentless uphill hike it took to get up here. In fact, my calves and knees were really starting to feel the pain from the relentless pounding they took from all that trail running while simultaneously trying to avoid the rocks that conspired to twist my ankles.
I'd eventually pass by the very people that I had seen earlier at the base of Horsetail Falls, and then when I got out of the tree cover of the majority of the trail, I then started to enjoy the views back down towards Utah Lake and the suburbs in the area as I knew I was getting closer to the end.
Shortly after passing by the false detours with the red tape on them, I was finally back at the trailhead at 4:15pm. I was surprised at how many people were getting late starts to this hike as it took me nearly 4 hours to complete. In fact, the car park was even busier now than it was at high noon when I first showed up!
Ten minutes later, I drove off and took the more sanctioned route along Main Street after leaving Grove Drive and N 200 Street, then eventually got back onto the Timpanogos Highway where I'd follow another one of the commuter lanes almost all the way to the I-15 north.
As predicted, I had made it all the way to the public parking lot next to the Hyatt House at 5:10pm. Julie had suggested checking out Antelope Island, and so I floated the idea with her to do that this evening. But apparently, it would take more time to drive there and it would be very rushed to do it.
So I rejoined Julie and Tahia back at the Hyatt House where they seemed pretty energized from their City Tour and chillaxing at the swimming pool at the accommodation. Julie was busy making chicken taco dinner from the ingredients brought from home and bought during yesterday's grocery run. So without needing to spend more money at an expensive restaurant, it was a low key dinner that we were going to do at the accommodation.
While Julie's pressure cooker was on, we were able to get back in the car and do a quick tour of some of the downtown attractions that I had missed so far. So we were back in the car at 6:05pm, and we promptly drove to the Cathedral of the Madeleine knowing that the 5-6 mass was over and we had an hour window before the 7-8 mass was to begin.
We got to the cathedral at 6:15pm, where we promptly went inside the mostly empty but quiet altar area. Like with the European cathedrals, this one was quite grand. But it kind of reminded us that like most cathedrals, once you've seen one, the rest look pretty alike after a while.
So we spent a few minutes to take pictures, and the silence from the altar was such that it was our cameras that were making the most noise.
But Tahia was getting freaked out by the giant Jesus being crucified on a cross at the altar that she didn't want to be here much longer. And it kind of kept her freaked out for a good portion of our little spontaneous downtown SLC tour that we were now on.
At 6:25pm, we were back in the car, and then we promptly found some underground parking at the City Creek Parking Center. It turned out that the first two hours of parking were free for the shopping mall. We didn't need to spend $10 to park at the Joseph Smith Memorial Building on the opposite side of the underground parking structure.
And so at 6:30pm, we left the car and immediately passed through the Macy's before getting back up to street level. The first thing we did was to walk around Temple Square, where there was this large temple before us but it was hard to photograph given how close we were to it. The lighting was such that the views were probably best in the morning as most of the fountains and more distant views came from the east side. That was why Julie said they had some good shots in the morning.
I had to settle for some flowers fronting the temple shot from the visitor center to the south. We then briefly walked towards that fountain by the office for the Mormon Church near the Lion House. Then we went over to the Beehive House where we saw that it was possible to take a free tour to look inside Brigham Young's house and office.
We were given a free tour by a couple of girls who were both on their 1.5-year mission. One was from Brazil. They showed us around some of the re-creations and restorations of the original office and then the pretty elaborate interior of Brigham Young's place. We learned a little more about the Mormon Church and how Joseph Smith must have been the person who essentially brought to the New World the revival of this version of the Christian faith.
But it was Brigham Young who brought the teachings and testimony of the Book of Mormon from upstate New York to Utah. It was quite interesting how some of their teachings seemed to be pretty consistent with some of the important things in life that we take for granted in today's world like keeping the family strong and building community.
I could totally see the appeal for churches, and I contended that they probably played a major role in community building throughout human history.
After the tour was over and we gave thanks to our tour guides (I said "Abrigado" to the Brazilian girl, who then told me "Do nada", which I made me learn how you say "You're welcome" in Portugese; like of like "De nada" in Spanish), we then took a few more photos of the exterior before heading back to the car.
By 7:40pm, we were back at the Hyatt House where we could finally have ourselves our humble self-cooked dinner and eat as a family. And after that, we pretty much wound down the rest of the day getting cleaned up, doing one last grocery run at Harmon's as we had run out of water, and then crashing to end this very long day of touring and events.
Tomorrow, we were targeting Provo Canyon for our last full day in Salt Lake City. Hopefully, we had saved the best for last…